Why should only our human friends get knitted gifts? Canine members of your family deserve some handmade love, too! Here are 11 knitting patterns for dogs that will have your animal companion wagging its tail and slobbering you with doggy kisses.
As an added bonus for you, many of these patterns use that scrap yarn you didn't want to throw away but couldn't use for larger projects. Best of all, three of the knitting patterns are FREE!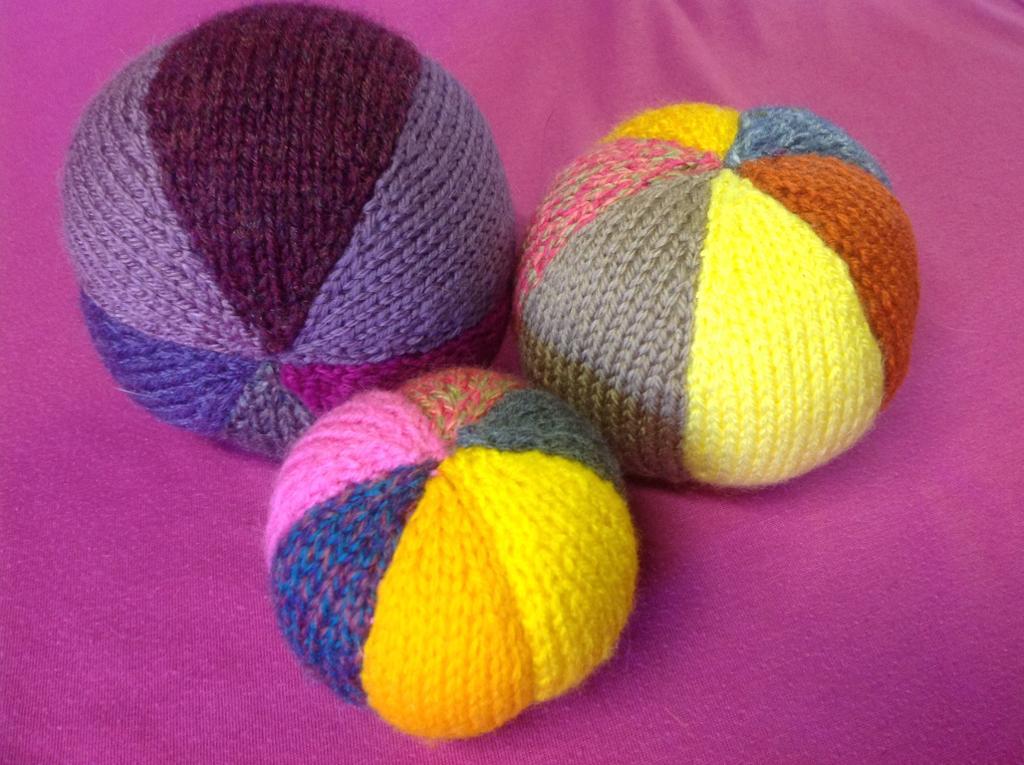 Photo via Bluprint member Lizzi
Oh, Balls!
This FREE knitting pattern is a win-win for everyone! These balls are soft enough that your dog can even play fetch inside. And since you can make them with scrap yarn, you won't mind losing them if you play outdoors. The simple knitting pattern creates a ball of six leaf-shaped sections from any DK yarn and comes in three sizes: 3, 4 or 5 inches in diameter.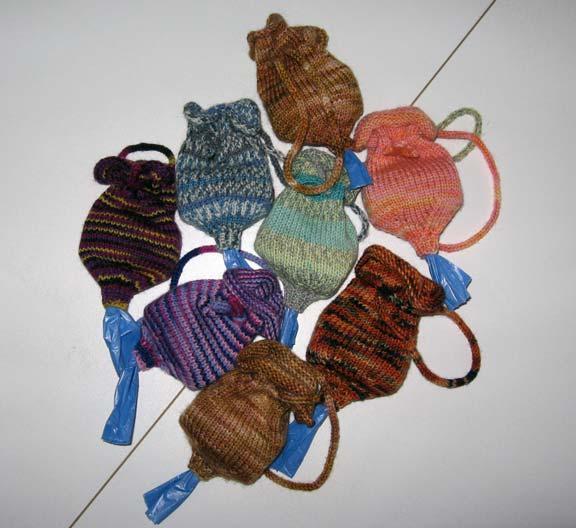 Photo via Bluprint member fuzzysox
Doggie-Poo Bag Tote
This FREE knitting pattern for carrying waste bags combines style and convenience.  Now you won't have to worry about forgetting the bags when you walk out the door.  Just knit these totes out of scrap yarn, pre-stuff them with waste bags and slip the I-cord handle around your dog's leash so you're ready to go at any time! Bluprint member fuzzysox got so many requests for these totes from other dog owners that she made them as a fundraiser for local shelters.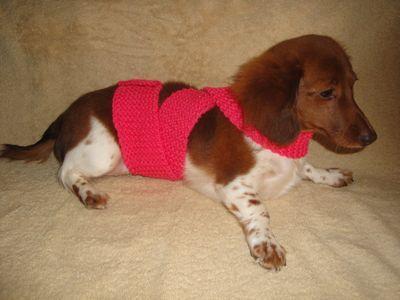 Photo via Bluprint member Chiwaluv
TTouch Mock Anxiety Wrap
Do you have an anxious dog who upsets at loud noises, car trips or just the general trials of a dog's life? This FREE knitting pattern could help you bring more peace and calm to your pet's life. Many pet owners have found that swaddling works wonders to calm dogs' anxieties. Designed by professional dog groomer, this anxiety wrap knitting pattern is based on the Tellington Touch Body Wrap that uses moderate pressure to comfort dogs during periods of stress. The wrapping usually involves a bandage, but this is a more attractive version that adds your personal loving touch to soothe your beloved friend.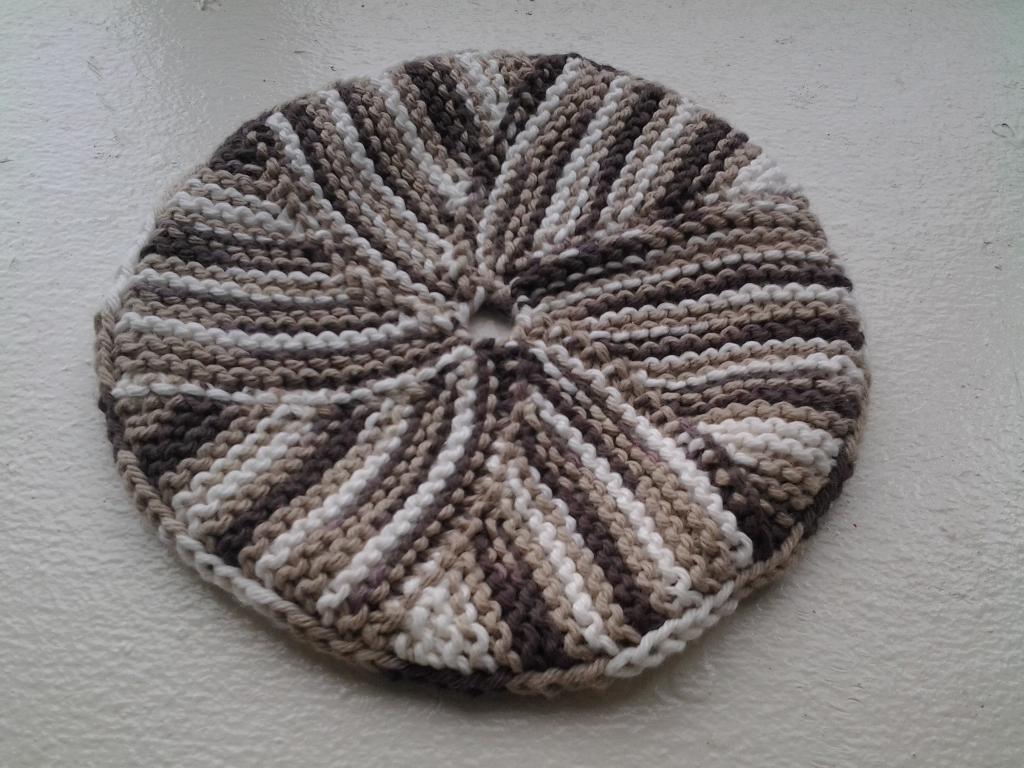 Photo via Bluprint member Audrey5432
Indoor Flyer
Too rainy or hot to play fetch in the park? Here's a perfect indoor substitute for those plastic discs your dog loves to catch. This knitted toy is designed to sail through the air without the risk of damaging furniture, breakables or humans. The finished size is 8 inches (about 20 centimeters), with a half-inch hole in the center to make the flyer aerodynamic. The circular shape of the flyer is knit using short rows — check out our free video class on short rows if you're new to this technique.
Photo via Bluprint member ShiriDesigns
Plush Bed for a Cat or Dog
This soft, comfy nest just might be tempting enough to keep your puppy taking over your human bed — but we're making no guarantees! Your dog can curl up in one of four sizes from about 21 inches (53 centimeters) in diameter to 48 inches (122 centimeters) in diameter. You can keep the design simple or select from four intarsia motifs to decorate the bed: paw prints, bones, fish or hearts.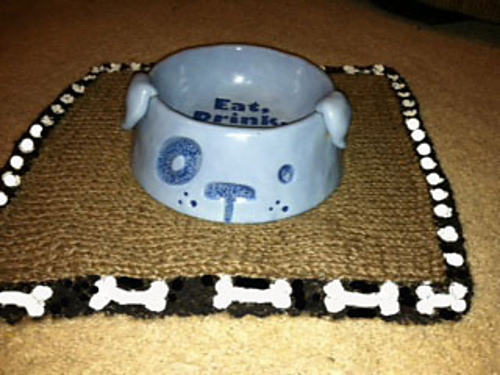 Photo via Bluprint member Mary Ruple
Barney and You Jute Twine Place Mat
This dog placemat is knit with jute twine instead of yarn to make it durable and easy to clean. Paint the design on the edge to give the mat a distinctly canine style! Of course, you could use this same pattern to make placemats for a human table, too.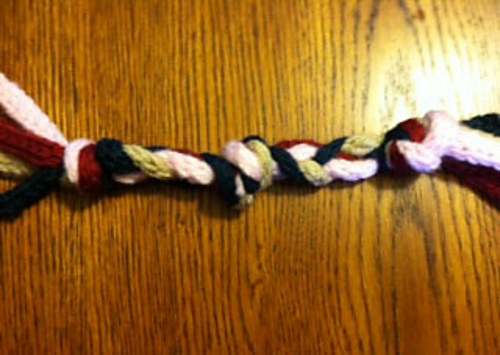 Photo via Bluprint member Mary Ruple
Barney's Rockn' Rope Toy
This dog toy knitting pattern proves how versatile knit I-cords can be. I-cords turn this simple project into a tug-of-war rope, indoor fetch toy and homemade chew toy — and it makes great use of that scrap yarn.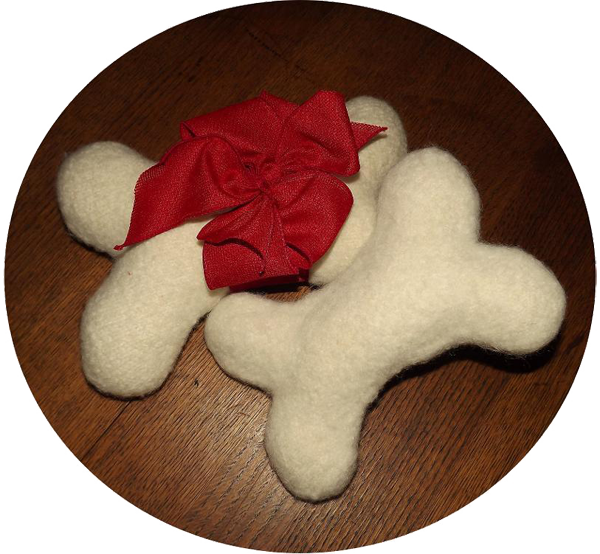 Photo via Bluprint member TKN Designs
Dog Bone Pillow – Knit & Felted
This is one bone your dog won't want to bury because felting turns it into a snuggly cushion and a toy safe for indoor play. The knitting pattern comes in two sizes: 9.5 inches for the small bone and 11.5 inches for the medium bone.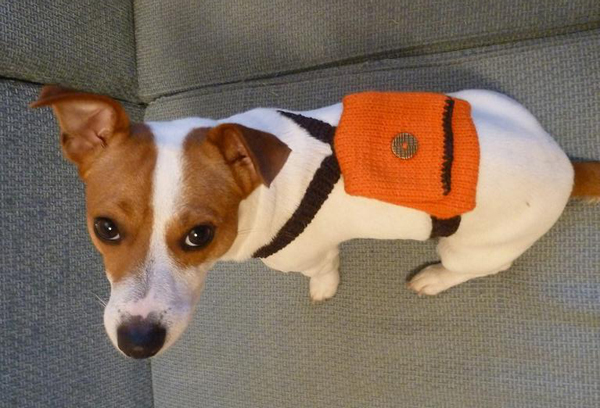 Photo via Bluprint member TheMailoDesign
Knit Dog Backpack
This dog-sized backpack is perfect for your walking buddy to carry doggy essentials on trips to the park! The pattern is sized for 15-inch neck and 19-inch chest, but it includes instructions to make a larger version for bigger pups. You'll need some basic crochet skills to complete the pattern, as well.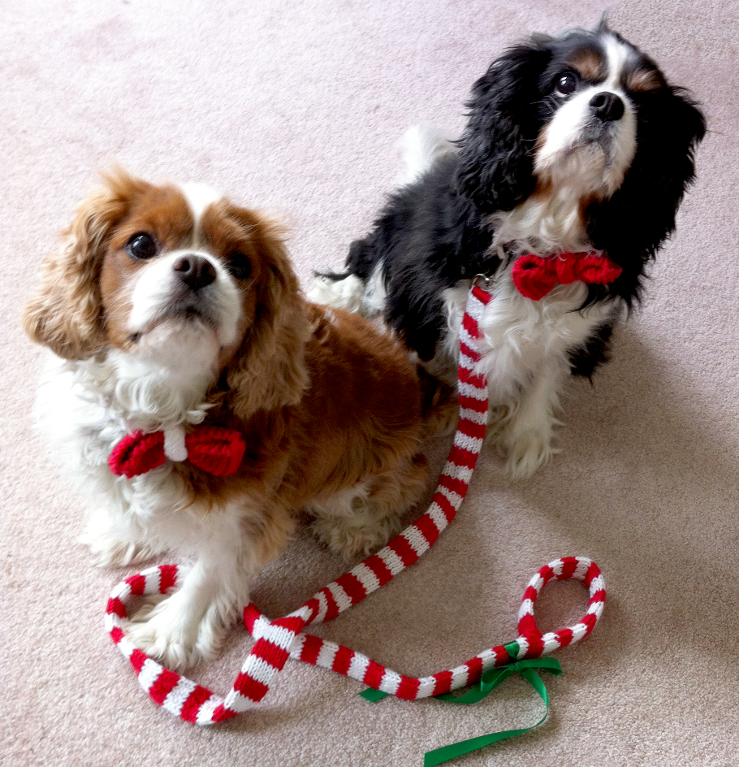 Photo via Bluprint member Linda R Schmidt
ROFL Dog Leash & Bow Tie
Dress up your dog's leash to match a holiday color scheme, the latest fashion trends or your favorite colors. This pattern is an easy, quick project that takes only 100 yards of sport-weight yarn.  Make sure the yarn is washable if your dog can't resist jumping in puddles and mud! The knitting pattern includes instructional photos and YouTube videos.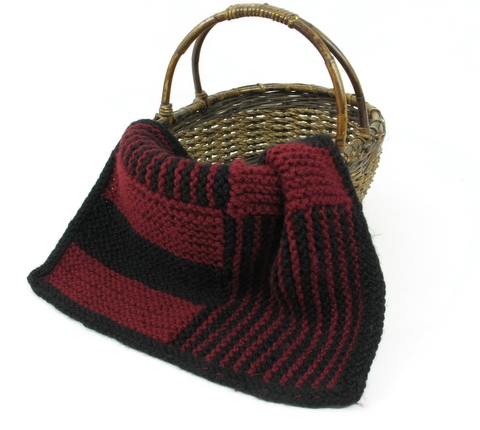 Photo via Bluprint instructor Donna Druchunas
Garter Stitch Shelter Blanket
And don't forget those dogs who are still waiting to find a loving home like you've given to your canine companion. You can't adopt them all, but you can help them feel warm and loved by knitting blankets for your local animal shelter. This easy blanket pattern comes in two sizes and knits up fast with garter stitch in super bulky wool. And after they're adopted, the dogs can take the blanket to help in the transition to their new home. Call your local shelter and find out if they need some blankets for their guests!
Free Online Knitting Class
Stitch knits into shape with four short row methods.Enroll FREE Now »