The first knitting projects I ever stitched as a kid were for my Barbie. I decked her out in a lot of tube dresses, some with fringe for a Hawaiian-inspired luau and others with sparkly black yarn that my grandmother had given me for those elegant occasions. My Barbie was the envy of all my friends, since she was dressed like no other Barbie.
Knitting patterns for dolls can be as simple as my own Barbie's tube dresses or as complicated as your most prized Fair Isle sweater. Plus, they also present a great opportunity to get little ones in on crafting.
Browse these knitting patterns for dolls with the doll lover in your life — and be sure to keep them involved in the entire process, from choosing a pattern to picking yarn colors. You never know when you might influence them to become little crafters!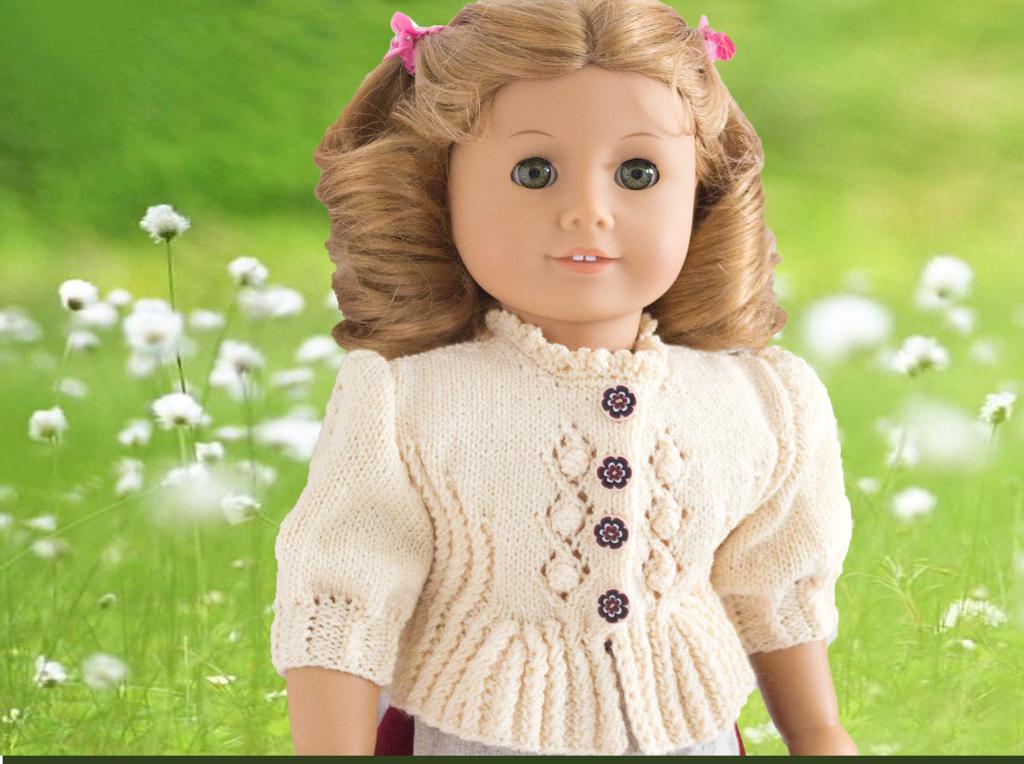 Photo via Craftsy member Lelle Moda
Alpine Dirndl Cardigan
Inspired by Bavarian women's folkwear, this adorable cardigan fits any 18″ doll. The cardigan pairs well with any clothes the doll already has; it can be a top paired with pants or even over a dress. The little buttons add a bit of personality. Ask your little one to help choose the buttons to make them part of the knitting process!
Get the Alpine Dirndl Cardigan pattern here.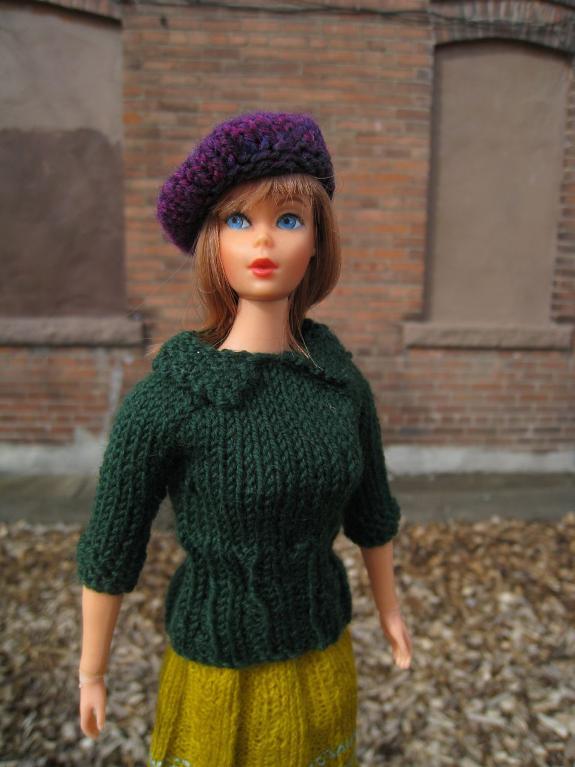 Photo via Craftsy member KellyMullanDesigns
Barbie Doll Sweater with Collar
I already told you I was a sucker for Barbie as a kid. If my skills had been a little better, I would've definitely knit up this awesome sweater. Knit using the Magic Loop method, there's very little seaming to do. Not crazy about Magic Loop? Try double-pointed needles instead.
Get the Barbie Doll Sweater with Collar pattern here.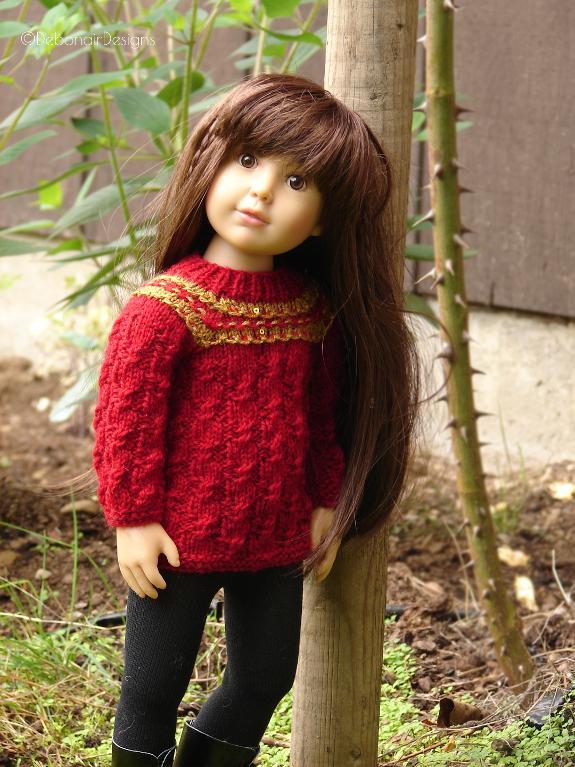 Photo via Craftsy member DebonairDesigns
Lambrusco for 18″ Kidz N Cats Dolls
One thing I love about knitting doll clothing is that you can use it to practice techniques and stitches that can be applied to your own sweaters. This pullover is a perfect example. With this sweater pattern, you'll practice everything from colorwork to seaming and even twisted stitches. This pattern was designed for the Kidz N Cats doll seen here, but it will fit other 18″ dolls, too.
Get the Lambrusco for 18″ Kidz n Cats Dolls pattern here.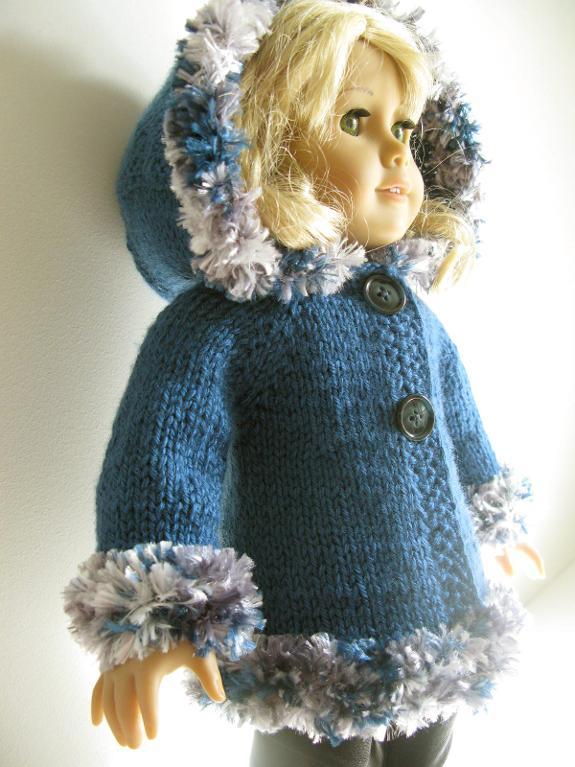 Photo via Craftsy member Knit N Play 
Hooded 18″ Doll Jacket
Dolls need to stay warm, too! Knit this one up so kids can dress their dolls for cold weather. And here's an ambitious idea: Knit a second one up for the doll's owner so they can match! You'll just need to do a bit of knitting math or find a similar pattern in kids' sizes.
Get the Hooded 18″ Doll Jacket knitting pattern here.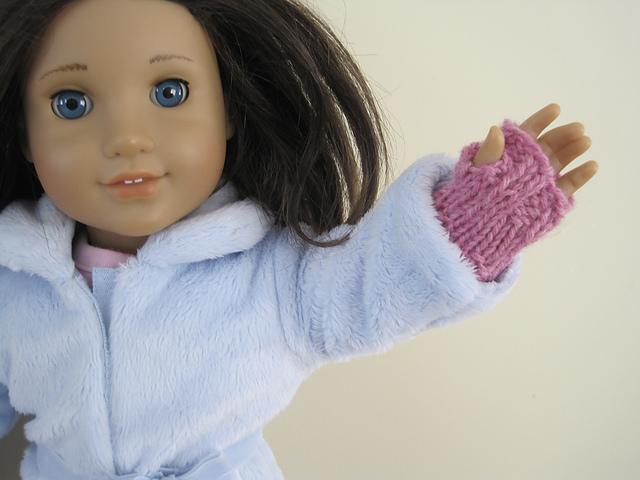 Photo via Craftsy member KristinaSchmidt
Super Easy Doll Mittens
If you want children to get in on the creative process but don't have much face time with them — out-of-town grandmothers know what I'm talking about here — then consider a smaller project that can be completed in just an hour or two. These tiny doll mittens fit 18-inch dolls, but you can use a light-weight yarn and smaller needles to size them down for smaller dolls.