I love knitting for kids. Even before I had a son of my own, there has always been something so pleasing to me about working up a sweater in miniature. But picking the right size to make for your little recipient isn't always easy. There have been many sweaters too small, too big, too short, or just too not quite right in my knitting career.
Choosing the knitting pattern sizes for children is oftentimes just as much work as choosing a size for adult knitwear.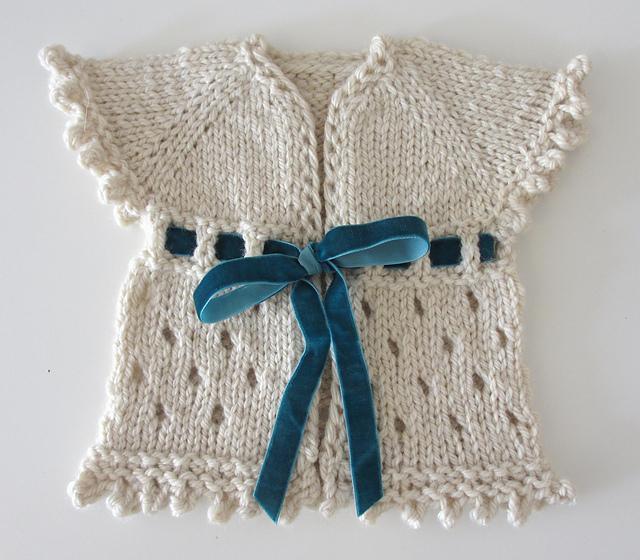 Let's review a few aspects of knitting for children that will hopefully make the process easier and even more enjoyable.
Gauge
You knew I was going to say this! Gauge is critical to getting a finished garment that has accurate measurements. Now, I've been guilty of skipping this step (especially with knits for babies), but I've also been horrified to watch the mother of my little recipient try to squeeze her child into my lovingly hand knit sweater. So whatever you do, swatch before you begin!
That being said, make sure to swatch as you intend to knit. This means, swatch in the round if you'll be knitting in the round, or swatch in the stitch/colorwork pattern that you'll be using. Also, make a swatch that is large (4" by 4" is the minimum).
See also our post on how to measure your gauge in knitting.
Know your measurements
I know that especially when gift knitting we don't always have measurements on hand. You want to surprise the family or child and so you keep the knitting a secret. But honestly, it's better to just ask and get at least a chest measurement on the child than make something that doesn't fit.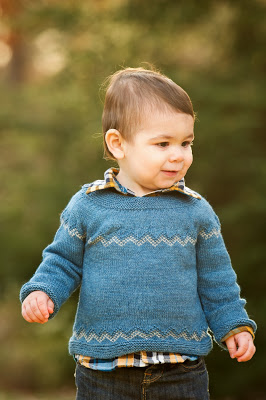 Study the schematic
So you've swatched and have gauge, you know (at least) the child's chest size, now it's time to take a good hard look at the schematic. Children grow at such varying rates that it is not safe to assume that your 1-year-old recipient will fit into the 12-month sized sweater. Not only do children vary in size, but children's garments do as well.
For example, a few months ago I was looking for a sweater pattern to knit for my little boy. I had picked out three sweaters I really liked, then began studying the schematics. What I found was that in two of the sweaters, the chest sizes were much too small. He has a chest size of 22". If I had blindly knit away on either the 18-month or even 2-year size of either sweater, I'd be knitting something that would end up having negative ease!
So take some time to look over your pattern's schematic. Double check that the chest will be an appropriate circumference, that the neckline is large enough to fit a baby or toddler head through (or had accommodations for those big noggins), and that the length for the body and sleeves is appropriate for the recipient or is easily lengthened/shortened.
Fit
Children's garments are generally intended to be worn with several inches of positive ease (read: loose); about 2″ – 4". This is to make the on/off process easier, allow for those quick growers to get a solid season out of a sweater, and to keep clothing comfortable and loose for active kids. Keep this in mind as you study the schematic to choose a size that will be comfortable on the wearer as well as create a garment that they can wear at least the entire season.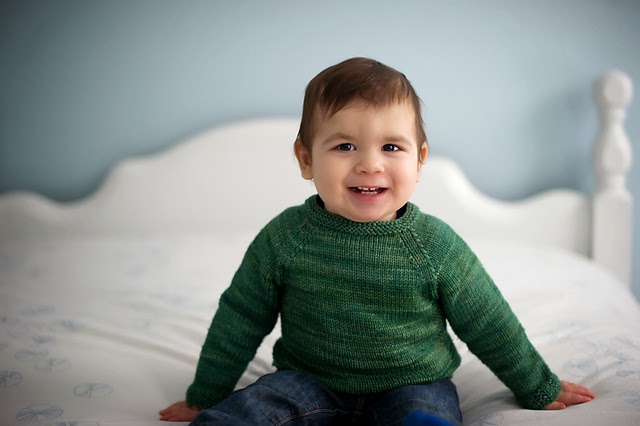 These guidelines will hopefully help you to successfully make your next children's garment. They'll also hopefully save you some embarrassment during your next gift giving season! One year I knit three baby sweaters for three different babies. All sweaters were so tight that they maybe wore it for a week. I still cringe thinking about that Christmas.
Wearing or gifting a sweater that you've knit yourself is a wonder that ever fiber-lover should experience! If you're just starting out, sign up for My First Sweater. Amy Ross will be with you every step of the way as you knit the first of many gorgeous, handmade patterns.
Have you ever had a child's garment gone wrong?