Knitting on the bias is a fun and easy way to spice up your projects, making them look more complicated than they really are. Putting even traditional stitch patterns on the diagonal can give them a fresh look.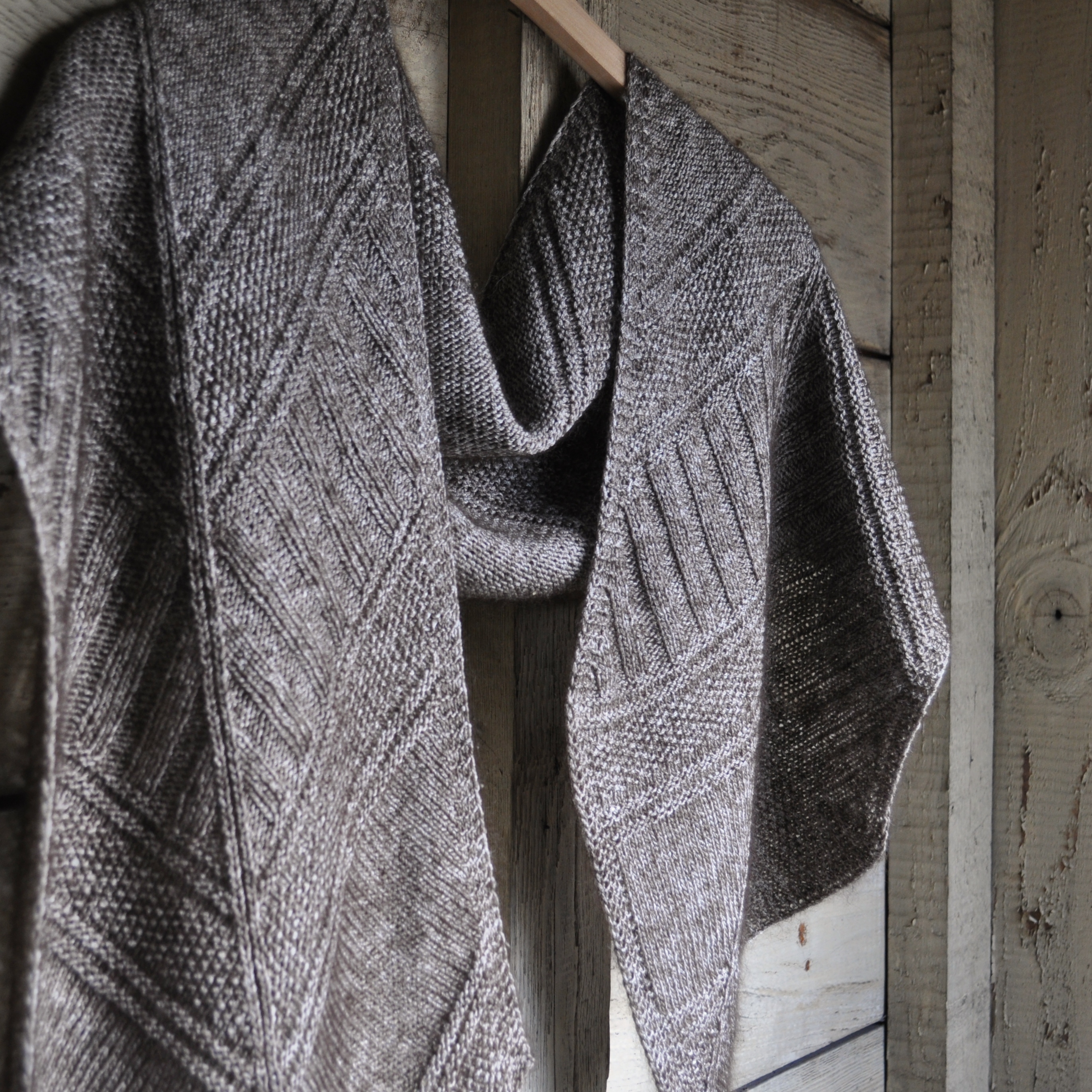 Bias knitting creates stunning results
Simply put, bias knitting is knitting on the diagonal. The magic lies in increase and decrease stitches. By regularly placing these stitches at precise points in your project, you can give your fabric a slanted shape or tip your rows on an angle.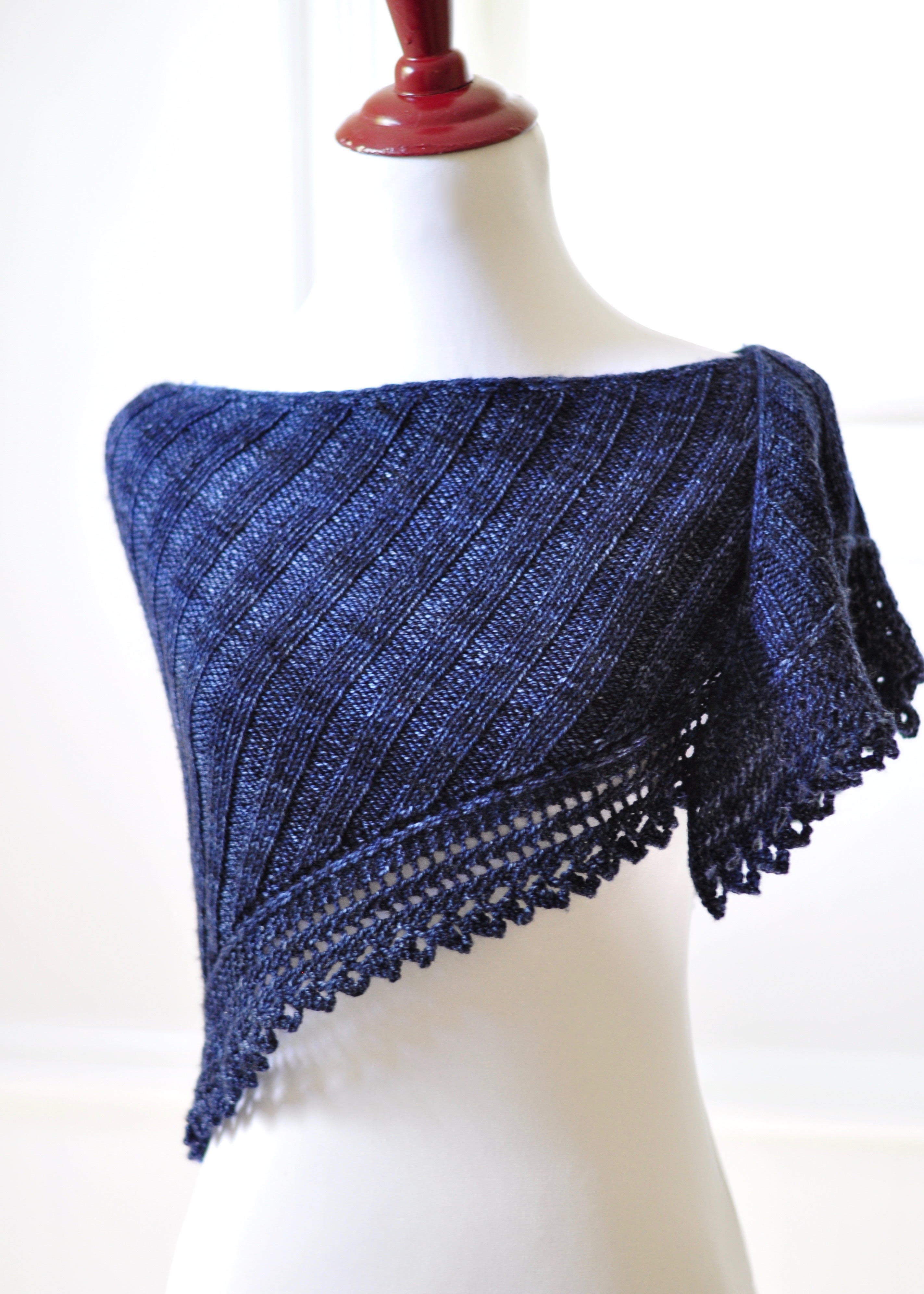 Get the Treat Scarf pattern on Ravelry.
If you are knitting stripes, bias knitting will place them on a diagonal. This is even easier to accomplish if you are using a self-striping or gradient yarn. I love bias stripes in a scarf or cowl, because more of those slanted stripes will peek through as it is wrapped around the neck.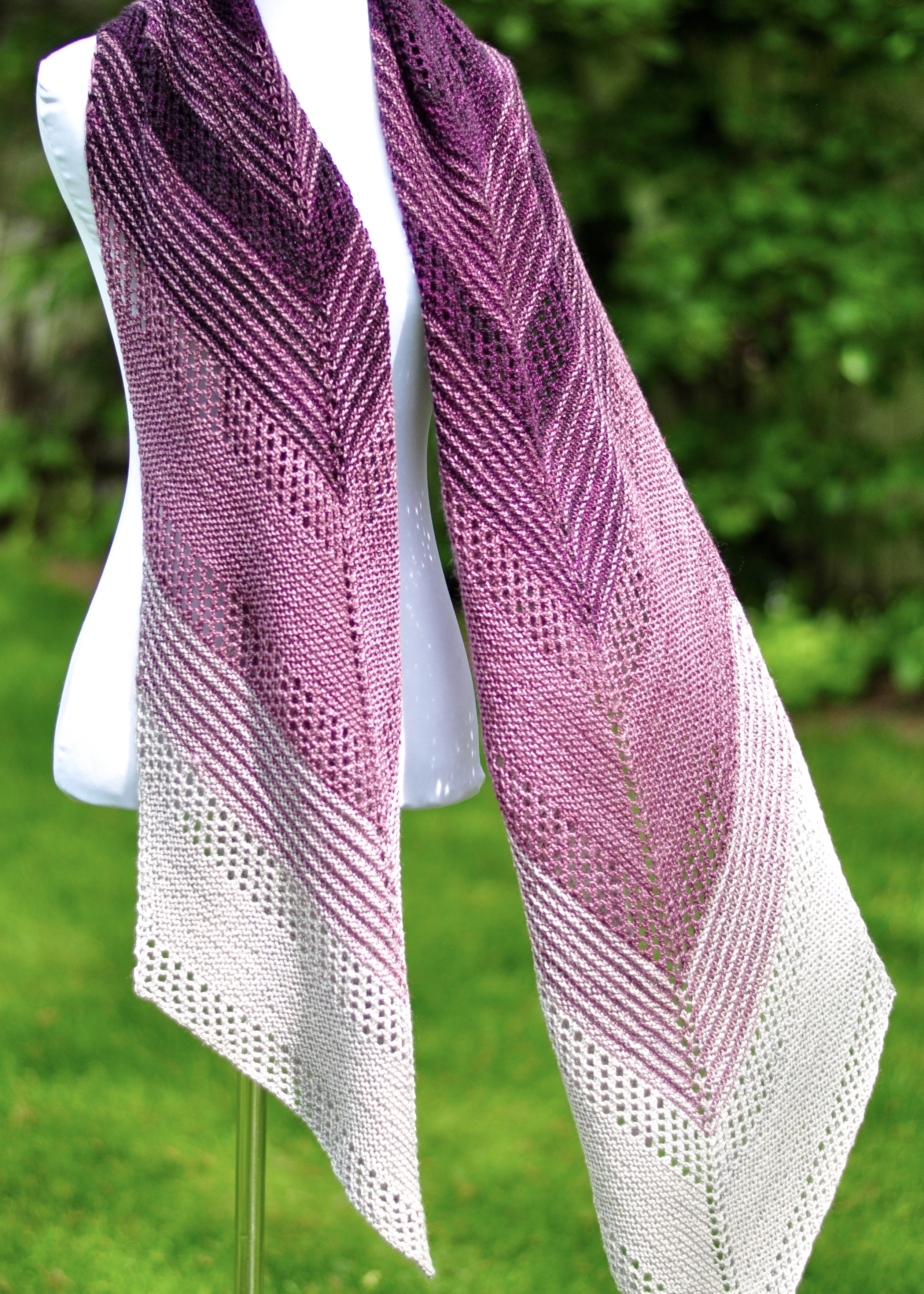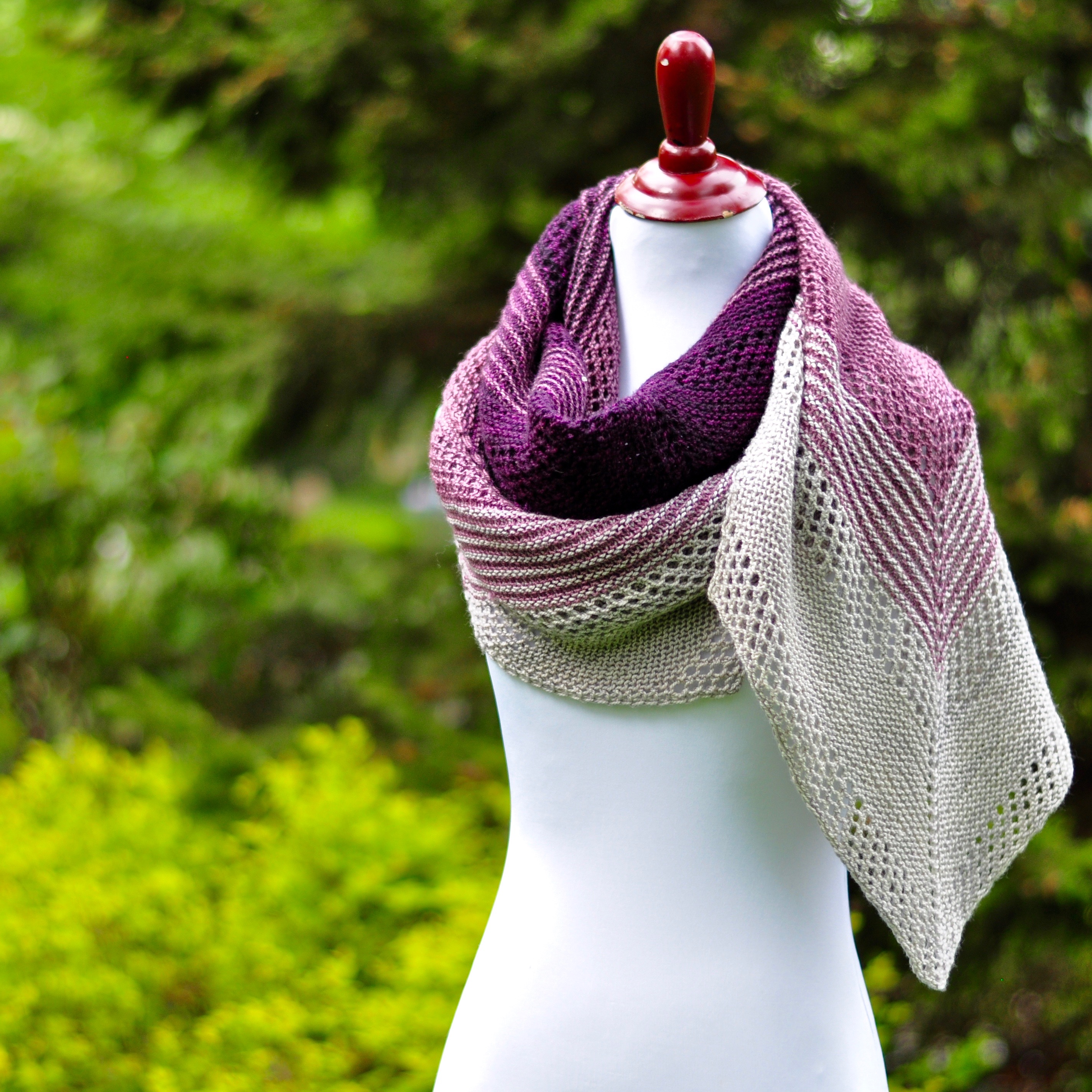 Get the Changing Light pattern on Ravelry.
With bias knitting you can also create pointed edges, a pretty feature in a scarf or wrap, or even the bottom edge of a sweater.
In short, bias knitting is an easy way to give your project a bit of "wow" factor, inspiring your friends and fellow knitters to wonder, "how did you do that?!"
And now for a few tips to make your bias knitting even easier.
Tip #1: Where to work those increase and decrease stitches
One trick to bias knitting is making sure that you increase and decrease stitches at the right place in your project. Stitch markers are terrific for identifying these spots. For example, if you will regularly be increasing a stitch next to the edging of your project, place a stitch marker between the edging stitches and the rest of your knitting.
When using markers, take care to work your increase or decrease stitches on the correct side of each marker. If the stitch marker divides an edging from the body of the project, work your increase or decrease stitch on the body side of the marker; otherwise, the edging will grow or shrink.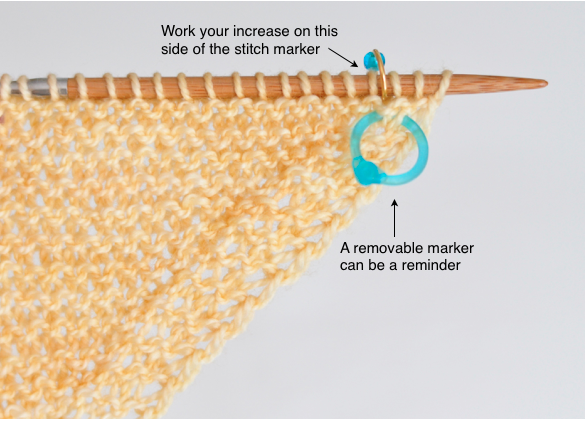 Tip #2: Remembering your increases and decreases
If you sometimes forget your increase or decrease stitches, try using a removable marker as a reminder (see the turquoise ring in the photo above). Just fasten it a row or two below the point where you'll be working the increase or decrease stitch. As your knitting grows, you can occasionally reposition your marker, closer to the live stitches.
Tip #3: Count your stitches often
Take time to periodically count your stitches. If you don't and you are working a simple stitch pattern like stockinette or garter stitch, you may not realize that your stitch count is off. If the stitch pattern later changes to something more complicated, the instructions for the new stitch pattern won't work. An unworked increase or decrease stitch will have changed your stitch count, throwing off the pattern. The more often you count your stitches, the sooner you'll realize that you've gone astray.
Tip #4: Fixes for forgotten increases or decreases
If you find that your stitch count is off by a stitch or two, and you dread having to rip back to the source of the problem, you can try these quick fixes:
If you have an extra stitch, simply skip the next increase stitch in that section of your project. For example, if you were supposed to work a M1, don't. If you were supposed to work a kfb, replace it with k1.
If you are short a stitch, try skipping your next decrease stitch in that section of the project. However, you will need to decide how to treat the two stitches that would have been combined to work the decrease stitch. These stitches should be worked in a way that continues the pattern on that row. For instance, if you are working garter stitch, replace the decrease stitch with k2. If you are working reverse stockinette, replace the decrease stitch with p2. If you are working 2 x 2 ribbing, treat the two stitches in a way that continues the ribbing pattern.
If you are trying to fix a stitch count that is off by two stitches, repeat this fix on the next increase/decrease row as well.
A caveat: These fixes are fine when you are only off by a stitch or two. More than that, and the change in the length of your rows may be noticeable in your finished project.

Get the Simply Sheer Scarf pattern on Ravelry.
Tip #5: Instructions for a familiar stitch pattern may look different
If you are an experienced knitter, you may be surprised to find that instructions for common stitch patterns are written differently for bias projects. This happens because the increase and decrease stitches change the arrangement of the stitches in the row.
The increase stitches add stitches to one point of the row, and those new stitches become part of the stitch pattern on the following row. The decrease stitches munch away stitches at another point in the row, truncating the stitch pattern. This means that stitch pattern instructions will look different at the increase and decrease points.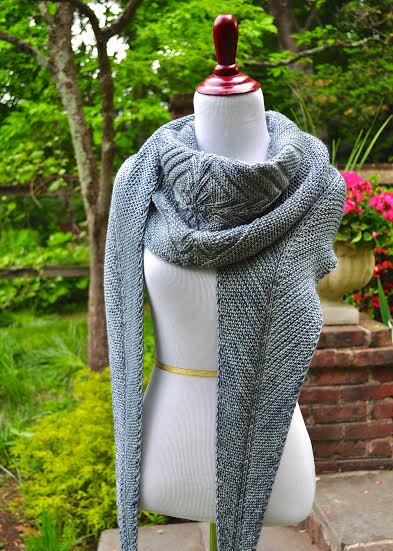 Bias knitting is a fun and easy technique that yields impressive results. These tips can help you to master this skill and take your knitting in an exciting new direction.
Looking for a new bias knitting project to try out this technique? My Architexture Scarf, Spreading Vines Scarf and Pisac Shawl patterns are available as kits Craftsy! You'll get the pattern and the perfect yarn for the project.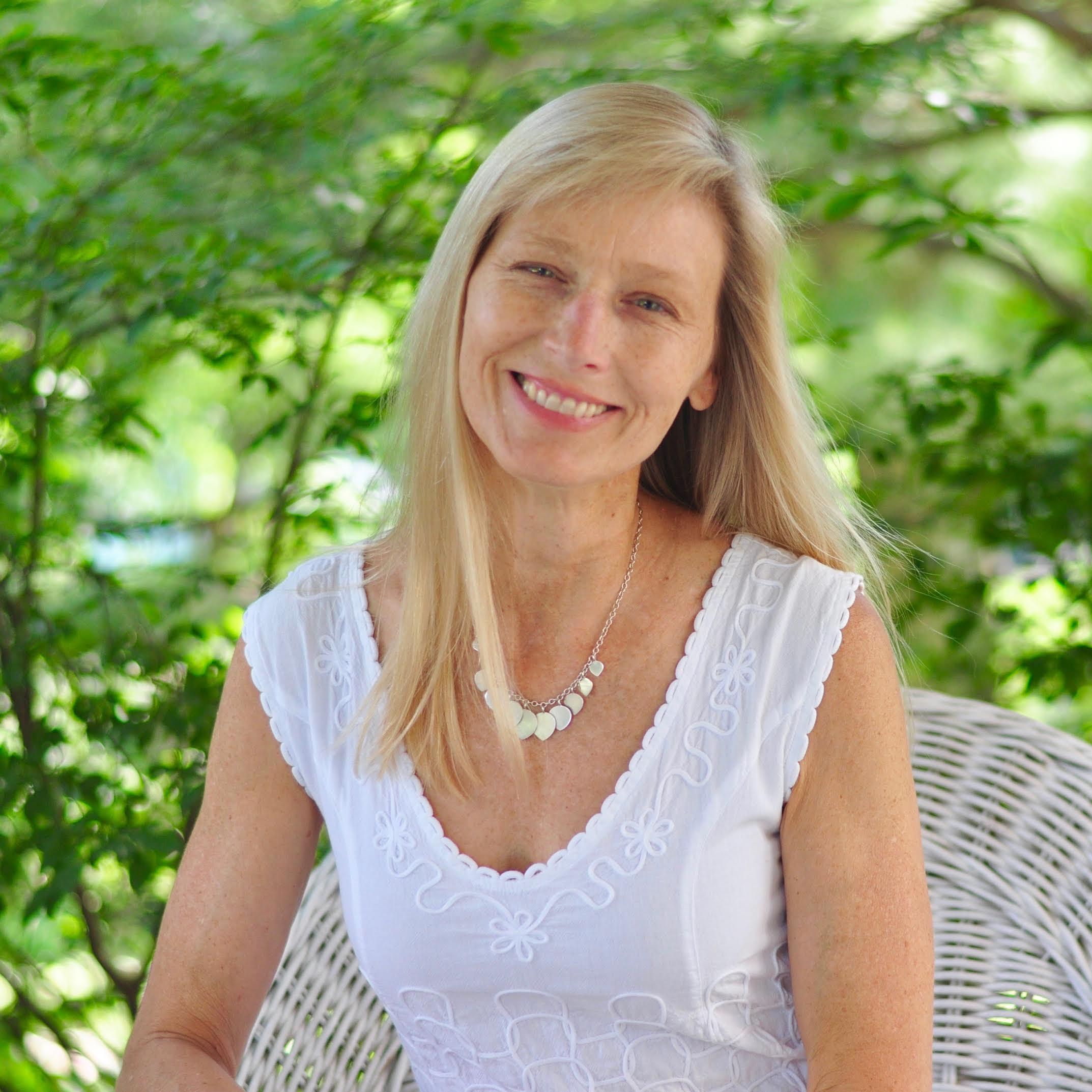 Jennifer Weissman lives in New Jersey with her husband, two children and a big fluffy pup. She loves playing with yarn and dreaming up designs — if she isn't knitting, she's probably thinking about it! She gathers inspiration from the patterns and shapes she sees around her, especially in architecture and the outdoors, and she is committed to creating eye-catching, sophisticated designs.
You can find Jennifer online on Craftsy, Facebook, Instagram and Ravelry