Background music is a must sometimes when we are stitching. It can help put us in the right mood and sometimes it can even help us get into a rhythm.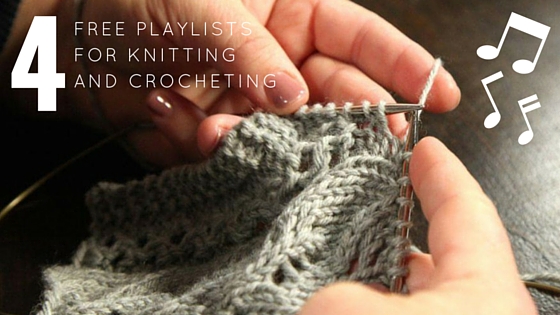 I often listen to podcasts when I'm stitching, but sometimes I just need background crochet or knitting music that I don't have to focus on too much. That's when playlists come in handy!
We've put together four different playlists for stitching: Stitch Group, Positive Energy Stitching, Relaxing Stitching, and Kid-Friendly Stitching. You can stream them right here, or, if you're a Spotify user, you can add the playlists to your account so that you always have access to them. Happy stitching!
Stitch group Playlist
A little background music is always nice to have during stitch group. It can also serve as an ice breaker if there isn't a lot of conversation going on. (You never know when you'll find another stitcher who loves Fleetwood Mac as much as you do.)
What you'll find: A popular mix of different decades to satisfy stitch groups of diverse ages.
Need a new pattern for your stitch group? These five knitting patterns and seven crochet patterns are just what you're looking for. 
Positive energy stitching playlist
Did you have a bad day? Knitting or crocheting will certainly help you feel better, and this playlist can help too. We created this playlist to lift your mood and get  your hands stitching to fun artists. It's also a great playlist to listen to if you have stitching you need to finish — say, before your friend's birthday the next day — and you can't seem to stay awake to finish.
What you'll find: David Bowie, Stevie Wonder, Rod Stewart, Wham!, The Cure and plenty of other bands to get those toes tappin' while you stitch.
Add some positive energy to your projects, too! These bright knitting and crochet patterns are sure to put a smile on your face.
Relaxing stitching playlist
Mellow is the key word for this playlist. Sometimes you want to work on a project that's meditative. For knitters, that project might just be a simple stockinette stitch scarf. For crocheters, maybe it's a single crochet bag with no shaping. No matter what you need to relax and meditate, you can play this playlist in the background to chill out even more. The playlist covers every decade from the '60s to more modern music. You might even discover a new favorite band in the mix!
What you'll find: Hits from classic rock bands like The Rolling Stones and The Eagles; slow Motown jams; soothing songs from modern bands like Blur and Leon Bridges.
Wind down with six calming knitting patterns and a crochet exercise all about mindfulness.
Kid-friendly stitching playlist
Do you stitch with the kiddos? Or maybe you just stitch while the kids play near you and they peek at your progress now and then. We've scoured kids' movie soundtracks from films like Despicable Me and Cars to satisfy the kids, but we have a couple of goodies in there for the adults, too. (Don't worry; we left out the Frozen soundtrack, because we know you get enough of that in the car.)
What you'll find: A mix of kid favorites, plus some adult classics so you can watch kids wrinkle their noses as you sing along to all those '70s, '80s and '90s hits you know all the words to.
Stitch something sweet for your favorite kiddos! How about these playful knitting patterns or a free crochet pattern for babies?