When we see knitting featured in movies and television, it's pretty exciting. It can also be inspirational! Knitting is usually just a fleeting moment in most films, but it's totally normal to let out a little "Squee!" when we see those needles at work.
If you want to squeal along with other knitters, invite all your knitting friends over and watch a movie that features knitting. You can always mute the TV and chat while you await the knitting scene. Or you can just have the film on in the background so that your friends can drop in and out of conversation.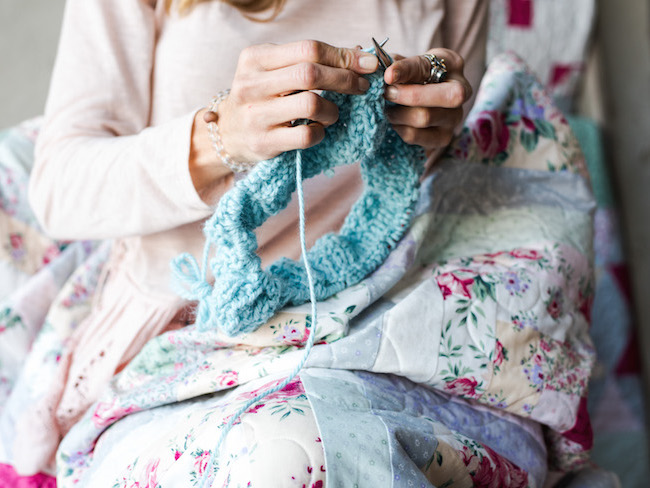 Here are a few films where we've spotted knitting. What other movies feature knitters? Let us know in the comments!
Breakfast at Tiffany's (1961)
Holly Golightly is perhaps one of the more famous knitters on this list, thanks to this classic film. Some might say Holly is an emotional roller coaster throughout the movie, and she's knitting something red (a cardigan, maybe?) in a scene where her old flame Paul arrives to visit her. The best part: she's using what appears to be a light fixture to tame her yarn as it rolls off the skein!
Watch the Breakfast at Tiffany's knitting scene here.
Rosemary's Baby (1968)
Minnie Castevet (played by Ruth Gordon), pops over to Rosemary's (Mia Farrow) house unannounced with her friend Laura-Louise (played by Patsy Kelly) in tow. And that's not all she's brought. The two make themselves at home on the couch and pull out their knitting — a sure sign that they're going to be there a while!
Watch the Rosemary's Baby knitting scene here.
Monty Python's The Meaning of Life (1983)
As the Monty Python team works (and sometimes sings) its way through sketches that each represent a different stage in life, Eric Idle plays a woman who's knitting while she and her husband have a conversation about the advantages of being Protestant vs. Catholic.
Watch Monty Python's The Meaning of Life knitting scene here.
A League of Their Own (1992)
All the players get a little biography, and when Player Betty "Spaghetti" Horn is featured, she's knitting in the dugout. The narrator says that Betty loves cooking spaghetti and knitting. Don't we all?
Watch A League of Their Own knitting clip.
Fargo (1996)
Character Jean Lundegaard does what many of us love doing: watching television while knitting. In addition to Jean's actual knitting, there are plenty of other knits, mostly in the form of sweaters and winter accessories, to drool over as you watch.
Watch the Fargo knitting scene here.
Harry Potter and the Chamber of Secrets (2002)
Have you ever wished that you could use magic to finish one of your knitting projects? That's exactly what was happening the first time Harry Potter visited the Weasley home! See the magic knitting needles at work around 0:54 into the clip.
Watch the Harry Potter and the Chamber of Secrets knitting scene here.
Wallace & Gromit: The Curse of the Were-Rabbit (2005)
Gromit shows off his knitting plenty in many Wallace & Gromit films and series, but the scene where Gromit is knitting in the car is one of the funniest knitting moments!
Watch the Wallace & Gromit knitting scene here.
What We Do in the Shadows (2014)
This mockumentary-style film follows several vampires around as they deal with everything from bad flatmates to ex-girlfriends. Deacon, one of the vampires, loves to knit. You'll spot his impressive colorwork sweater at several points in the film, plus hear him occasionally talk about knitting scarves for his friends.
Watch one of the What We Do in the Shadows knitting scenes here.
Yarn (2016)
You'll definitely want the volume turned up for this film! Yarn is a documentary about — you guessed it — yarn! Watch as artists create installations and do what we all love: talk fiber. 
Have a favorite movie that features knitting?
Share it with us in the comments so we can add it to our knitting night lists!