Did you know that June 14th – 22nd is World Wide Knit in Public Week? I couldn't be more excited because I am most definitely a public knitter. I have knit in most places you can think of: trains, planes, bars, restaurants, even movie theaters. But by far the public places that I knit at the most are coffee shops. It helps that my weekly knitting group meets at a coffee shop, but there is something about the mood in a coffee shop that just make you want to settle in and knit away!
Despite my extensive experience with knitting in public, I have had plenty of mishaps. There are some things that I have learned along that way that can help you have a more successful, relaxing and overall enjoyable coffee shop knitting experience!
Here are 4 "coffee shop" tips to celebrate Knit in Public Week and help you knit like no one is watching!
Tip #1: Review your pattern and project ahead of time.
In the long run, it will help to know when to expect coming up on a tricky bit that will require a lot of concentration. If you're knitting alone, that may be no problem. But, if you're meeting friends to knit with, it could be helpful to have a pattern that is a bit easier and requires less concentration.
Even if your project is not a difficult one, it might still be difficult to knit at a coffee shop. Consider if it will be too big and bulky to manage. What about the lighting in your coffee shop? Will your yarn be too dark to see in dim light?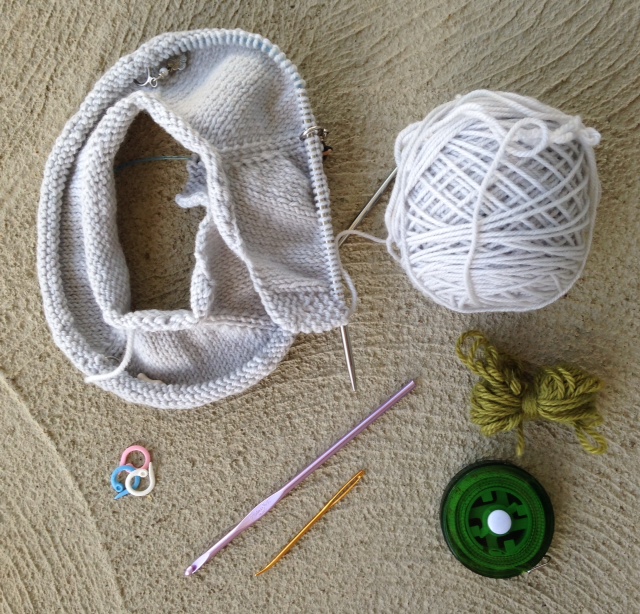 Tip #2: Be prepared.
Now that you've read your pattern through, you should have no problem gathering all the materials you might need. I like to pack all my notions and extras into a little pouch (or even a small ziplock sandwich bag) and toss them in my knitting bag.
Recently, I had packed some waste yarn in my knitting bag because I knew I was getting close to separating the sleeves on the baby sweater. I also had packed a darning needle to help with the sleeve separation and a crochet hook to pick up any dropped stitches.
Other items I like to take: A tape measure is handy to recheck gauge, measure yoke depth or to loan someone who forgot theirs. I always keep extra stitch markers because they get lost everywhere. A small pair of scissors would be useful too, but I've even used baby nail clippers in a pinch.
Tip #3: Always have enough yarn.
Quickly evaluate the progress on your project. If the word might even crosses your mind when thinking about having enough yarn for the extent of your coffee shop knitting, wind another ball. The saying "Better safe than sorry" was most likely created by someone who ran out of yarn 30 minutes into their 2 hour knitting group time.
[box type="shadow"]
Just add needles: Check out the Bluprint collection of stunning knitting kits to get everything your need for your next knit project in just one click!
[/box]
Tip #4: Be careful with your beverage.
Don't sit at a table with a wobbly leg and an open coffee cup. I think this goes without saying, but it has happened to the best of us (myself included!). Choose sturdy tables or armchairs with side tables, so your knitting isn't near an open beverage.
One of my favorite local coffee shops has terrible lighting and very small tables. As much as I love that shop, it is not the best place to bring my knitting. That's okay though, there are plenty of other well-lit shops to enjoy a warm drink while I knit!
Tomorrow on the Bluprint blog, we'll share our favorite portable knitting projects that are perfect for WWKIP Week! See you then!
[box type="shadow"]
Remember, with the Bluprint application for Apple devices, you can learn a new knitting technique or project anywhere. You don't even need WiFi!
Check out our collection of knitting classes and start on a new knitting adventure today!
[/box]
Are you knitting in public? Take a picture of you and your project and upload it to our project page with the hashtag #BluprintKIP!