I love knitting for my son. But as many knitters for boys out there know, there aren't always a lot of designs out there for boys that are both classic and stylish. Kate Oates does just that. She designs under Tot Toppers, a line for children (boys and girls!) that includes not just hats, but sweaters and more.
Learn more about Kate PLUS enter to win a copy of her latest book!
Kate has recently released a new book, Knits for Boys: 27 Patterns for Little Men. This fantastic book is not only gorgeously photographed, but includes such a huge variety of patterns — sweaters, tees, shorts, socks, ties, and much more!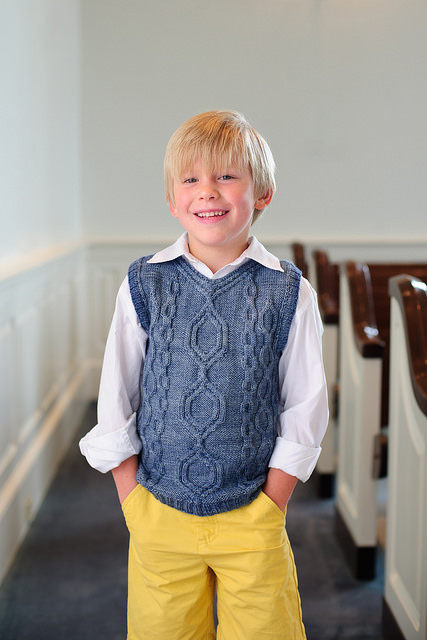 Prepster Vest
All knitters start somewhere. Can you share with how you learned to knit and what got you started designing?
I learned to knit when I was very young, I think 12-ish.  My little sister learned first, from our wonderful Aunt Dindy, and of course I was jealous and wasn't going to be left out so I made Aunt Dindy teach me too! I still have some of my very first hat projects (hats are what I learned to knit on) and boy are they hideous! For about 10 years I was an on and off knitter, I also knit a very awful blanket when I was in college when my then-boyfriend made me hang out and watch football with him (now my husband so I'm allowed to tease!).
It gave me something to do! Designing didn't come until I had my first baby.  Like many moms, I was trying to find something to do during naptime that made some extra money. So I was designing hats primarily to sell.  It didn't take long for knitter's that had seem my projects online to start asking me if I was going to sell my patterns (I think the Chunky Striped Stocking Cap got the most requests!) and that was when I got serious about it. I started designing more seriously and quit selling baby hats pretty quickly after that.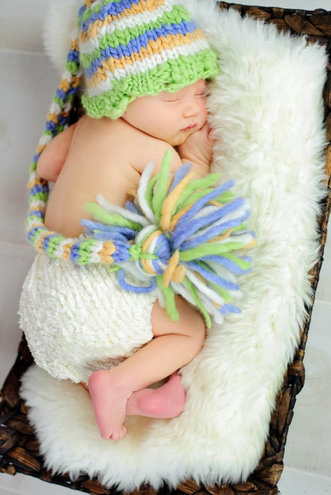 Chunky Stocking Cap
In addition to designing knitwear, you also have a PhD in Political Science. Does this ever cross over to your knitting life and how so?
I am a very self-motivated person and that's a behavior that really helps in grad school.  Grad school also taught me how to work under deadline! I think those skills have definitely helped me as an author and independent publisher where folks aren't necessarily breathing down my back to get things done. I'm the one that has to make sure it happens, and I'm probably harder on myself than a boss would be anyway!  I also did a good deal of teaching when I was in school, so some of those skills come in handy now as I do plenty of workshops. Although, I have to say, teaching someone at a knit workshop who is excited to be there is really great compared to teaching undergrads in required courses!
You have quite the crew with four boys! What are some things you look for when knitting for them? Do you ever break any of the "rules" about knitting for boys such as using only neutral colors or basic shapes?
Well, I've definitely been known to knit for them in pink 🙂 I'm pretty traditional when it comes to shapes though, I don't think I've done anything unconventional there. I guess one other thing I do that seems to surprise people is that I love to knit for them with non-superwash yarns! I really don't give much thought to whether fiber is superwash because I am gentle with washing handknits regardless.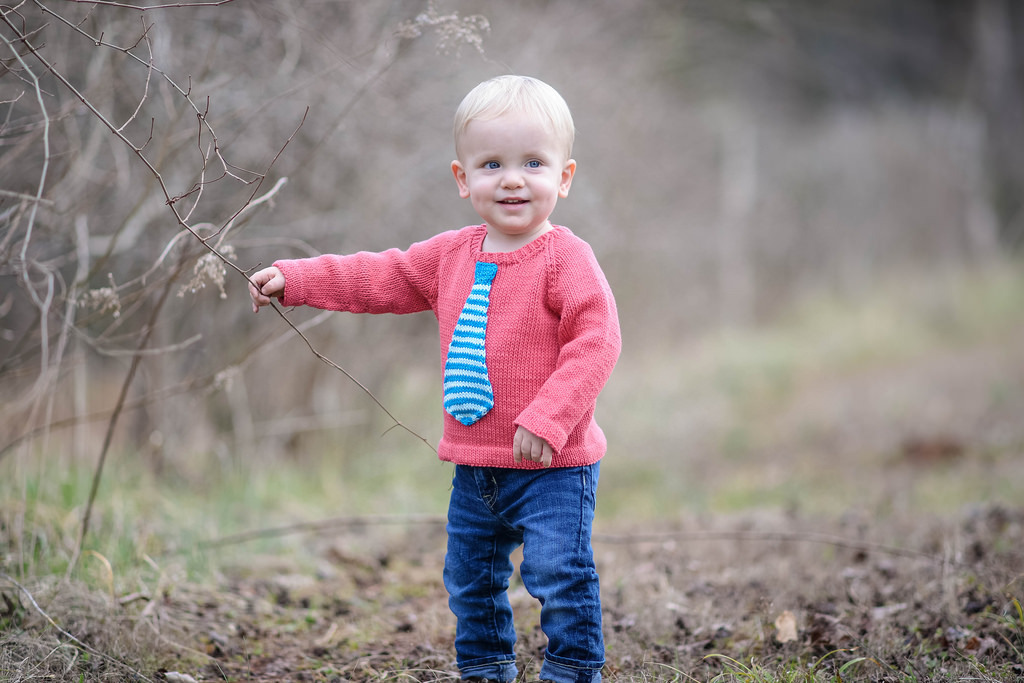 Boys Can Wear Pink via Tot Toppers
Do you have any tips for knitters when choosing yarn or patterns for boy's knits?
Knowing why your guy likes is obviously a great starting place. One of mine is particularly textural; he loves to pet my knitting projects!  For him, I will choose projects with cables or other textures.  Another one loves color and funky combinations, he was the one that inspired the Imagination Sweater in the book!  Try to take your cues from what your boy chooses to wear from his existing wardrobe.  Adding fun things like pockets or zippers or hoods to projects (all things that are spelled out in the book) can really personalize a design.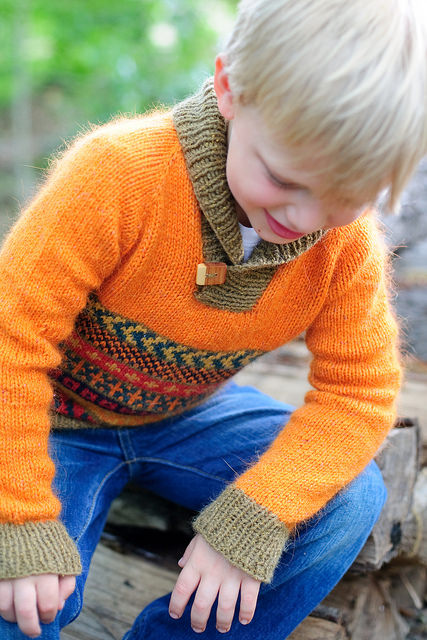 Imagination Sweater
Can you share how your new book is different from other children's pattern books? 
This book is not just a book of patterns. I think my grow-with-me approach is pretty unique and its valuable for anyone who knits for babies and children, regardless of if they are boys or girls!  So I would say the reference section really sets it apart.  Also in this reference section are the tutorials I mentioned above about some fun design additions.  There is also some basic math showing you how to add a few stitches or rows to add length/width particularly to a sleeve in order to make it fit your child better!
That sounds like a great resource! My own little man is growing so quickly the knitting can barely keep up. Do you have a favorite design from this new book? Or were there any projects that gave you trouble during designing?   
I really can't pick ONE project as a favorite but how about 3? I love equally–but for different reasons–Imagination Sweater, the T-Rex Graphic Pullover and the Jesse Half-Zip.  The biggest design headache was definitely the Prepster Vest.  It was worth it though, I absolutely loved how it turned out!  I tried a lot of different necklines before settling on a rather basic option.
T-Rex Graphic Pullover
Do you have a favorite knitting technique or stitch that you frequently use? 
Well, my favorite knitting styles are cabling and colorwork.  That's pretty broad, I know!  But I do really like to vary the styles of what I'm doing. The only thing I really don't do a lot of is lace. And I guess as a primarily boy-designer that kind of makes sense.
I am so excited to get my hands on this book and start knitting. I love that your designs are always fashion forward without being too trendy. Can you tell us what we can expect to see you doing next?
One thing that I'm starting to do a lot more of is teaching.  I love teaching! It's such a fun way to meet other knitter's and I love enabling folks with some of the basic math that helps to make knits fit better (which is what my favorite classes revolve around).  You can find me teaching at a couple of Stitches Events this year as well as a series of local yarn shops where I'm doing workshops.  Of course you'll also continue to see me put out patterns for my own design lines, Tot Toppers and When I Grow Up.
One lucky winner will receive their very own copy of Knits for Boys.
Enter to win!
**This giveaway has ended. The lucky winner is Margaret from New York!