I love baby socks. They are the ideal last-minute gifts for knitters in a need of a baby gift for a number of reasons. Knitting baby socks is quick, and is a great way to use up sock yarn remnants, which most knitters have laying around. Also, they are sure to come in handy, since babies need to keep those itty bitty feet warm. And they are oh-so terribly cute.
They are also a great way to practice sock construction for those just learning how to knit socks, so they're an easy project to start with.
I have for you here my basic baby sock pattern. It's the one I used to make these tiny gems for my brand new niece born this February.
For these socks, I used just about 50 yards of fingering weight yarn. The great part about using leftovers is that you can measure the gauge of the socks you have already knit.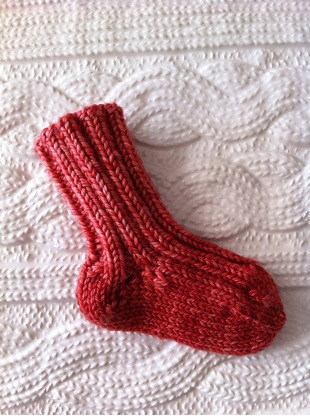 You will need sock needles for this project. Since my yarn was originally used for adult socks, I used the same needles: US 1.5 40″ circular needles. I like to magic loop my socks, and think that especially for something this small, it's easier to work than DPNs, but use whichever method you prefer for knitting in the round. You'll also need a stitch marker and a darning needle.
The finished sock will stretch to about 4″ in circumference and is made for a 3″ foot. I would say these are sized for newborn to 3 months.
Pattern
Gauge: 8 stitches = 1″
Cast on 32 sts, pm and join to knit in the round.
Work 2×2 ribbing around leg for 24 rounds.
Work a short row heel over the next 16 sts.
Working over all sts, continue to work in stockinette stitch until the foot measures about 2 1/4″.
*K1, ssk, k10, k2tog, k1; repeat from * to end of row – 28 sts
K one round.
*K1, ssk, k8, k2tog, k1; repeat from * to end of row – 24 sts
K one round.
*K1, ssk, k6, k2tog, k1; repeat from * to end of row – 20 sts
K one round.
*K1, ssk, k4, k2tog, k1; repeat from * to end of row – 16 sts
You will now work the toe decrease as established until only 8 stitches remain.
Leave a long tail and break yarn. Graft toe stitches together using Kitchener stitch.
Success!
A few notes:
I prefer to work a short row heel on all socks that I make, both adult and baby. See this simple version of the short row heel that can be worked either from the toe up or cuff down. Of course, you can work whatever heel you prefer. If you'd rather not make a heel, then don't! Babies won't complain that the heel on their socks doesn't fit. I'd make sure to knit the leg of the sock a bit longer though.
I found that the baby toe will measure a little less than 3/4″. If you want to make a longer foot, knit the foot of the sock until it is 3/4″ less than you desire.
While you can modify your socks however you'd like, I suggest making sure to add at least some ribbing to the socks. Baby legs can be skinny, and they will stay on a bit better with this.
If you're new to grafting live stitches, try enrolling in the FREE Bluprint class, Ins & Outs of Grafting with Anne Hanson. And when you're ready to move past this basic sock, here's an adorable lace version: Lace Chain Baby Socks.
You may also enjoy the post we featured yesterday on Quick Knitting Projects for Busy Knitters.
When I gifted these to my sister-in-law, I included an outfit with coordinating colors and a matching hat. What other items would be fun to include with knitted baby socks?