Many Bluprint employees just can't get enough of the wonderful world of crafting and are busy learning to make new projects all the time. Jessica Hutton, one of Bluprint's wonderful community relations associates, just completed Custom Yoke Sweater with Amy Detjen after learning to knit just 3 months ago. Below she shares her experience of knitting a custom yoke sweater with the Bluprint blog team, from intimidated beginnings to completing a fun, personalized sweater.

Tales of Knitting: Jessica Hutton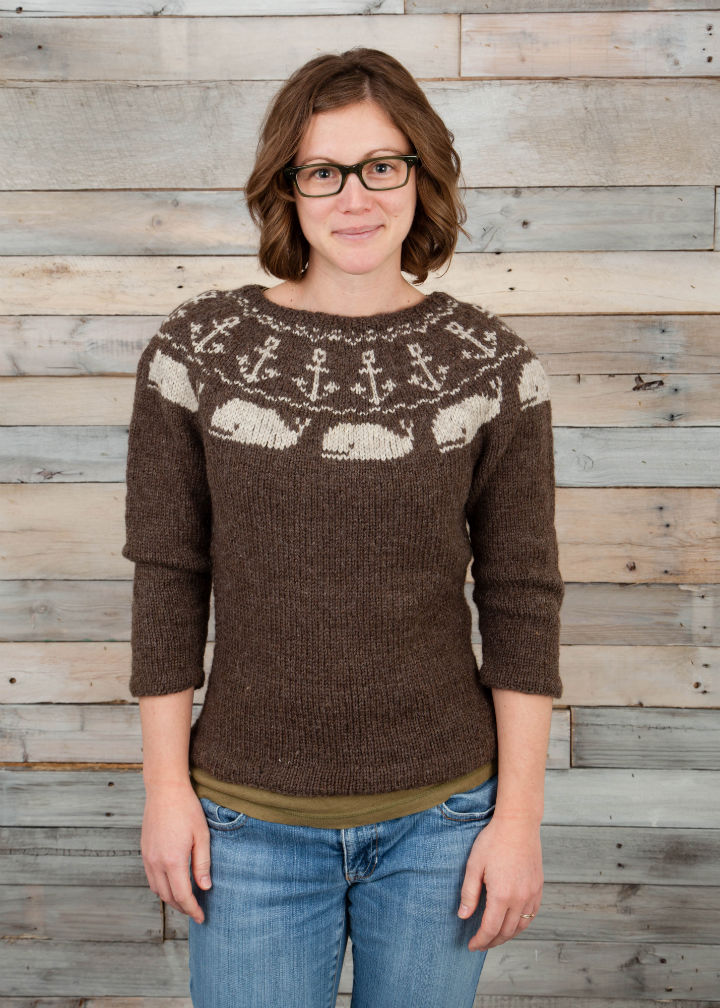 Jessica models her new sweater, knit for the Bluprint class Custom Yoke Sweater
What is your knitting background?
I grew up watching my grandmother knit like a pro and she taught me to crochet a chain as a young girl but I was always intimidated to try knitting. On a recent visit home, my sister-in-law was knitting a basic but beautiful cowl for her daughter and I just thought it would be fun to try out. I decided that my first project would be the free Bluprint pattern 1 Hour Herringbone Cowl.
I had such fun and they were relatively quick projects so I made about 10 of these before I learned the knitting basics from Knit Lab with Stefanie Japel. After trying out knit and purl combinations on swatches, I found that I was quite addicted to this meditative craft, so I wanted to really dive in for a challenge. I'm glad I did because Amy's class was a lot of fun and provided a great resource for me to learn how to knit a sweater that I could really personalize.
What really sold you on this class?
This class doesn't require any fancy stitches beyond increasing and decreasing, which are covered very thoroughly in the class video. A custom fitting pattern was a must and I was also excited to make my own yoke design.
How did you create the design?
In order to create this design, I used Microsoft Excel for setting the stitches, and Paint to play around with colors, etc. I also sketched it out by hand using knit stitch Graph Paper (you can print this paper for free and then use it to sketch out your own designs).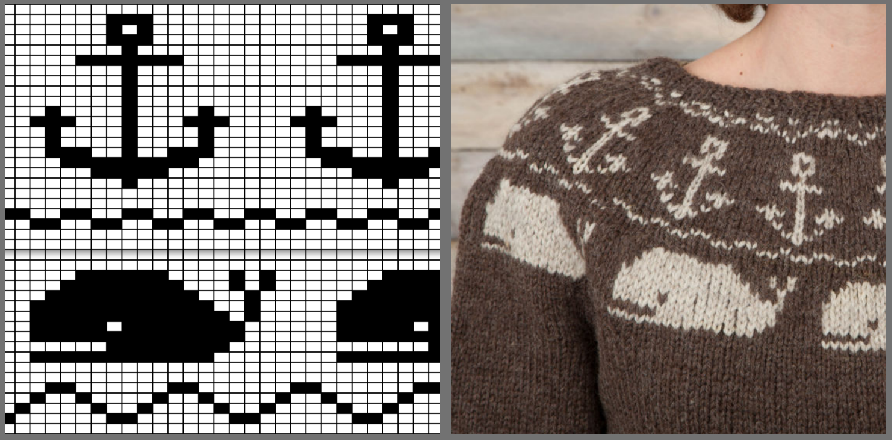 Jessica used her own seafarer's theme design for her Custom Yoke Sweater
What was the trickiest part?
I accidentally bought yarn (I used Lion Brand Fishermen's Wool Yarn) and needles that were larger than what Amy used, so I had to convert the pattern based on my different stitch and row gauges. Since I'm no math whiz, this proved to be a bit challenging but with Amy's help answering my questions it was a great learning experience. Now, I feel I could apply this to other knitting patterns, giving me more freedom in choosing my next projects.
What's your favorite thing about the sweater?
It's certainly not perfect and I have lots to learn, but I'm proud that I have a completed sweater I can wear over and over again!
[box type="shadow"]
Do you love Jessica's design? Try it out!
Jessica would like to share her whales and anchors design that she created with Bluprint readers! The PDF contains Jessica's Excel design, as well as a chart indicating where the repeats in the pattern would be. Enjoy!

[/box]
Jessica's experience is great inspiration for new knitters! When did you learn to knit your first sweater?