Ever look at a knitting pattern and just feel too overwhelmed to even attempt it? When I first started knitting, I fell in love with a knitted coat pattern. But when I looked at the pattern, my eyes crossed. It seemed impossible to complete.
As my knitting skills improved, so did my outlook on coat patterns. After all, they're really just a longer version of a cardigan, right? If you can tackle a sweater, you can tackle a coat.
Here are just a few reasons you should knit a coat this fall, with coat pattern eye candy along the way.

Photo via Craftsy member Blue Sky
1. It's just like knitting a longer version of a sweater.
When I look at coat patterns, I feel overwhelmed. "There's no way I will ever finish that," I say. But knitting a coat is just like knitting a cardigan, except that it's a little longer. If you've successfully completed a sweater, you can successfully complete a coat, too!
Take a look at the Audrey Coat above. (Beautiful!) Cover up the bottom of the coat with your hands and it might even look like a cardigan you've knitted before. Plus, this particular pattern is knit with two strands of yarn held together throughout, so you'll complete it much faster than you think.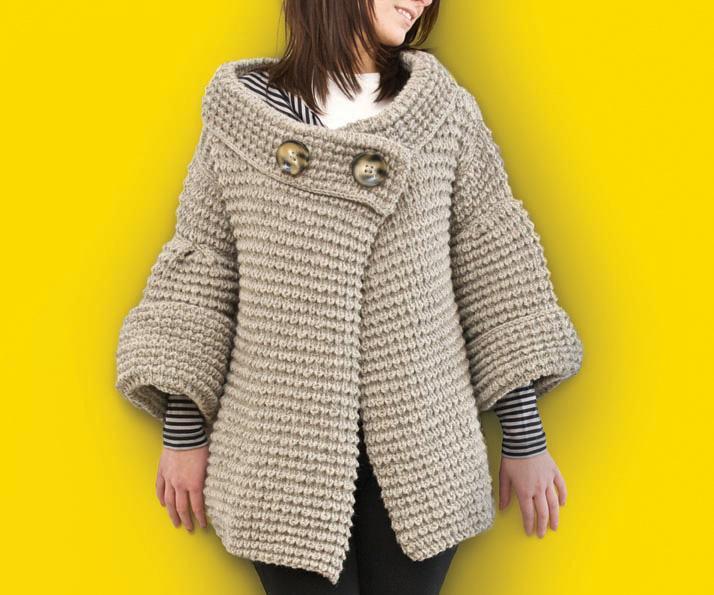 Photo via Craftsy member Jo Storie
2. It's cozy.
Imagine how you feel when you snuggle up to your favorite knitted blanket. Now multiply that feeling by ten. Wearing a knitted coat is like having a big warm, blanket around you all the time!
Does it get any cozier than the Hepburn Cardigan Coat pictured above? I want to live in this coat. That chunk yarn paired with the pineapple stitch make me want to curl up with some tea and bliss out.
3. Choosing buttons is fun.
It's the little things that make knitting projects fun. I love picking out embellishments, including buttons. You can totally alter the style of your coat depending on what kind of buttons you choose. Plus, it's just another excuse to make a trip to your local yarn or craft store.
Need help customizing those buttonbands? Get the button low-down with Anne Hanson's class Button Bands & Buttonholes. You'll learn professional techniques for the neatest buttonholes, plus how your button choice can affect the entire look of your garment. Definitely useful for choosing buttons for you knitted coat!
4. You'll wear it often.
I don't don my handmade sweaters as often as I should. But handmade coats can be worn daily, just like your usual coat. You'll get a lot of wear out of it, making all those hours you spent knitting worthwhile.
5. You can customize it.
I'm super picky about outerwear. When I browse coats in a store, I'm constantly finding just one or two little things that make me dislike the coat. Maybe it has a weird embellishment on it, or maybe it is just a little too long for me. When you're knitting a coat, you can customize it however you like. Lengthen the hem, shorten the sleeves, add a hood — there are dozens of different options for making it your own even when you're using a pattern that another designer created.
If you like a nice fitted coat, you might want to take a look at Feminine Fit: Bust-Shaping Techniques with Joan McGowan-Michael. Not all busts are created equal, as you know, and Joan can help you figure out what shaping you need to make the bust of your coat fit perfectly to  your body.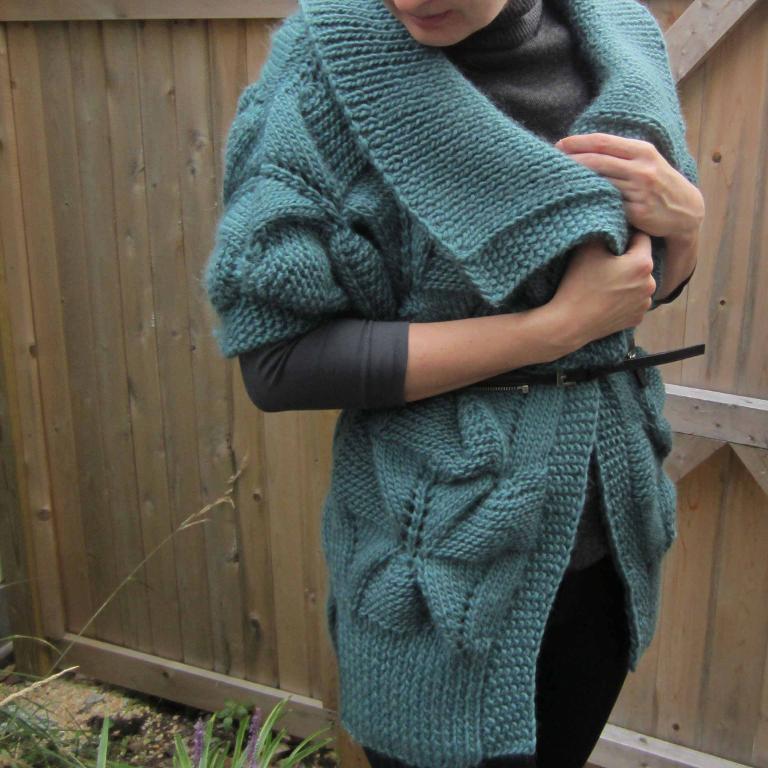 Photo via Craftsy member Neuroknits
6. It's the perfect way to show off your favorite stitch.
I'm flipping out over the textured lace diamonds in the Stella Coat pictured above. Coats are a great way to show off beautiful stitches because you have so much room to work with. Take advantage of those textured stitches and show them off.
Planning on incorporating lots of cables into your coat? I'm always inspired by Patty Lyons and her Explorations in Cables class. It's perfect for knitters who've never tried cables before or more seasoned knitters who just want to change up their usual stitches.
7. No one else will own it.
I have a black store-bought coat that I'm constantly losing track of when I go out because it looks like every single coat in the room. Even at the coat check, I have to look inside the pockets to make sure it's mine. If you like to stand out in a crowd — or just like to be able to identify your coat with ease — then knit yourself a coat that no one will forget.