Looking to knit something other than the standard scarf, sweater, or socks? How about my new favorite project: a knitted bag? Knitted bags can make cute casual purses or tote bags. Or you can carry your next knitting project in one.
I have knitted bags in three different ways.
1. This bag, made as a birthday gift for a six-year-old, was my first attempt. This one was made by knitting the two square sides of the bag separately. It required three needles because when I got the first side to the size I wanted, I didn't bind off. Instead, I left it on a needle and used the other three needles and a fresh skein of yarn to knit the other side. When that side matched, I bound off both sides together using the 3 needle bind-off. This grafted the two sides together and also created a strong bottom seam.
This bag wanted lining, which tested my skills as I'm not a sewist. But without lining, I can see how this particular yarn knitted on the size needle I used could have resulted in pencils and barrettes and other treasures poking through. One of the handle options for any knitted bag is to use pre-made wood or metal handles, available at any craft store. Because this one had a lining, I was confident I could secure the cute wooden handles with regular sewing thread. My favorite finishing touch, though, is the flower. The little beads sewn onto it spell out the recipient's name.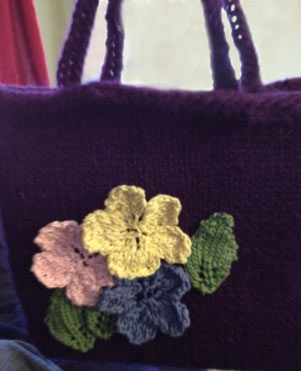 2. Then this second bag was made a few years later, for the same girl. (A more mature shade of purple for a more mature girl who still loved purple.) This time, I knitted the entire bag as one long piece. Then I folded it in half and sewed it up the sides. This had the advantage of not having a bottom seam at all, making it a fairly sturdy construction. I also used an incredibly heavy yarn– so that bag isn't ever falling apart. The handles were knitted I-cord. Because the handles were made with yarn, I used yarn to sew them on, including the ends of the handles themselves.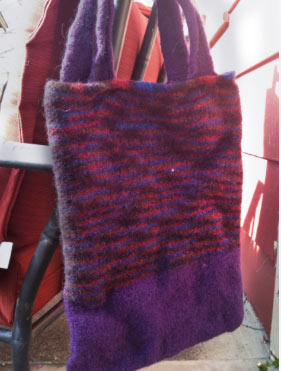 3. The most recent bag I made was for a grown-up girl, one who I know likes going to the farmer's market and brings her own bag to the grocery store. I wanted to make her something sturdy, so I chose a felted bag. (And apparently, I only make purple bags…)
For this third bag, yet a third method. This one was knitted in the round. When it was the length I wanted (I was felting it, so the knitted length was about 150% of the finished size), I bound off. To make the top of the bag sturdier, I used an I-cord bind-off. I was left with a cowl-shaped item. I flattened it and sewed it closed along the bottom. I sewed it across twice for extra safety.
The handles were just knitted strips, about an inch wide. I sewed them on with yarn before felting, of course. The felting made the handles shrink up in a nice way.
For any knitted bag, you don't really need a pattern. You can easily make your own to your desired size, adding whatever kind of handles and finishing details you want. To find inspiration, browse through all of Bluprint's bag patterns.
Have you ever knitted a bag?