Just thinking about winter sweaters this time of year makes knitters break out in a sweat. But you can keep stitching and show off our skills in warm weather with an open, lacy knit top.
Go ahead and give in to the hot weather! Trade your wool and alpaca for cotton, bamboo, linen, and other warm-weather fibers to stitch one of these beautiful lace knit tops.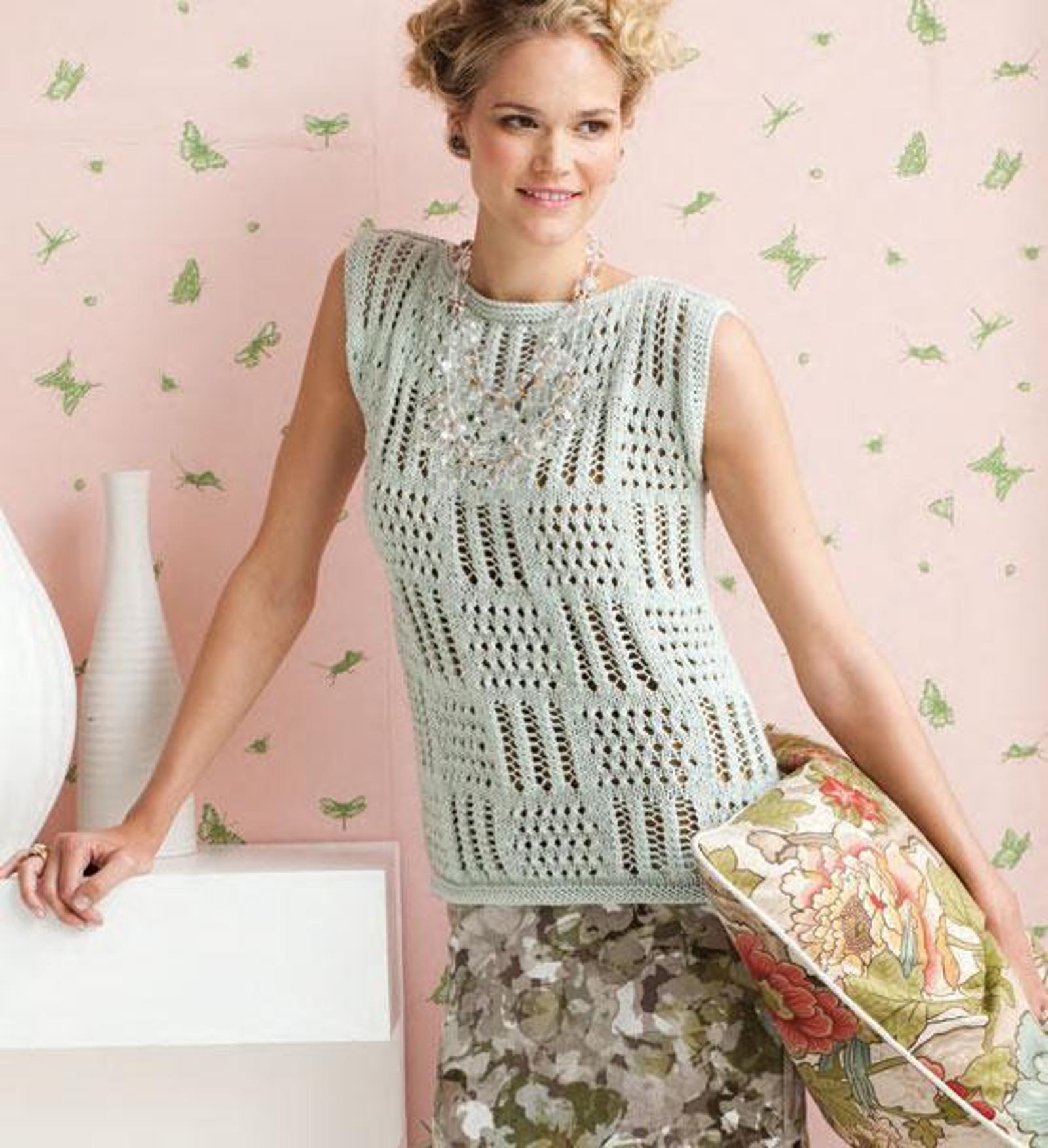 Photo via Craftsy member Vogue Knitting's Pattern Store
1. Patchwork Lace Top
This pattern is designed with positive ease to keep the fabric from clinging to you too much. It's comfortable, plus those open stitches are great for a little extra ventilation on hot days.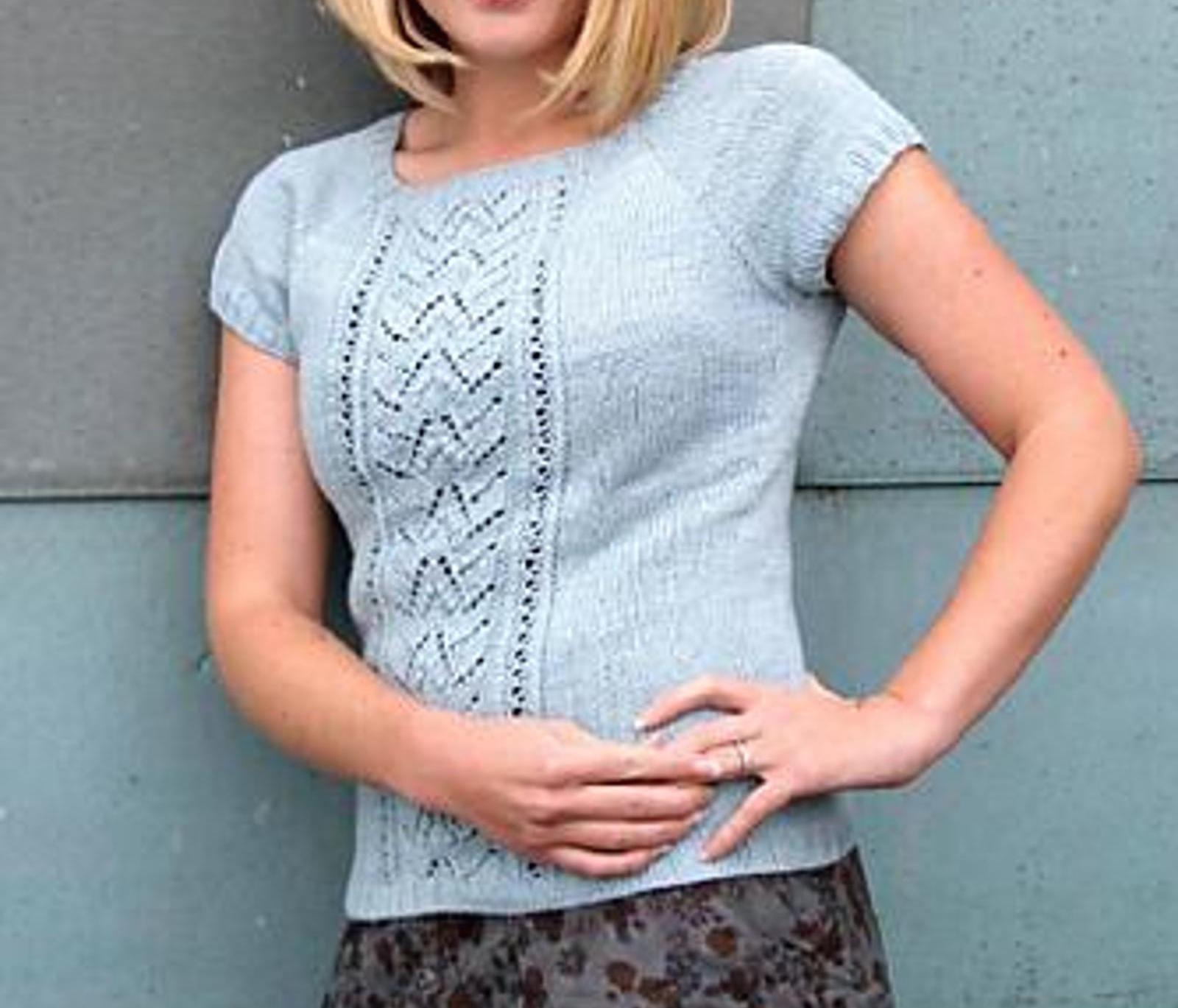 Photo via Craftsy member Bijou Basin Ranch Pattern Store
2. Off-Center Lace Panel Top
This top is worked seamlessly from the top down, so you won't have any bulky seams to deal with. It's versatile enough to wear as a casual top or to pair with a skirt or pants at the office.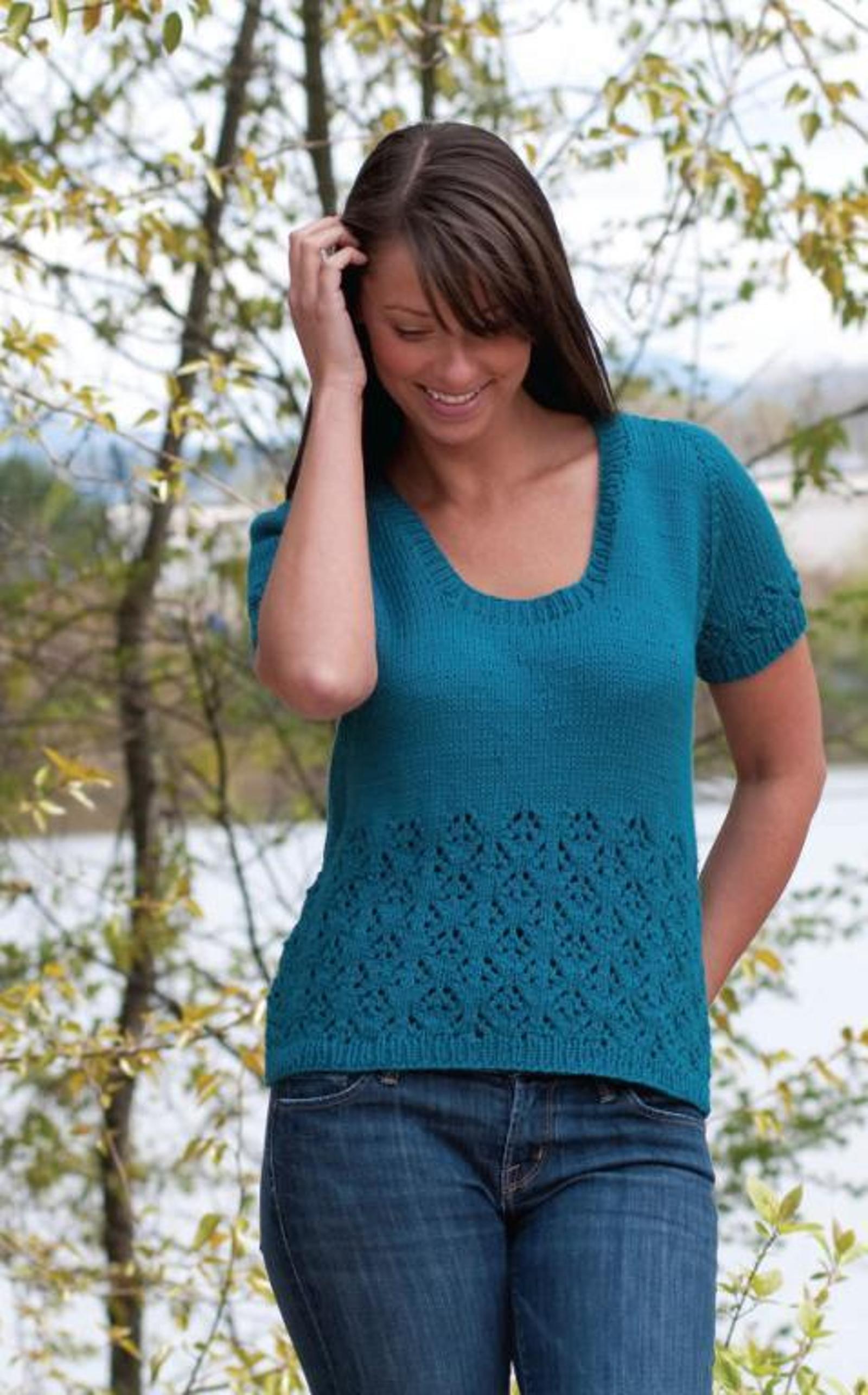 Photo via Craftsy member CascadeYarns's Pattern Store
3. Lace Top-Down T-Shirt
Lace can add that little something special to any project, and that's definitely the case here. This top is stitched with Cascade Pima Silk, so it's soft against your skin and perfect for summer weather.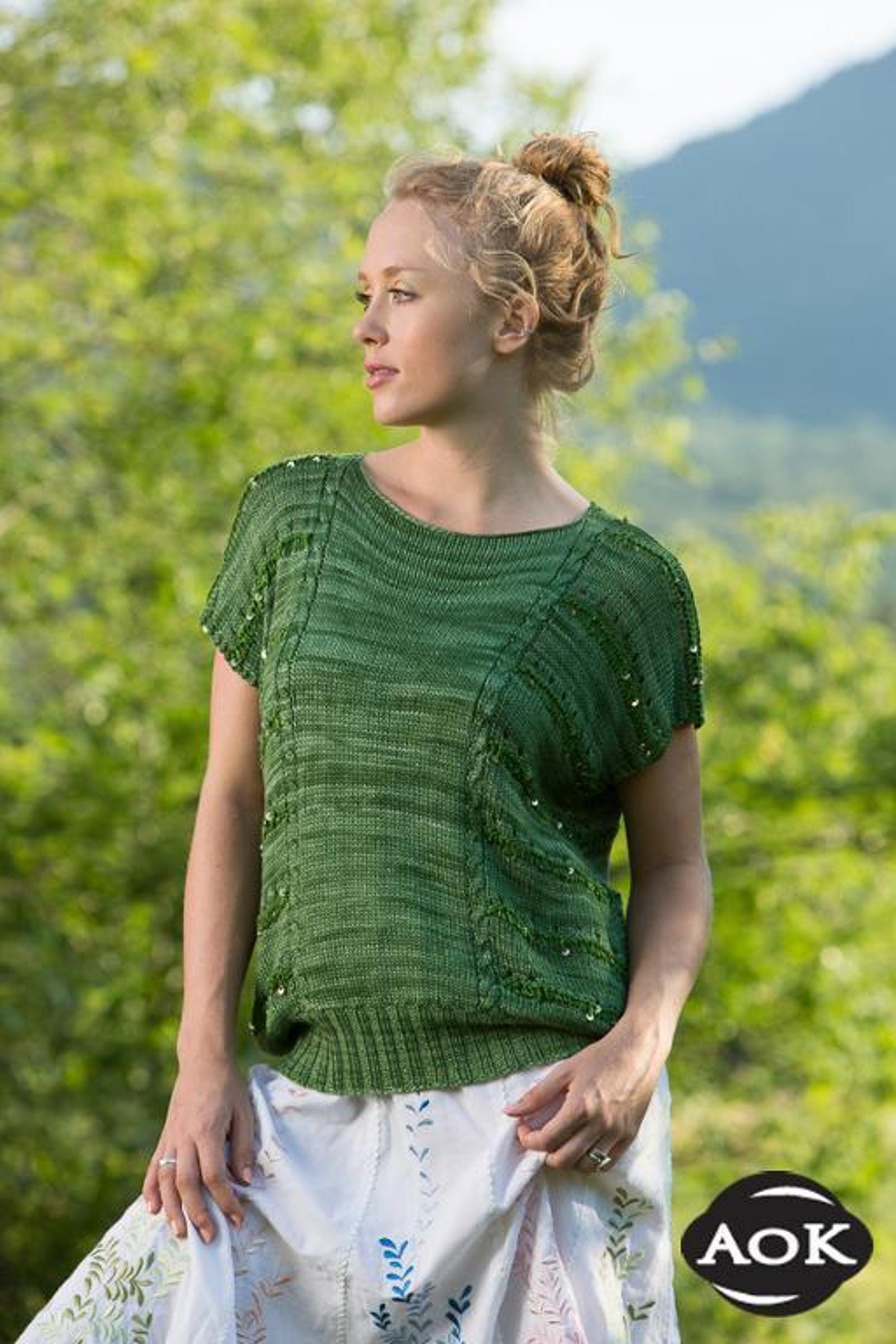 Photo via Craftsy member Army of Knitters
4. Green Hill Lane Top
This sweater features a sequin yarn to add a little bit of sparkle. Of course, you can skip the sparkle if you want a more casual look. The cables and striped texture offer plenty of visual interest even without the bonus glitz.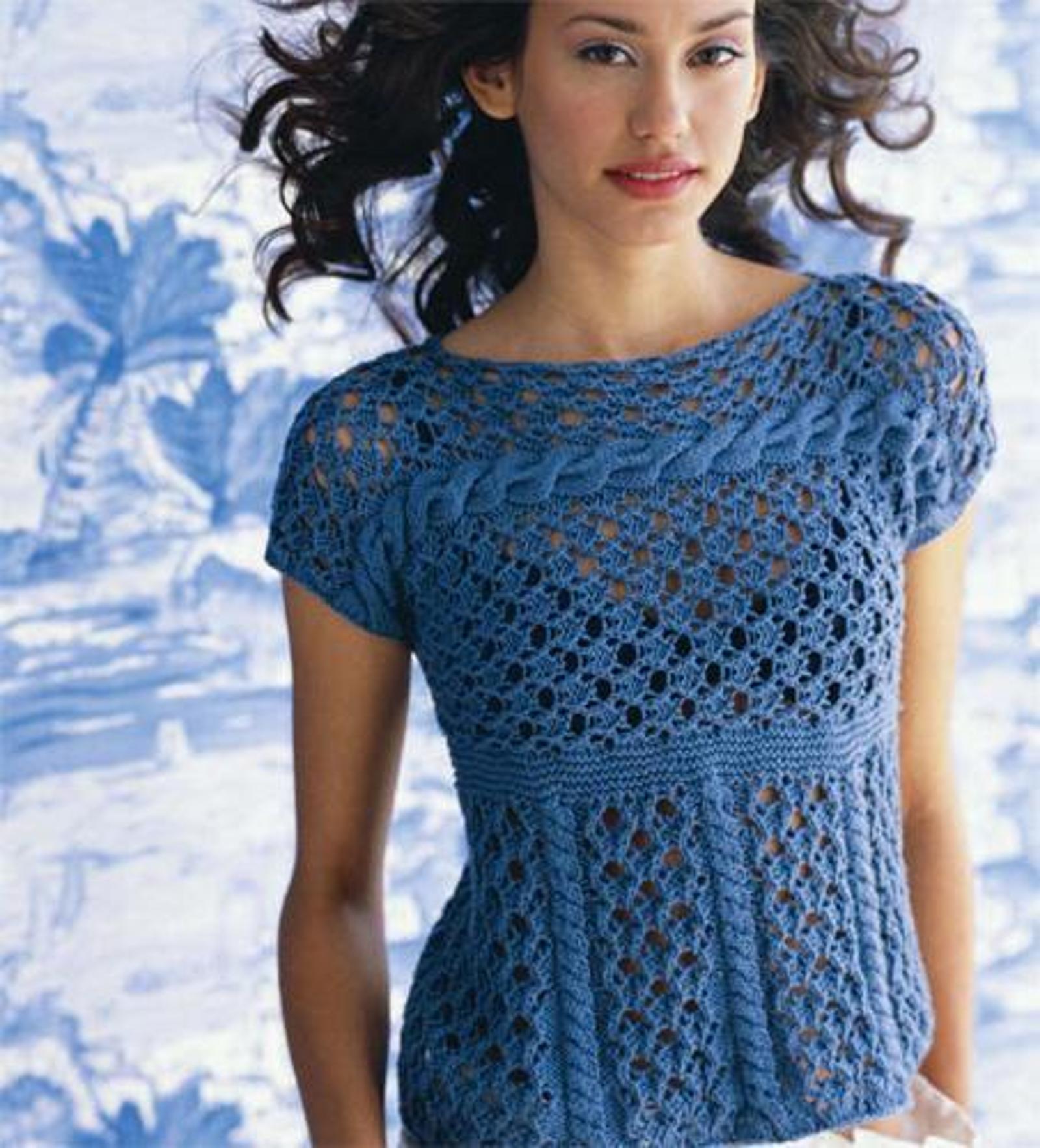 Photo via Craftsy member Vogue Knitting's Pattern Store
5. Lace and Cable Top
Scared of those sideways cables? Don't be! The top of this piece is worked from side to side, just like working a regular cable. If you're bored with the usual garment construction, this is a great way to shake things up.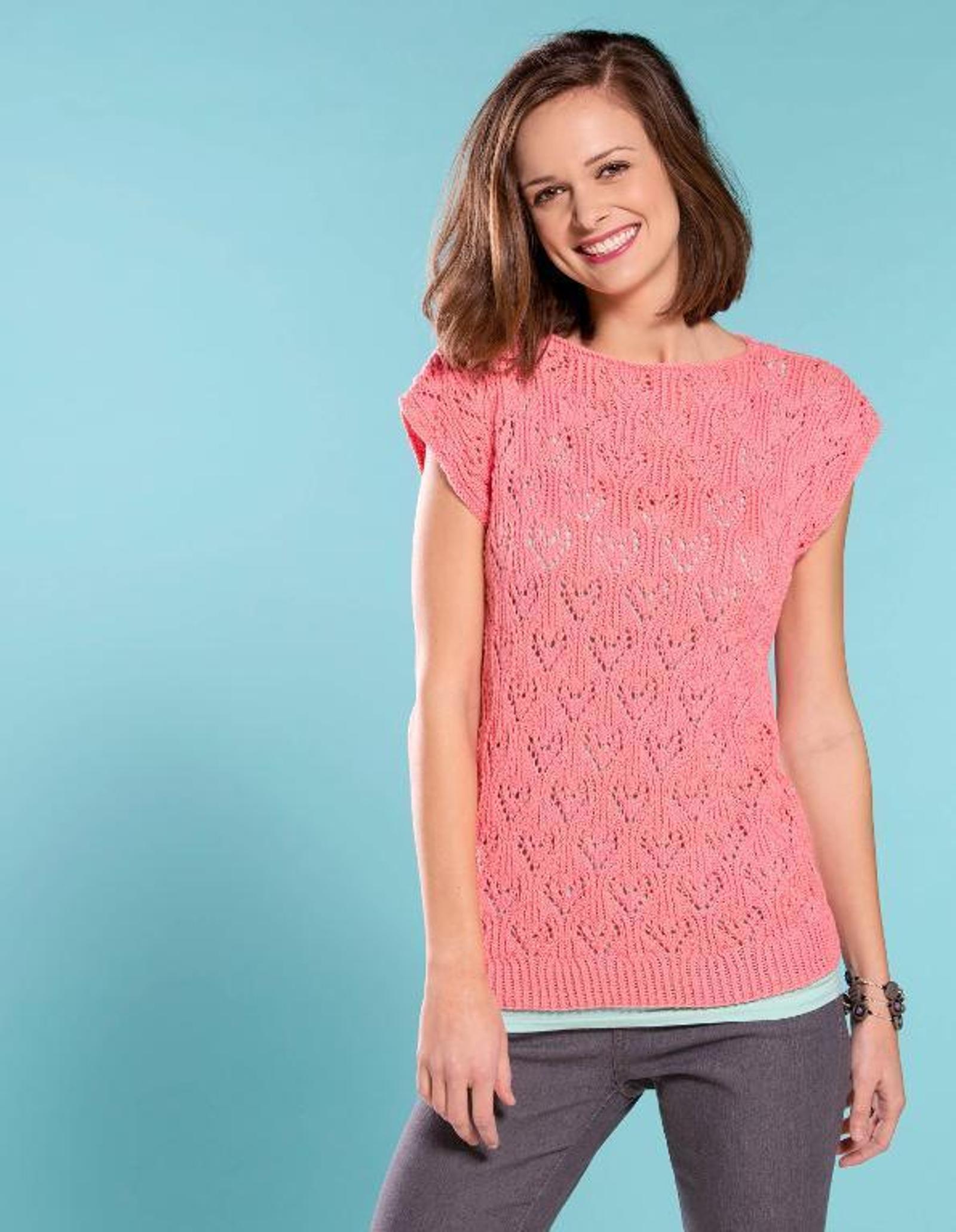 Photo via Craftsy member Universal Yarn
6. Love Lace Tee
This tee includes both written and charted instructions for the awesome all-over lace pattern. You might even memorize it after a couple of repeats! The pattern was designed for the drape of a bamboo yarn, so it's ideal for warm weather.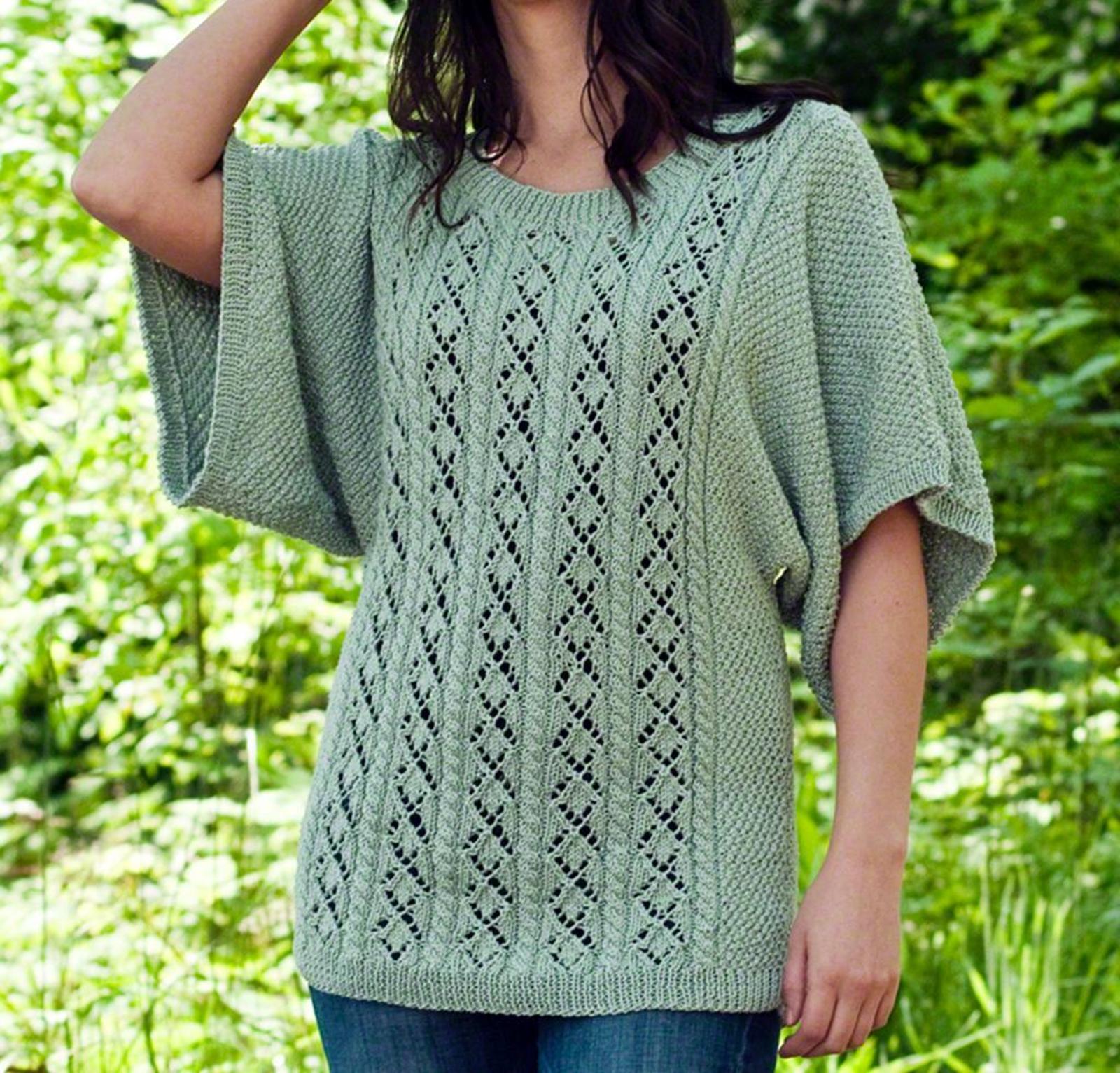 7. Diamonds & Cables Top
The large, open sleeves on this top are exactly what you need for warm weather. The lace pairs with cables to offer not only cool open stitches but also beautiful texture. This kit comes with both the pattern and yarn you'll need to make one top.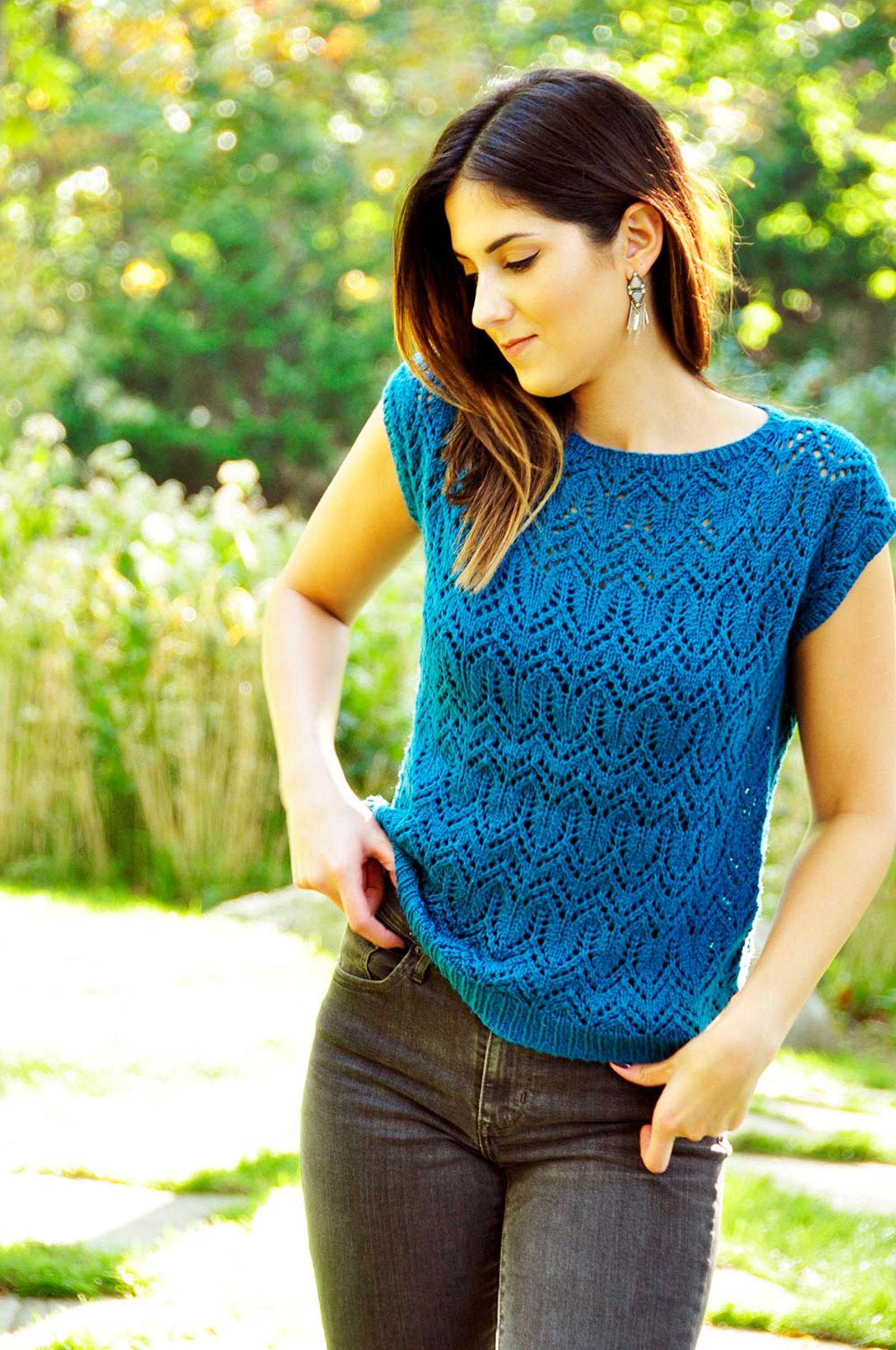 Photo via Craftsy member Girly Knits
8. Take a "Bow" Lace Dress and Top
This is two patterns in one: a dress and a top. Instructions are even included to customize the length of each one, so you can create a t-shirt or a tunic, plus customize the hem of your dress.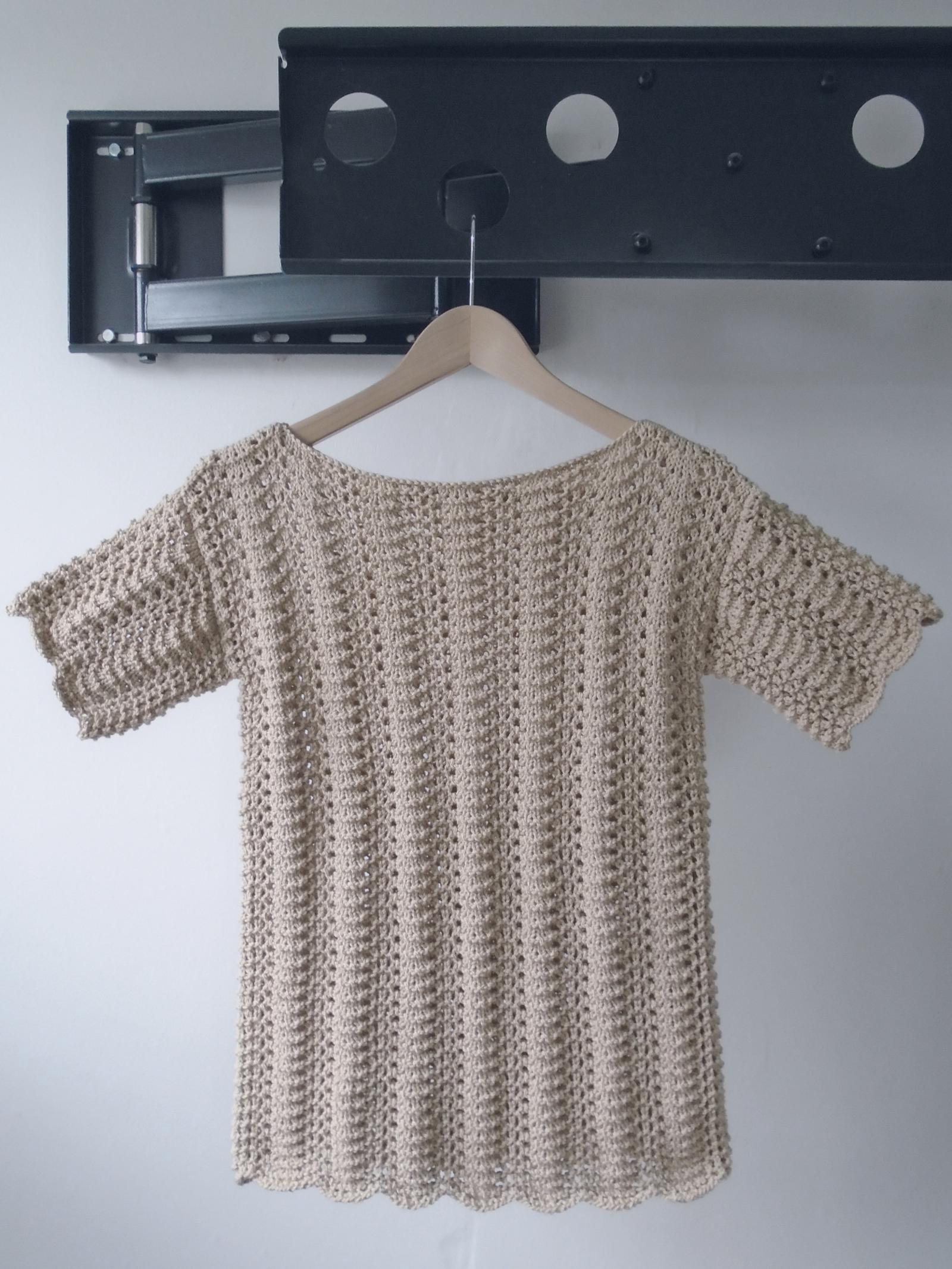 Photo via Craftsy member Design Studio
9. Linen and Lace Tee
The same lace pattern repeats over and over, making this the perfect lace project for knitters new to lace knitting. The designer recommends using any warm-weather-friendly fiber like linen, cotton or silk.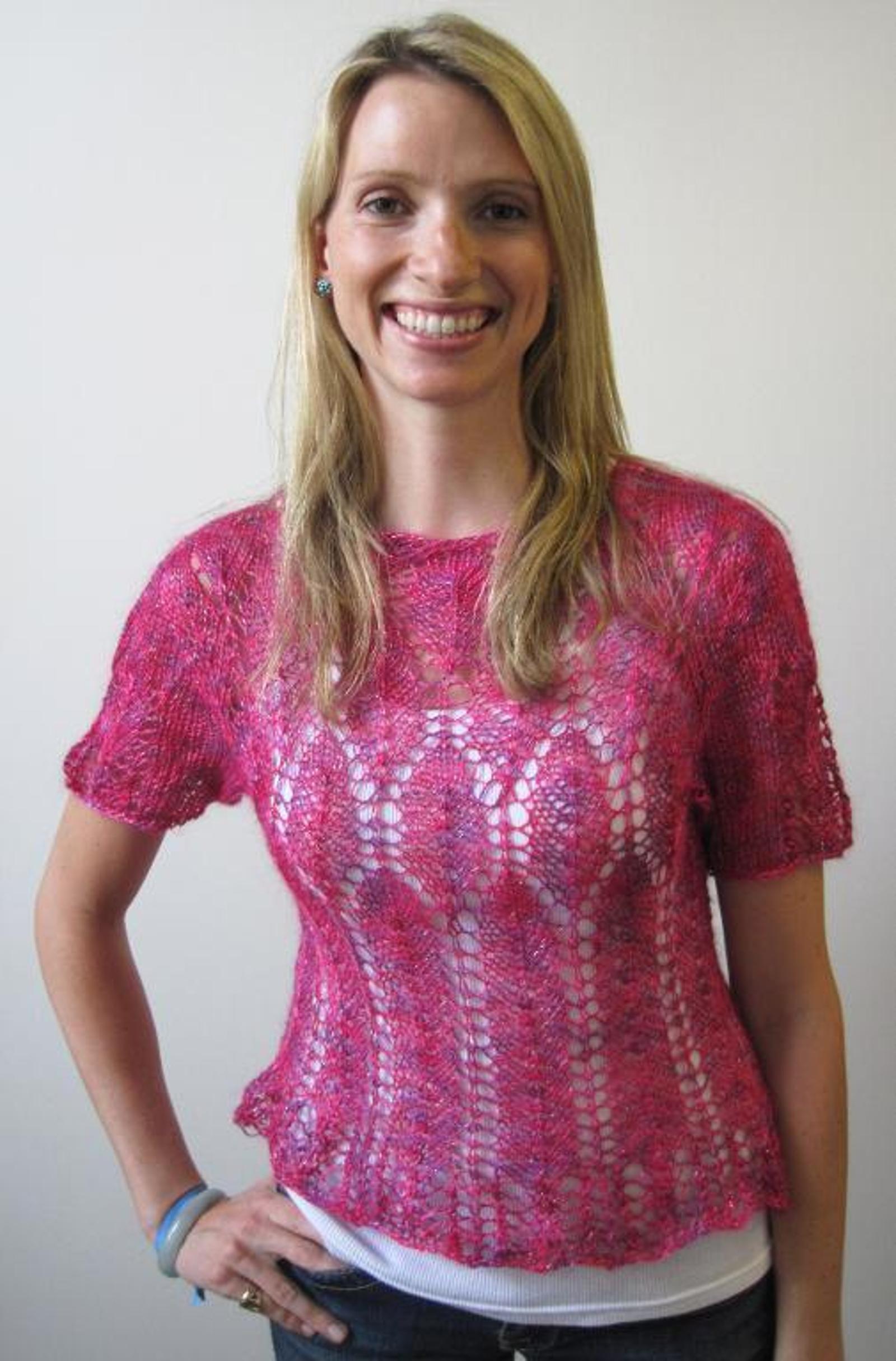 Photo via Craftsy member Artyarns Store
10. Pink Lace Tee
Grab a pretty, sparkly yarn to work up this beauty. Since the stitches are so open, you'll need a layering piece underneath like a tee or a tank.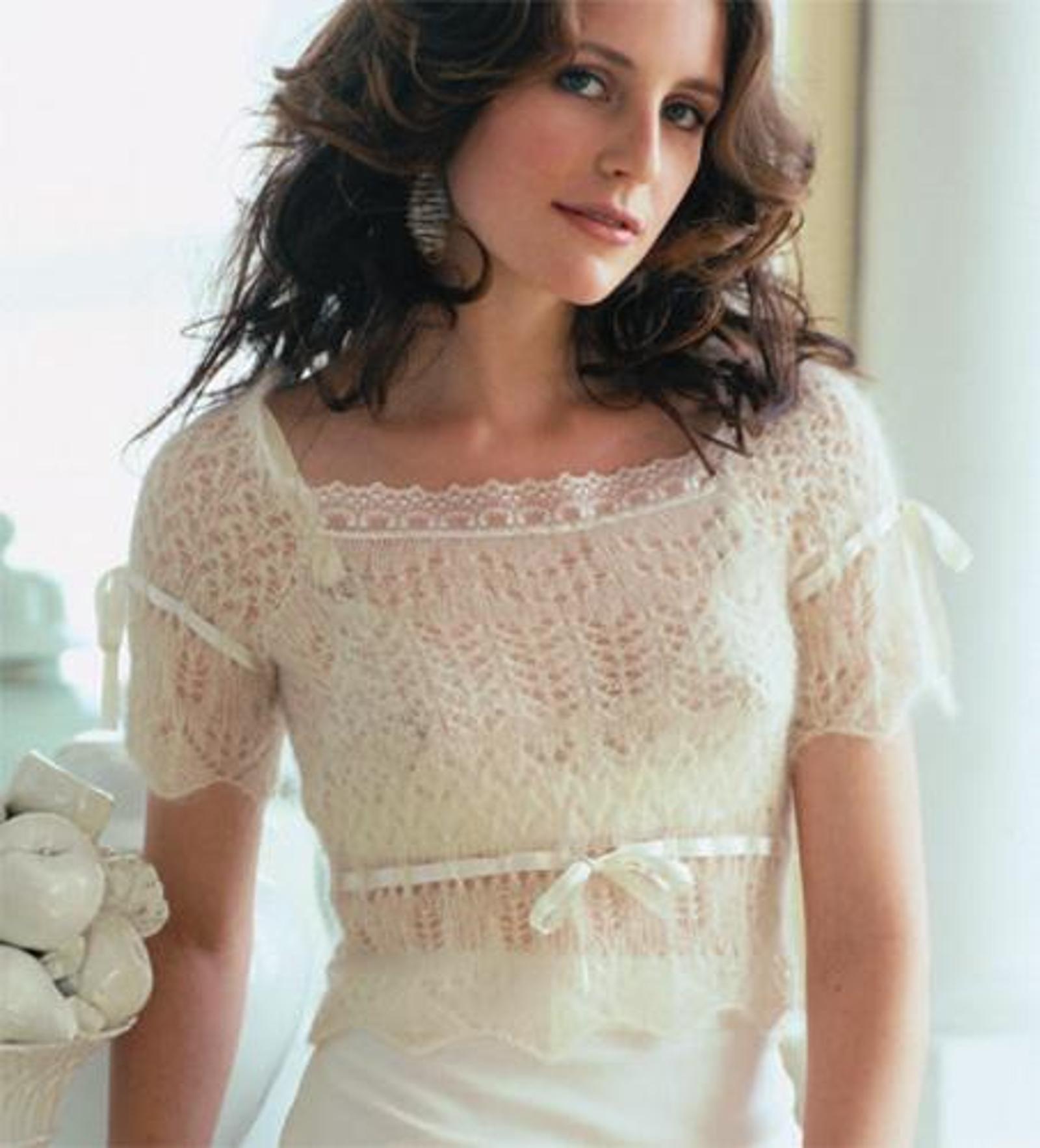 Photo via Craftsy member Vogue Knitting's Pattern Store
11. Cropped Lace Top
You might want to save this delicate garment for a special occasion. Layer it over a plain dress or top to add just a little bit of elegance. The lace pattern changes throughout the project, so you'll never be bored!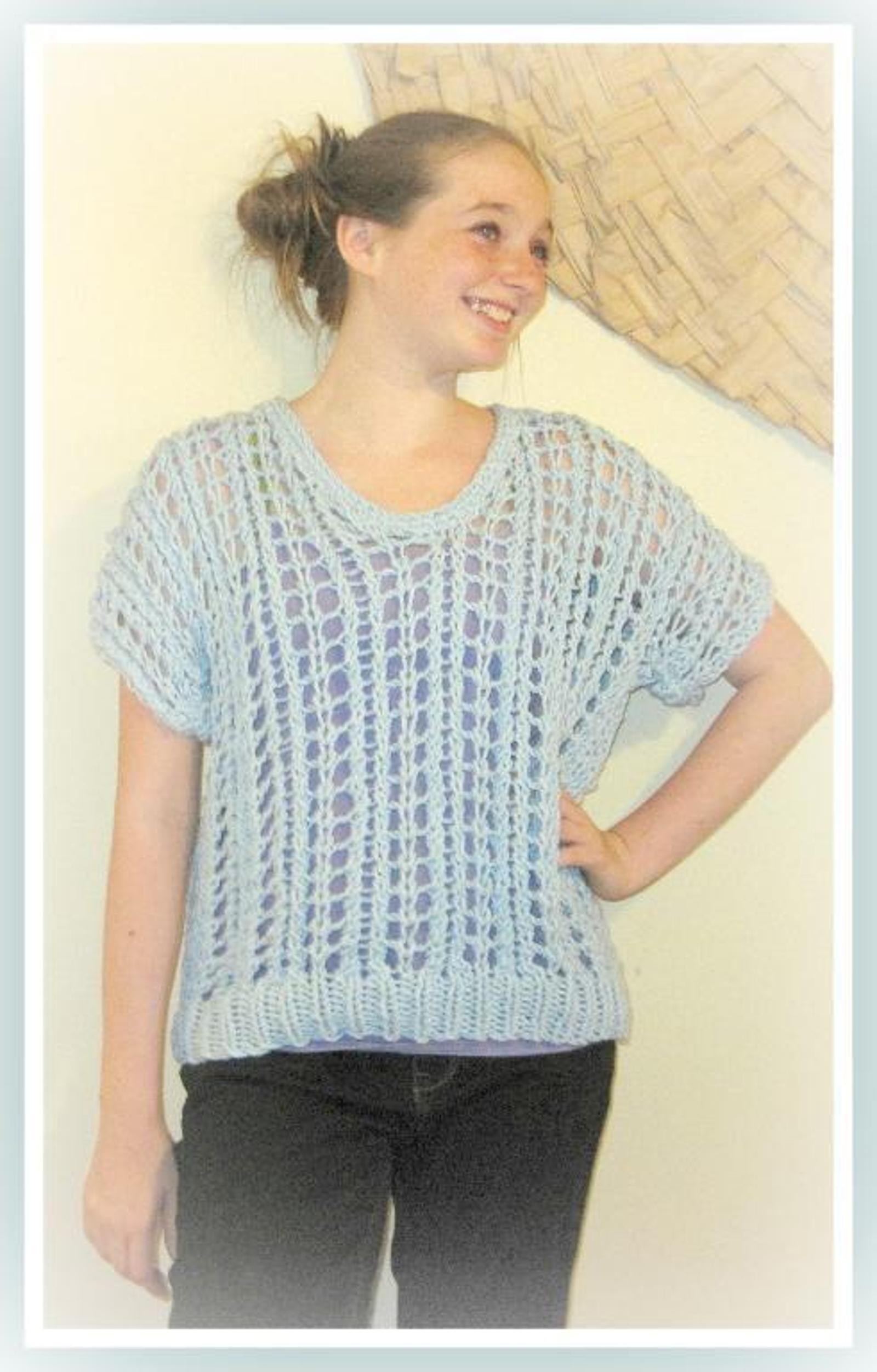 Photo via Craftsy member Laurel Lane Knits
12. Teen to Adult Spring and Summer Pullover
Garments don't get any easier than this! This lace top is knit on huge needles, so you'll breeze right through. Plus the loose gauge makes this a perfect fit for summer. The designer even recommends wearing this super simple top over a swimsuit.
Tell us about your summer knitting! Do you stock up on winter sweaters, or are you knitting more warm-weather-friendly projects like these lace tops?