Sewing with knit fabric can be really rewarding, but when you're just getting started, it can be a big challenge. If you're having trouble sewing kits, one of these common problems might be the problem!  Read on for some tips for tackling some of the most frequent troubles.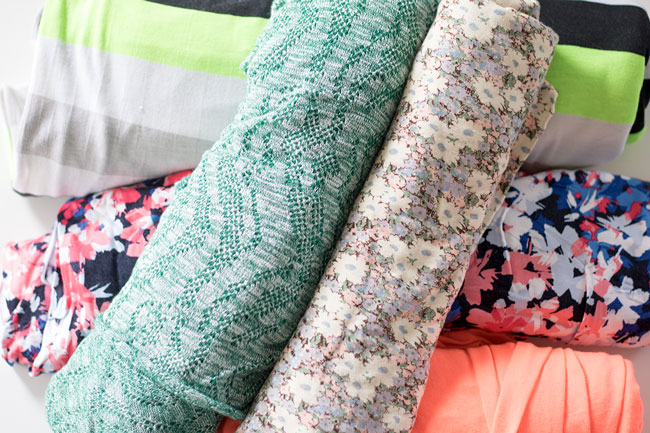 5 common problems when sewing with knit fabric
The Problem: Telling the right side from the wrong side on solids
This is tricky! I was just sewing with double-brushed poly legging fabric the other day and having such a hard time. Generally you can look closely at the fabric and the right side will have small Vs on it, while the back will have more loops.
Here's a little secret: If the right and wrong sides are so similar… it doesn't really matter! Just choose a side to be out and go with it. 
If you really have a hard time, the best solution is to stick with prints!
The problem: Getting ribbing on necklines to lay nicely
This problem really stems from using ribbing that's either too long or too short for the neckline you're sewing it on.
A good general rule is to cut the ribbing 80 to 90 percent of the length of the neckline. So if the neckline measure 20″ around, you would cut the ribbing 16-18″.
This does not work with all fabrics all the time, but it seems to work with more fabrics most of the time. The stretchier the ribbing fabric, the shorter you will want to cut it.
The problem: Your machine "eats" the fabric when you start sewing
There are a couple common solutions for this:
Make sure you're using the correct needle (stretch, jersey, etc.). Also a new needle will help.
You can also use a "leader" cloth, like tissue paper or a fabric scrap, to start the seam.
I often just start sewing ½" from the fabric edge so that the edge doesn't get caught under when I start. You can come back and sew that edge from other other direction if needed.
The problem: Hemming!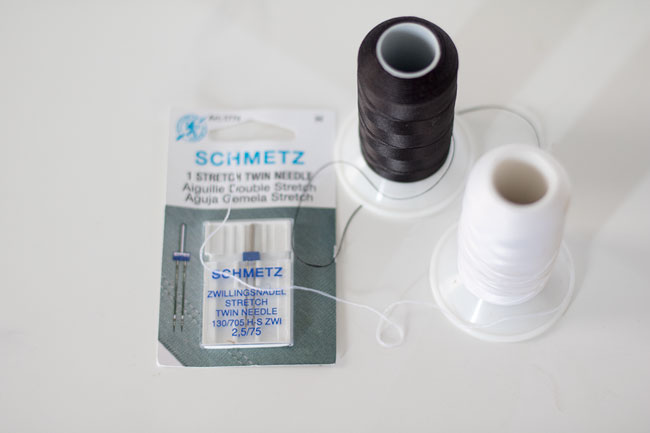 If you don't have a serger, hemming can cause a serious headache.

My personal favorite solution is to use a twin needle with bulky nylon (or wooly nylon) thread in the bobbin.Thread two "regular" threads through the top of the machine and wind the bulky nylon on the bobbin (I recommend hand-winding the tread to maintain the stretch.) If you machine has a button for the twin needle, you can use that when sewing.

I also like to lengthen the stitch to around 3/3.5 when hemming. This gives a beautiful double stitch hem. It has great stretch and will not pop threads when pulled.

Also, remember that proper pressing will help give your hems a more professional finish.
The problem: Choosing appropriate stitches without a serger or overlocker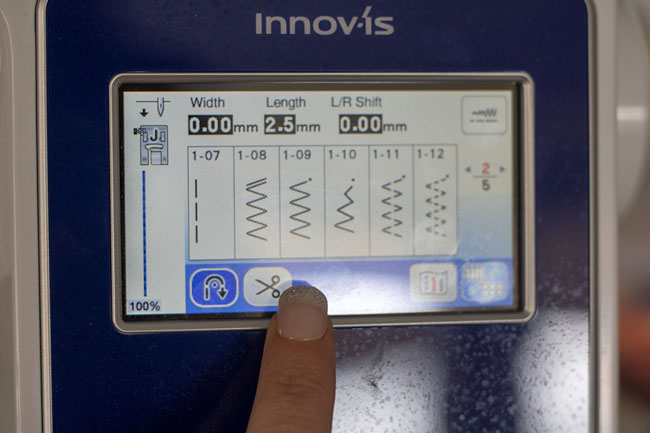 I sewed for years without a serger. I just used a zig-zag for everything. For seams, I would make it narrow; for topstitching and hemming, I would make it wider.  The look isn't as professional, but my kids' clothes held up really well and the threads didn't break.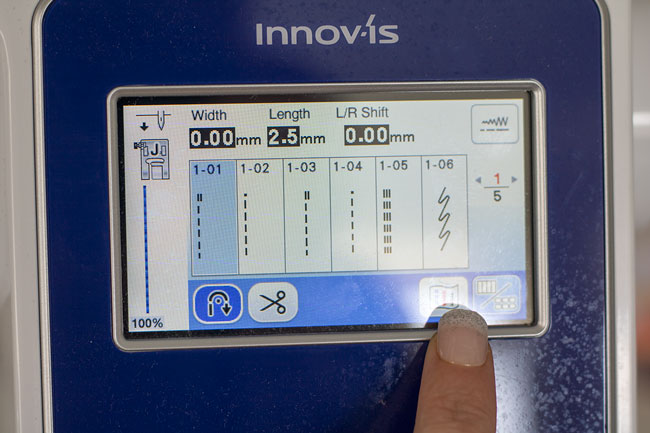 A slightly better option is the "knit" stitch that most machines have (it looks like a lightening bolt). Similar to a narrow zig-zag, this will give your stitch some stretch to prevent breaking, but it looks like a straight stitch, giving you a nice look for topstitching.
Of course my first pick for top-stitching is the twin needle, but this works too. It's also great for all the inside seams to give a nice stretch.
What are your biggest issues when sewing with knit fabric? Leave a comment!