Knitting and crocheting are already such important parts of our lives, so it's only natural that it's going to find its way into our annual holiday traditions.
If you've yet to find a way to incorporate knitting into your holiday, we have a few ideas for you. (It's possible knitting is already a part of your holiday tradition and you just don't know it!)
1. Hang handmade stockings by the fire
It's probably already a tradition to hang stockings from your mantle each year, but are they hand knit or crocheted stockings? If not, consider stitching stockings for everyone in the family.
If there's no time to make them this year, you can always make them one of your projects for next year. To get you started,  we've rounded up 11 Christmas stocking knitting patterns and 12 crochet patterns.
2. Display your hand-stitched decor
Knitted or crocheted placemats, napkin ring holders, tiny holiday-themed amigurumi, garland — any of these would be festive additions to your home! It's also a great way to use up your scrap yarn. Get a few holiday knit decor ideas here.
3. Organize a regular craft night with friends leading up to the holidays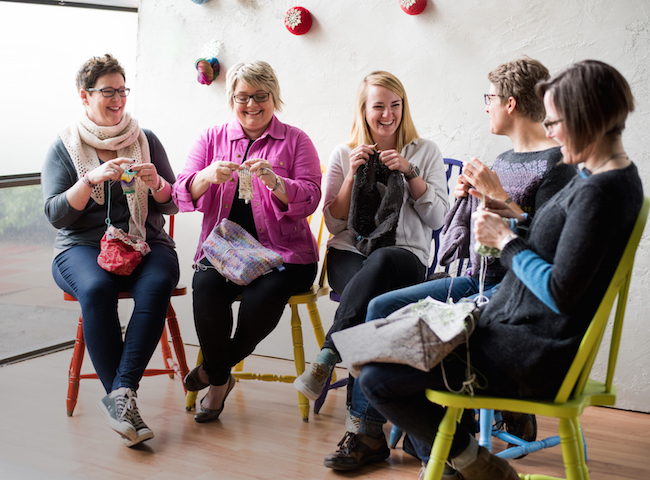 Do you and your stitch group struggle to finish those holiday gifts? If so, make it a tradition to host a regular craft night during December.
The group can rotate from house to house, or you can just determine a local public spot for your meet-up. Use this time to not only stitch gifts, but also enjoy the company of friends during the holiday season.
We encourage lots of cheesy holiday-themed music and movies to go along with it!
4. Make a special accessory or garment for a friend or family member.
A few years ago, I made my dad a pair of hand knit socks for the first time. I thought one pair was all he would need, but I was wrong! Every year, he asks me to knit him a new pair, and now it's become a holiday tradition for us.
You don't have to choose socks for your tradition. You could make mittens, scarves, sweaters — anything you like! The idea is that there's one project to represent each holiday. After a few years, it's so fun to look back and see all the different accessories or garments you've made for that special recipient. My dad's sock collection is certainly growing!
5. Stitch a new holiday ornament
If you put up a Christmas tree, you might already have some knitted ornaments. If you don't, knit a new one each year to add to your collection! You can even embroider the year somewhere on the ornament to commemorate it.
If you don't display a tree or you already have way too many ornaments, consider starting a tradition of knitting and giving ornaments to friends as gifts. The tradition will make it easy to decide what to make each year, and friends will love adding a bit of handmade to their own collections. Get 11 FREE knitted ornament patterns here.
6. Teach a newbie to knit or crochet
The holidays are cozy and many people are taking time off work, so it's a great time of year to curl up with a new crafter and teach them the ropes.
I even keep a couple of duplicate knitting needles on hand in case the new convert wants to take them home and try out knitting more before deciding to buy their own supplies.
7. Donate your handmade items
Many knitters and crocheters give year round, but if you've been busy and haven't had time to make for charity during the year, you can make time during the holidays.
Maybe you're working on a blanket, or maybe you're crocheting baby hats to donate to your local hospital. No matter how you contribute, your handmade item will be appreciated during the cold winter months. Not sure where to start? Get more ideas for donating here.
Does knitting fit into your holiday traditions? Tell us how in the comments!