Can't decide what color to use for your next knit sweater? Have a few balls in different colors in your stash and love them all at once? Now you don't have to choose! Color blocking is a great way to incorporate and mix colors that maybe you wouldn't otherwise consider for a garment.
The larger blocks of color attract the eye, allowing you to highlight some areas over others. There are also some beautiful ways to incorporate different colors that aren't just straight across!
Here are some great color-blocking patterns for knitters.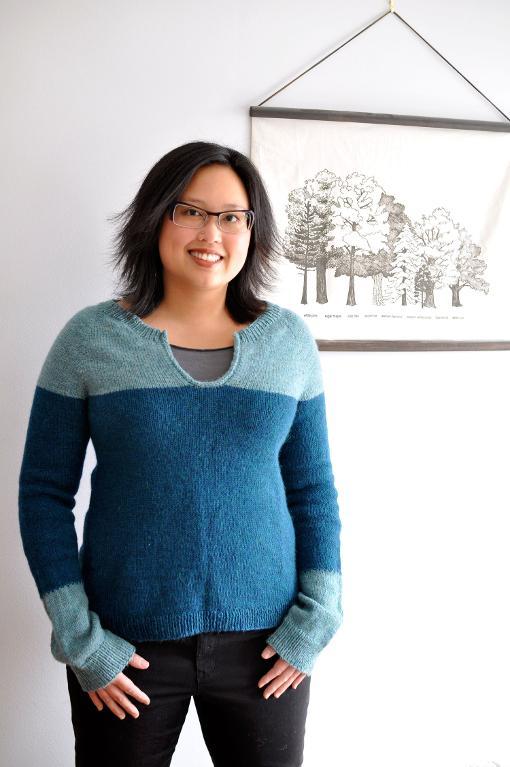 Photo via cosmicpluto
Two-color impact
My own Ikemura pullover pattern is a great way to dip your toe into the world of color-blocking. This contrast yoke pullover has an interesting U-shaped notch in the neckline, edged with I-cord, and extra-long sleeves. Worked seamlessly from the top down with a compound raglan yoke, flattering A-line body and ribbed edges. Perfect for using up a ball or two of your favorite color right near your face.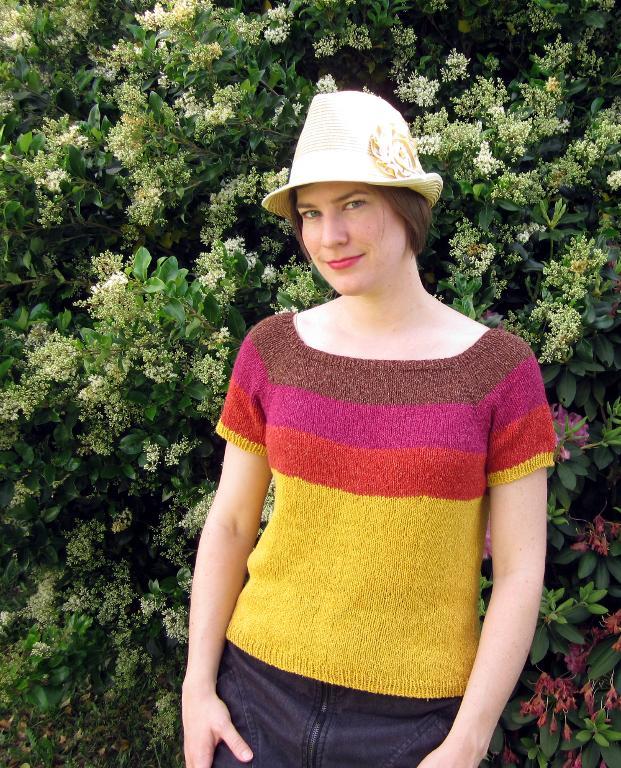 Photo via Azalea820
Sunburst Tee
This easy fit tee is knit from the top down with a gorgeous color-blocked yoke. The raglan and sleeve increases are worked at different rates, giving a nice fit and flattering neckline. Use bright colors for the yoke and a neutral for the body, or go all color all the time! The short sleeves would be great over a long-sleeved top for winter layers without too much bulk. Since this tee is worked from the top down, you can always add longer sleeves as well.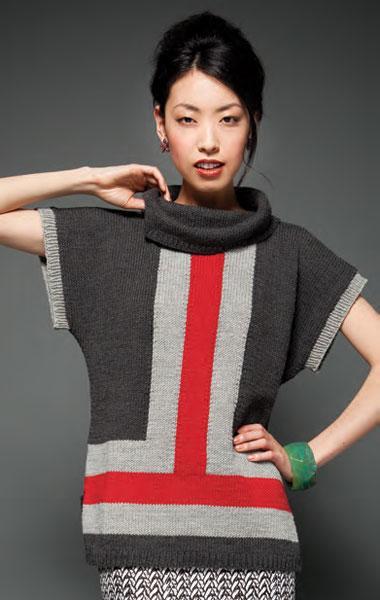 Pattern via Vogue Knitting
T-Stripes
This color-block top from Vogue Knitting magazine uses intarsia to create a striking look that'll impress knitters and non-knitters alike! The oversized tunic shape would look great over skinny jeans or leggings, and the large cowl keeps your neck warm too. Shown in three different color combinations to inspire your color imaginaton.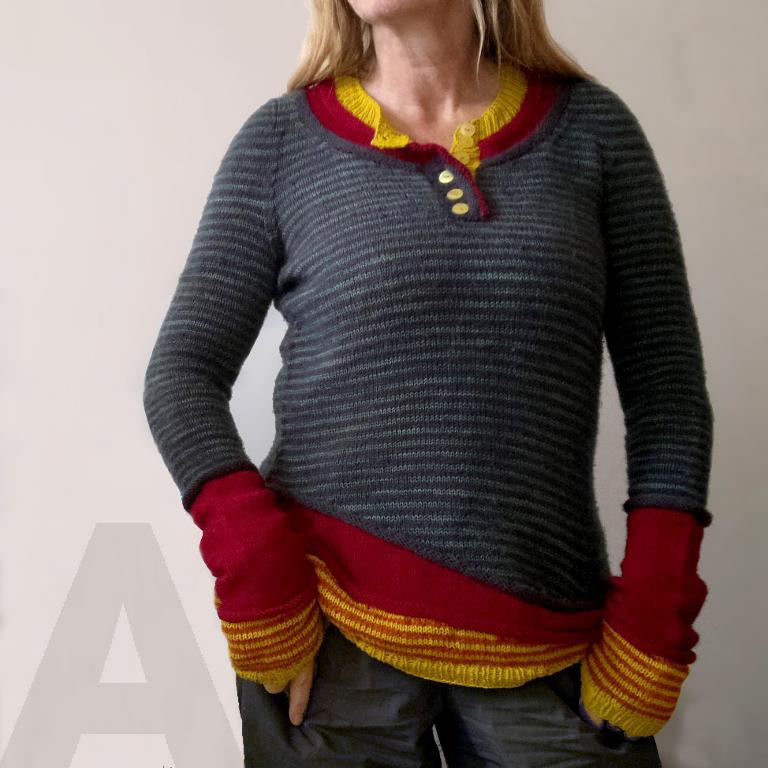 Photo via al-fa
Short rows galore
This sport-weight beauty creates the look of three layers! Incorporating stripes and short rows, this henley-neck pullover is worked seamlessly from the bottom up. Picking colors might be the most difficult part.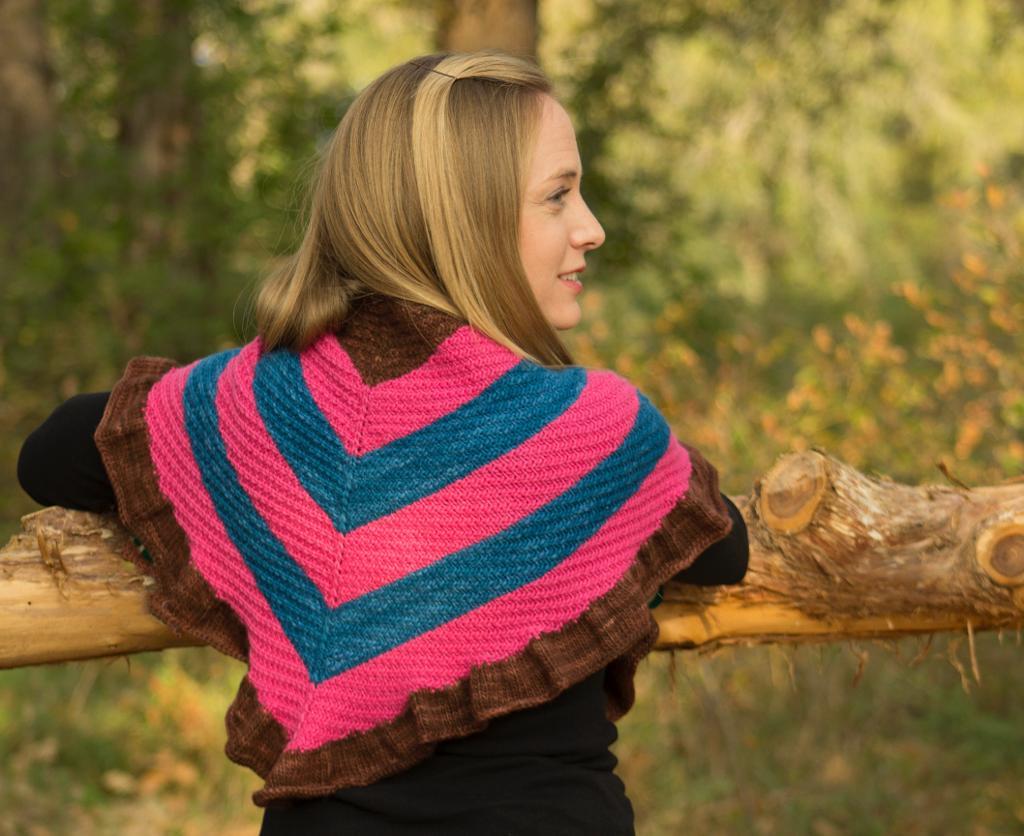 Photo via karendawnknits
Bold ruffles
Not quite ready to commit to a sweater? This top-down shawl is worked in worsted weight yarn in three colors, with a knit-purl texture pattern and fun ruffle. Shawls are a great way to get in on the color-blocking action, and you can never have too much neckwear!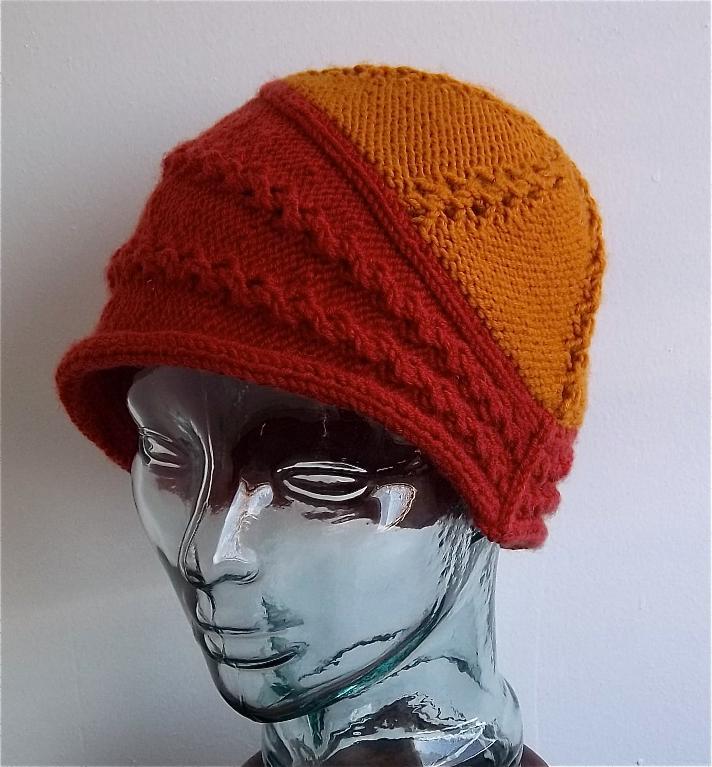 Photo via Carolyn Doe
Toasty topper
Is this hat beautiful or what? This unusual worsted-weight hat doesn't use short rows – the lower band is knit first, seamed, then stitches are picked up to work the crown in the round. You only need a little bit of yarn to knit this hat, and I can see so many interesting color possibilities here! A self-striping yarn paired with a solid; black and white; the same hue but different tones. The flattering cloche shape and textured patterns will look great on a variety of people.
What are you color-blocking this season?