Although the idea of a knitted tank top can sound counter intuitive, fashionable and wearable options abound. Knitted fabric is inherently breathable, and picking the right fiber for your climate means you will have a comfy, beautiful top that adjusts to your body temperature. Garment knitting sounds intense, but a knitted cami is the perfect low-maintenance project for a high-drama product.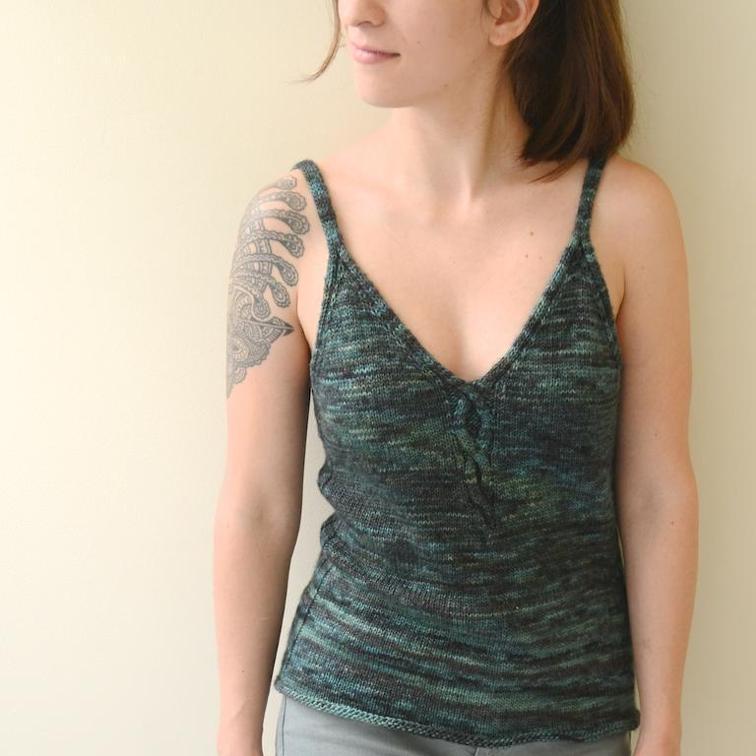 Photo via Bluprint member Gabrielle Knits

1. Tuscan Tank Top
Elegant lines and a lovely cable detail make this shaped top shine. Knit it in a DK silk blend (perhaps in Manos del Uruguay Silk Blend) as shown, or, for a warmer weather option, try a smooth cotton like Cascade Ultra Pima. Both drape beautifully.
Get the Pattern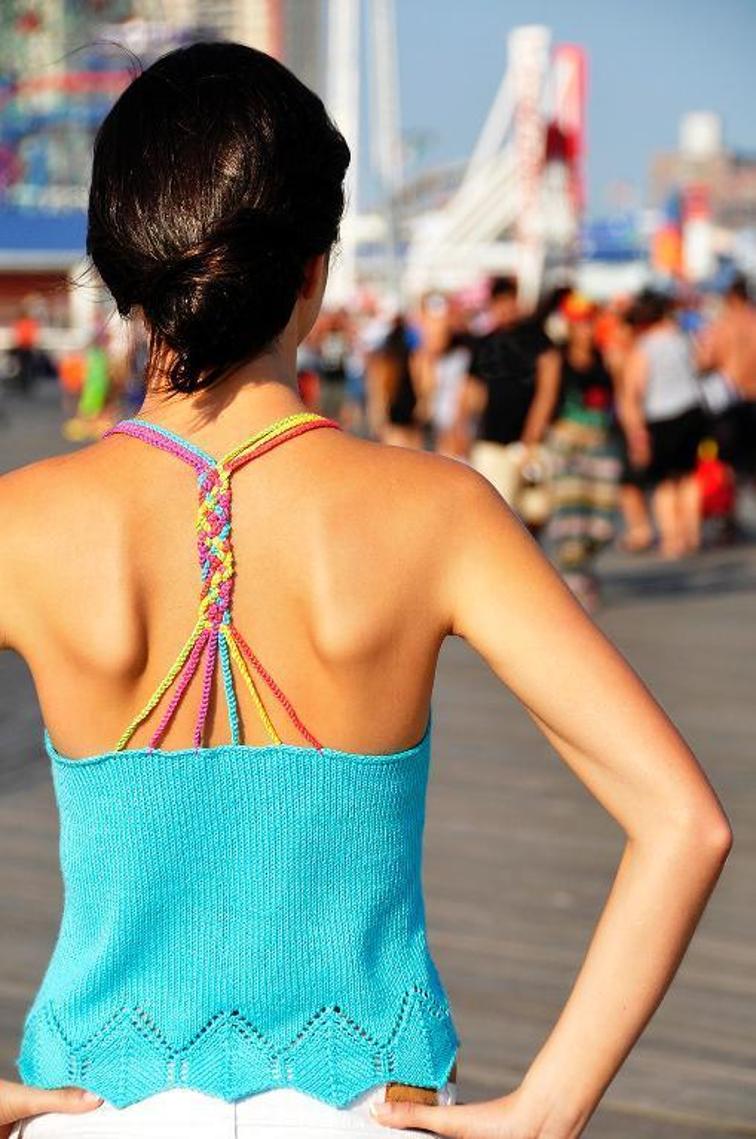 Photo via Bluprint member Girly Knits

2. Sunshine & Lollipops Braided Tank Top
The drama is in back on this cheery summer number. You can make the straps in a rainbow of shades, as shown, or all in one shade. Simple lace at the bottom of the tank provides a point of interest for the knitter. This would be a very affordable project in Schanchenmayr Catania!
Get the Pattern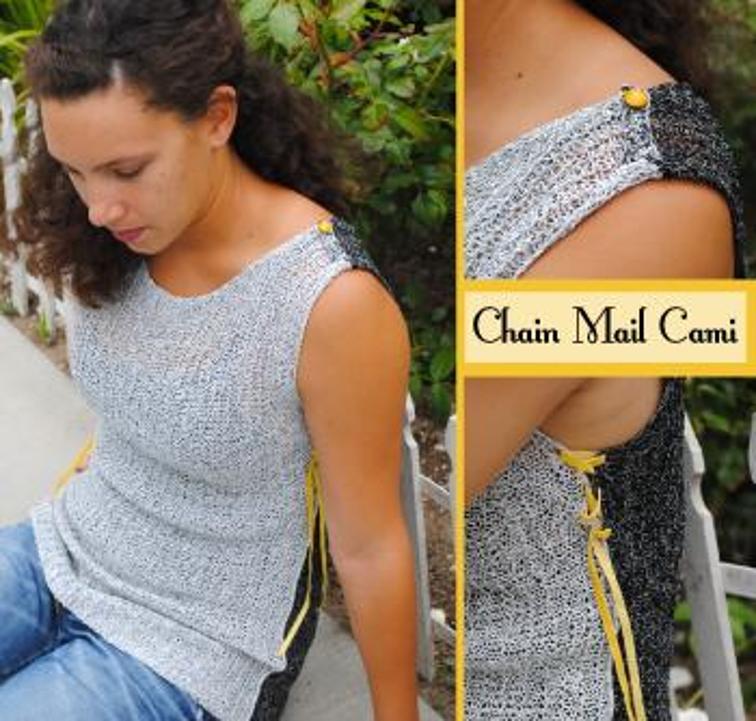 Photo via Bluprint member Grace Akhrem

3. Chain Mail Cami
This simple seamed camisole gets its texture from both the stitch pattern and the chosen yarn, lace-weight viscose and rayon, which yields a remarkably crisp fabric. Knit sideways in panels, with a simple ridged stitch pattern, this cami will be an easy knit that gets its drama from contrast colors and button and lacing details.
Get the Pattern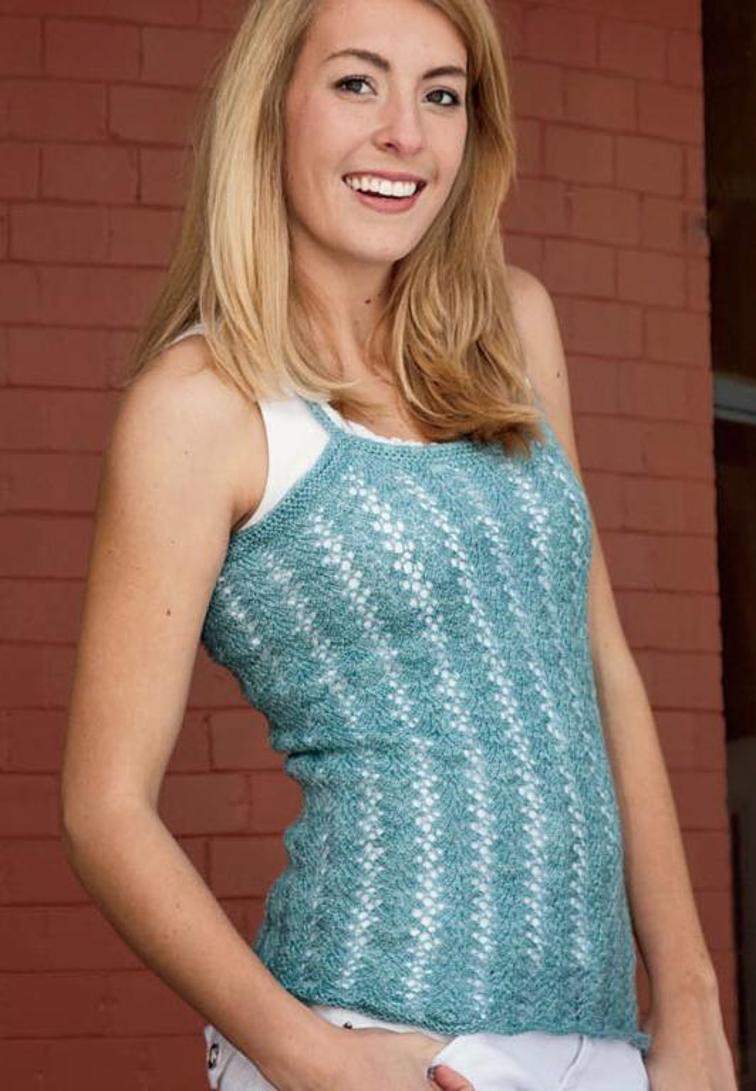 Photo via Bluprint member Cheryl Beckerich Knits

4. Coastal Cami
Like many knitters, my stash is full of sock yarns I've picked up on a whim. I rarely knit socks, but the light weight and heavy yardage mean that even when I don't have a particular project in mind, I know it will come in handy later. This lovely cami is knit in two skeins of sock yarn, perfect for showing off a deep tonal like Madelinetosh Twist Light. Vine lace is easy to knit, but looks far more complex than it is, so if you want to try lace knitting, this is a gentle start.
Get the Pattern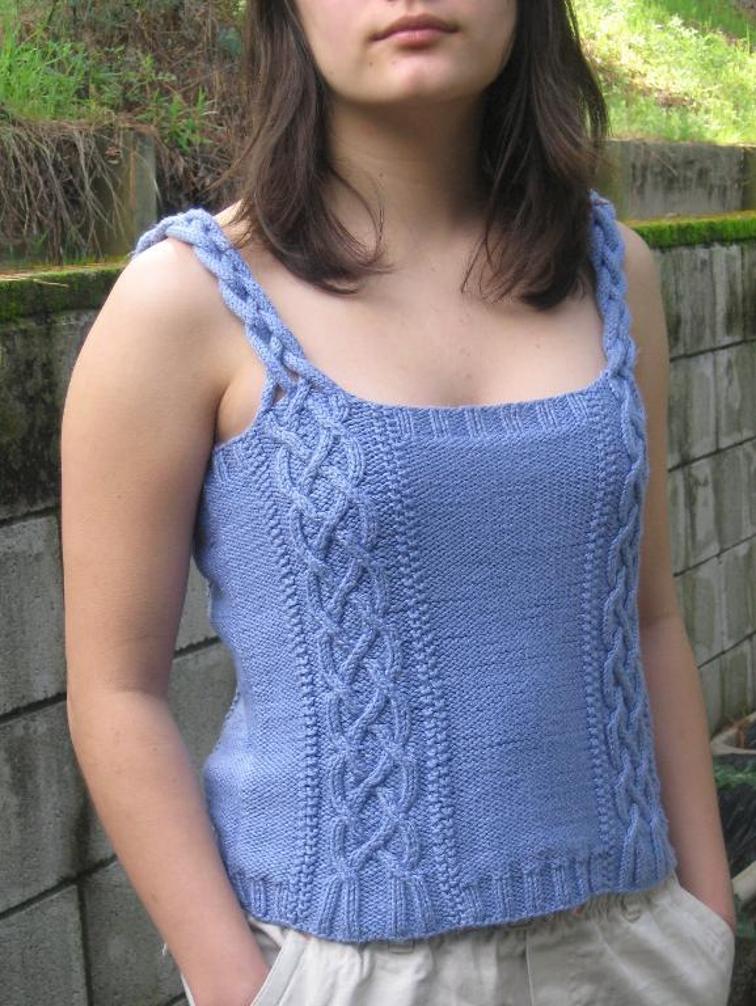 Photo via Bluprint member Tangram Knits

5. Totally Tubular Camisole
I absolutely love how every detail on this cute tank is so well thought out. The ribbing leads seamlessly into the cables, which transition into three dimensional I-cord braids, all in a garment that looks comfortable to wear and elegantly stylish. Cables aren't just for winter. Imagine how beautiful it would be in a gradient!
Get the Pattern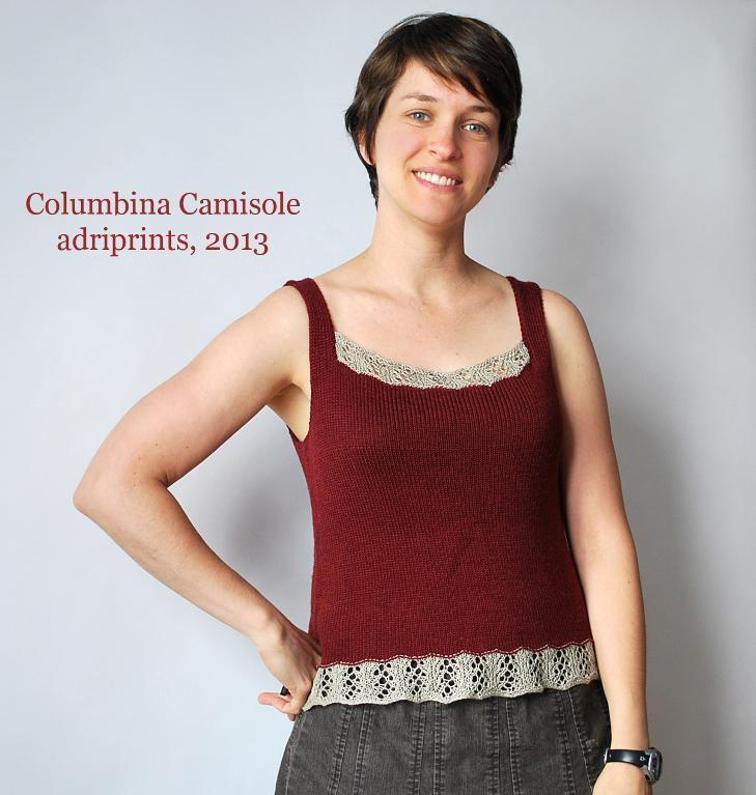 Photo via Bluprint member Adriprints Press
6. Columbina Camisole
The Columbina Camisole makes its own layers, combining stockinette with a lace edging that suggests a delicately frilly top underneath. This is a great layering piece for the office, combining practicality with beauty, and it uses very little fingering weight yarn. Leftovers should be enough to make the contrast lace. Wear it under a cardigan to ward off the chill of air conditioning.
Get the Pattern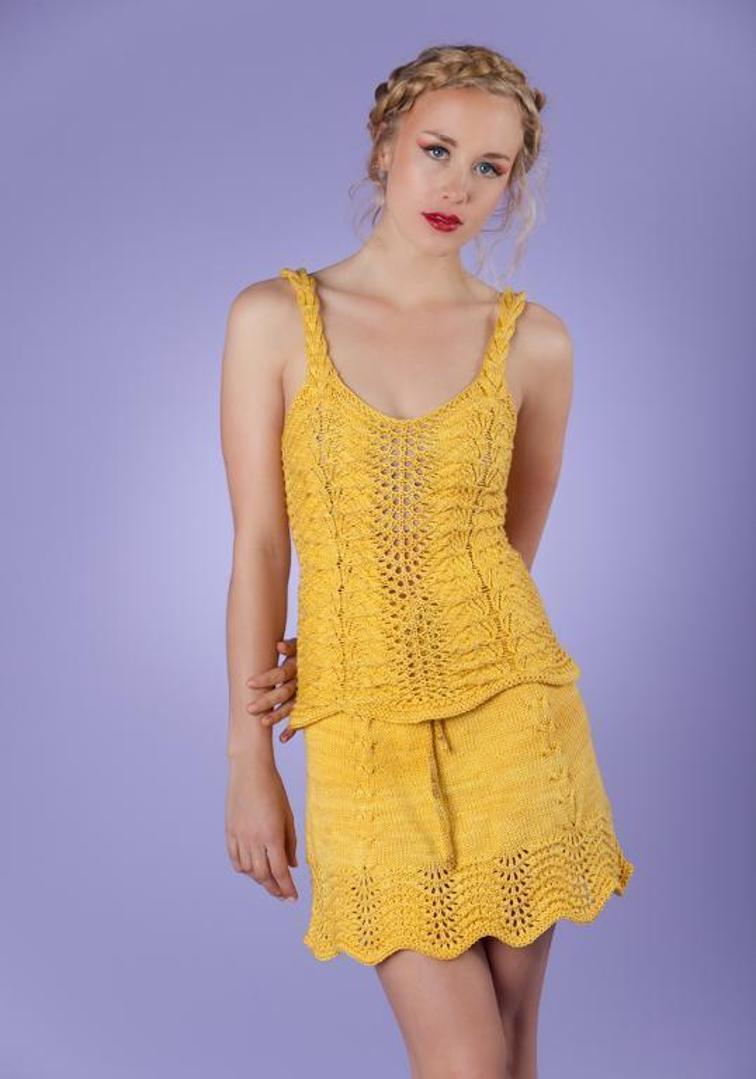 Photo via Bluprint member Army of Knitters
7. Sunflowers Cami
If you want to show off your skill, the Sunflowers Cami combines lace and cables for a beautiful ripple edge. Shaping is built into the lace pattern, so you will get a fitted piece without disrupting the gorgeous pattern. A silk blend will give you the perfect amount of drape.
Get the Pattern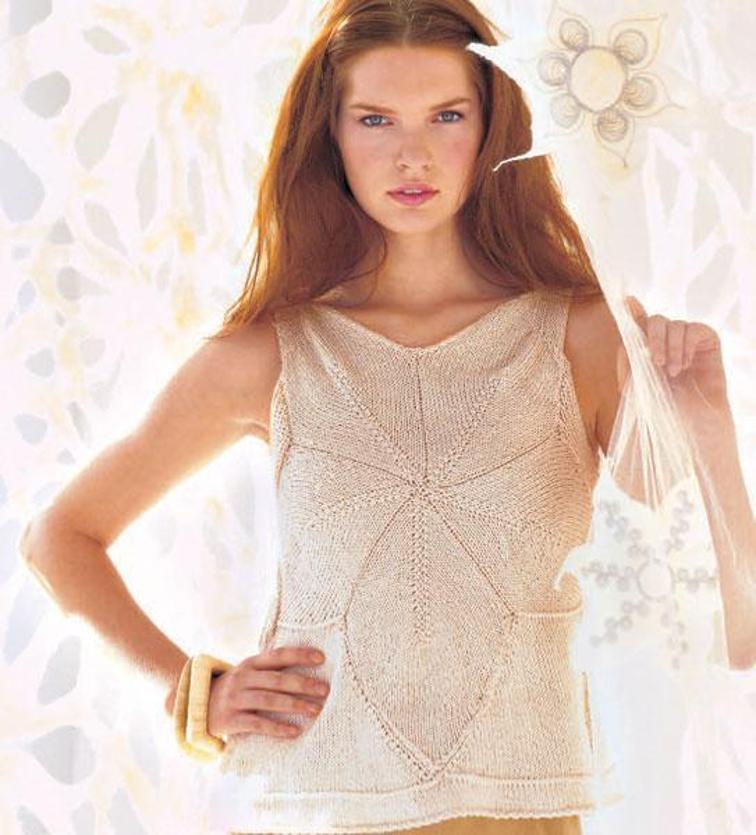 Photo via Bluprint member Vogue Knitting's Pattern Store
8. Star Camisole
Clever construction is the star of the Star Camisole: The star motif is knit from the center out and serves as shaping and support for the rest of the top. Cascade Venezia's blend of cotton and silk would be the perfect fiber for this top (the sample above was knit in a pure silk yarn). If you've ever knit a center star blanket in the round, this tank has a similar start, but ends in a lovely and striking top that will catch every eye.
Get the Pattern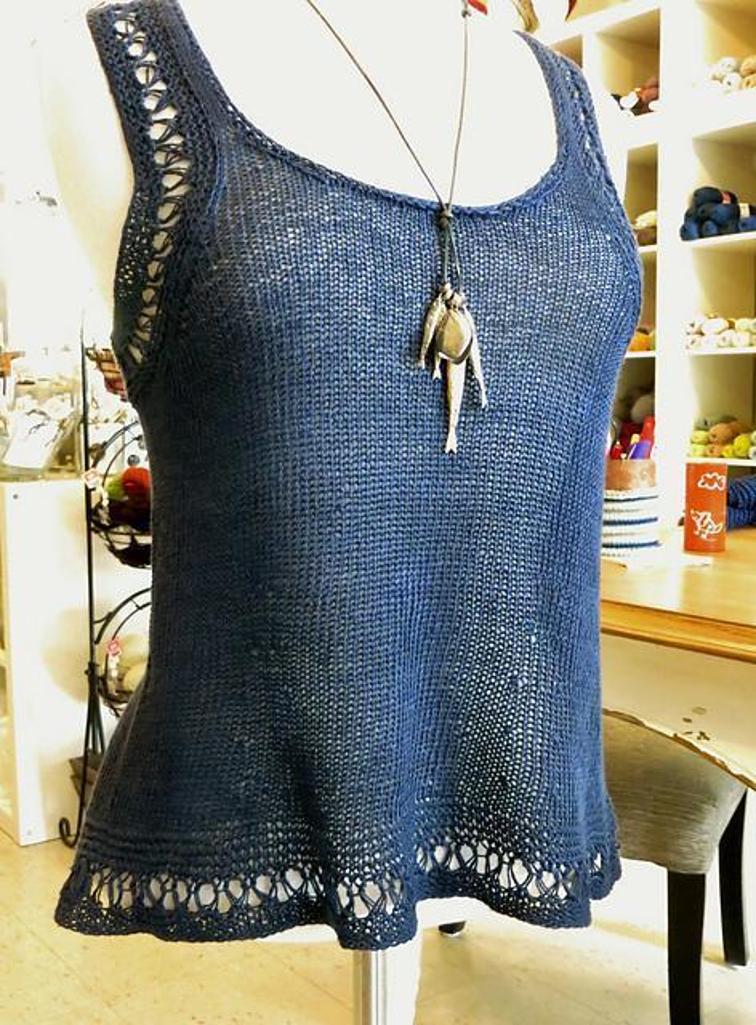 Photo via Bluprint member Louise Lamarche Designs

9. Marin-Lin Cami
A loose-fitting tank with openwork detail is a lovely and comfortable summer option for wear over a bathing suit, or for relaxing on a porch or deck. Knit in linen yarn, which softens after each wash, this is a top that will last for years, growing more comfortable with each wearing. At lower-hip length, this is a great length for the taller among us, for whom a lot of tops become accidental crop tops!
Lovely Lightweight Yarns
Find our favorite lace- and fingering-weight yarn from exclusive brands.Shop Now