Kitchen chaos is something all of us deal with at one point or another. With all of the ingredients, tools and appliances at work in the house's most popular room, just about everyone could use a little help with efficiency and organization. 
Photo collage, from top clockwise: Over-sink shelf via Show & Tell U; baking sheet divider via A Jones for Organizing; ladder shelf via Flickr member Geneva Vanderzeil
Here, we'll dish on 24 of our favorite kitchen organization tips and hacks.
From sensible organizing ideas to ingenious tips for storage, you're bound to find a few ideas that will make your cooking easier, faster and more enjoyable. 
Photo licensed via Creative Commons by Flickr member irisphotos
1. Install a peg board
A peg board is a handy space to hang just about anything, from utensils to teacups, to save space. In this case, it also serves as a backsplash. Note: if installing a peg board this close to the stovetop, be sure that items you hang will not be affected by heat, and certainly don't hang anything flammable!
2. Two words: lid rack. 
Create a rack to store lids for your pots. Not only will it streamline their storage, but you'll always know where they, so you won't root around all your drawers and cabinets looking for a particular pot's top.
3. Install a tip-out sink drawer
You know how it's impossible to install a real drawer in front of your sink? Instead of a glued-shut drawer lookalike, install a useful tip-out sink drawer. The small space is perfect to store sponges and scouring pads.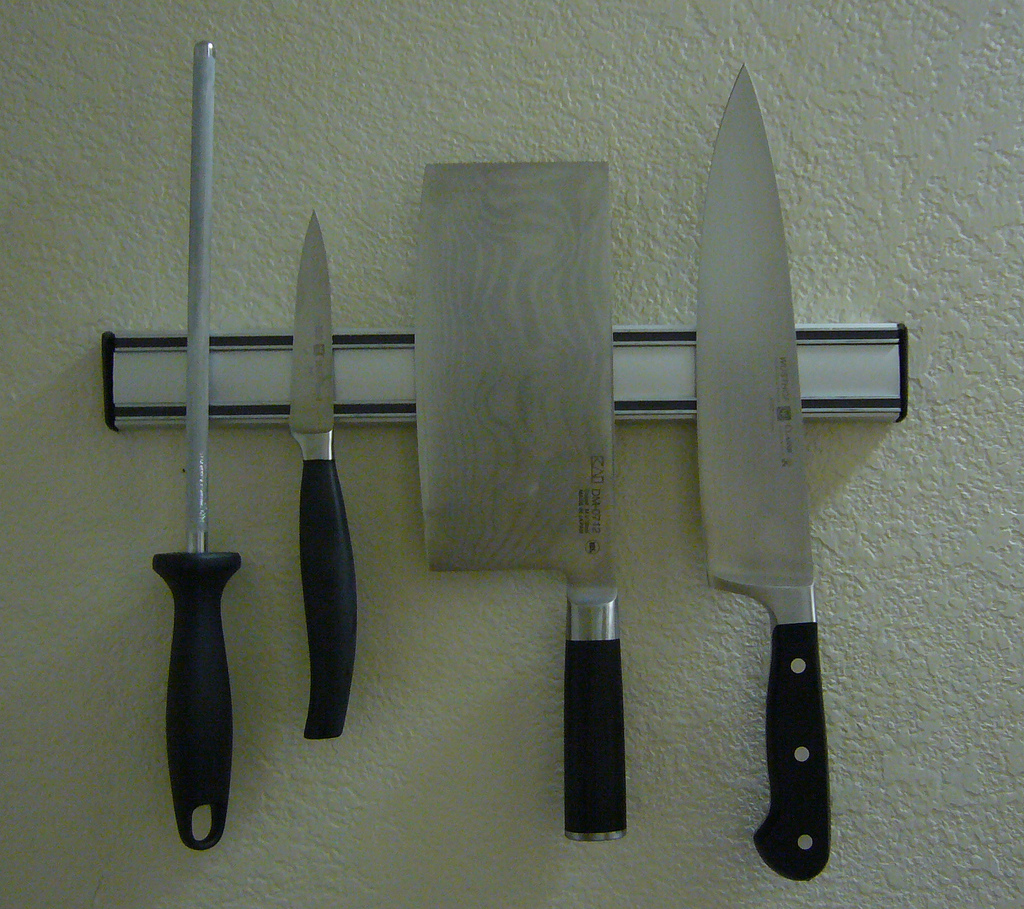 Photo licensed via Creative Commons by Flickr member Kent Wang
4. Use a magnetic knife rack
Keep your knives within easy reach (and out of kids' reach) on a magnetic rack. Getting rid of the clunky knife block on your countertop will maximize your work space. Plus, can you see all of your knives, so you know you're reaching for the right one.
5. Keep everyday dishware within easy reach
Keep the bowls and plates that you use on a daily basis within easy reach, in drawers or cabinets. Keep the fancy china that you only take out for special occasions on higher shelves.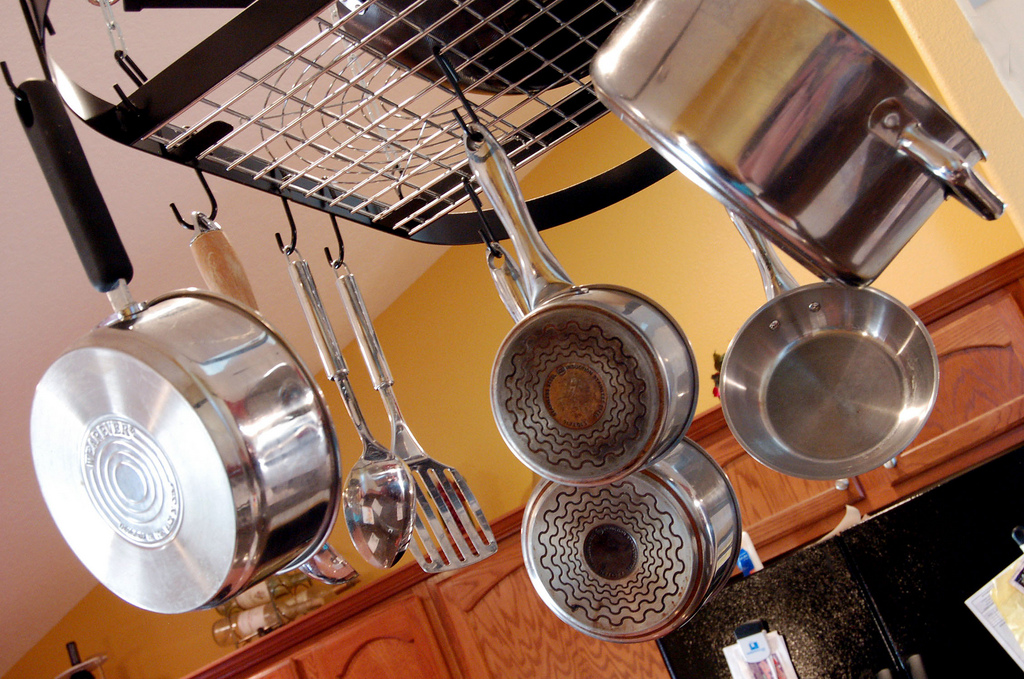 Photo licensed via Creative Commons by Flickr member emmandevin
6. Hang your pots
Keeping your pots hung overhead is a win-win-win situation: You get clunky items out of the way, you can easily see pots and reach for the right one when needed, and let's face it, a hanging pot rack looks awfully cool
7. Organize under your sink.
Need to clean up the danger zone under your sink? Install a pocket organizer or a slim shelf organizer on the inside of the door. It will keep cleaning supplies and items stored under the sink in a visible, easy-to-find form.
8. Keep frequent-use items by the stovetop.
You know the things that you're using constantly while cooking? We're talking salt, olive oil, pepper, etc. Keep those items within easy reach of the stovetop to speed up your cooking!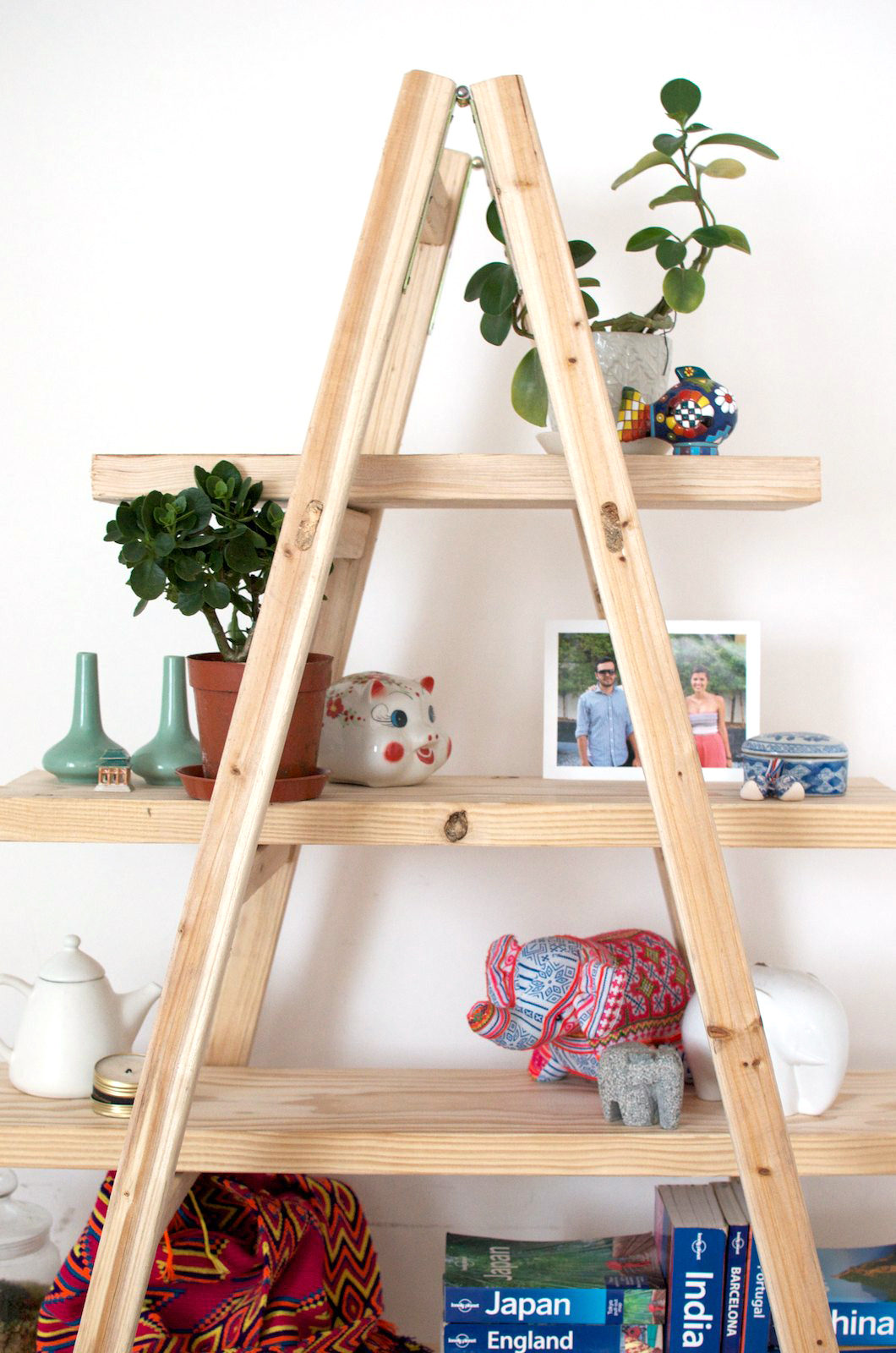 Photo licensed via Creative Commons by Flickr member Geneva Vanderzeil
9. Consider a ladder shelf 
An old ladder can be painted and transformed into an striking shelving unit in your kitchen. Whether you use it for plants and knickknacks or plates and cups, it's a handy and pretty way to reduce clutter. Get ready to be complimented frequently!
10. Use drawer dividers for serving utensils
Many people use drawer dividers to keep spoons, forks and knives separate but use a catch-all drawer for larger utensils. Install a larger drawer divider to keep cooking utensils such as peelers, melon ballers and ice cream scoops separate!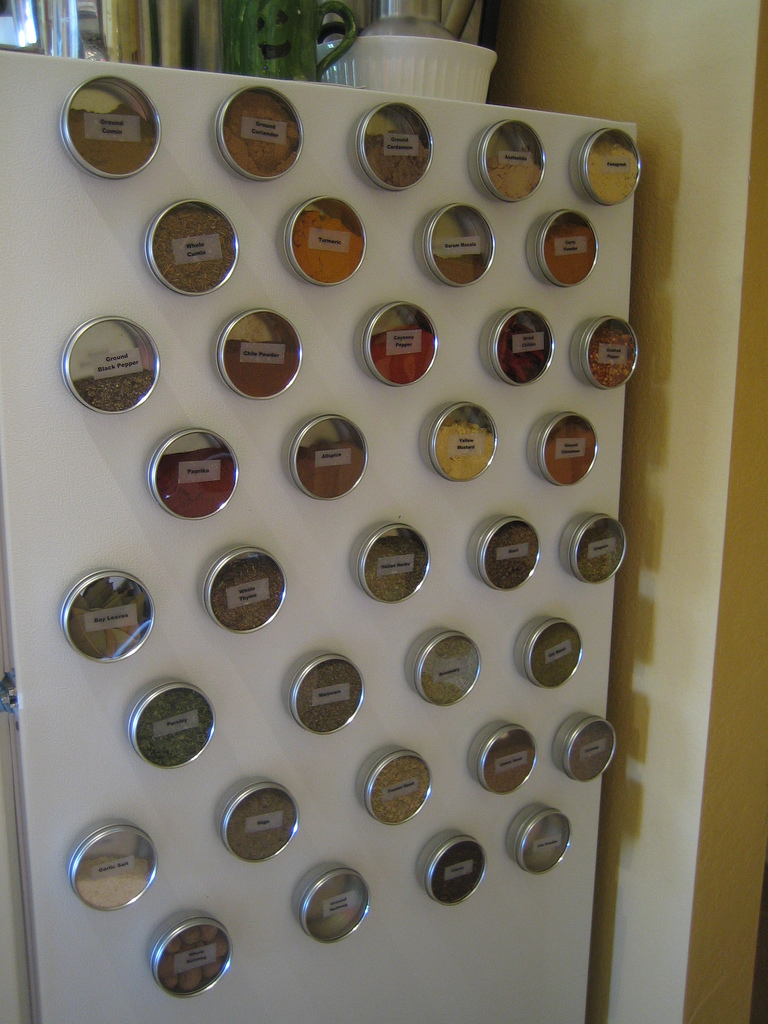 Photo licensed via Creative Commons by Flickr member Elaine Vigneault
11. Store your spices on the fridge. 
Storing spices in magnetic canisters on the fridge is a trendy, handy way to keep spices close at hand. You can buy them in kitchen supply stores, or make your own by putting magnets on the bottom of sealable canisters.
12. Hang utensils from the sides of cabinets.
Keep frequently used utensils like your whisk or rubber spatula on adhesive hooks near your cooking area. Not only will it free up drawer space, but you'll always know where to find your go-to tools!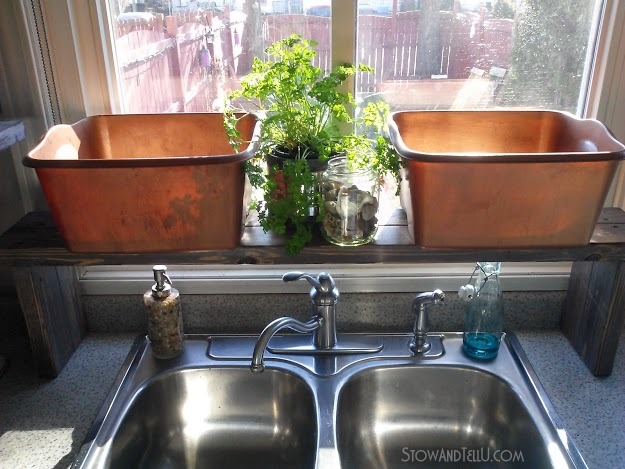 Photo via Show & Tell U
13. Install over-the-sink storage.
Create space by installing a uniquely shaped shelving unit over your sink. This is a great way to maximize space and display plants or keep kitchen utensils close at hand.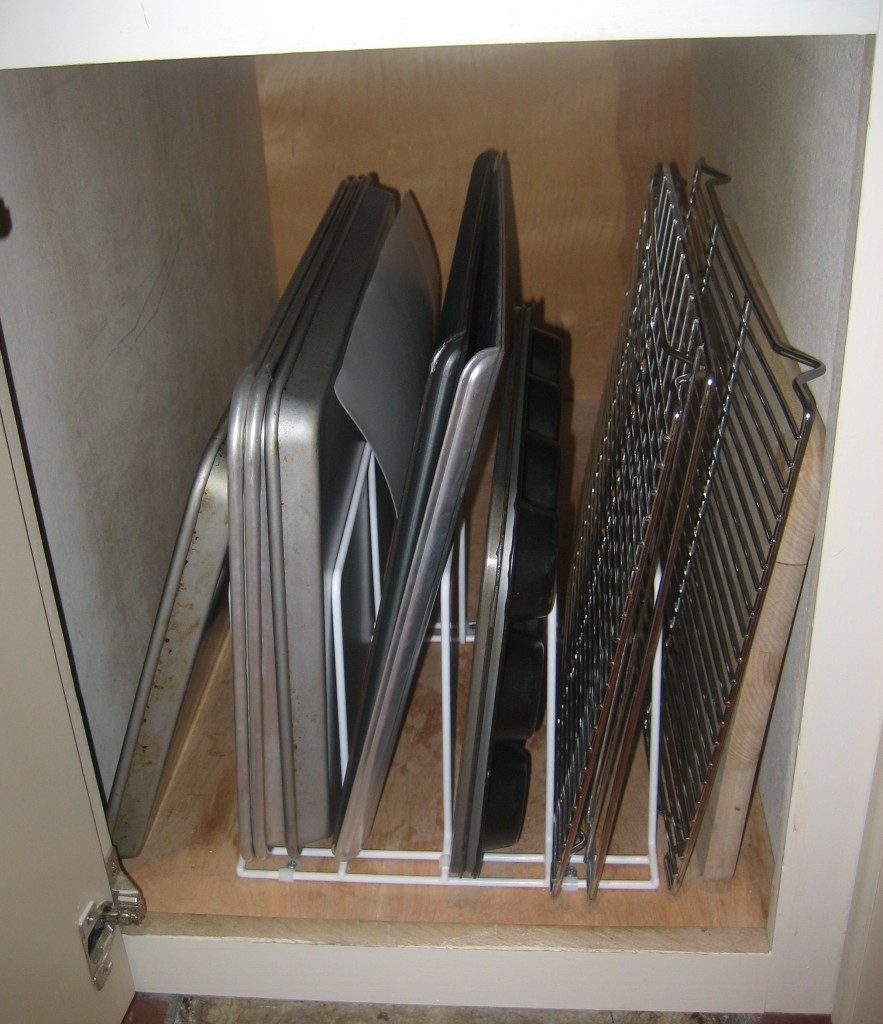 Photo via A Jones for Organizing
14. Use a rack to divide baking sheets
You know how your baking sheets are constantly clattering? Install a divider and they won't do it anymore!
15. Install racks under existing cabinets or shelves
It's like shelf inception! Install a little rack or mini shelf below an existing cabinet or shelf for even more storage. Use this space to store your recipe files, planner or other small items.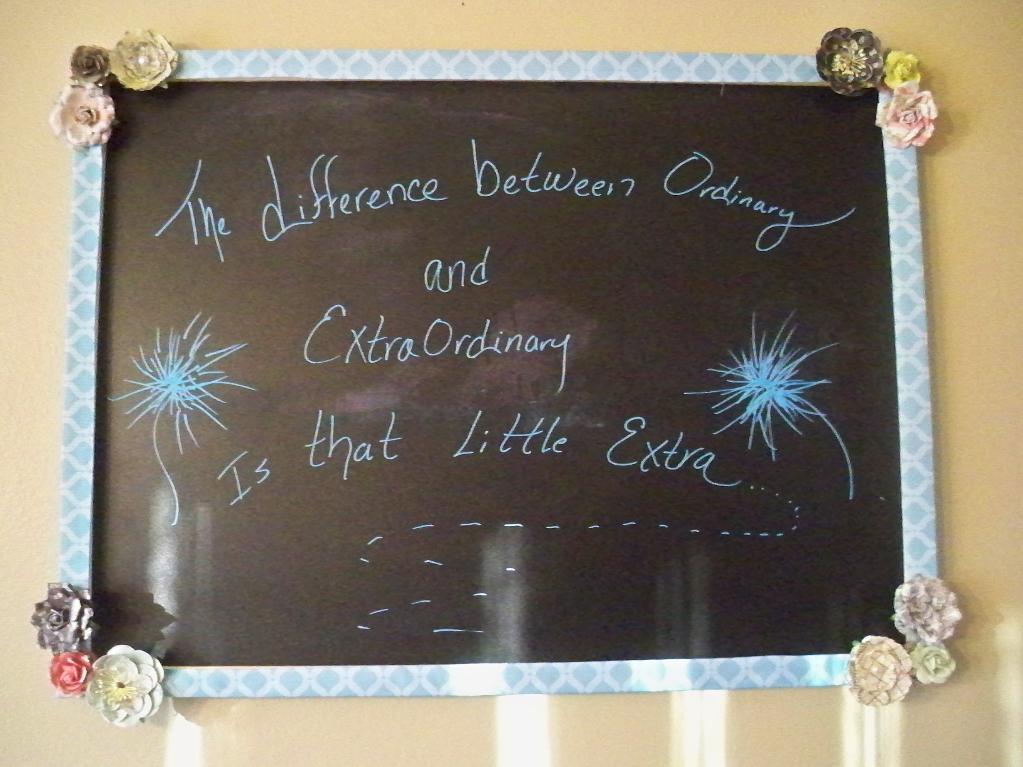 Chalkboard via Craftsy member Knoelle82
16. Hang a cork or chalk board. 
Condense calendars, planners, to-do lists and weekly menus on one simple cork or chalk board (rather than having them all scattered throughout your kitchen).
17. Have a recipe organizer
Sure, you have cookbooks a-plenty, but your favorite go-to recipes are probably from mixed sources. Create your own recipe book of favorites by putting them in a binder or recipe box that is handy for when you want your go-to recipes.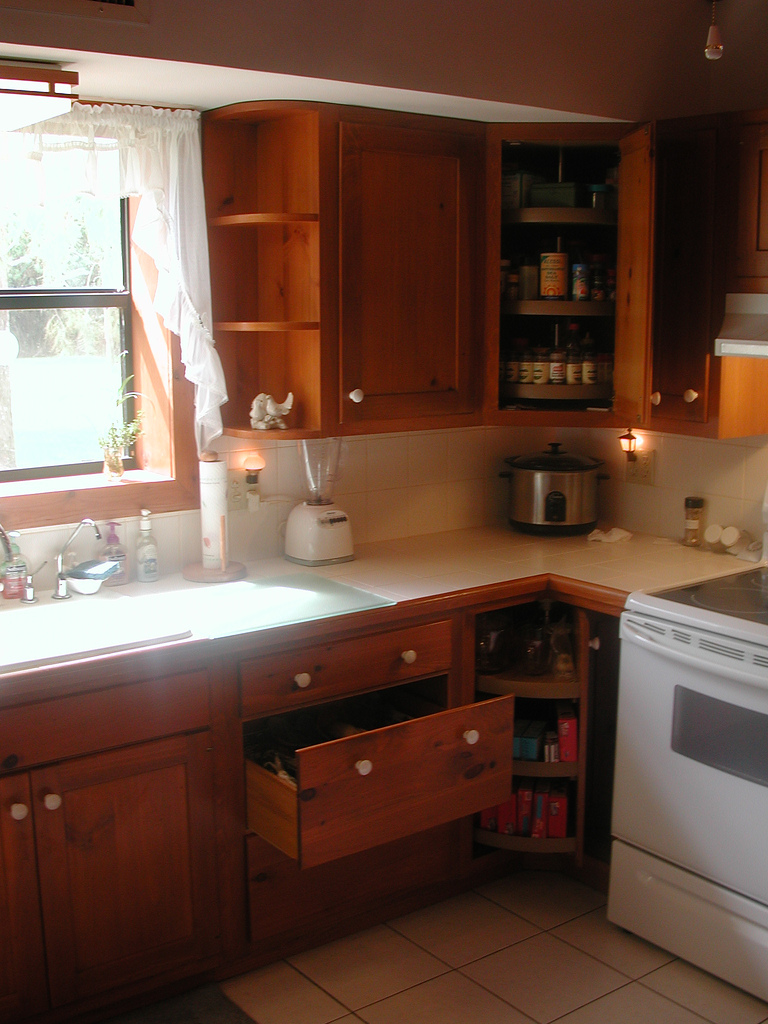 Photo licensed via Creative Commons by Flickr member Mitch
18. A lazy Susan will make your life easier. 
Think that a lazy Susan is just for a table top? Think again. Installing a lazy Susan inside of your kitchen cabinet will maximize the available space and allow you to civilly spin the Susan to get the pot, pan, utensil or ingredient you're looking for. 
19. Use mailing tubes to store silicone baking mats
Wondering where to store those unwieldy silicone baking mats between projects? Roll them up and put them in mailing tubes (the type you'd use to ship a poster). Easy solution! 
20. Affix your wrap dispensers on the fridge
Put magnets on the inside of containers for plastic wrap, waxed paper and aluminium foil so they stick to the fridge. It saves a ton of room in your cabinets and drawers, and it helps you keep the plastic wrap or foil handy for when you need it!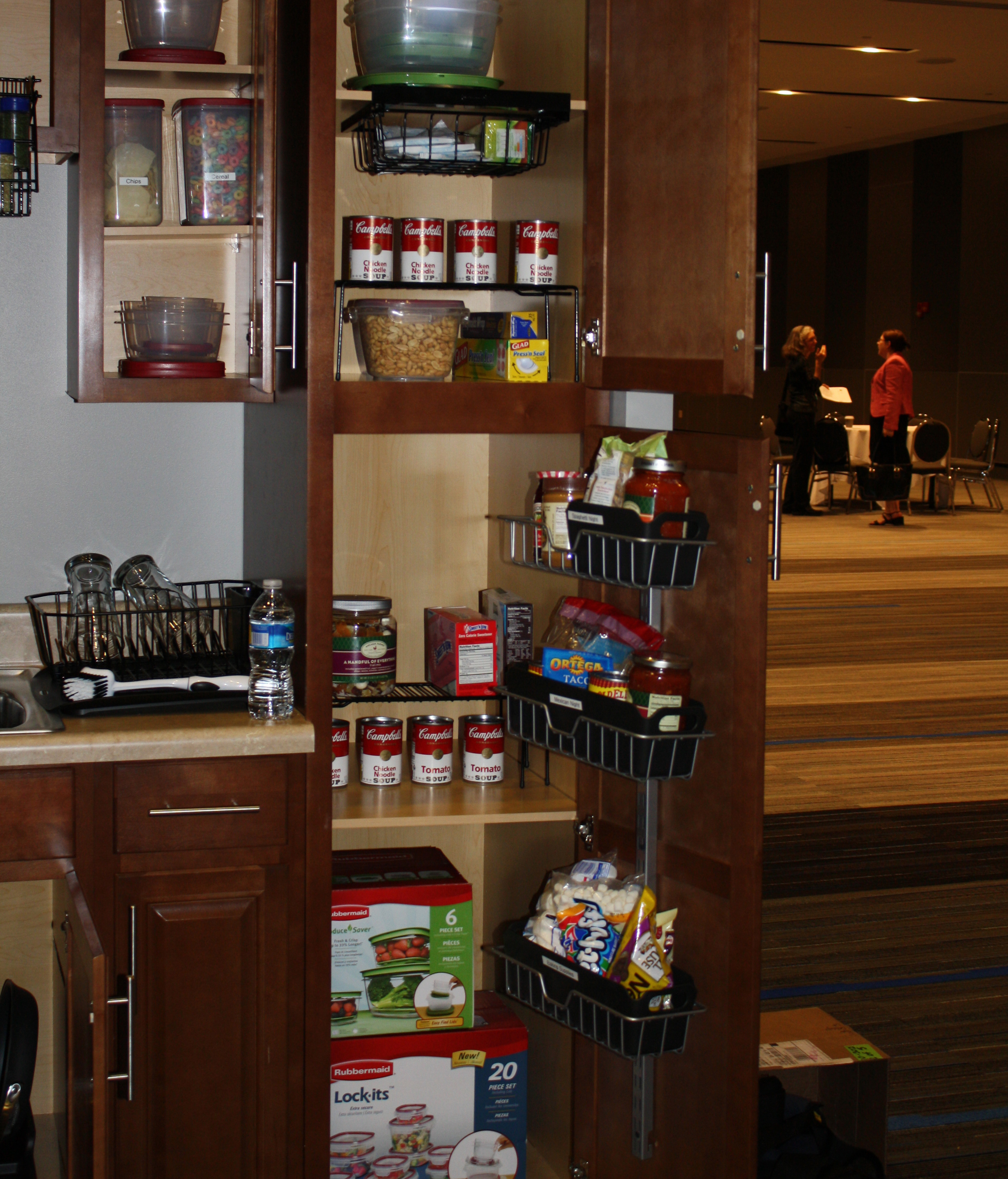 Photo licensed via Creative Commons by Flickr member Rubbermaid
21. Over-the-door storage for your pantry 
Try an over-the-door storage unit for your pantry. It hangs over the door, which allows for even more storage along the walls. Options are available with pockets or slim shelves to fit your kitchen.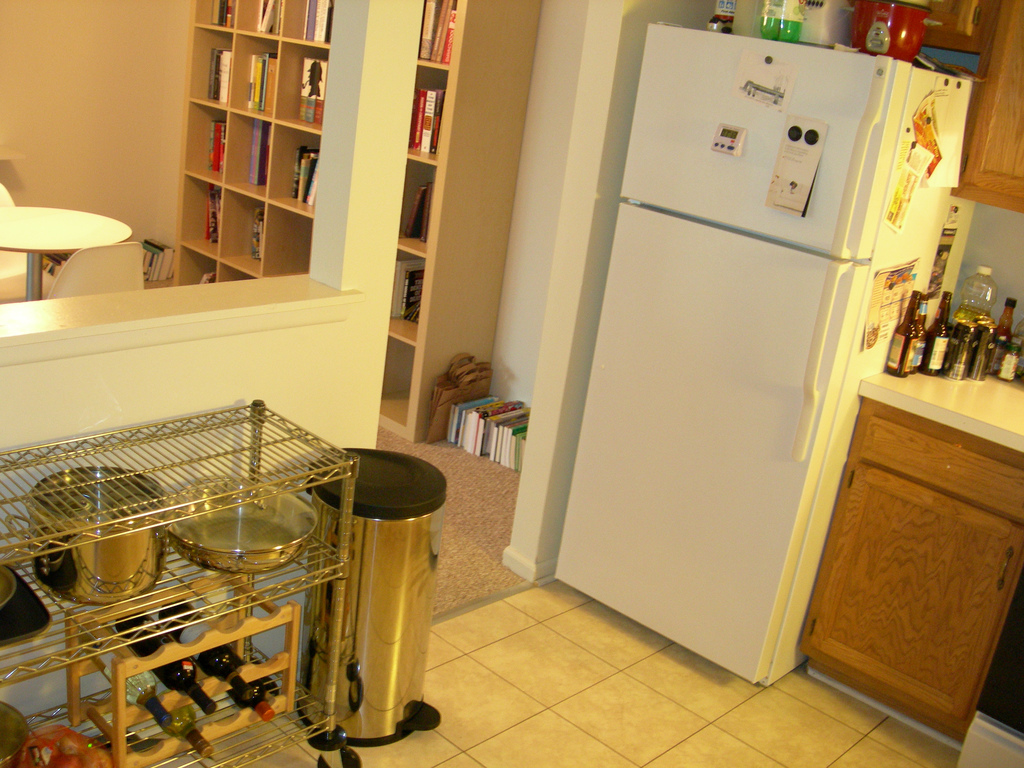 Photo licensed via Creative Commons by Flickr member Paul Gorman
22. Get a kitchen cart. 
A kitchen cart is a great organizational tool. Not only can it be used for storage, but it can also be wheeled out and used as a tabletop when entertaining, and it can slide under a table or shelf.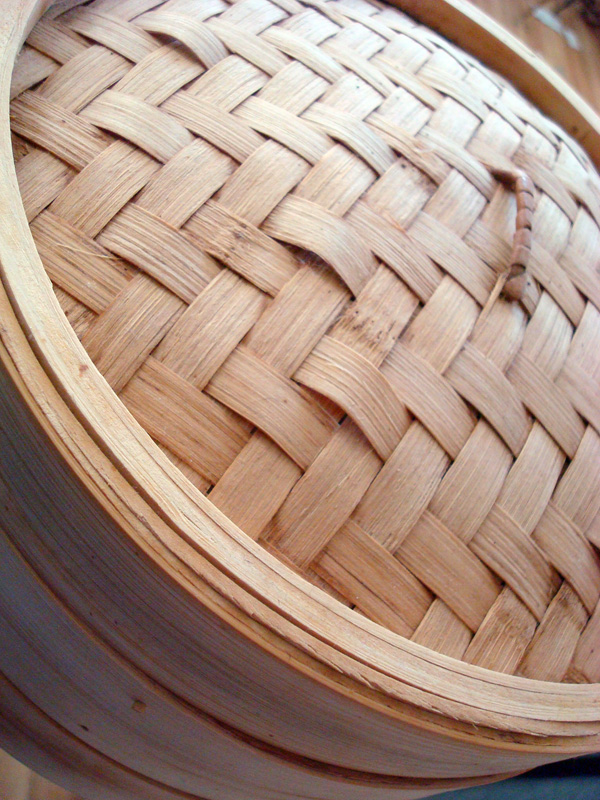 23. Use a steamer to store garlic and onions 
That bamboo steamer that is often collecting dust on the shelf? Use it as a storage space for garlic and onions. It breathes, so it will protect them while keeping them off of the counter.