Think camping food is just hot dogs and s'mores? Think again! Here's how to create gourmet food to fuel your belly and your taste buds as you explore the great outdoors!
As a kid, I thought the extent of camping food was hot dogs and potatoes wrapped in aluminum cooked by the heat of the coals. Those potatoes seemed to take forever to cook. Yet their simplicity paired perfectly with ketchup, and even to this day, these basic foods are still one of my favorite meals. Maybe it was the smell of smoke that accompanied their often al dente bite, or perhaps it was just the fact that we ate them while sitting on logs, next to the fire with the promise of a quick swim after dinner.
Since then, my idea of camping food has evolved — I see the limitation of the fire as a way to stretch my imagination. So while I still love the foil packets of potatoes, I like to mix things up with a few other ideas that seem more like a gourmet meal than camping food.
Ignite your imagination with gourmet twists on campfire classics!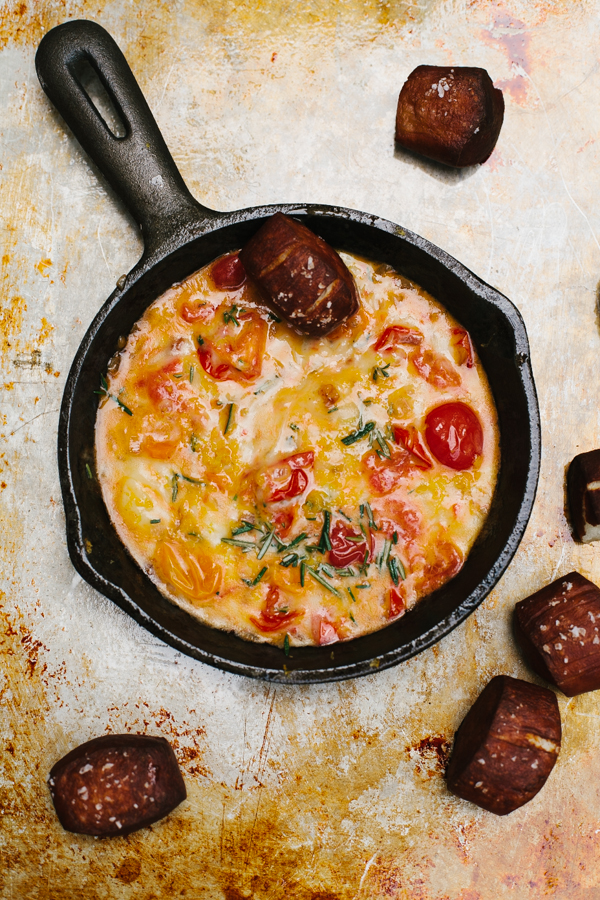 Campfire fondue
This first idea comes from a recipe I developed for my upcoming book, Date Night In. Cast iron pans are the best for using to cook over a fire, and here I start by sautéing a shallot in a cast iron pan. If you have a small pan then you are set for the perfect size for two people. A large one works well to feed a crowd.
The coals are the hottest part of the fire. Let the fire burn for awhile to create a good pile of coals. Settle the pan onto the coals and you will see that it gets very hot quickly. Add a bit of oil then cook the shallot until it is soft. Add some halved cherry tomatoes and cook until they until they soften and let off some of their juice. Remove the pan from the heat and add cubed cheese. A good melting cheese like Fontina works best. Return the pan to the heat just enough to melt the cheese. Serve along with cubed bread and roasted vegetables. Top with lemon zest and minced rosemary for a fragrant kick.
Take your camping fondue to the next level of food craft and taste by adding homemade artisan bread and handcrafted cheese to the mix!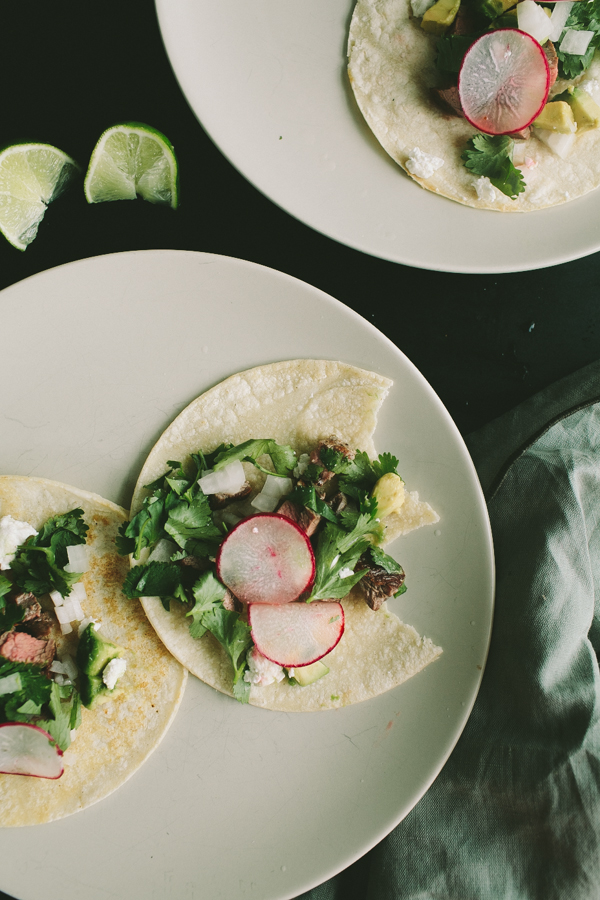 Steak tacos
Camping or not, street-style tacos are one of our favorite summer meals. It's so quick, simple and satisfying. Simply grill a large flank steak that has been seasoned with salt and pepper. You can do this on a traditional grill or over the fire with a grill grate put on top.
Let the steak rest for 15 minutes before cutting into 1/2-inch cubes.
Wrap a stack of corn tortillas in aluminum foil then toss on the grill or in the fire to warm up.
Fill the tacos with cubed steak, diced white onion and cilantro. I like a bit of avocado in mine as well.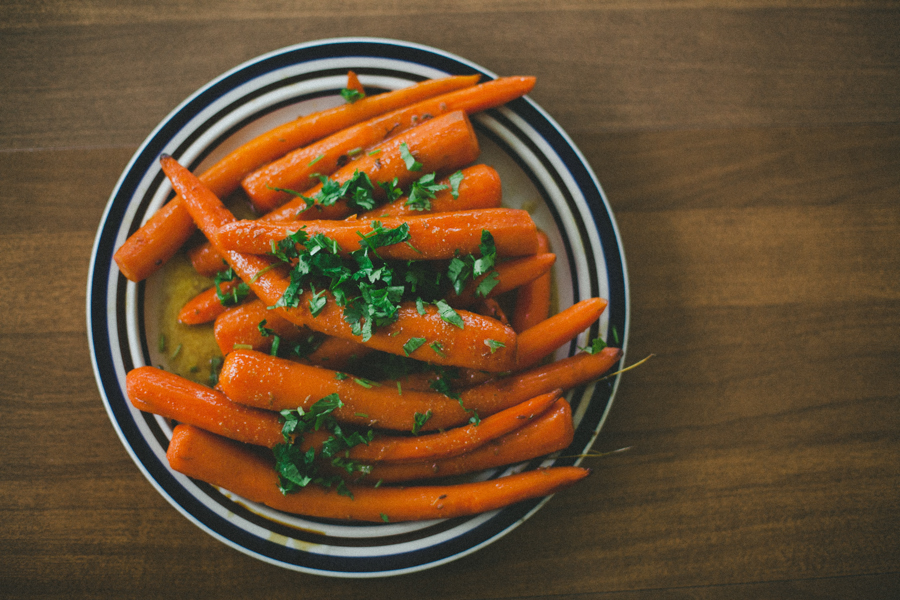 Vegetables: steamed or roasted
Vegetables love the grill as much as meat does. Check out how to grill vegetables here.
But the fire is also a great place to steam or roast vegetables.
Wrap a bundle of carrots, beets, broccoli or other firm vegetables in several layers of aluminum foil. Season with olive oil, salt, pepper and other spices if you'd like. Wrap the packet up tightly then throw into the fire. Preferably in a spot where there are a lot of hot coals.
Roast until the vegetables are tender. You can test the doneness but piercing the packet with a sharp knife.
Top the vegetables with a bit more olive oil and fresh herbs. Serve alongside grilled meat or fish.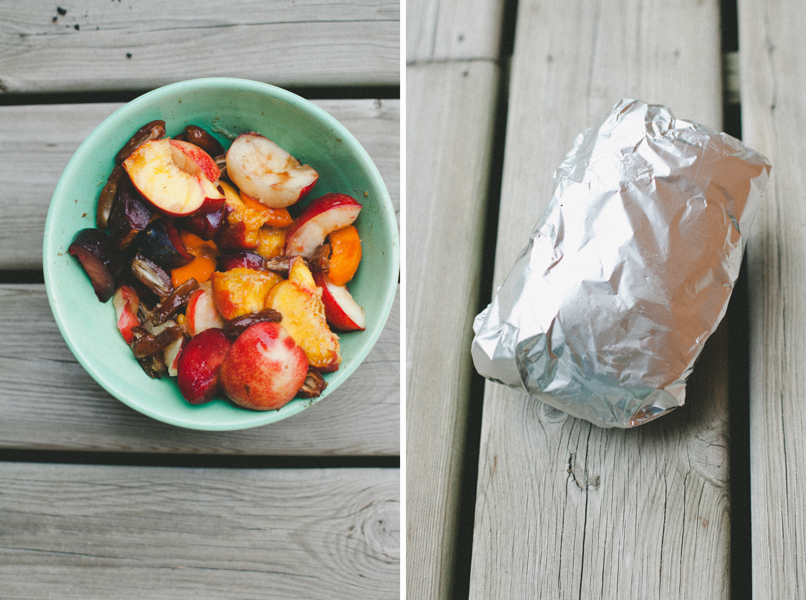 Sweet & spiced roasted fruit
There's really no better way to end a meal by the fire than with s'mores, but here's another sweet idea that cooks beautifully in the fire.
Place halved and pitted stone fruits on several layers of aluminum foil. Season with sugar, cinnamon and vanilla bean if you have it. Wrap the packet up tightly then add to the fire.
Roast until you hear the fruit bubbling inside. Serve over ice cream or tuck some of the bits of roasted fruit into your homemade graham cracker for a sweet and tart bite. A roasted apricot is particularly delicious in a s'more.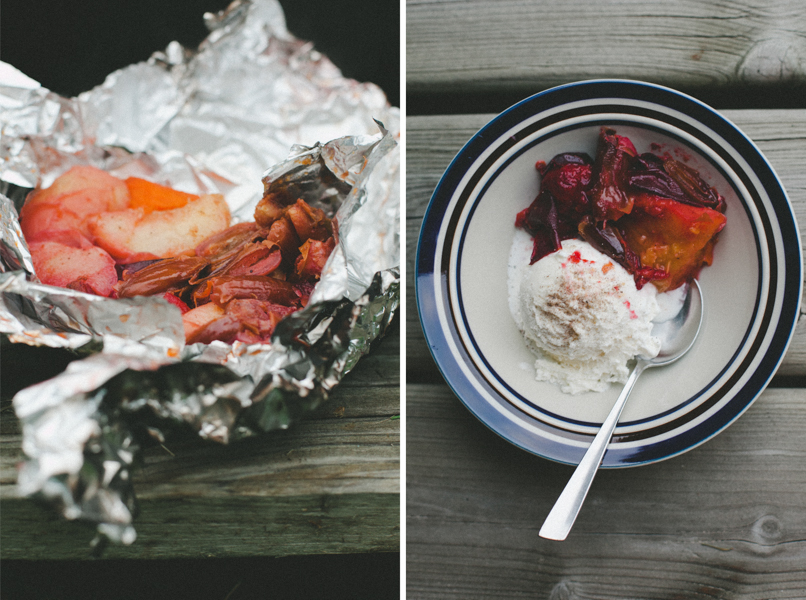 What do you like to cook on a campsite? I'm doing a lot of camping this summer and would love some more ideas!