In a way, all quilts are heirlooms and reminders of the hands that made them. With the many hours, days, weeks and even years that go into completing quilting projects, from design to creation, it's worth recognizing that a quilt is not just something to cover up with on a chilly evening — it's inevitably so much more!
Today, we're taking a look at special keepsake quilting projects that go that extra mile to capture and celebrate memories or events in one's life.
Also known as memory quilts, these projects help you treasure important moments and mark the milestones in your life and the lives of those around you.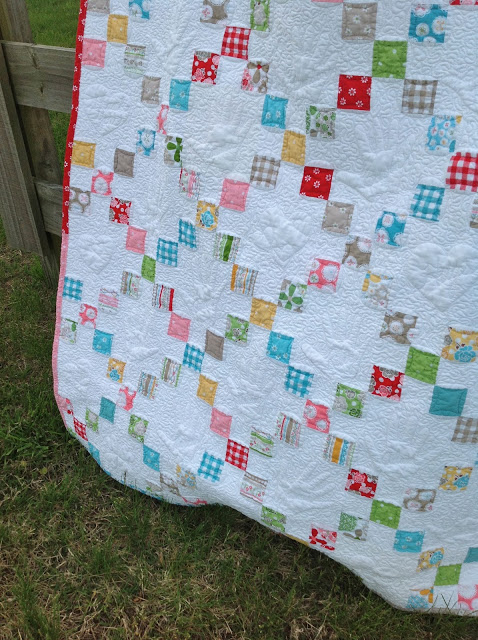 Kim at My Go-Go Life created this stunning keepsake quilting project as a gift for her son's teacher after she was diagnosed with cancer and started undergoing chemo. To add a meaningful touch to the quilt, she had each of her son's classmates trace their hands onto the quilt top in the negative space. The hand prints were quilted by Laurie Tigner, with a free-motion design filling out the rest of the quilt top.
Craftsy member DebsDesigns7 made this keepsake quilting project for a friend whose mother had passed away. Using bubble jet rinse to copy family photos to the blocks, she turned crisp photos into a fabric photo album, which can be admired for years to come. The rest of the quilt top was pieced with the mother's clothing. Deb's tip for sewing with silk shirts is to apply fusible web to prevent shifting.

Jennifer O. shares an example of keepsake quilting that incorporates signatures, hand-embroidered onto the finished quilt for a lasting memory of close friends and family. The signature quilt blocks in her Grannie's Signature Quilt were a gift for her grandmother's wedding in the 1930s, and Jennifer added reproduction fabrics to complete the quilt top. It was a joint family effort, with Jennifer's mom pitching in to piece the blocks; Jennifer then sashed and hand-quilted the piece. The end result is a family heirloom quilting project that will help preserve history!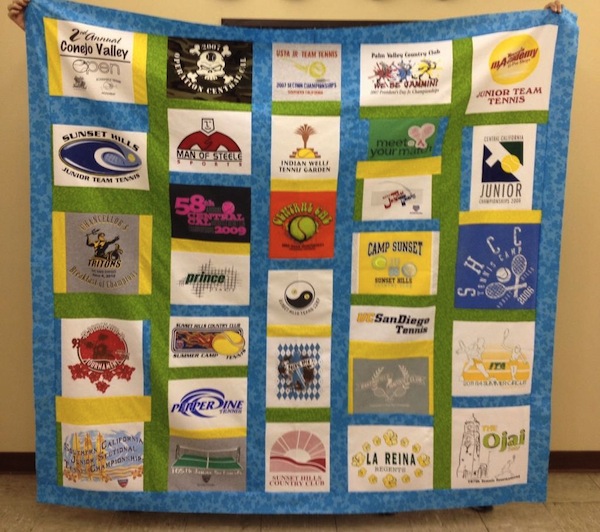 Have you ever tried T-shirt quilting? It's a great way to preserve memories and repurpose a collection of meaningful tees. Many quilters use this keepsake quilting idea as a gift for sending off high-school graduates to college, but it's also great for recipients of all ages. For this t-shirt quilt, Craftsy member SimiQuilts applied fusible interfacing to the back of each of the shirts to prevent stretching or warping of the blocks. The sashing pattern is unexpected and adds a lot of visual interest to the quilt!
Another great take on quilting with wearables is this Necktie Memory Quilt from Craftsy member BobbiSpain. She made the project for a friend whose father had passed away, so the ties could be used rather than given away or stashed in the back of a closet. Before starting the project, she cut open the backs of each necktie to lay them out flat. She used a oversized Dresden Plate template to make the pattern. When quilting with neckties, the possibilities are really endless, and you can easily make a keepsake wall quilt or lap quilt to help commemorate a loved one.
Keepsake Quilts in History
In her class Re-Piecing the Past, instructor Kaye England delves into the importance of memory quilts throughout American history, looking particularly at the Civil War. If you are interested in learning more about the history of memory quilt blocks and traditional piecing methods, Kaye is a tremendous source of knowledge!
Hand Quilting for Keepsake Quilts
Hand quilting is another way to add a special touch to keepsake quilting projects. Learn tips and tricks from expert Andi Perejda in her class Hand Quilting: Heirloom Design & Technique! 
Have you made any keepsake quilting projects?