The lovely cake decorator Kate Sullivan, instructor of the Bluprint class The Art of Painted Cakes, recently filmed an appearance on an upcoming episode of The Rachael Ray Show. The segment, set to air tomorrow, March 14th, features a competition for making a wedding cake for design pro Nate Berkus, and we are lucky enough to get a sneak peak!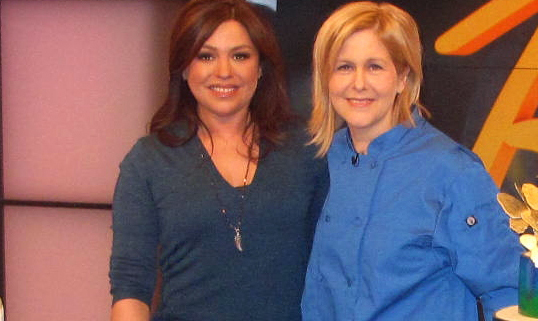 Check out Kate's exclusive behind-the-scenes journal!
Cake Ideas for Nate: Behind the scenes at "The Rachael Ray Show"
Getting a call to be on the Rachael Ray show was sooo exciting! I had a wonderful experience. Everyone connected with the show was amazing and very professional.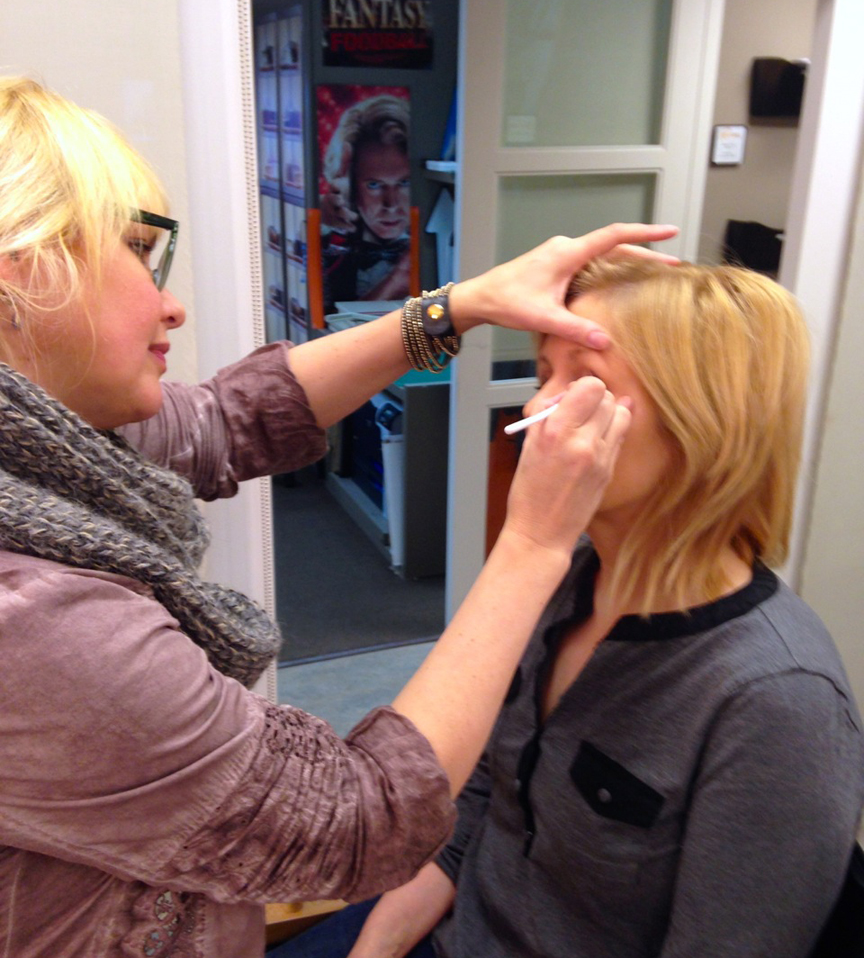 Getting beautified in hair and makeup
The crazy thing about doing a television show, especially a daily talk show, is that you always get the call with almost zero time between when you're confirmed to do the show and when you actually have to bring a finished cake. In this case we had exactly three days to make a big (and hopefully beautiful) display cake and a delicious tasting cake that would serve everyone in the audience (130 people) plus a panel of prestigious judges.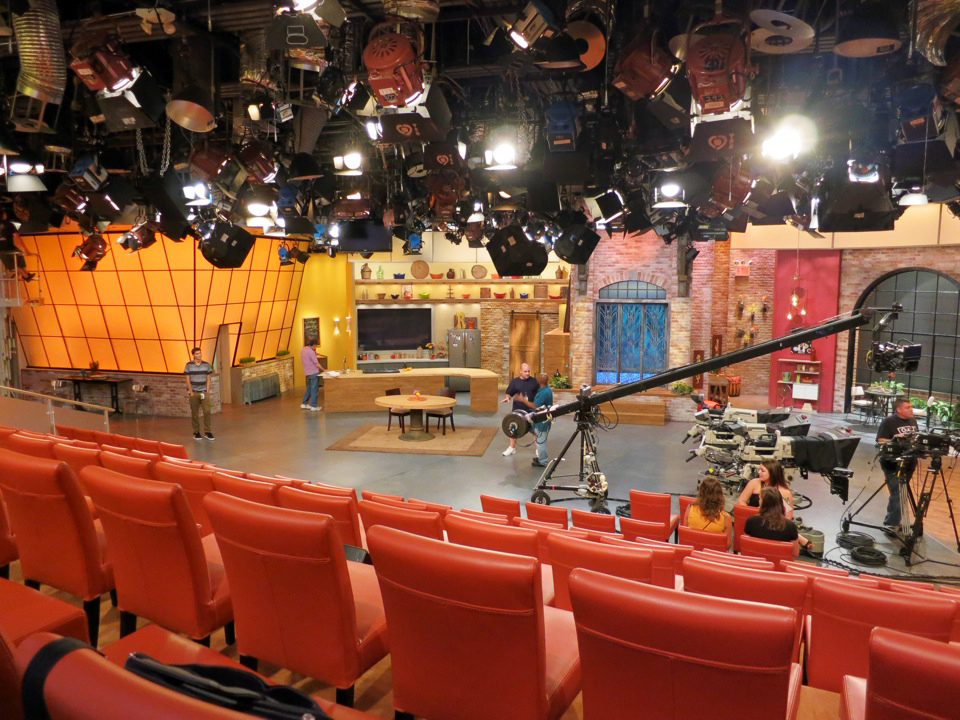 The set of "The Rachael Ray Show," getting prepared to shoot the episode
To be honest, I was initially on the fence about doing all this in such a short period of time because we already had a pretty full schedule. However, the Friday before the show taped, we found out that the cake would be for Nate Berkus. Well, that sealed the deal for me! I'm definitely a Nate fan. Not only is he extremely talented, but he also always seemed like the sweetest and kindest guy.

When discussing the cake competition, the producer asked me to create something new, different and unusual. I had a gut feeling about the kind of cake I wanted to make for him, so I sketched out a cake inspired by renowned fashion designer Alexander McQueen. Then, coincidentally, I noticed that on the cover of Nate's book, "The Things That Matter," there was a copy of Alexander McQueen's book "Savage Beauty" predominantly displayed on the front cover. This seemed like a good sign!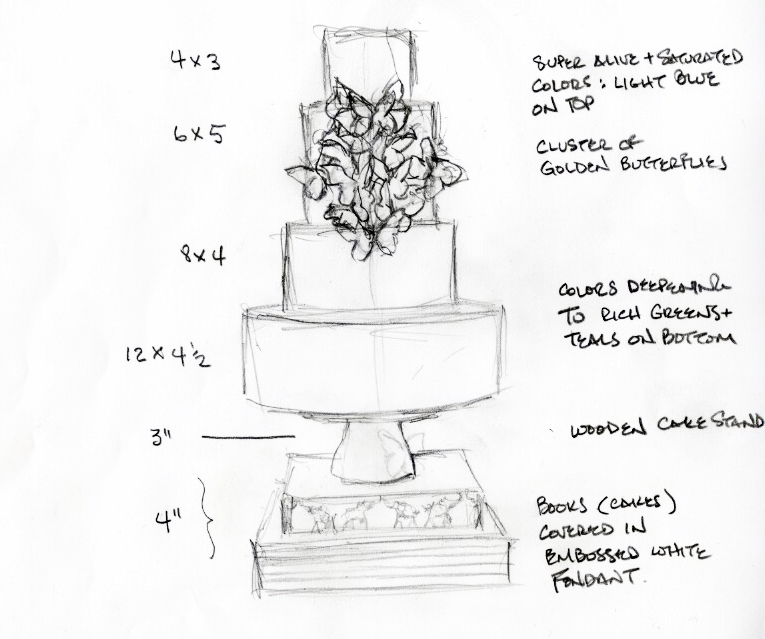 My preliminary sketch for Nate Berkus' wedding cake
I also wanted to incorporate vibrant colors and elements from nature because I felt that was often an integral part of Nate Berkus' interior designs. I aimed for colors from nature along with one bold color element, mimicking my interior design mental image of a kelly green wall in a room otherwise decorated in understated, neutral colors.

The team was like a well-oiled machine, and I could not believe how many balls they managed to keep in the air at one time. Ours was one of at least four different segments for that episode, and they were filming three full episodes that day! On the Wednesday that the show taped, there was a snowstorm and a huge traffic jam — everything was running late. While we were located only eight blocks from the studio where the show is filmed, it took almost an hour to get there by car with the cake. This added a little extra behind-the-scenes drama, trying to get the cake cut in time for the segment, but the staff took it all in stride!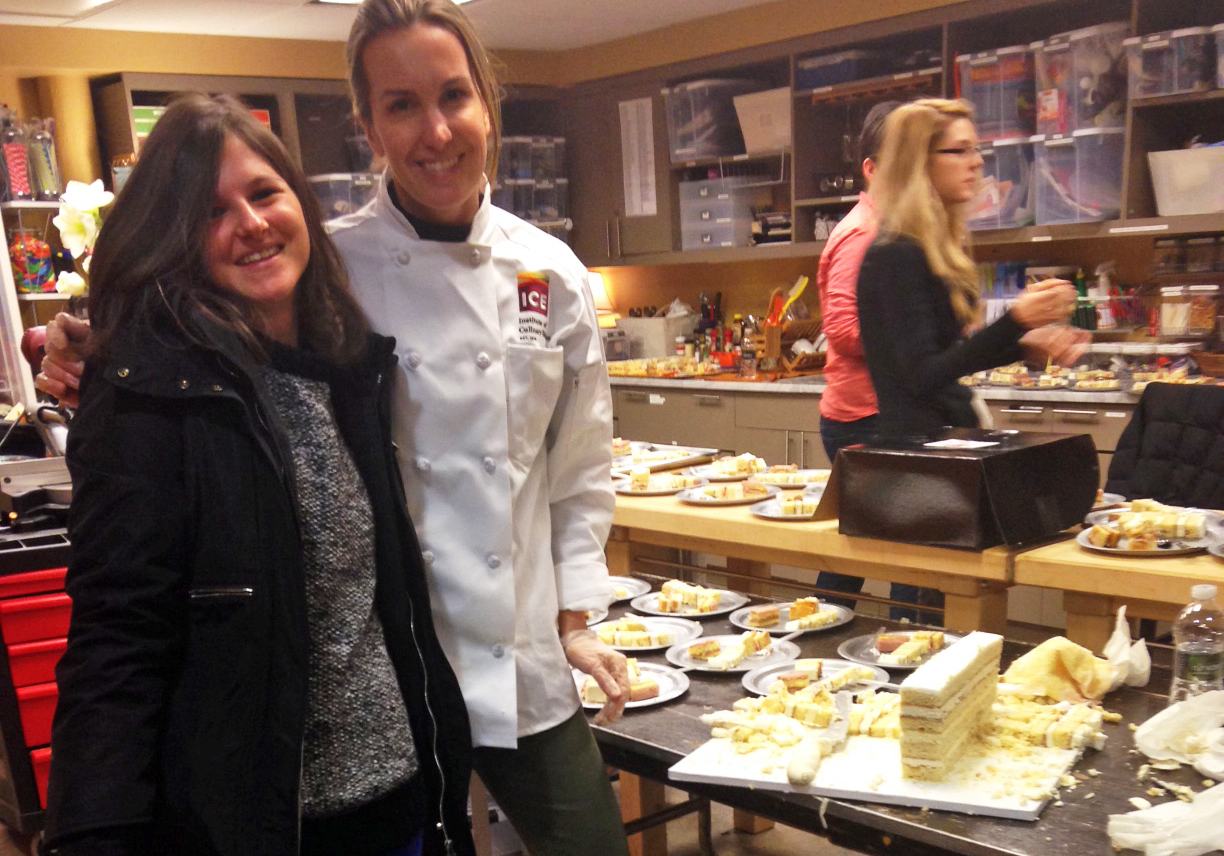 My amazing assistants Mariel Kaufman and Amy Kolz worked feverishly backstage to cut the cake for 150 people in time for the segment 
The two baking-legend judges were Jacques Torres and Gail Gand. They are both wonderful! The other two competitors were bakers I already knew and loved. I even competed against one of the competitors before on TLC's Ultimate Cake Off. Overall it was an amazing experience!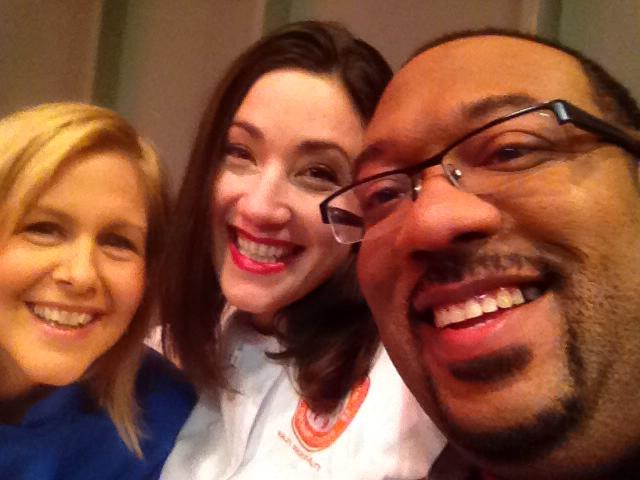 Snapped a backstage selfie with my esteemed competitors: Michelle Doll and Dana Herbert
[box type="shadow"]
DVR alert!
The segment "Rach and Two Pastry Legends Help Nate Berkus Research Wedding Cake Ideas" will appear on The Rachael Ray Show on Friday, March 14th. Tune in to see how Kate did!
For showtimes in your area, click here.
[/box]
What theme would you have chosen for Nate Burkes' wedding cake?