If you've ever seen a kaleidoscope quilt in person, you probably remember it! Kaleidoscope quilt patterns come from a single quilt block that is then repeated over and over. The angles of the pieces and the arrangement of color and print contribute to secondary patterns that make the quilt look like what you would find inside a child's toy kaleidoscope. These optical illusions make their quilts nothing less than works of art.
Let's explore some inspiring kaleidoscope quilting and some creative variations of the theme!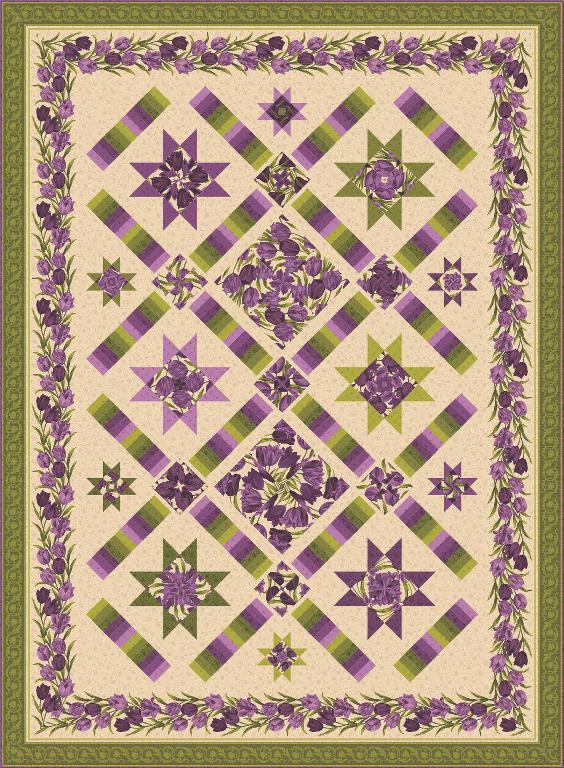 Tulip Festival kaleidoscope quilt via Craftsy instructor Marilyn Foreman
So what is kaleidoscope quilting?
While there are many different approaches to the kaleidoscope quilt pattern, the traditional block dates back to the early 19th century. It looks something like this:
The eight identical triangles together make an octagon, and then four smaller triangles are added to the corners to make a square block.
Quilters can use specialty kaleidoscope rulers to cut out the shapes, or there are many free foundation paper piecing templates available. Depending on how colors and prints are arranged, any number of secondary shapes and patterns can appear.
Below you can see how Craftsy member Charise Creates sewed a beautiful kaleidoscope pillow from Liberty fabric using this pattern, and the alternating white triangles really pop and make almost a floral motif.
Variations on the kaleidoscope theme
Even though the octagon-and-corners motif is the hallmark of the traditional kaleidoscope quilt pattern, there are also more modern takes on the classic design.
My modern quilt guild recently made a quilt based on a Twister mat, and each of us had to contribute a block with a colored dot in the middle. As you can see above, I used the traditional kaleidoscope quilt pattern to make my "circle," ignoring popular conventions of how the colors should be arranged, and I love how it turned out. I suggest playing with some colored pencils and graph paper to trace out a pattern before you begin sewing. The possibilities are nearly endless. To achieve the full kaleidoscope effect, however, it's best to plan for at least a 3×3 grid.
And some quilters choose to forego the traditional block altogether. In the example above, Craftsy instructor Elizabeth Dackson modified the block pattern for a simple paper pieced project. It uses slightly different shapes but still retains the unique kaleidoscope effect, with much more emphasis on a four-pointed-star and diamond motif. I especially like how she pieced stripes in some of the triangles to add yet another pattern to the overall design.
Using prints as pattern
Many other kaleidoscope quilt patterns use fussy cutting techniques to contribute a true "mirrored" look to their designs. The popular Millefiori Quilts book by Willyne Hammerstein (which includes the La Passacaglia English-paper-pieced quilt that is taking the Internet by storm) is perhaps the most renowned example of the effects that can be achieved by blending print and pattern.
If you're interested in learning more about techniques to attain kaleidoscopic effects with fussy cutting, check out Craftsy;s Quilted Kaleidoscopes. In the course, instructor Marilyn Foreman discusses the process for auditioning and cutting fabric and blends the shapes with her own kaleidoscopic designs.
You might also enjoy our roundup of kaleidoscope quilt patterns.