Did you play with kaleidoscopes as a child? Children and adults alike would agree that the intricacy of the patterns and layouts formed inside these classic toys are simply amazing. So, it should come as no surprise to quilters that these toys are the inspiration for some stunning kaleidoscope quilt patterns! Here are several quilt designs and patterns that mimic the kaleidoscope.

Photo via Fussy Cut
Get quilting inspiration from the world as viewed through a kaleidoscope!
A kaleidoscope is actually a tube with mirrors and loose pieces of colored glass (or plastic) inside of one end. By pointing the end toward light and turning the cylinder, swirls of colors, shapes and patterns are revealed to the viewer.
These featured quilters did that same thing, using the kaleidoscope as inspiration for projects with amazing shapes and colors. Click on the photos and links to get any of these amazing kaleidoscope quilt patterns!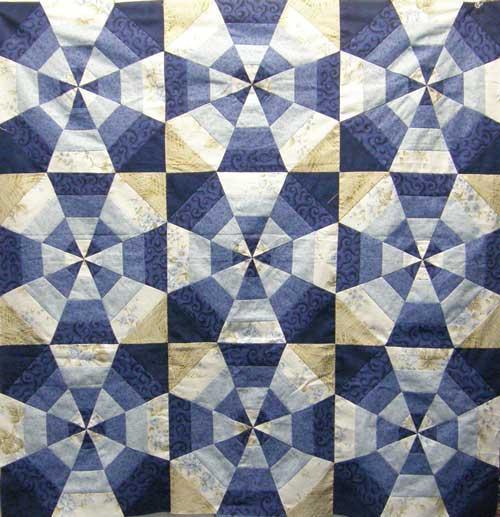 Photo via Bluprint member Kaye Wood

Blue kaleidoscopes
Bluprint member Kaye Wood shares a stunning kaleidoscope quilt with a strip-pieced design. Her versatile pattern includes directions for a variety of quilt sizes ranging from wall hanging to king. The Starmarker® template ruler is used to cut out the quilt's unique shapes.
Get the Kaleidoscope Quilt Pattern here.

Photo via Elizabeth Dackson
Kaleidoscope quilt-along
Are you a fan of the version photographed above? Elizabeth Dackson hosted a kaleidoscope quilt-along on her blog, Don't Call Me Betsy. Everything from fabric requirements to block assembly is included in her step-by-step instructions.

Photo via Bluprint member AQuiltingJewel
Sunrise Delight
Here is an incredible kaleidoscope pattern for the advanced quilter. Paper piecing is used to construct 12" blocks that are full of diamonds and triangles. If you are new to paper-pieced quilts, the designer shares a link to a tutorial to get you started. The finished quilt measures 36" square, but you can make it larger by adding more blocks!
Get the Sunrise Delight Quilt Pattern here.

Photo via Bluprint member Chasing Cottons
Modern kaleidoscope
Here is another playful version of the kaleidoscope! This is a beginner-friendly pattern that uses traditional piecing to make a large throw that measures 66" x 84".
Get the Kaleidoscope Quilt Pattern here.

Photo via A Crafty Fox
Diamonds in the Sky Pillow
Do you find kaleidoscope quilt patterns to be a bit intimidating? Here is your chance to try a similar design on a smaller scale! Amanda Woodard of Westwood Acres fabric shop has shared her Diamonds in the Sky pattern and tutorial over on her quilting blog, A Crafty Fox. She used the traditional Key West Star block pattern to create a gorgeous, quilted pillow reminiscent of a kaleidoscope design.
Get the Diamonds in the Sky pillow pattern here.

Are you inspired by the kaleidoscope? What is your favorite quilt design featured?