[box type="shadow"]

This special guest post is written by Marilyn Foreman, instructor of the Bluprint class Quilted Kaleidoscopes. Sign up today and learn how to play with large print fabrics to make dynamic blocks with no fussy cutting or tricky bias edges.
[/box]
Don't know what to do with that fabulous large print that you have in your fabric stash or are drooling over at the quilt shop? Learn how to kaleidoscope it! I would love to share with you my passion for large prints. Like many of you, I'm addicted to all fabrics, but I'm especially drawn to large-scale, yummy prints.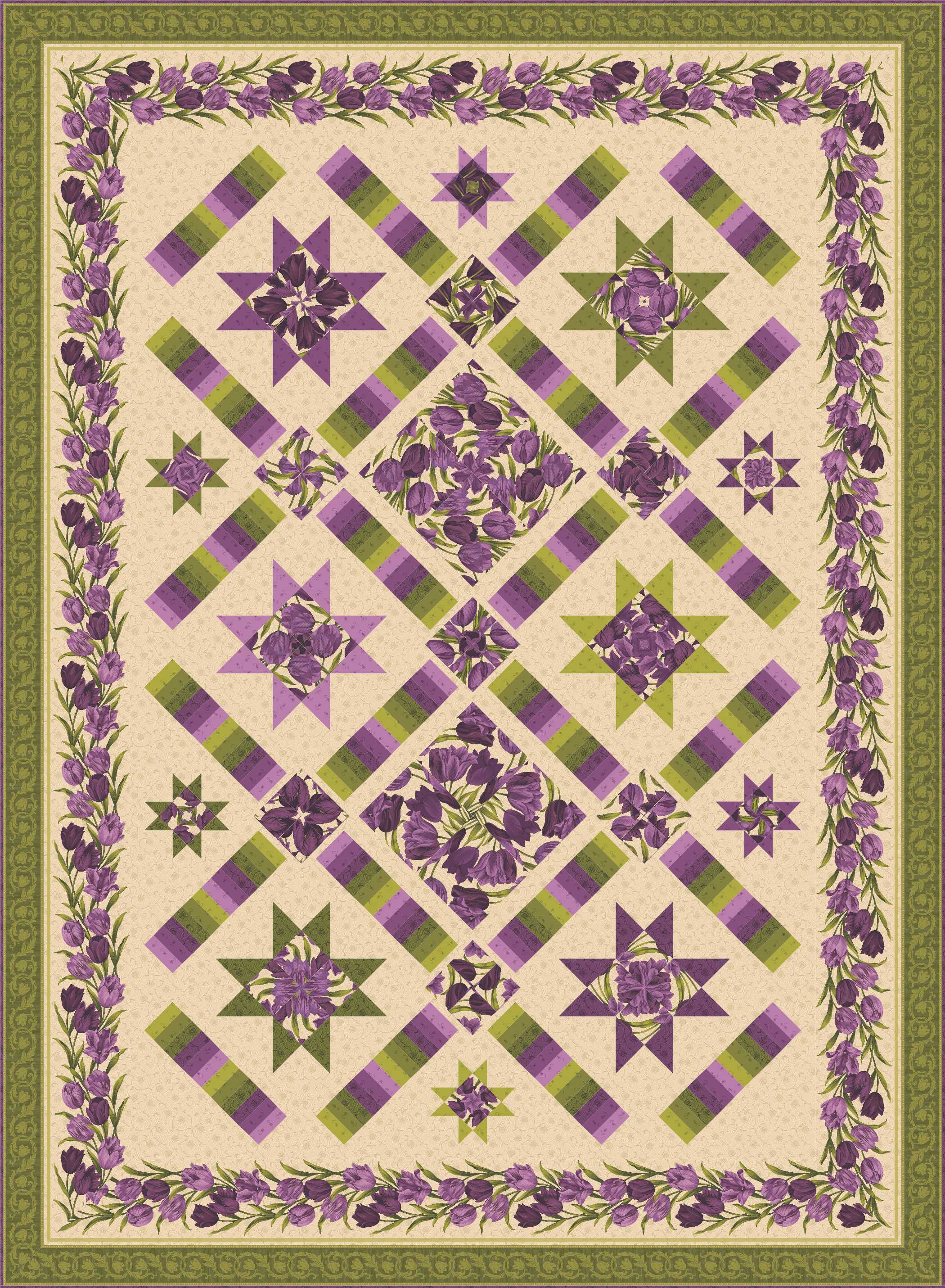 Let's take a closer look at some large print fabrics.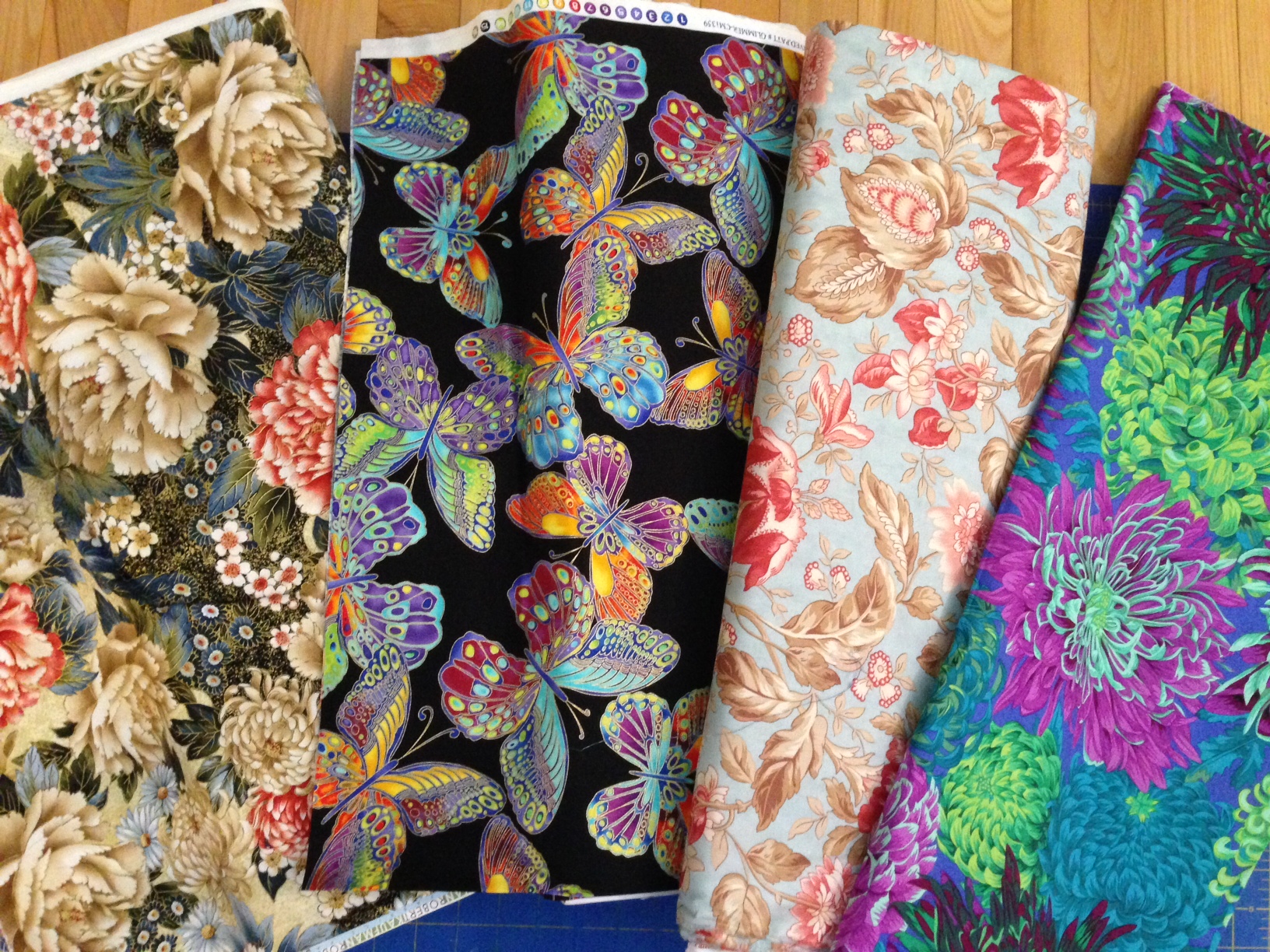 One of these  great fabrics could soon be yours! I'm giving away a 3-yard cut of the fabric of your choice to one lucky winner. Keep reading to learn more about this giveaway!
Large floral prints
Fabrics containing flowers and leaves in many different sizes yield interesting details in both large and small four-patch kaleidoscope blocks. The fabric doesn't have to contain lots of different colors to make exciting kaleidoscopes and beautiful quilts.
Here's an example in shades of blue: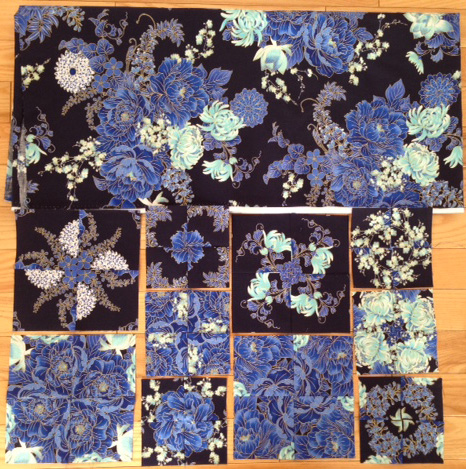 This is a new sample of my Keyboard Kaleidoscope design using those four-patch kaleidoscopes. All of the skills needed for making a quilt like this or any of my other kaleidoscope projects are taught in the Quilted Kaleidoscopes class where we make several runners and a complete kaleidoscope quilt from start to finish.
Novelty prints
You don't have to stick with just flowers. Novelty prints with butterflies, animals or other fun motifs also work great. Even though this fabric uses the same motif throughout, the fabric works well for kaleidoscope runners and quilts since it contains lots of colors and details.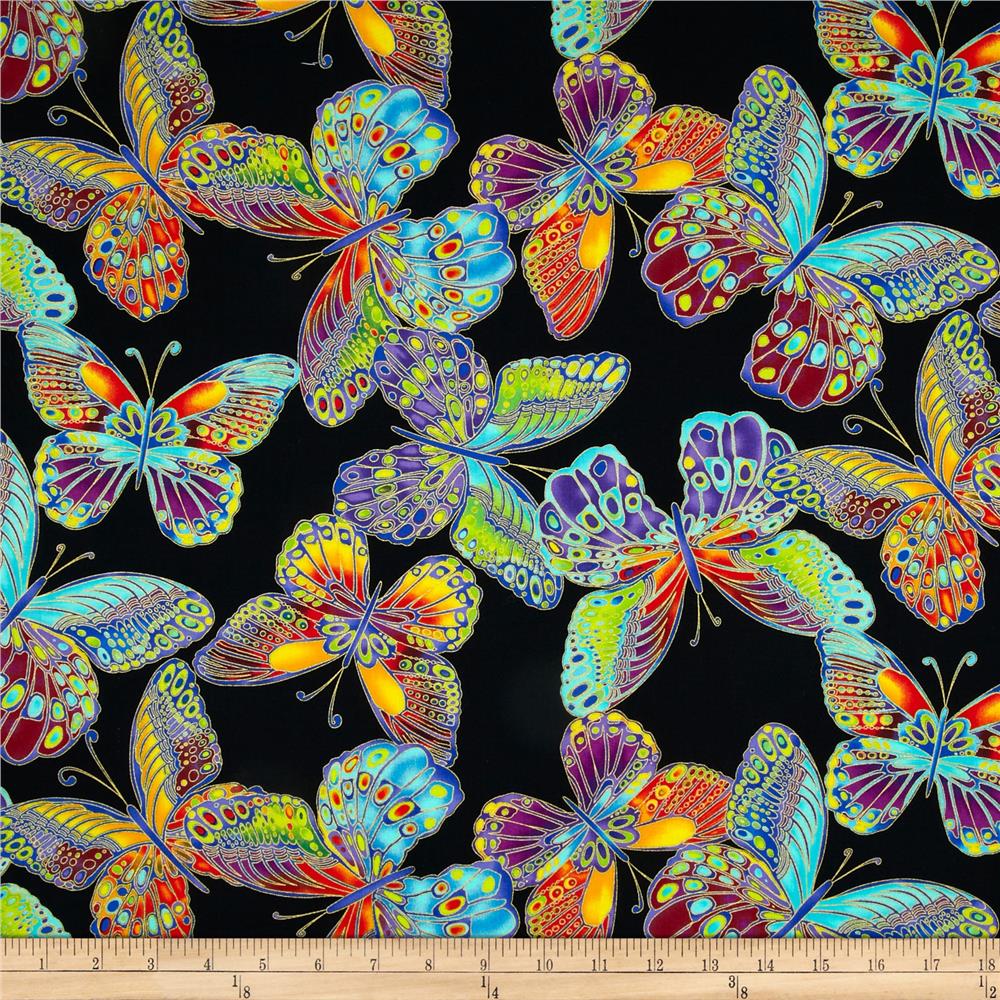 Here I've used the butterfly fabric in my new Spinning Wheels Quilts design including four-patch kaleidoscopes and even four-patch rectangles, too.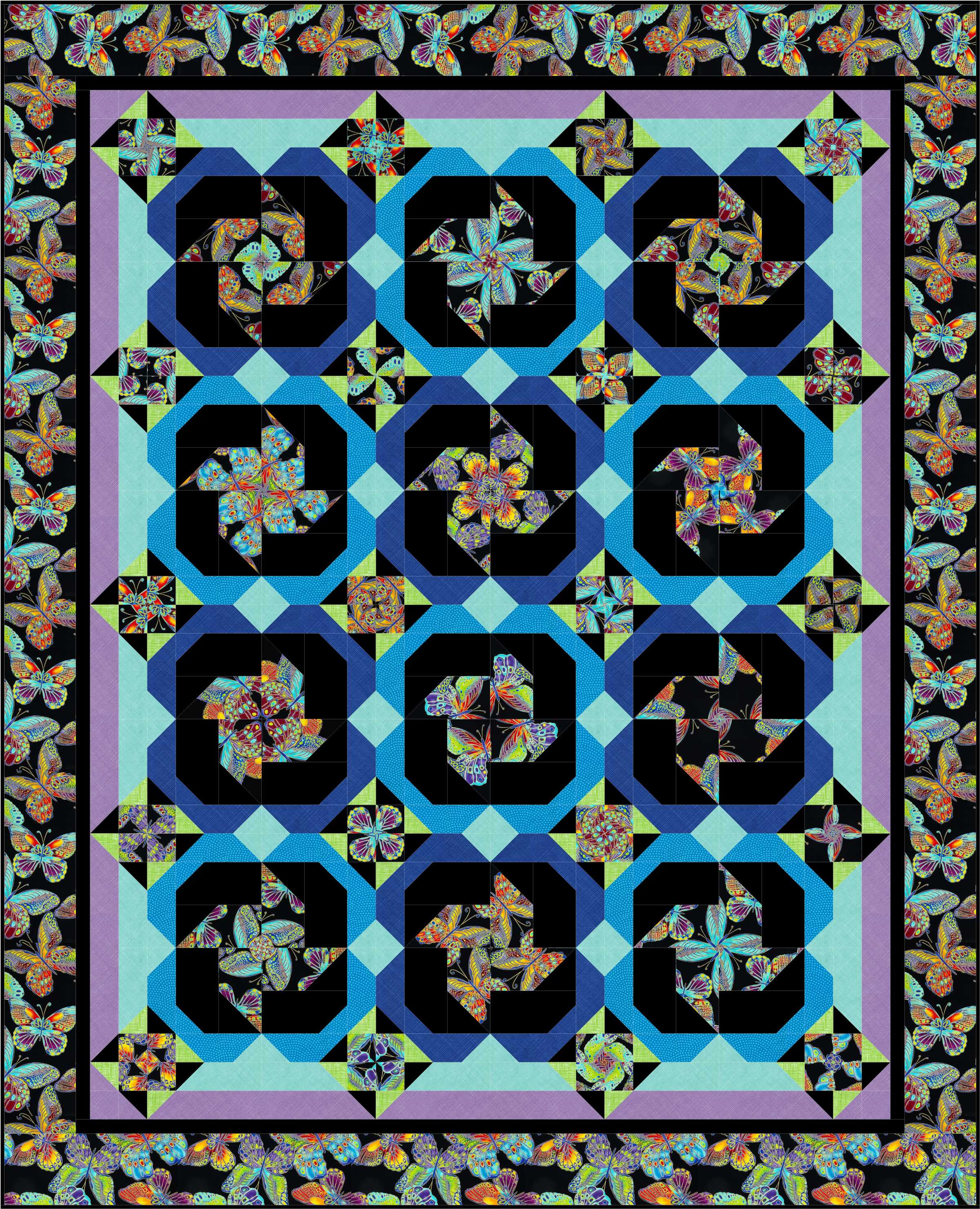 Huge florals or prints
Extremely large flowers or other large motifs can also work great even if you don't use the entire flower in a block. It actually adds more interest when the fabric is cut randomly in different smaller strip widths in the strip-cutting technique that we cover in class. Notice how big the flowers are next to my hand in this class photo.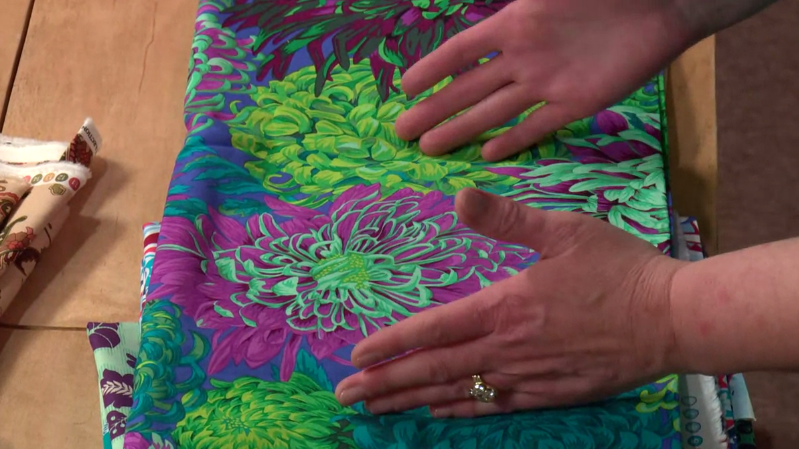 This is one of the quilts, Belle Kaleidoscope, that we learn how to make in class. See how only a portion of the flowers end up in the block centers and make stunning kaleidoscopes?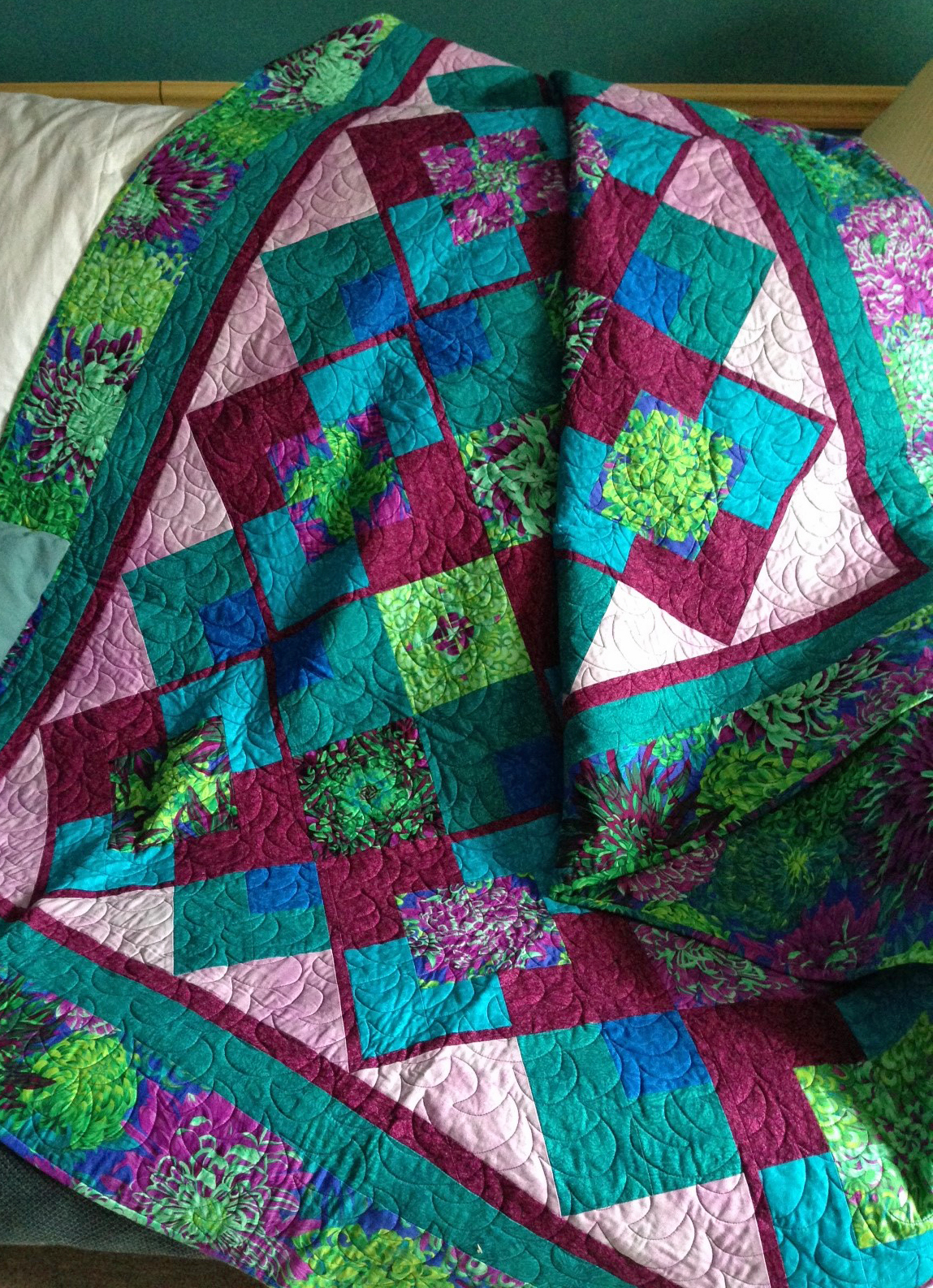 Think it's difficult to make kaleidoscopes with fabric? Think again… You simply cut strip sets and square sets to make fun and addictive four-patch kaleidoscopes of various sizes.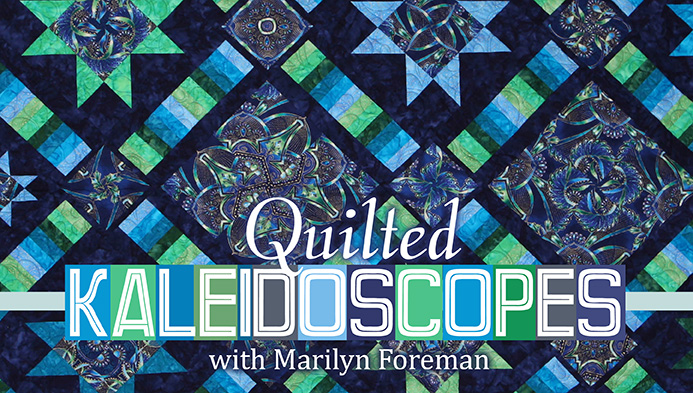 In Quilted Kaleidoscopes we examine (and pet!) many more large-print fabrics and discuss how to determine which ones will work best in the easy four-patch kaleidoscope runners and quilts that we make together.
Other fun class activities:
We discuss choosing blenders in a variety of colors and shades to best showcase the large print that you select for your projects.
We include directions for several kaleidoscope runners and cover the construction from start to finish to make a Twilight Kaleidoscope quilt and show examples in several fabrics.
We demonstrate how you can even use the popular Twister tools to make easy kaleidoscope pinwheels from the four-patches for a new twist!
Please join me in my Quilted Kaleidoscopes Bluprint class. After this you will look at large prints in a new way and have the confidence to easily make any of my kaleidoscope projects.
Now for the giveaway!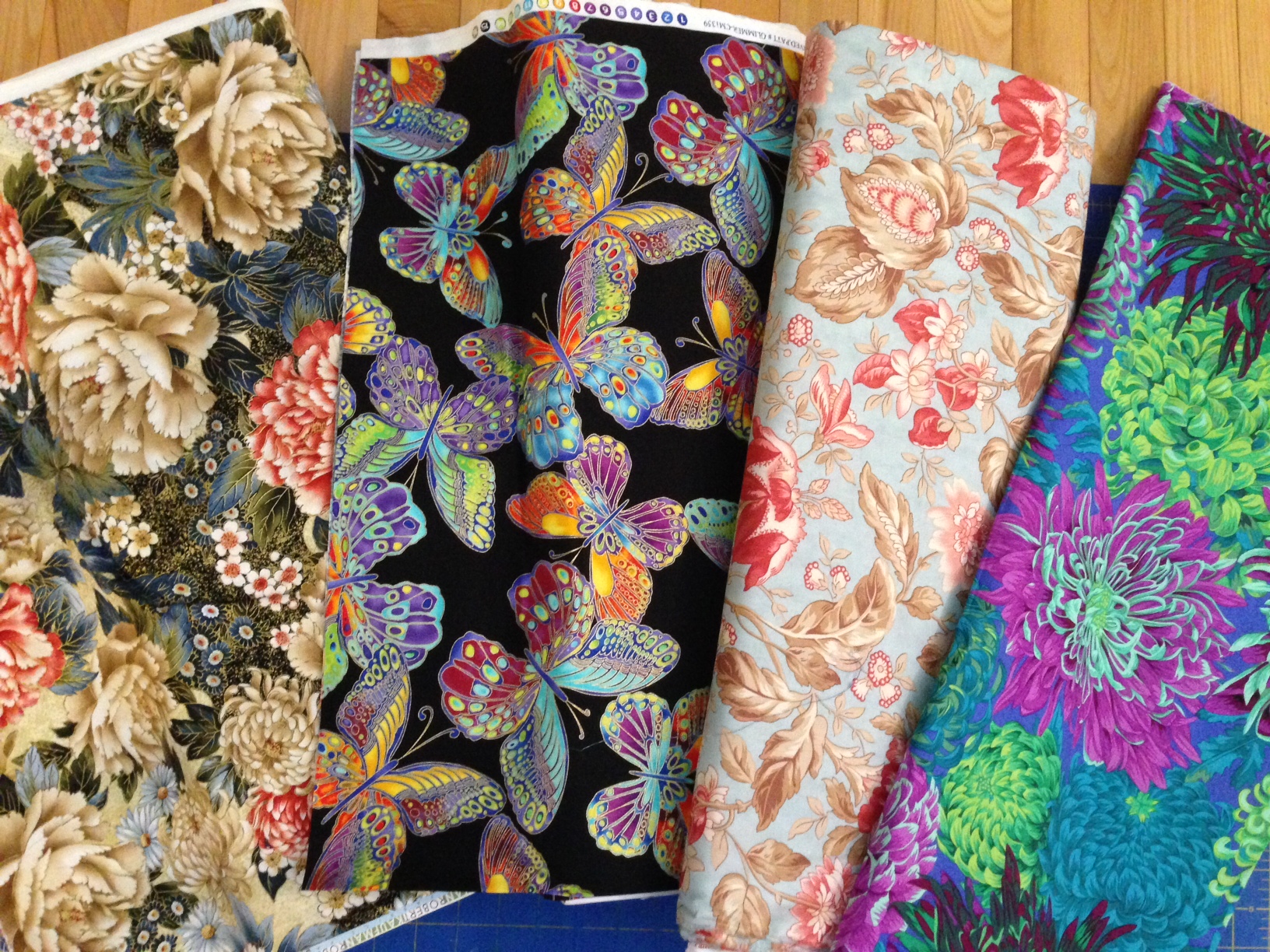 [one_half_last]
Click
here
for a chance to win one of the 3-yard cuts, and leave a comment mentioning which of the four fabrics you would most like to win and use in a kaleidoscope project: Asian floral, butterflies, pastel floral, or huge floral. This giveaway ends 11:59 p.m. MT May 15, 2015.
[/one_half_last]
Enter Now»
**This giveaway has ended. The winner is Linda from Pennsylvania!