Most of us don't need a national day of celebration to indulge in some junk food, but if there's a day set aside for the purpose, who are we to argue?
July 21st is National Junk Food Day across America, so let's binge on the best-looking junk-food cakes around.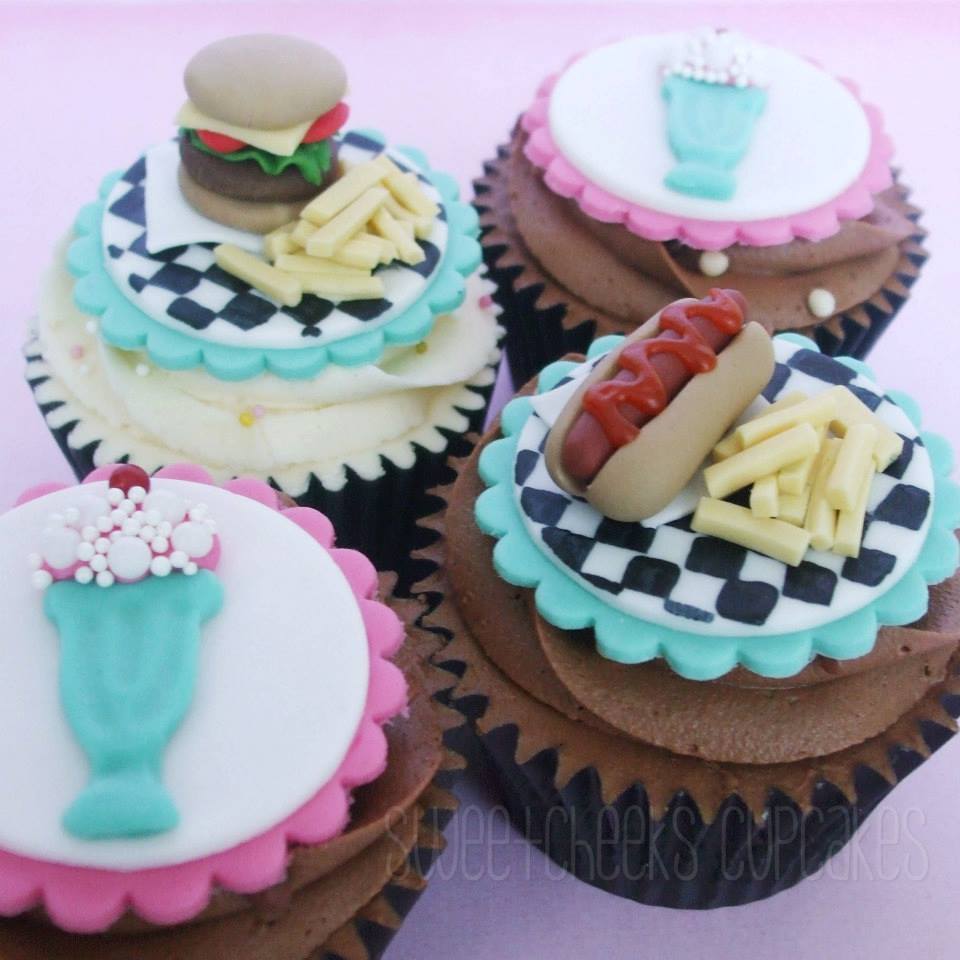 Photo via Sweetcheeks Cupcakes
Diner-themed cupcakes:
What's the first thing you think of when someone mentions junk food? Burgers? Hot dogs? French fries? How about all three with a frothy strawberry milkshake on the side?
These adorable fondant toppers set atop vanilla and chocolate cupcakes are enough to make the mouth water. The pink-and-mint color scheme gives the toppers a fabulous '50s diner feel. The piped royal icing "ketchup" is the perfect finishing touch, and the sugar pearls and sprinkles on the sundae glasses are genius.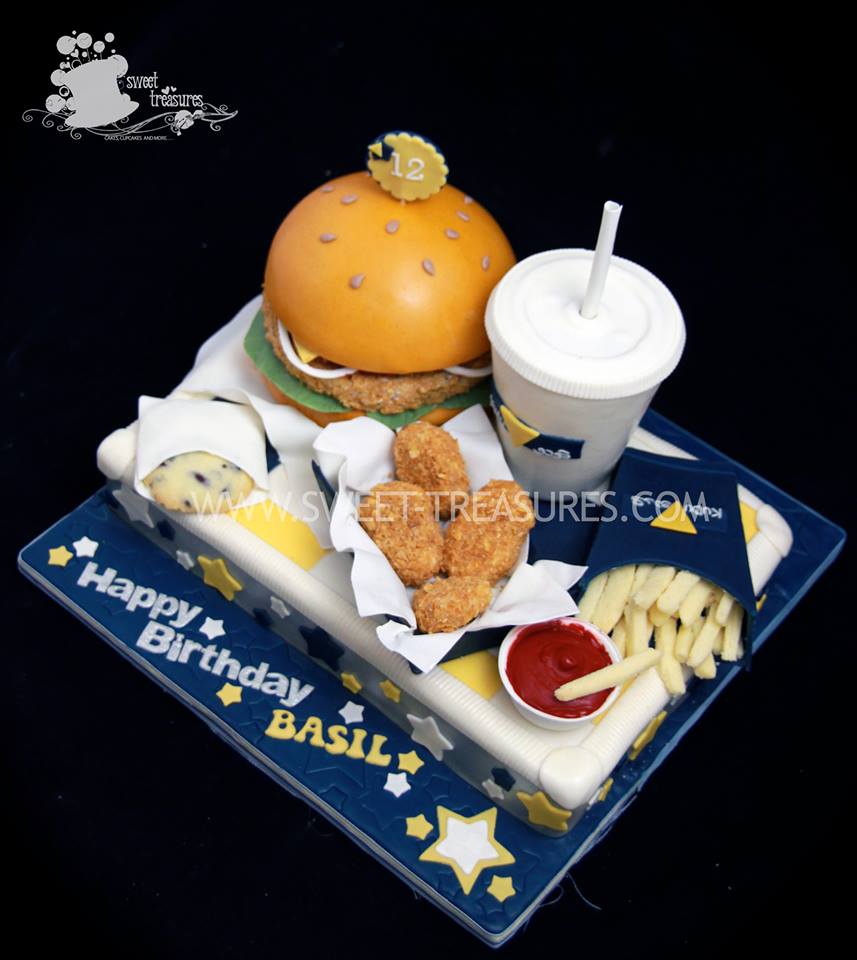 Photo via Sweet Treasures
Fried foods cake:
If fried chicken is your junk food of choice, this cake is a feast for the eyes! A chicken sandwich with nuggets, fries, soda and a little cup of ketchup is enough to satisfy the wildest fast-food cravings. And is that a cookie for dessert? Crushed cornflakes are the perfect way to achieve this crispy fried-chicken look.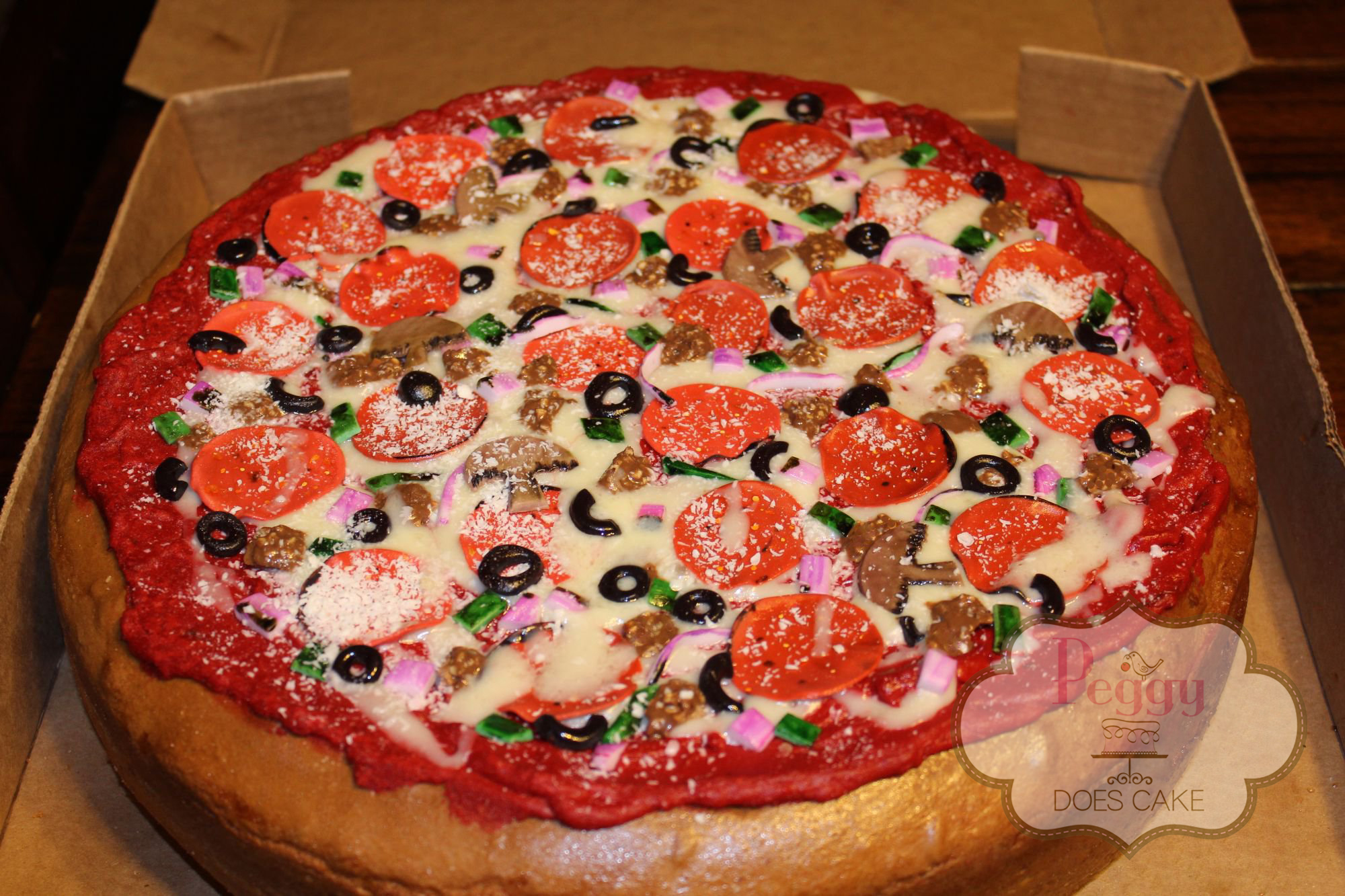 Photo via Peggy Does Cake
Pizza cake:
For some, junk food only comes smothered in tomato sauce, melted cheese, and extra pepperoni. Plus mushrooms, olives, red onion and green peppers, of course. This is a perfect single layer of cake topped with dark red American buttercream, fondant "toppings" and white-chocolate ganache "melted cheese." A final sprinkle of shaved white chocolate looks just like Parmesan!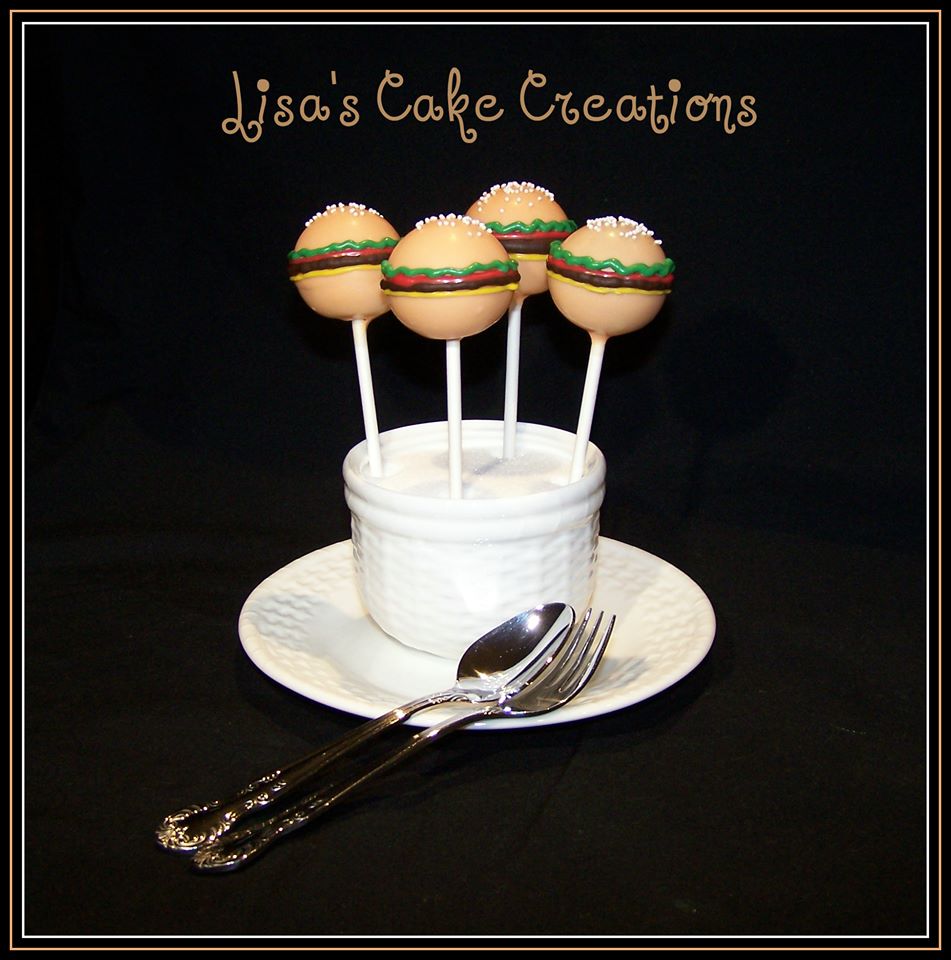 Photo via Lisa's Cake Creations
Burger cake pops:
These enchanting little burger cake pops are easy on the eye as well as on the digestion. Just one won't blow the diet, but I'm not sure it would be easy to stop at just one. Yummy bite-sized balls of cake crumbs mixed with buttercream, dipped in candy melts, then piped with stripes of "toppings." A few sprinkles on top and you've got one all-beef patty, special sauce, lettuce, pickles and onions, all on a sesame-seed bun.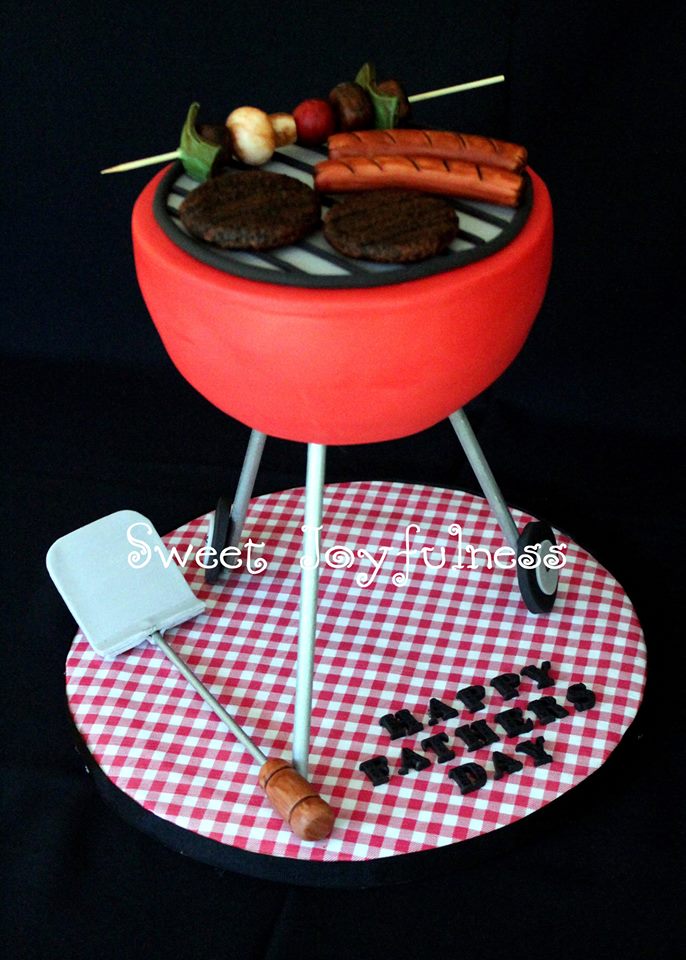 Photo via Sweet Joyfulness
Sculpted grill cake:
Junk food doesn't have to be fast food. Sometimes we like to get our meat fix on our own terms. A couple of dogs, a couple of burgers, and a kabob on the BBQ, and it's heads down for a greasy feast! Flip them over with your shiny spatula and it's almost time to eat. This gravity-defying cake leaves us all wondering, "How did they do that?"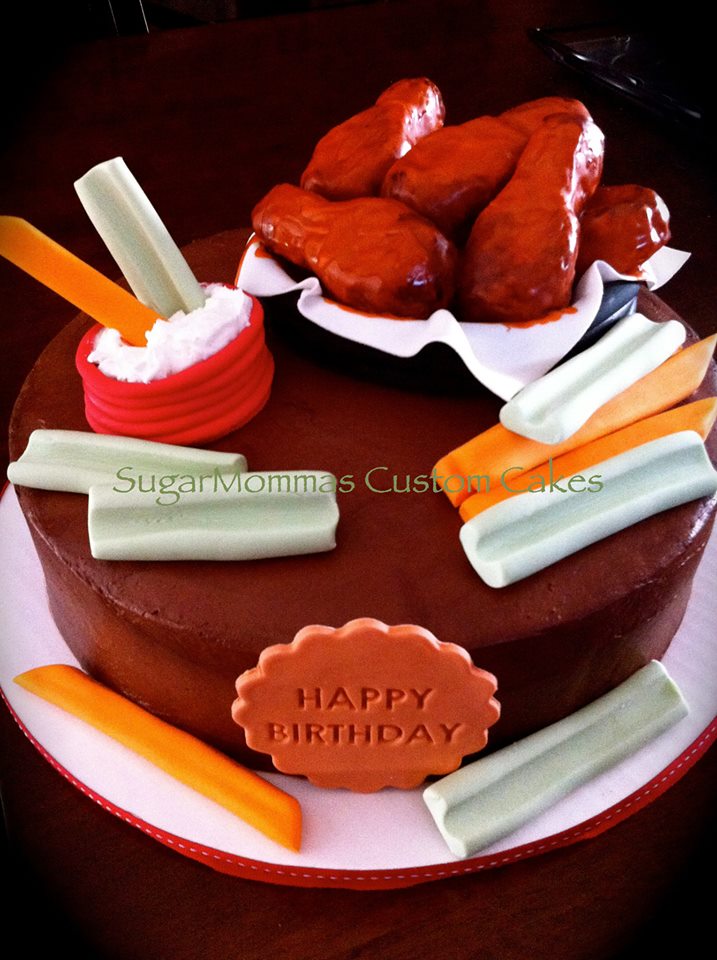 Photo via SugarMomma's

Buffalo wings cake:
Then there's the healthy option. Spicy buffalo wings with blue-cheese dip is healthy right? It must be if it comes with a side of carrot sticks and celery. These delicious looking glazed "wings" are so shiny, I bet you're already licking your lips and your fingers.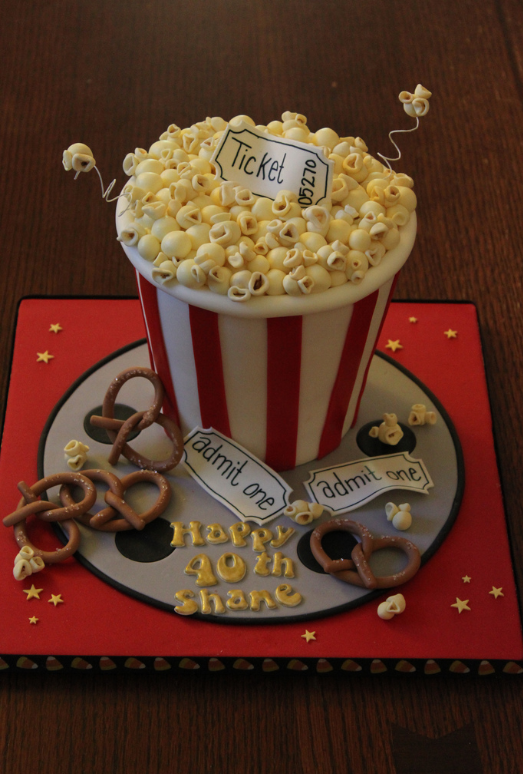 Photo via Andrea's SweetCakes
Movie snacks cake:
Your National Junk Food Day indulgence doesn't have to be meat-based or greasy. A bucket of popcorn and a bag of pretzels at the cinema is sure to satisfy that need for something salty. It only gets greasy after you drench the popcorn in melted butter, of course. This cake topped with fondant popcorn, modeled piece by piece, is realistic enough to make you do a double take. Individual "kernels" on springy floral wire give the cake great movement and humor.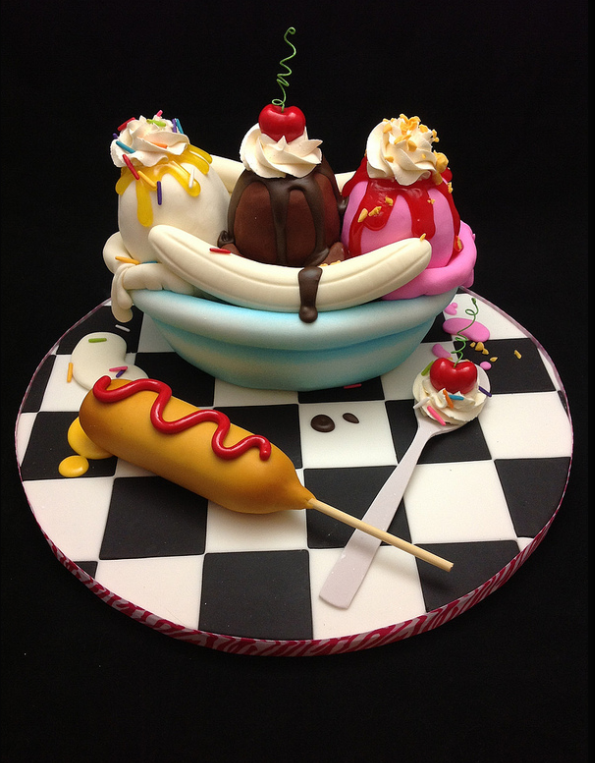 Photo via Andrea's SweetCakes
Banana split cake:
And finally, when you've had about as much meat and carbs as you can handle, it's time to break out dessert. There's not a lot junkier than a massive banana split, especially with a side order of corn dog. This beautifully airbrushed cake has so many playful details, you'll need a few moments to take them all in. Dripping sauces, colorful jimmies, big dollops of whipped cream, and cherries that you want to pinch and pop in your mouth. Yum!
Ready to whip up your own junk-food cake? Elisa Strauss' FREE Basic Fondant Techniques class will help you get started!
This junk-food junket will probably make you do one of three things. Will you order an enormous takeout, eat nothing but salad for a week, or break out your baking supplies and serve up a treat fit for a junk-food feast?