Jungle-themed decorated cakes and cupcakes continue to be an extremely popular motif for celebrations of all kinds, including kids' parties, baby showers and safari festivities. Whether centered around beloved movie and story characters or typical jungle animals, answer the call of the wild with some inspirational jungle confections.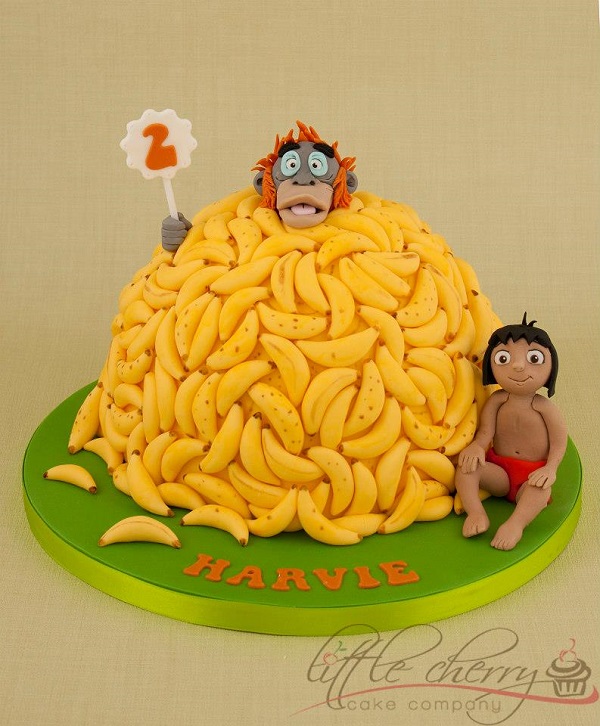 Photo via Little Cherry Cake Company
The Jungle Book cake
With characters from the Disney movie The Jungle Book, Little Cherry Cake Company created this absolutely precious banana cake for a child's birthday! The domed cake was covered, then entirely embellished with fondant bananas. The figures were also perfectly modeled from fondant and added to the presentation. The monkey's head and hand are so creatively popping out of the cake, giving the entire display a lively and fun look.
[box type="shadow"]Wouldn't those tiny fondant bananas make adorable cupcake toppers? Practice your fondant sculpting and learn how to make miniature versions of fun foods, like these bananas in Sheryl Bito's brand new Bluprint class Tiny Cupcake Toppers.[/box]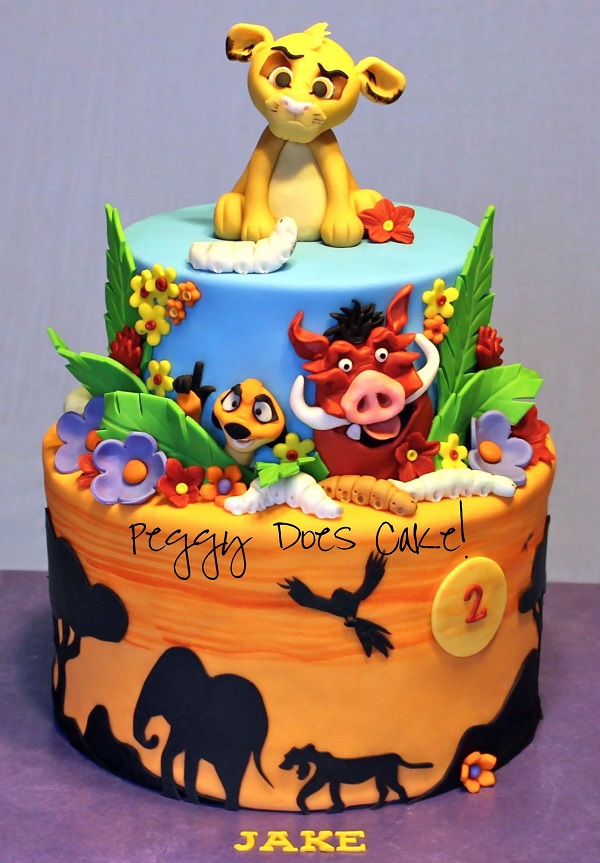 Photo via Peggy Does Cake!
The Lion King two-tier cake
This two-tiered cake inspired by the Disney movie The Lion King by Peggy Does Cake! is exceptionally gorgeous! Each tier demonstrates different fondant techniques. The bottom layer portrays a beautiful jungle setting with the landscape and animal silhouettes hand-cut from fondant. The second layer includes characters from the animated film flawlessly molded and attached to the side of the cake, along with colorful jungle flowers and foliage. The cake is finished off and topped with a three-dimensional lion cub figure, bringing the entire story together.
[box type="shadow"]Learn more about modeling characters such as these in Sharon Wee's Cake Topper Techniques: Fondant Animals.[/box]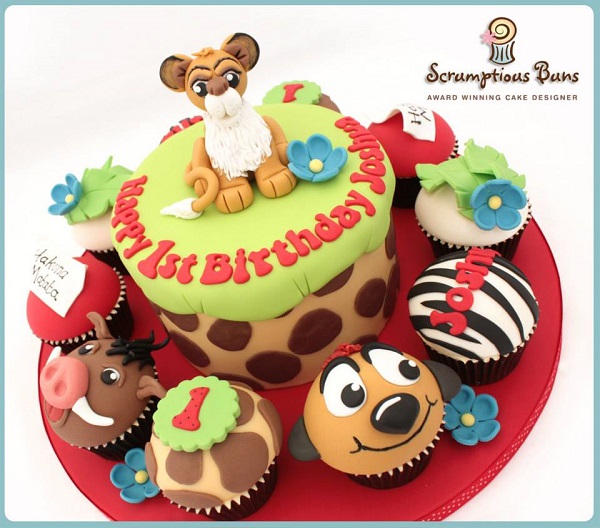 Photo via Scrumptious Buns
The Lion King cake and cupcakes
Scrumptious Buns does a tremendous job of combining and matching cakes and cupcakes into an adorable presentation! This collection, also inspired by Disney's The Lion King, includes a centerpiece cake topped with a hand-molded three-dimensional lion cub. The surrounding cupcakes are covered entirely with fondant and adorned to resemble a couple of characters, as well as animal prints. The use of vibrant colors is a great contrast to the animals and print, bringing the set together perfectly.
Photo via Bella Cupcakes
1st birthday lion cupcake tower
Bella Cupcakes is a master at creating jaw-dropping cupcake towers and this lion display for a 1st birthday is no exception! The iced cupcakes are iced simply and beautifully and topped with fondant letters. The top layer of cake is embellished with with fondant grass and textured letters spelling out the birthday boy's name, while the incredibly intricate and eye-catching lion figure tops the presentation.
Photo via McGreevy Cakes
Zoo animals cake and cupcakes
Jungle animals are not only found in the wild, but also in city zoos! This sweet and adorable cake and cupcake tower by McGreevy Cakes displays a variety of techniques to capture the animals in fondant form. The cake on the top tier includes several three-dimensional creatures hand-sculpted from fondant. Topping the cupcakes are flat animal faces, placed vertically through the icing to enhance the presentation. Rather than cut-out fondant, the birthday boy's name is creatively spelled out in letters molded and painted to resemble snakes for extra personalization.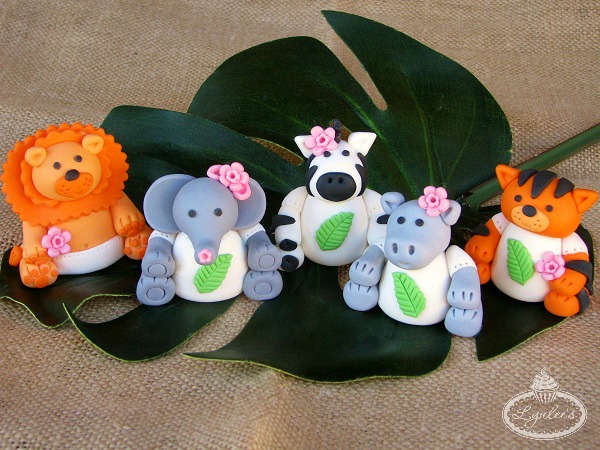 Photo via Lynlee's Petite Cakes
Jungle animal baby fondant toppers
For a table styled by Soiree Event Design for the organization Operation Shower, helping to provide baby showers for military families, these three-dimensional figures were made to top a jungle-themed event. The animals were hand-molded out of fondant and dressed in either diapers or matching leaf onesies with flower embellishments. Fondant figures can easily be utilized to top cupcakes, cakes or even be used as place setting decor!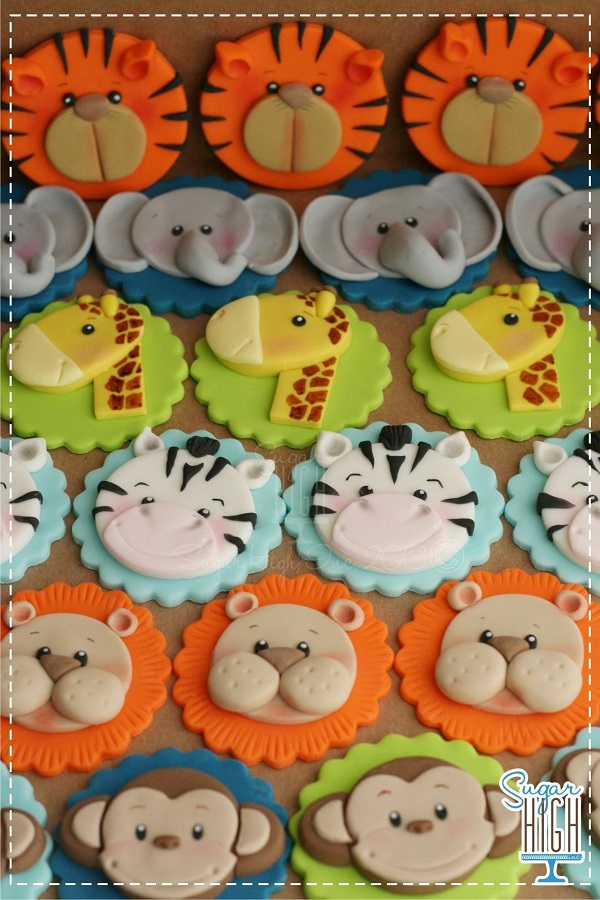 Photo via Sugar High, Inc.
Jungle fondant cupcake toppers
These captivating and precious jungle  toppers by Sugar High, Inc. are perfect for cupcakes intended for some wild things! Each animal's face is shaped and adorned with amazing details, utilizing different fondant, cake painting and shading techniques. The collection is brought together with scalloped circles in a variety of colors, adding a super fun and sweet aspect to the entire set.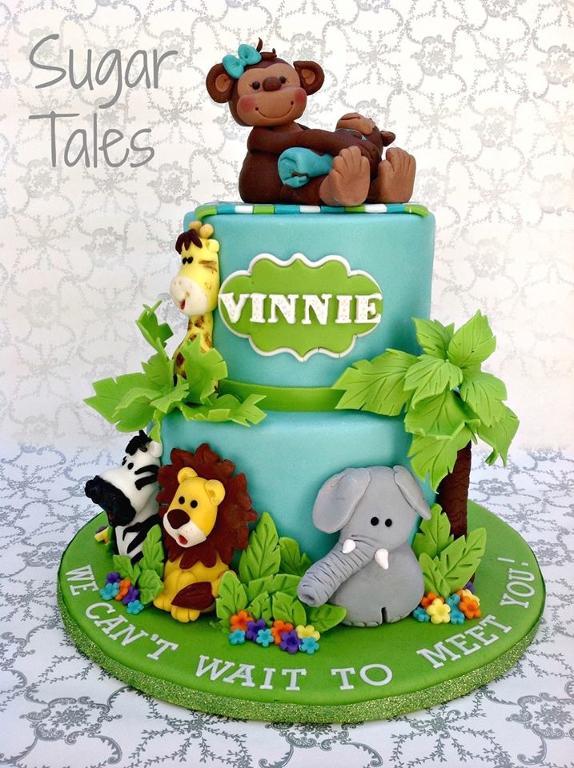 Photo via Bluprint member Jodie Whitley
Baby jungle cake
Bluprint member and cake artist Jodie Whitley created this extremely adorable jungle cake with the most precious fondant jungle animals! Inspired by Jessica Harris's Clean & Simple Cake Design course, the colors included in this two-tiered cake work beautifully together, paired with the juxtaposition of the clean cake and the elaborate decorations.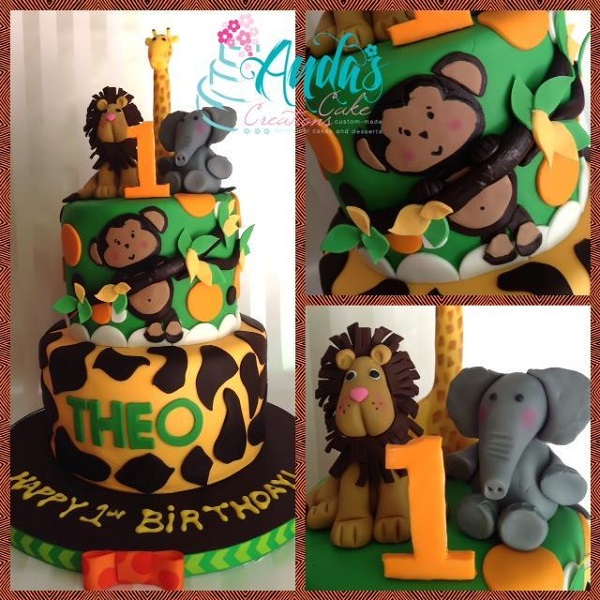 Photo via Bluprint member AndasCreations
Jungle safari first birthday
Bluprint member and cake artist AndasCreations created a sweet and charming safari-themed cake for a 1st birthday, utilizing a variety of techniques for each layer. The bottom layer includes an animal print, while the second layer is embellished with flat decorations attached to the perimeter of the cake. The cake is topped with beautifully modeled jungle animals, along with a fondant number, personalized to the birthday boy's age.
[box type="shadow"]Learn how to make fondant numbers like these in our fun fondant number topper tutorial.[/box]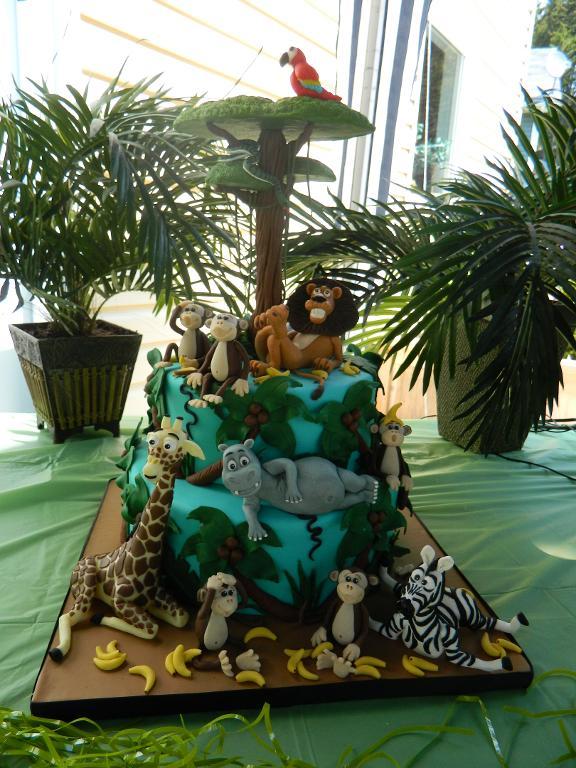 Photo via Bluprint Member Gina Simpson
Madagascar jungle cake
Bluprint member and cake artist Gina Simpson created this incredible jungle cake, inspired by popular characters from the Madagascar movie series. The perfectly modeled animals were brought to life and sculpted out of modeling chocolate, while the remainder of the cake details were decorated with fondant. The expression on the characters' faces really add a fun aspect to the entire cake!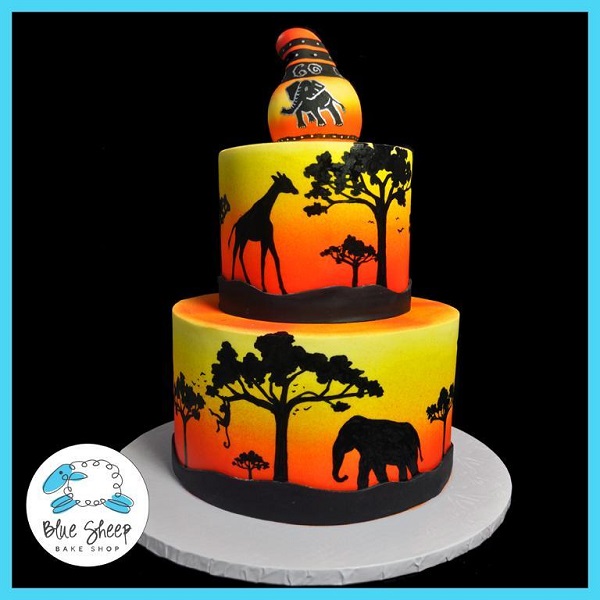 Photo via Bluprint member Blue Sheep
African safari cake
Bluprint member and cake artist Blue Sheep created this absolutely gorgeous safari cake as part of Bluprint's FREE The Hand-Painted Cake mini-class, taught by Erin Schaefgen. After covering the cake in fondant, the gradient colors were achieved with the use of airbrushing. The silhouettes of the landscape and animals were then beautifully hand-painted, achieving a mature and classy look.

Learn more about Cupcakes!
Explore our classes, get tips from the experts, check out recipes, and view projects from the community all on one page!Explore Cupcake Decorating »