We know that stitching by hand is a vital part of human history — bone and ivory needles have been found that were in use up to 30,000 years ago!
That's why the invention of the sewing machine, and later the electric sewing machine, was a key part of the industrial revolution. A machine that could join fabrics together quickly was a breakthrough on the order of the wheel, electricity, the telephone and the internet. Today, we'd say it disrupted virtually every area of life and commerce.
Yet more and more people are falling in love with hand stitching again.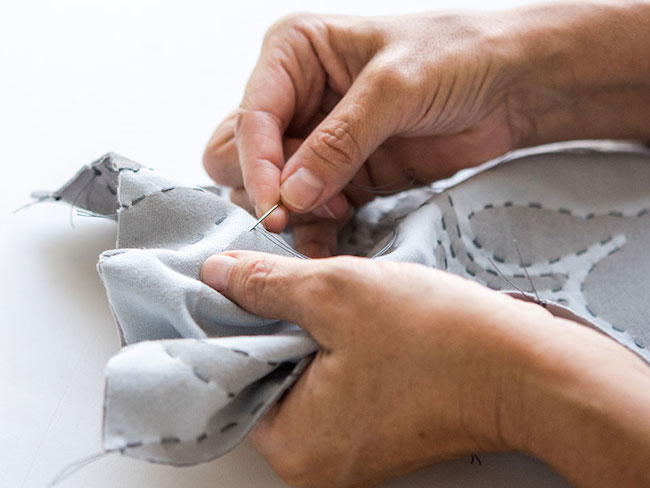 Sewing machines have evolved into digital tools that are the essence of elegance and convenience (we love them, make no mistake!). But instead of becoming obsolete, the act of sewing a stitch at a time by hand with a needle and thread turned out to be ripe for a renaissance.
Around the world, hand stitching in its many forms, from the functional to the decorative, is thriving in beautiful ways. From simple running stitches for quilting, basting or mending, to embroidery with threads of cotton, linen, silk or even gold, to the fine hand sewing that characterizes couture sewing, the act of stitching offers pleasure, satisfaction and a contemplative space you can enjoy alone or with friends.
In a fast-paced high-tech world, hand stitching slows you down — in a good way.
As we're inundated — and sometimes overwhelmed — with a daily firehose of information, entertainment and content to consume, the act of making something by hand is an immediate remedy, something that can ground and balance us.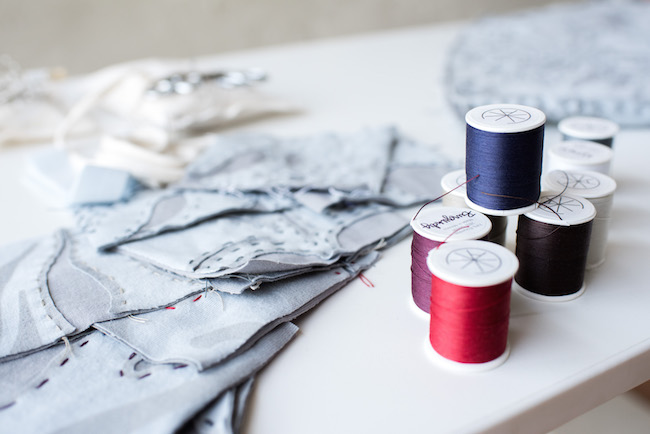 Hand stitching is portable and easy to do while talking with friends. This natural inclination to sit, stitch and talk is a welcome respite from a relentlessly busy world. There's a reason that pioneer women held quilting bees, and that today we gravitate to finding friends and a bit of time to stitch together. It's good for us.
Here at Bluprint, we have "free-range stitching" hours at lunchtime a couple of days each week. People come and go, bring their needles and projects, and it brings us together and eases our busy days in a way that no formal meeting can.
Call it quilting, kantha, or sashiko, the running stitch is used in many cultures.
A simple running stitch that holds layers of cloth together is the foundation of hand quilting, and the most elemental form of hand stitching there is.
You're probably familiar with traditional and modern American patchwork and quilting. In other cultures, that same simple running stitch functions the same way — to hold layers together — but looks strikingly different. Indian kantha quilts and Japanese sashiko are two of the ways that this simplest of stitches so beautifully expresses the characters of different cultures.
Visible mending is the latest hand-stitching form to see a revival.
Based on the Japanese boro tradition, where every scrap of fabric was used and stitched together in a seemingly random textured surface out of need and extreme frugality, visible mending is an increasingly popular way to work with scraps of fabric today.
Cloth patches are added to denim or other cloth with visible rows of running stitches that create pattern, texture and depth on the surface, celebrating the act of stitching, the virtues of reuse, and the creativity of working with thread, needle and fabrics to build a tactile, visual, richly crafted textile.
Hand embroidery offers unlimited color, texture, and stitch options.
We humans seem to be hard-wired to add complexity and beauty wherever we can. There are many forms of hand embroidery that build on that simple running or mending stitch to create an infinite variety of styles, colors and designs.
Many young girls (boys too) used to learn to stitch at an early age with an embroidery sampler, simple linen or cotton fabric, and cotton threads.
In its most refined forms, embroidery can be fit for royalty with gold, silver and silk threads on fine linen, silk or even velvet. Embroidery forms such as crewel, stumpwork, goldwork, cross-stitch, bead embroidery and modern hoop embroidery are practiced around the world, and in every case, it all begins with that simple needle, thread and fabric.
Learn to stitch by hand with our classes.
If hand quilting appeals to you, there are several Bluprint classes to help. Want to try your hand at hand embroidery? Startup Library: Hand Embroidery will make it easy. If you're a garment sewer who would like to add more couture hand stitching techniques to your repertoire of skills, challenge yourself with a couture dress or skirt class with Susan Khalje.
For an entirely hand-stitched and hand-embellished garment that is the epitome of what is often called slow fashion or slow stitching, don't miss The Swing Skirt: Techniques & Construction with Natalie Chanin & The School of Making.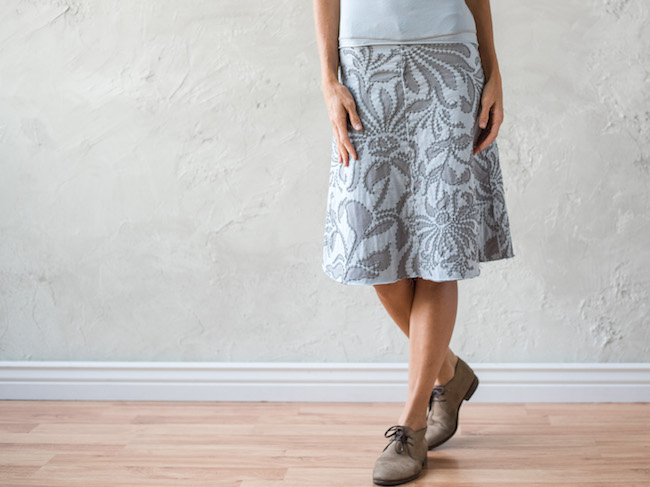 This is a handmade journey like no other; using stenciling and stitching on organic cotton jersey (recommended), you'll make a flattering, timeless four-panel skirt with love and patience in every stitch, using Natalie's unique methods of stenciling, stitching, and finishing by hand. Along the way, Natalie shares her perspective on the value of making by hand and how the stitching process embodies ecological sustainability, community, beauty, design, and style.