The first step in starting any new decorating project? Finding a little inspiration! To help you kick start your next cake, we're giving you a fun tutorial for a new cake every month.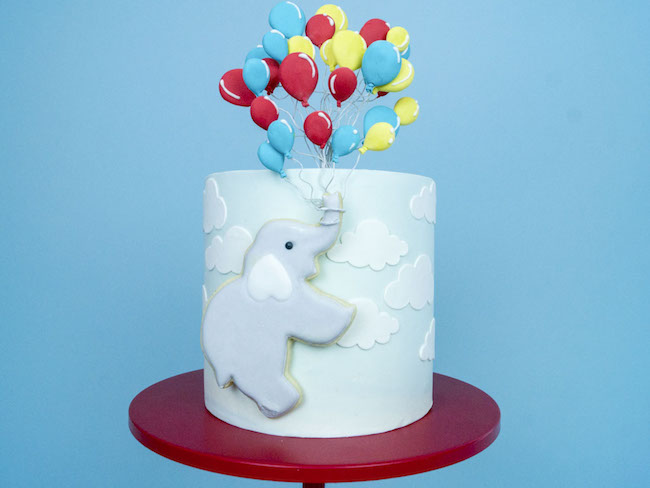 For January's Birthday Cake of the Month, we're sending a friendly elephant floating away with a bundle of balloons.
Follow along with our tutorial to make your own January Birthday Cake of the Month!
What you need:
Cake covered in sky blue fondant
Sugar cookie dough
Elephant cookie cutter
Gray, white and black royal icing
#1 or #2 piping tip
Decorating bags
White fondant
Fondant rolling pin
Cloud-shaped cutters
Balloon silicone mold
Colorful gum paste
Floral wire
Step 1: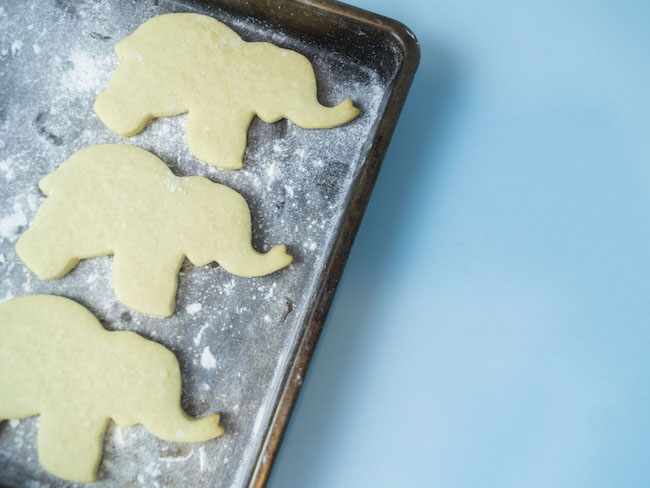 Bake at least one elephant sugar cookie using your favorite sugar cookie recipe. Make sure to let your dough chill or rest before baking so that it bakes evenly and is easy to decorate.
We used the Ann Clark Elephant Cookie Cutter for the cutie on the cake. You can make just one cookie to put on the cake, or bake a whole batch and decorate a few extras to display along with your cake.
Step 2: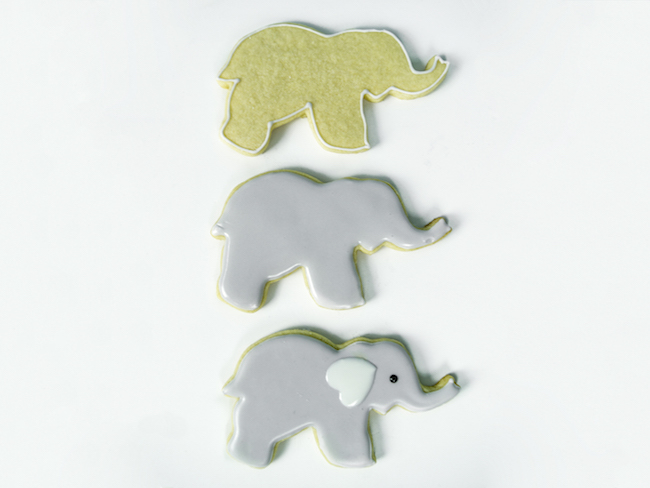 With a #1 or #2 piping tip, outline the cookie with royal icing. We used a traditional gray for our elephant, but you could add a bit of whimsy with a different hue.
Then, flood the cookie and let it dry for 30 minutes.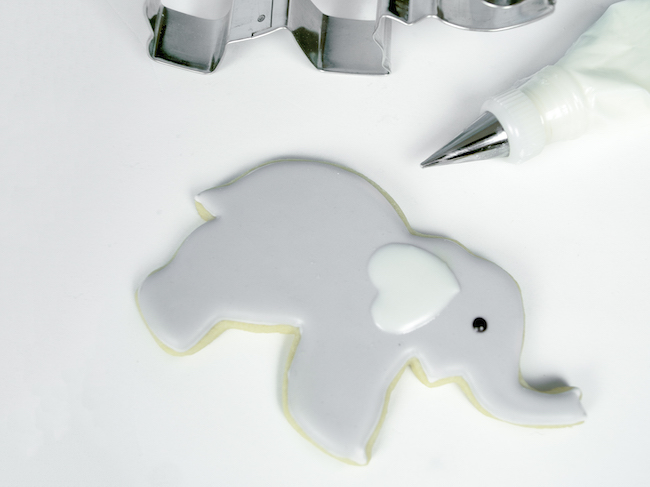 Once dry, add the final details, like the elephant's eye and ear, with royal icing. If you're not confident applying the details, practice on a sheet of parchment paper. You could even let the icing dry, peel the pieces off the paper, and attach them to the cookie with a few drops of royal icing.
Step 3: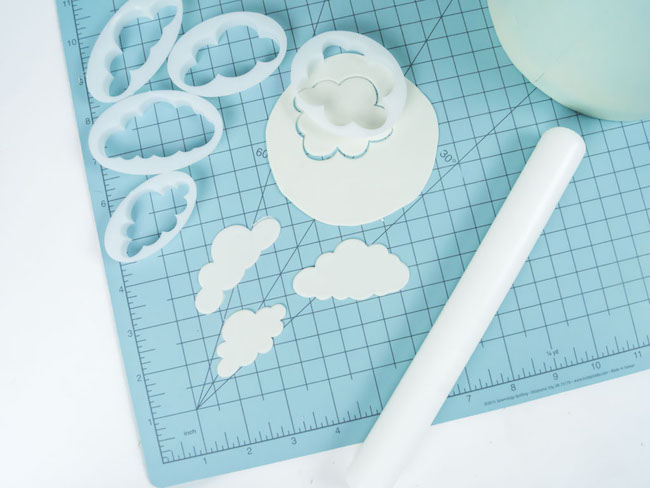 Next, it's time to add the fondant clouds on the side of the cake. Using FMM's Fluffy Clouds Cutter set, we cut out clouds in a variety of shapes. Let the fondant dry for about 5 minutes (this way, the clouds will keep their shape while being attached), then stick them to the cake with water.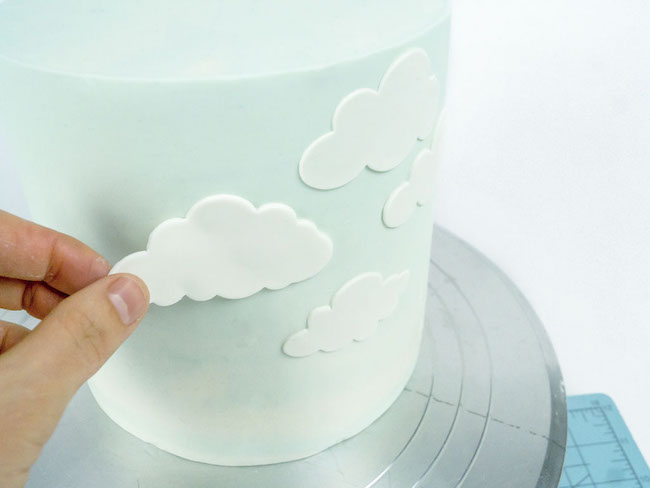 Step 4:
Now, we'll make the gum paste balloons. A mold like Katy Sue's Balloon Design Mat makes this process super easy. Start by dusting the mold with a bit of cornstarch — that makes it much easier to remove the final pieces.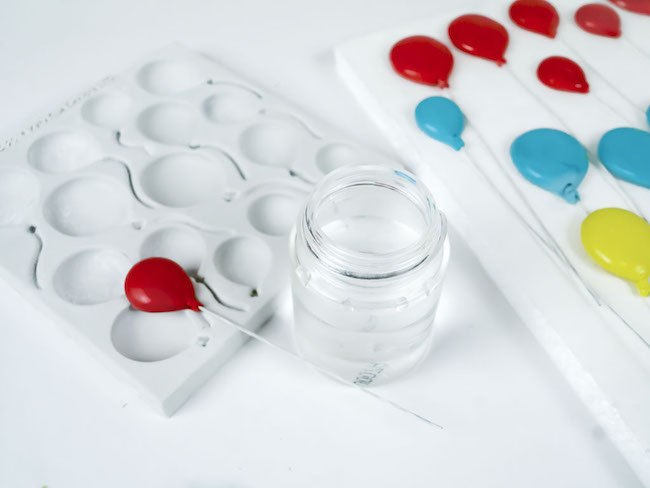 Press a few colors of gum paste (we went with bright primary colors) into the mold, and then pop them out — violà!
Let the balloon molds dry for about 30 minutes, then attach the floral wire with water, piping gel or another edible glue.
Step 5: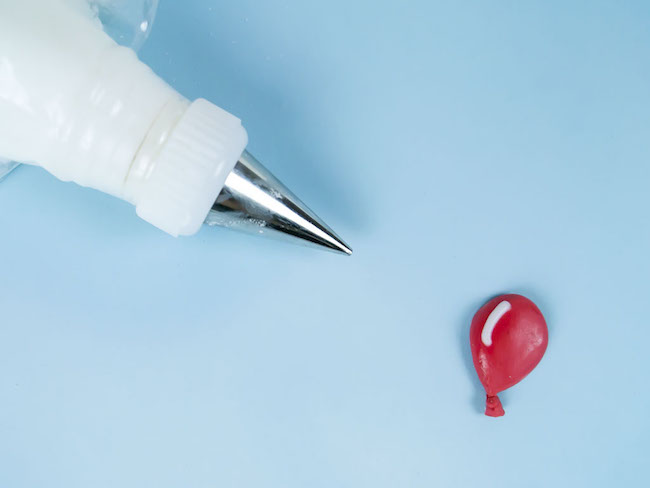 Give your balloons a finishing touch with a small, curved line of royal icing.
Step 6: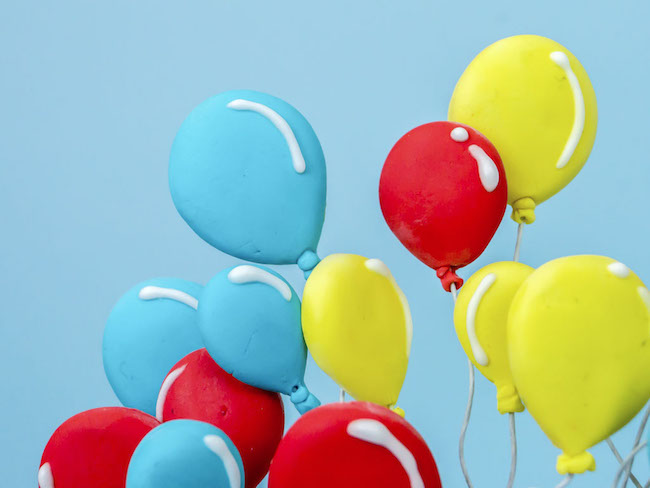 Attach your elephant cookie (make sure it's dry!) to the front of the cake, and arrange the balloons around it so they look like they're floating.