When you're itching to make your knitting patterns more interesting, there's nothing like intarsia knitting patterns. Intarsia is the easiest of color knitting, made up of large chunks of color that don't require too much finagling with the yarn. Intarsia knitting patterns let you knit patterns like houndstooth and argyle, and they also help you add pictures to your knitting. Want to add a heart or star to a solid-colored knitted fabric? Intarsia can help! Want to use black and white yarn to knit a penguin? Intarsia to the rescue!
Start planning your favorite color palettes and let these intarsia knitting patterns inspire you to bring more color into your knitting.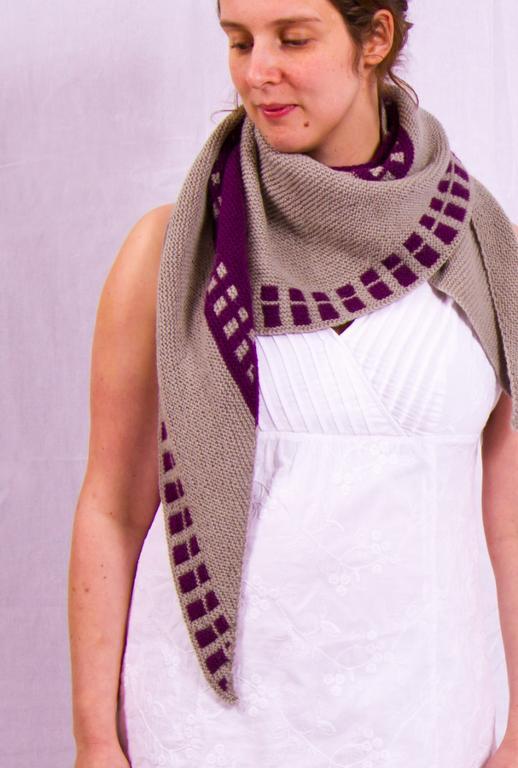 Photo via Craftsy member Mairlynd
Marelle shawl
I love the color palette for this shawl! There are two color techniques involved in this pattern, so you'll have practice with both intarsia and stranded knitting. My mind is buzzing thinking of color combinations I could knit this one in.
Stag's head pillow
This pillow cover slips right over a pillow form or your favorite pillow, making it washable and interchangeable with other knitted pillow covers. Put those intarsia skills to work to make the stag head and bring a woodsy cabin feel to almost any room.
Cherub baby sweater
You already know your little one is an angel. Prove it to the world when you use intarsia to knit these cherub wings onto the back of baby's sweater. This is a great beginner intarsia sweater because the colorwork just requires two simple blocks of color.
Penguin hat
Intarsia comes in handy for making cute little animals, and this penguin is proof. You'll get some practice with duplicate stitch here, too. The pompoms on the hat are optional, but aren't they adorable?
Robot phone cozy
If it's your first time trying intarsia, start small. This robot phone cozy is a great place to start. The pattern comes with a tutorial to help you with intarsia in the round, so if this is your first intarsia project, it's a guaranteed success!
If you're an intarsia beginner tackling all these projects, you're going to need some extra intarsia help. Don't forget to check out our intarsia knitting tips, plus our class Intarsia: Basics & Beyond with Sally Melville.
Have you tried intarsia knitting before? What's your favorite design?