Ombré refers to a shaded or graduated tone of color, and it's a coloring trend that has taken fashion by storm. Ombré clothing prints have become quite popular, and ombré shading is the new hair highlighting method of choice. Fashionable bakers, too, have followed this trend, and recently, ombré cakes are all the rage for weddings and special events. When it comes to cake decorating, the effect is attained by either using cake layers or colored buttercream (or both) which have been tinted in varying tones of the same color, which are then assembled in order from light to dark, forming a color gradient.
Here are some inspiring examples of this visually pretty trend.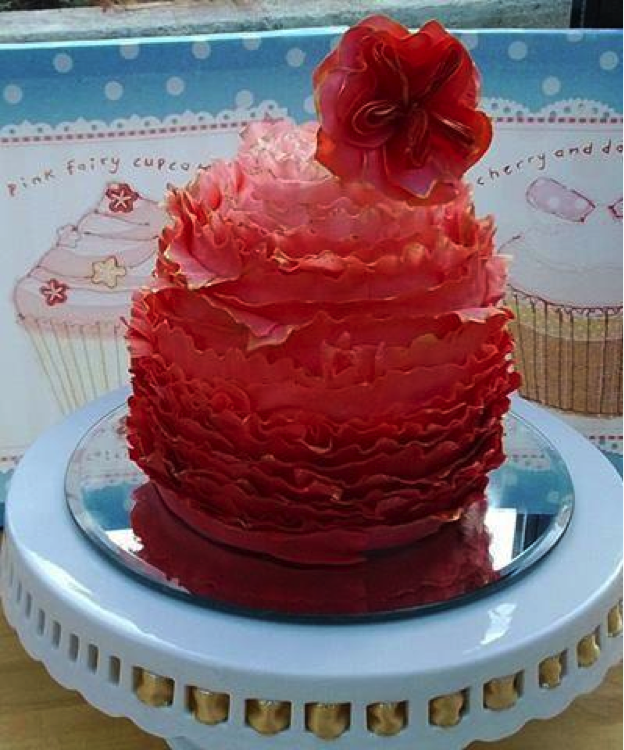 Photo via Craftsy member jocake creation
Red fondant frills ombré cake:
This cake, composed of delicate leaves of fondant, was created after the baker took the Fondant Frills Craftsy class. The already pretty floral effect is heightened by the fact that the colors of the fondant frills graduate from dark to light, drawing your eye to the flower on the top of the cake.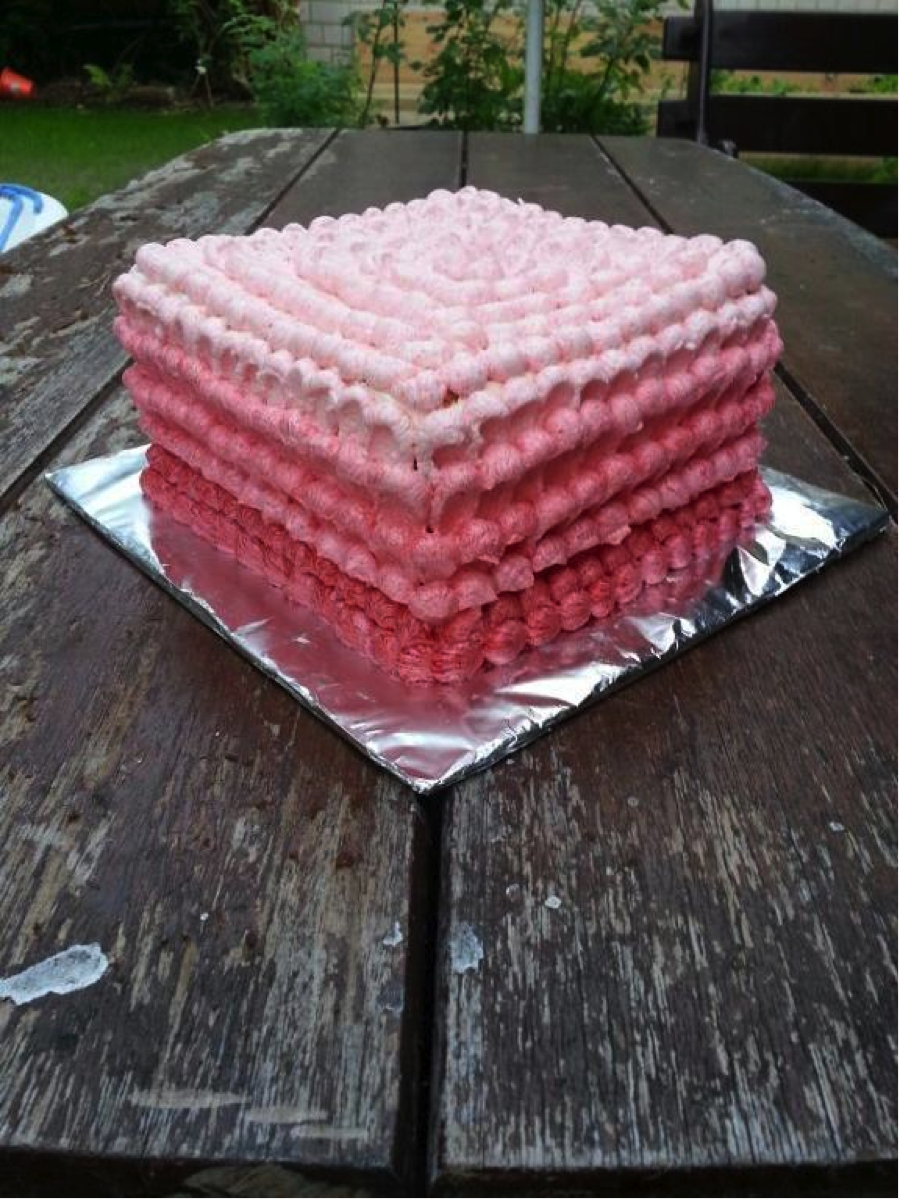 Photo via Craftsy member Chloe3008
Piped pink ombré cake:
Pretty in pink, indeed. This sponge cake is topped with piped dots of buttercream in varying shades of pink to form a textural, eye-catching gradient. The perfect technique and recipe were attained through Craftsy's FREE Modern Buttercream mini-class.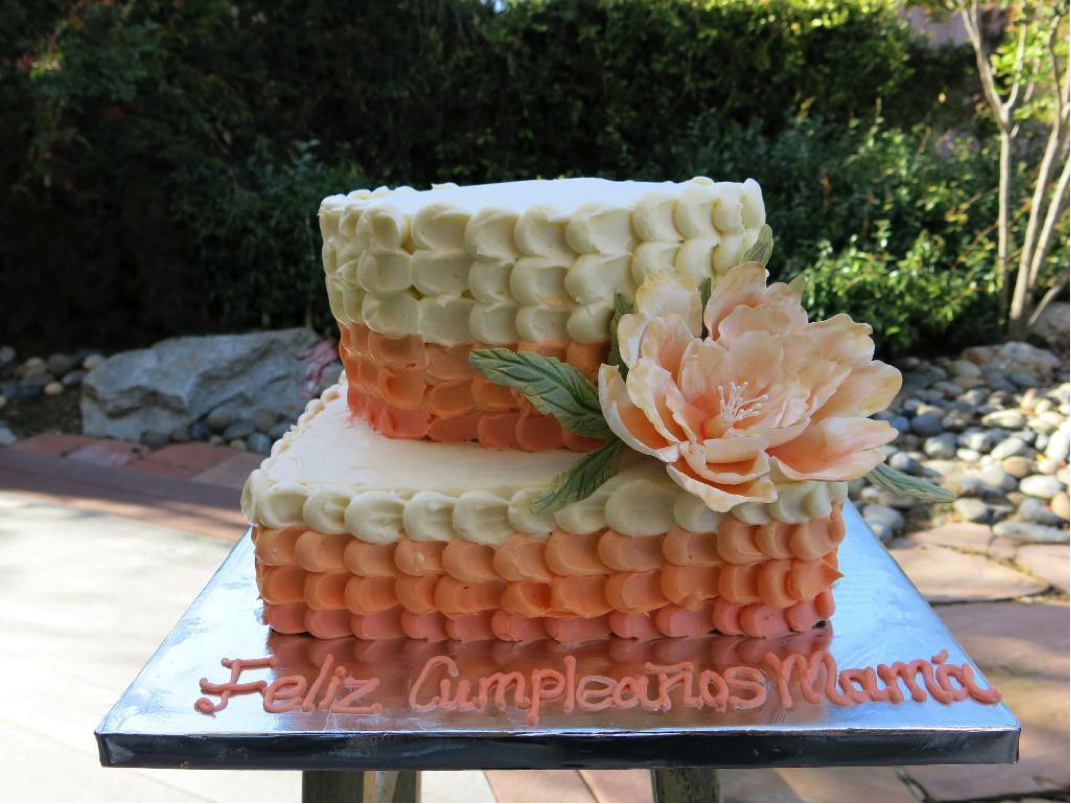 Photo via Craftsy member Elaine Truong
Orange petal ombré cake:
As you can see, there's more than one way to pipe an ombré cake. Inspired by a Vintage Cakes, Modern Methods Craftsy class, this cake was composed using tiers of red velvet cake covered with "petals" piped in cream cheese icing, and is adorned with a sugar paste peony.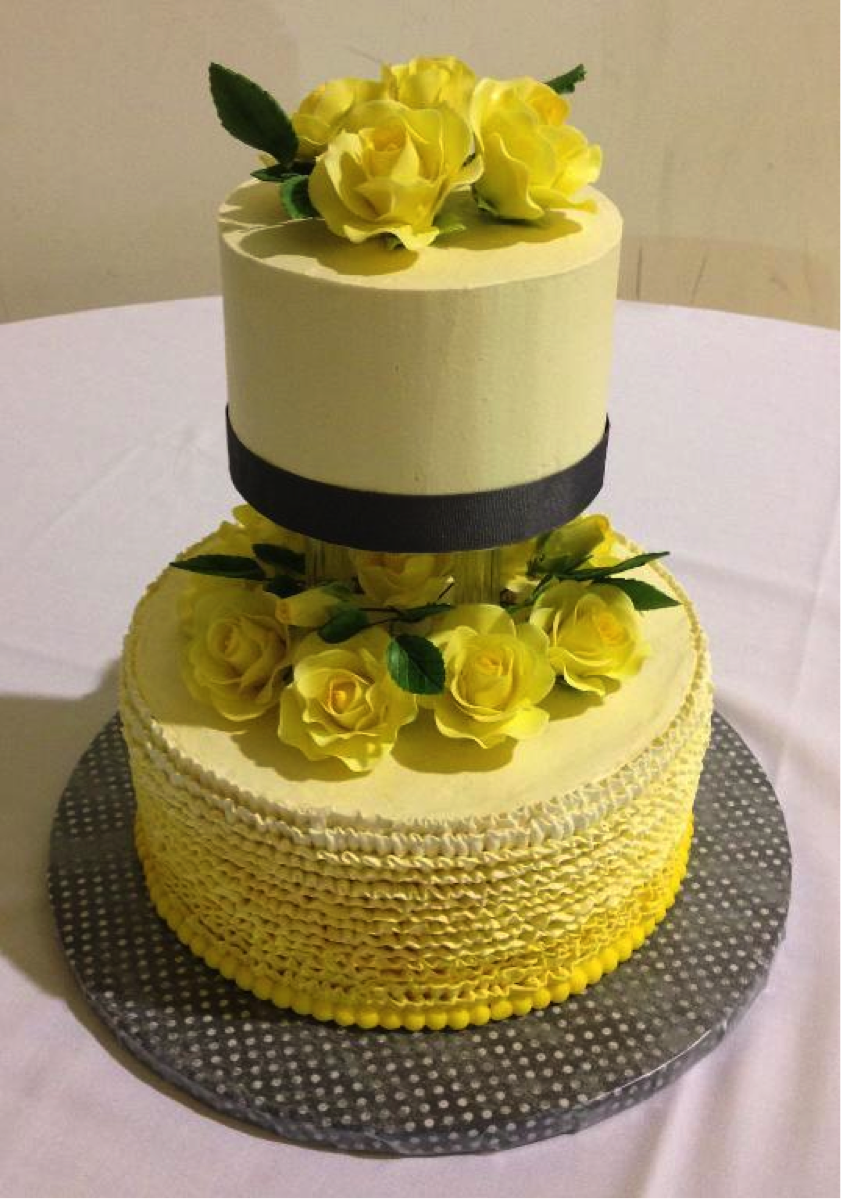 Photo via Craftsy member kduluth
Ruffled tiers ombré cake:
If sweet sunshine were made into a confection, it would probably look like this bright cake. Lovely rows of piped yellow buttercream form a dazzling base. As for the flowers? They're sugar, and were inspired by a Craftsy class appropriately titled The Ultimate Sugar Rose.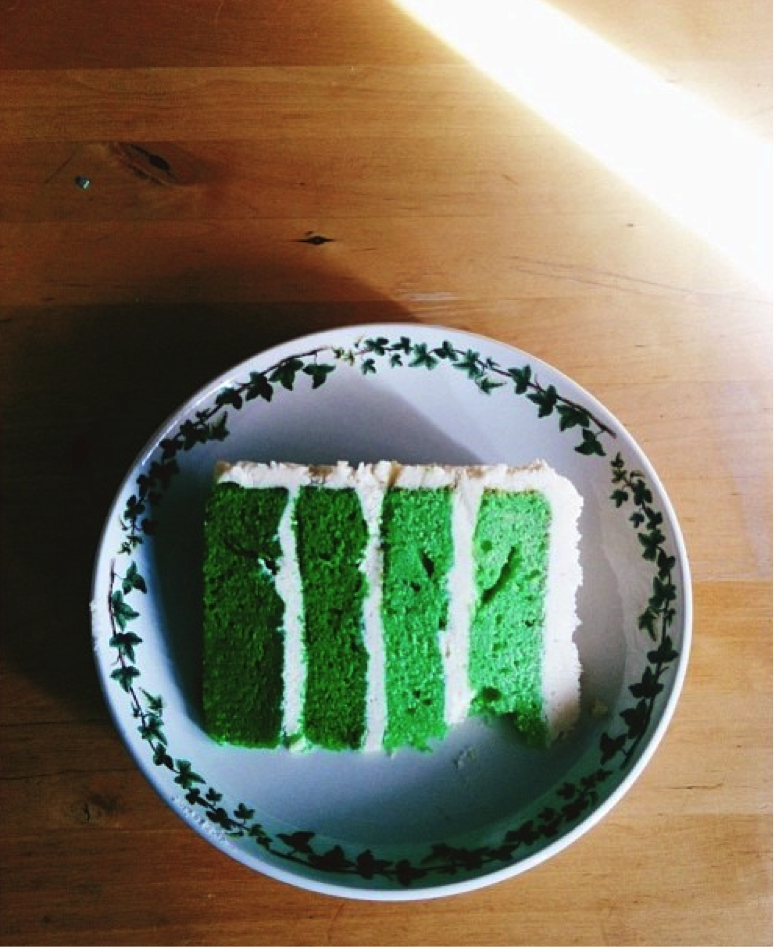 Photo via Coco Cake
Simple green ombré cake:
It may not be easy being green, but creating a pretty green dessert is, well, a piece of cake. Created by tinting cake layers and then topping with a simple white buttercream, the cake is simply stunning once served. Of course, you can dress it up by piping the cake all over with a star decorating tip for a pretty look on the outside, too.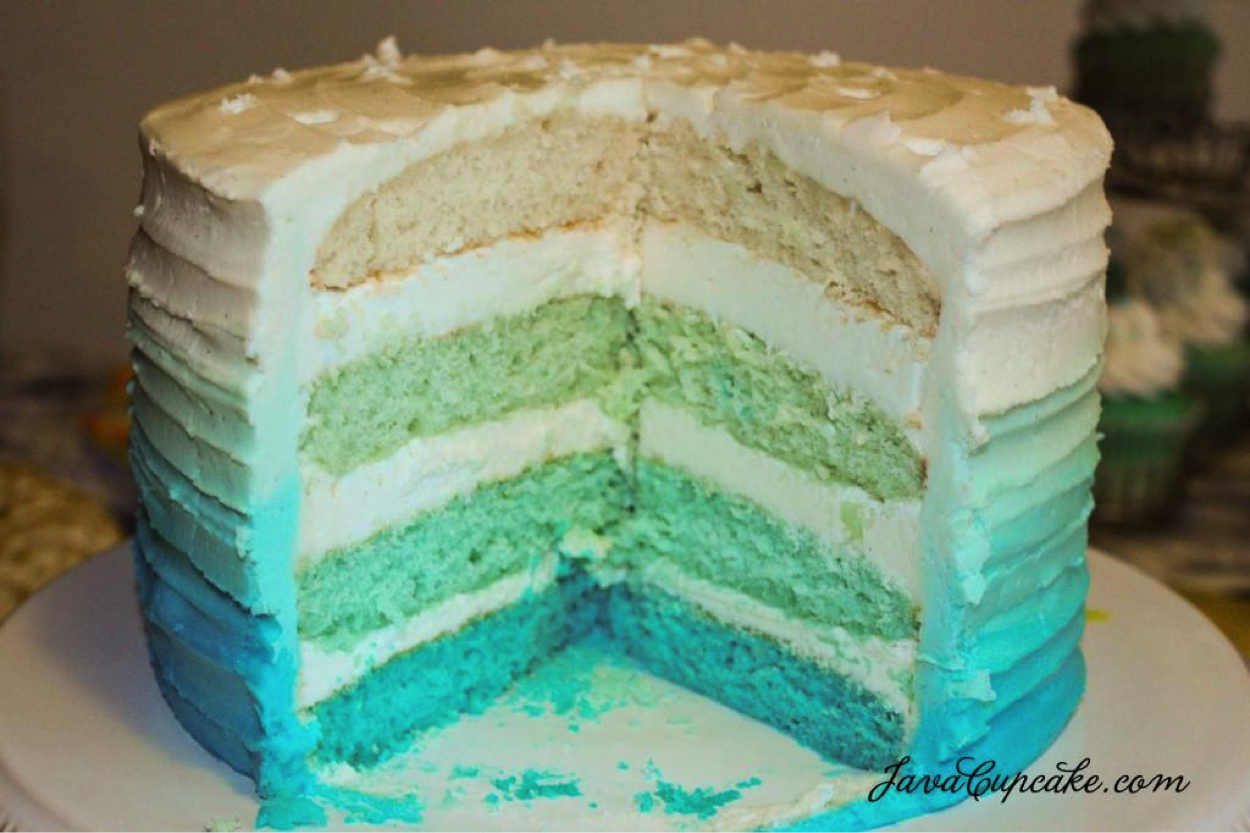 Photo via Java Cupcake
Blue cake and icing ombré cake:
This blue cake is ombré inside and out, with graduating tones from light to dark tinting both the cake layers and the icing outside. The smooth gradient is attained on the top of the cake by applying the icing in lines of different shades, and then smoothing it with a rubber or frosting spatula.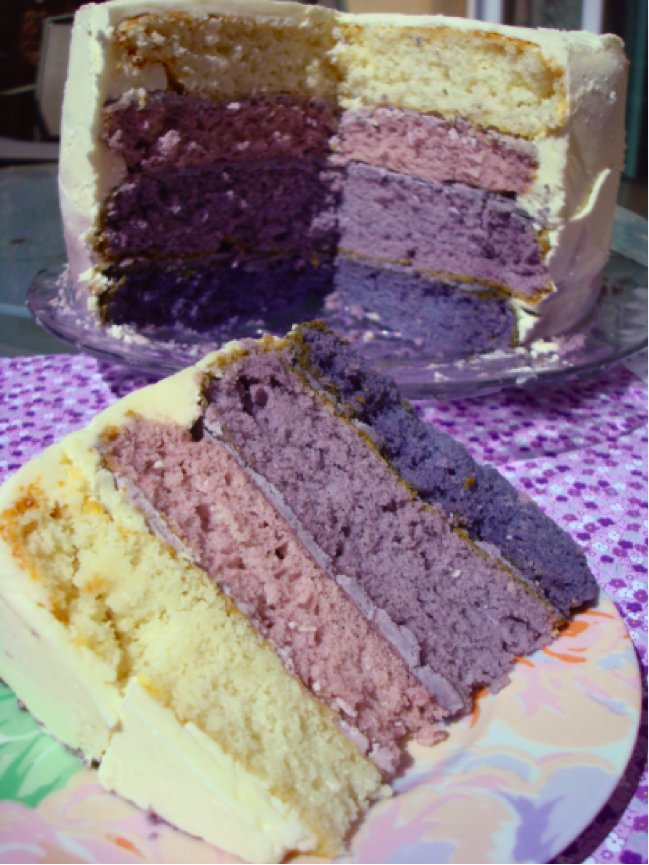 Photo via CakeSpy
Purple ombré cake:
Similarly to the blue cake featured above, this cake is ombré both inside and out. It has a subtle extra touch, too: the buttercream used to adhere the layers is toned, too!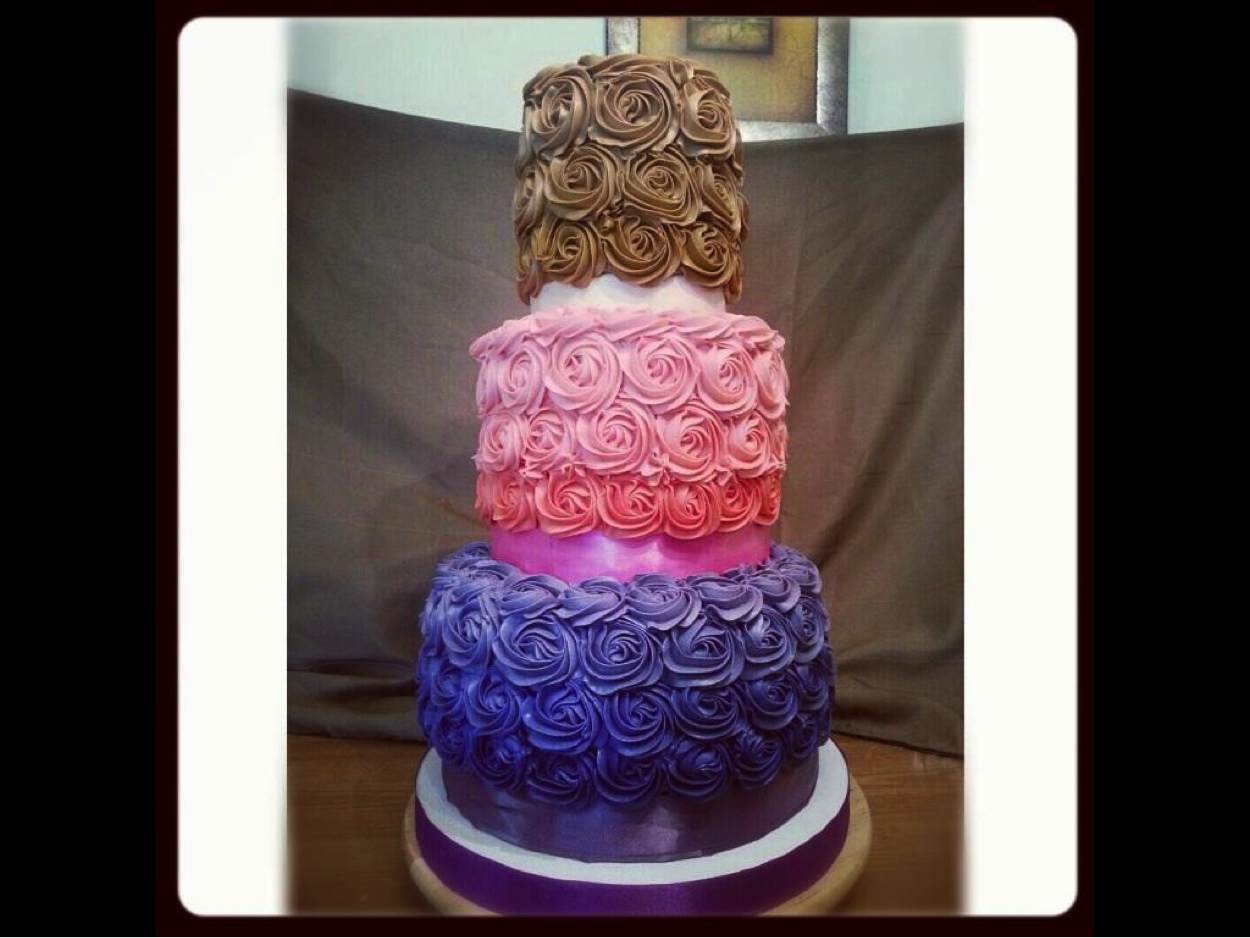 Photo via Craftsy member 3Sheena
Multicolor ombré cake:
After taking Craftsy's FREE Modern Buttercream mini-class, a very talented member created this lovely cake, which features three tiers of different colored ombré gradients rendered in beautifully piped roses.
Cake decorating is certainly not a black and white world, as you can see by these lovely ombré cakes, which will have you seeing colors and shades in a whole new way!
Come back to the Craftsy Blog tomorrow for a roundup of trendy chevron cakes!
Have you tried an ombré cake? Was it easier or more difficult than you expected?