I admit I have a problem. Even before I was a working artist I craved beautiful art supplies. Now I can justify buying and sampling different tools and materials, but the addiction persists.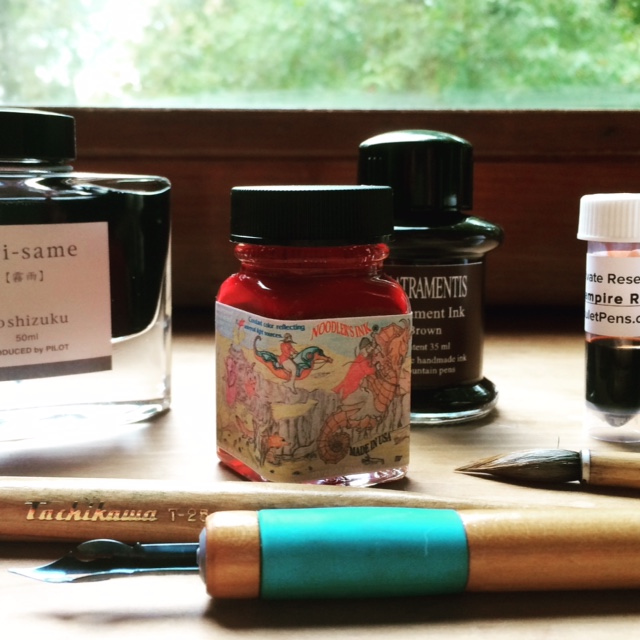 There are many items that I have tried only a few times and then retired them to the shelf of misfit toys.
One of these days I'm going to have a blow-out art supply sale of all of the things I don't regularly use, but you won't find many of my inks on the sale table. Why? Because the inks are one thing that I continuously use.
I am mostly a dip pen aficionado. The responsiveness of a metal nib full of ink is incomparable for an expressive line. My go-to inks have been a water-soluble Chinese carbon ink typically used for Sumi-e, and shellac-based inks in bister and black for when I want a waterproof line to use with watercolor washes.
The thing is, I am always seeking and learning how to expand my horizons, and recently I've been inspired and have learned a great deal from artist and Urban Sketcher Marc Taro Holmes. I've just finished Marc's Craftsy class, Travel Sketching in Mixed Media and I can't speak highly enough of Marc as a teacher. Not only is his work inspiring, but he shares his knowledge and experience so generously, especially when it comes to the tools and materials he loves.
One of the things I've enjoyed most is learning about different inks that are either water-soluble for expressive washes and shading, and also waterproof inks for when I want to keep my line clear under subsequent washes of watercolor.
After completing my first round of watching Marc's class (Craftsy classes are there for you to enjoy again and again after you purchase them, and believe me, I will be going through Marc's lessons again and again), I decided to order some of the inks he talks about in class and on his blog, Citizen Sketcher. While researching I also found a few others I wanted to try.
I put a few inks to the test to find my new favorite.
For my ink tests I used one of my favorite nibs, the Brause blue pumpkin, and a Stillman & Birn Epsilon sketchbook for its smooth, heavyweight finish.
I followed the following method for my ink tests:
1. The line quality test
With one full dip of the nib, write the name of the ink, then continue on the next line to make random marks until the ink runs out. This gives me an idea of many qualities, including:
Line darkness

Line quality

Viscosity of the ink

How well the ink adheres to the nib
2. The wash test
I then used a Sumi-e brush to pull a wash with the ink, full strength at first and the adding a clean wet brush to draw the wash out.
Even waterproof inks will give you a wash if you work quickly before it sets. I often use a brush directly from the ink well for skies and other features.
The way an ink washes is important to me. I especially want to see if any special shading occurs, like color separation, which can be really beautiful.
3. The waterproof test
I then allow the ink to completely dry before using a clean damp brush to swipe across the random lines I made. This tells me if the ink is truly waterproof, or if it will give me subtle shading if I choose to pull washes after a drawing is dry. It also shows me how my original line will hold up under those washes.
So, how did the tests go? Here are my findings, down to the line.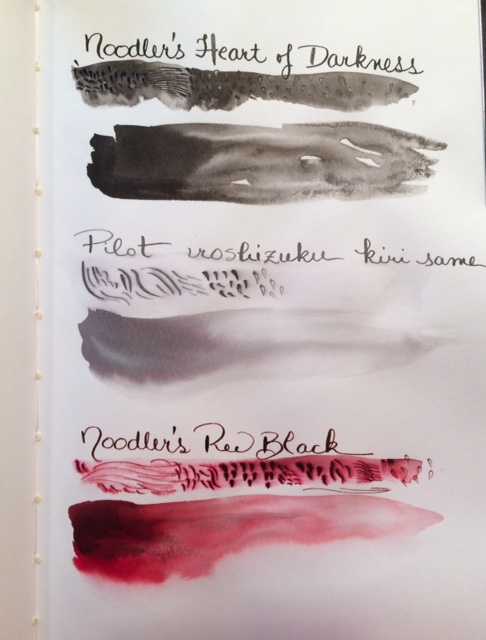 Noodler's Heart of Darkness
When used full strength, this ink creates a smooth and dark line — and wow, does it wash easily and dark. My original lines got lost under the wash. I did like the warm grays of the shading and the responsiveness to water blooms.
Pilot Iroshizuku Kire-Same
Gorgeous ink. It's a pale, warm gray that washes out with lots of pale blue and rose variation in the shading. Fairly waterproof when dry. This ink would be nice for delicate subjects, but I might have to do some direct washing rather than rely on the line to wash with a damp brush.
Noodler's Red Black
I loved Marc's work with this ink. The color is rich and fascinating and gives real variation of reds to pale charcoal. It has a nice glow on the paper. My line work was still dark enough under the wash, if not a little fuzzy. A really interesting water-soluble ink.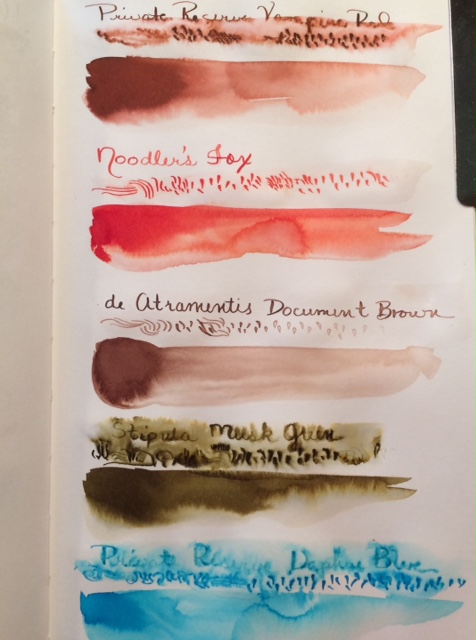 Private Reserve Vampire Red
I would love this color for portrait sketching or figure drawing. It washes out to a pale, peachy red that's reminiscent of the siennas in watercolor. I loved the shading and the texture of the wash, but the line work became a bit too fuzzy for my taste. I would have to be judicious with I pulled washes from my dry sketch.
Noodler's Fox
Love it, especially the clear vermillion red and the crisp lines. This is a thin ink, though: I had to dip my nib three times to complete the test. It is fairly waterproof, with just a little tint to the wash water when dry. It would be great for the initial drawing where I wanted to add some sepia or deep red watercolor washes after. Really terrific ink.
deAtrimentis Document Brown
This is a true waterproof brown that I will be filling my Platinum Carbon fountain pen with. It's hard to find a dark brown that's waterproof and won't ruin a fountain pen. The lines stayed crisp, so it's great for when I don't want a black line under my watercolor sketches. It washes out reasonably well when done immediately. If you waited even 10 seconds, it would start to set.
Stipula Musk Green
Oh, wow — this is my favorite by far. The shading in this handmade ink is incredible. It will be my go-to ink for landscape sketches in the field. It's highly water-soluble so I can see a mix of brown or black waterproof ink and touches of this ink along with them. I want to try some of the other colors that Stipula makes. Truly beautiful on the paper and hard to capture that in a photo.
Private Reserve Daphne Blue
Stunning on the paper, an electric and numinous blue. This will be fun to experiment with, on its own or as an accent to the Pilot Kiri-Sami. It's just luminous. The original lines really blur, so I would need to be really judicious with adding any washes, but I think the effects could be magical.
I hope this inspires you to try out some different kinds of inks with your dip pens.
All of these inks are suitable for fountain pens as well, depending on your preferences. Please, share your thoughts and your own experiments with inks , your favorites and how you use them, in the comments below. And any questions? Just ask.