Growing houseplants can bring life and natural beauty into your home, which is especially appealing during the fall and winter months. However, don't settle for just any old look. These indoor garden design ideas show that plants can also be an important style accessory for your interior decor.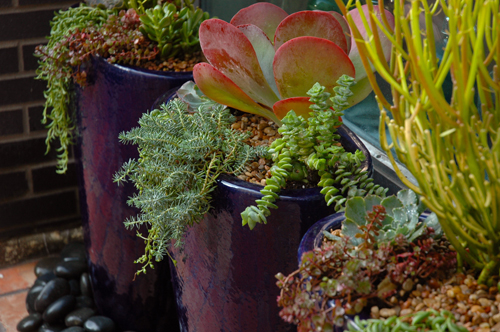 Modern planters photo via Jenny Peterson, Indoor Plant Décor
Step aside boring houseplants.
Plants, combined with the right containers and accessories, make important home decorative accents just like artwork, rugs, candles and lamps, according to Indoor Plant Décor: The Design Stylebook for Houseplants.
"It used to be that indoor gardening meant a ficus tree in the corner of the living room … and a row of African violets in the kitchen windows," write coauthors Jenny Peterson and Kylee Baumle.  These days "contemporary gardening has moved far beyond the expected and traditional houseplant."
In their book, the authors help readers identify their own design styles, and learn how to feel comfortable selecting cool pots and plants that complement these looks nicely. For instance, the above planters are considered "modern eclectic" style, because of their geometrically shaped plants and contemporary containers.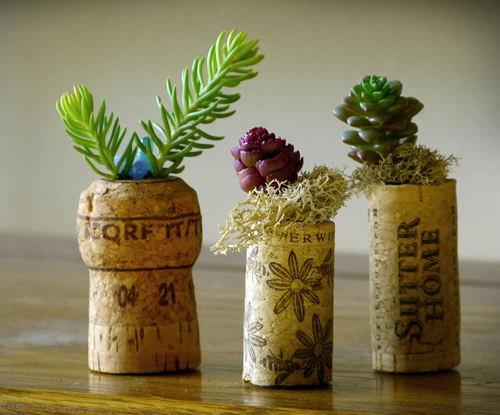 Cork planters photo via Kylee Baumle, Indoor Plant Décor
Beyond the simple pot
Even the container itself can add a great deal to your indoor garden designs. The book describes how to create different designs, including these cork planters that use wine corks to make a statement on a kitchen table.
Water these cork planters with a tablespoon or less of water every 10 days or so, depending on the plant. Although the plants will eventually outgrow these containers and need replanting, these cork planters make a charming temporary indoor garden design.
Kitty planter photo via Jenny Peterson, Indoor Plant Décor
Show personality
Depending on your design style, allow yourself to experiment with all types of planters. A blooming Christmas cactus adds a lighthearted touch to this Hello Kitty-shaped container.
Always think about drainage for your pots. If you have another planted pot stuck inside a bigger container, take the inside plant out to irrigate so it doesn't sit in water and get root rot. For best results, use potting soil rather than ordinary garden soil. (To make your own, refer to our post on how to make potting soil.)
Pay attention to the plant's recommended growing conditions. If your houseplant likes full sun, move it toward a south or southwest-facing window.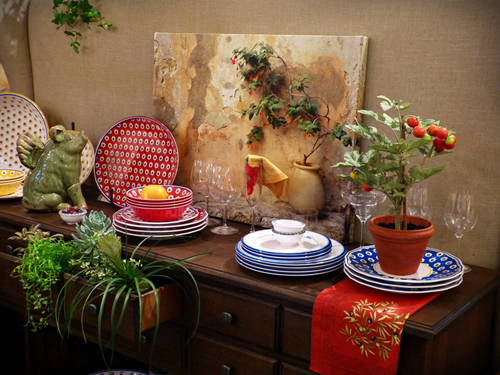 Buffet photo via Kylee Baumle, Indoor Plant Décor
This elaborate buffet setting creates an attractive festive look with a small fruit tree and leafy plants stuck in drawers. It's especially attractive during parties and get-togethers.
But always take the plants out of the buffet to water and drain completely, before setting the plants back into the wooden furniture to avoid damage.
Succulent photo via Kylee Baumle, Indoor Plant Décor
Even a traditional design style doesn't have to be the "same-old, ho-hum" look.
Just as you refresh your sofa pillows and curtains regularly, explore new and inspiring ways to showcase your favorite plants in your indoor garden design.
Switch out pots. Combine plants in a new way. Move planters together for a different look. You also can update your indoor garden designs seasonally, as you might change out your home accessories from summer to winter.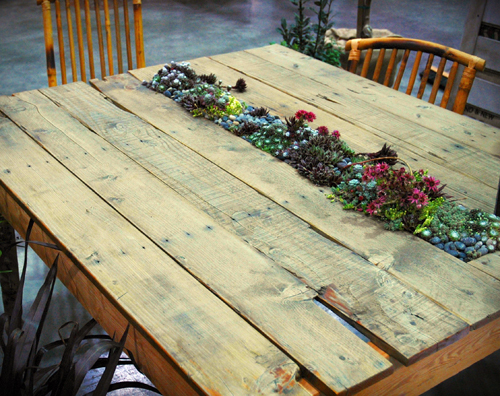 Table photo via Jenny Peterson, Indoor Plant Décor
A sunny atrium or indoor garden room looks even more cozy and charming with a table centered with a colorful planting. Select plants with shallow roots, such as succulents, for these types of table planters.
Whether you're a traditionalist or have a vintage vibe style, there are lots of different indoor garden designs for you to consider at home. With a little imagination, you'll never look at houseplants the same way again.