Gorgeous cakes always have the potential to wow the entire crowd at a party, but when the cake is an incredible, edible cake, replicating a real life item, it can be downright awe inspiring!
Here are 5 incredible edible cakes and decorations that truly wowed us!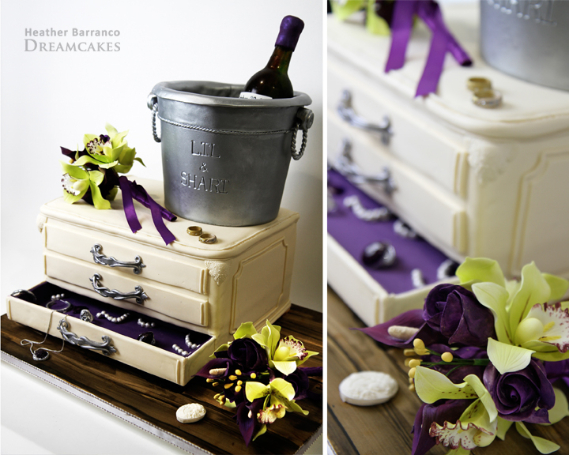 Photo via Heather Barranco Dreamcakes
Wine and jewelry box cake
Heather Barranco Dreamcakes' wine and jewelry box cake is absolutely beautiful! We love the addition of the champagne bucket sitting atop the exquisite jewelry box. Not only is it a genius way to include a second tier, but the wine bottle and engraved message also add a real wow factor. The light, vintage ivory tone of the jewelry box is paired perfectly with the dark, natural-wood effect board and together create a luxuriously traditional look. We adore the intricate pieces of jewelry, delicate spays of orchids and roses, and the ornate relief detail included on the front and side of the jewelry box! This certainly is a creation that makes us gasp with wonder!
To help you create beautiful sugar orchids seen on the above cake try James Rosselle's class Exotic Sugar Orchids!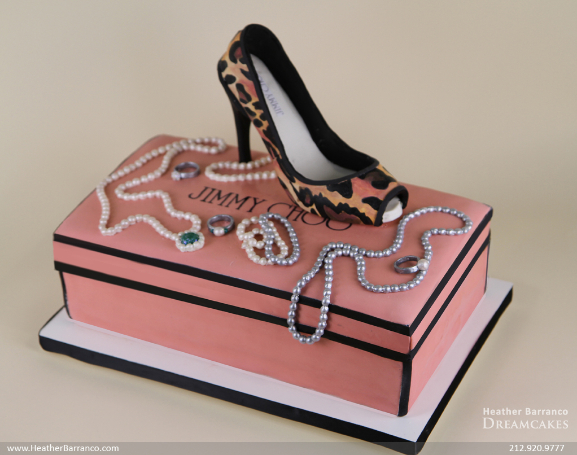 Photo via Heather Barranco Dreamcakes
Jimmy Choo shoe cake
This Jimmy Choo and jewels cake by Heather Barranco Dreamcakes is a definite incredible edible! We love how the blush pink shoe box moonlights perfectly as a platform for that impeccable shoe replica. The box is tied in beautifully, as the black edging is mimicked in the shoe's animal print design. As if the shoe box and shoe itself wasn't impressive enough, they've also added ivory and silver pearl necklaces, bracelets and rings.
Photo via Emma Jayne Cake Designs
Cath Kidston bag cake
This Cath Kidston bag cake by Emma Jayne Cake Designs certainly made our jaws drop! Every detail is wonderfully finished, from the red polka dot print to the way the "material" realistically drapes at the pockets. The "stitch" work is simply marvelous, and they've even managed to achieve a shiny oil-cloth sheen, which makes it nearly impossible to determine this is cake and not a real bag. Just look at that matching purse and ID tag and the impressive, shimmering lipstick!
Elisa Strauss's class Designer Handbag Cakes is absolutely perfect for learning how to master realistic bag and purse cakes!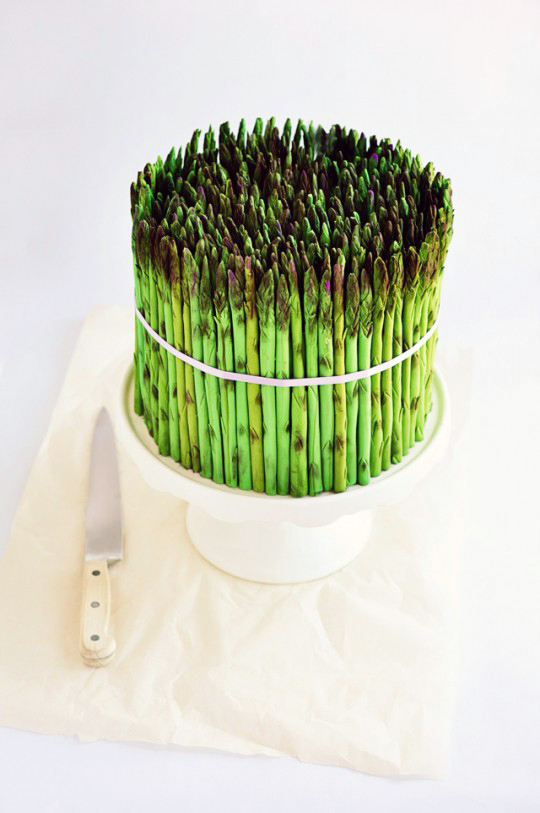 Photo via Sweetapolita
Asparagus cake
We've never seen vegetables look as delicious as Sweetapolita's asparagus cake! The perfectly executed spears in tonal greens with hues of lavender purples and earthy browns would have anyone asking "Is it real?!" With its fresh, inviting color palette, this cake would be perfect for spring and summer picnics, as we're sure even children would want to eat these greens.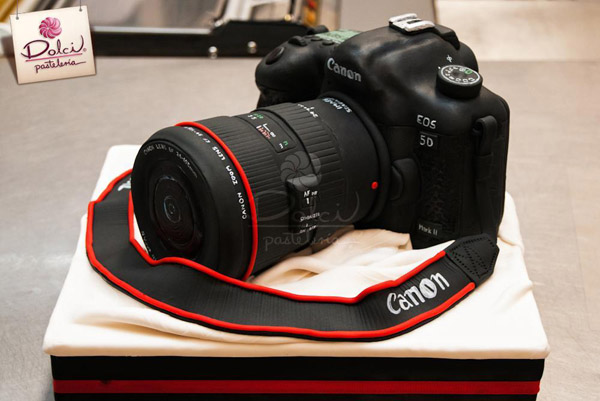 Photo via Dolci Pasteleria
Canon EOS 5d cake
This 3d Canon EOS 5d is our favorite camera cake to date. What makes this cake an incredible edible is the hand-painted logo, text and nylon detailing of the camera strap. The devil is certainly in the detail, as even the lens looks realistic with its glassy finish and the mode dial is complete with lettering. Also, just look at all of those precisely placed buttons!
Sadly, we've reached the end of our incredible edible cakes run down. But with so many amazing cakes out there we could have listed thousands!
What realistic yet edible cake decorations have inspired you lately?