Cupcakes continue to be a popular trend for wedding celebrations around the world. Traditional tiered cakes are frequently replaced with cupcake towers and unconventional presentations, displaying single-serving confections that can be easily served to guests. The couple's culture and heritage are often celebrated and integrated within their nuptial themes, including the cupcake designs.
Here are some fun ideas for personalizing wedding cupcakes:

Photo via Bluprint Instructor Sheryl Bito
Signature bride and groom cupcakes
Bluprint instructor Sheryl Bito is an expert at capturing different elements of people's attire to transform into detailed fondant pieces. In her class, Global Cupcake Design, Sheryl translates different cultures' traditional wedding attire into gorgeous cupcake toppers. By combining two cupcakes, the head and body are created, providing a blank canvas to personalize and embellish with fondant elements, candy adornments and hand-painted accents. These cupcakes would make the perfect centerpiece for a wedding presentation or special gifts for the couple of honor.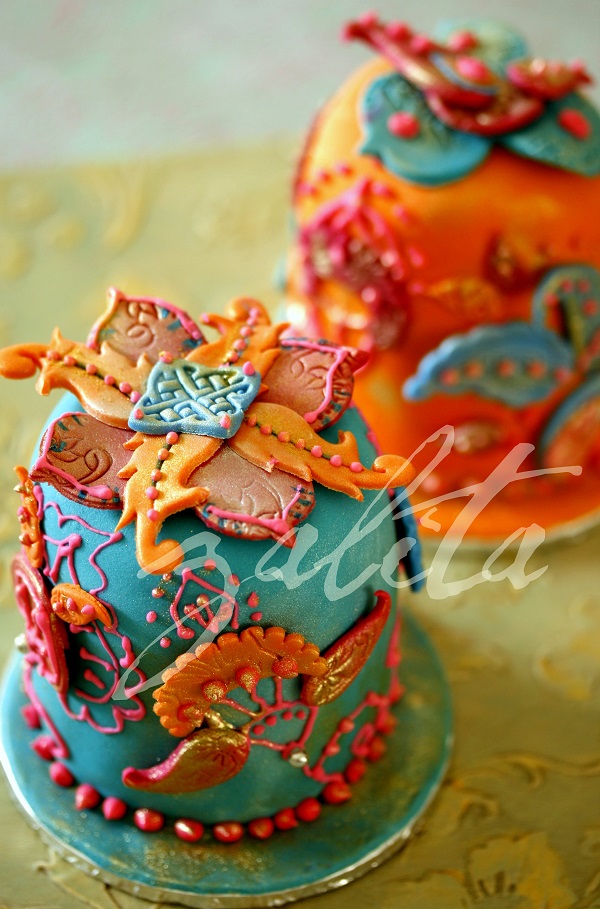 Photo via Cupcake D'lights
Indian-inspired miniature cakes
Cupcake D'lights did an absolutely magnificent job of creating these miniature cakes, inspired by Indian designs and ribbons. With the combination of both fondant and piping, the cakes are exquisitely decorated with traditional patterns and vibrant colors, evoking the Indian theme. Accentuate these miniature cakes with matching cupcakes in coordinating colors to complete an entire wedding presentation.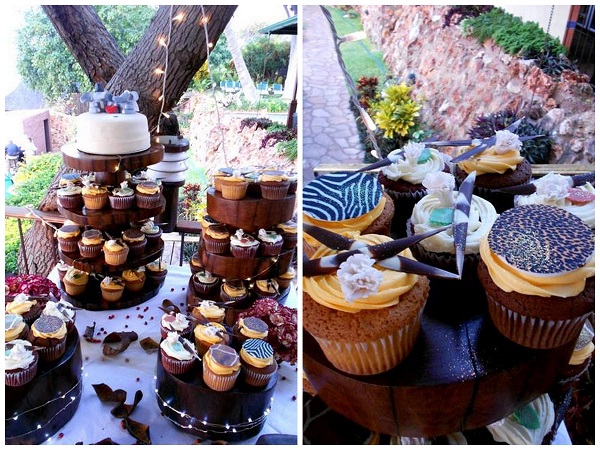 Photo via Meg's Treats
African-inspired wedding cupcakes
Meg's Treats, based out of Zimbabwe, created these gorgeous African-inspired wedding cupcakes. By combining animal print fondant cupcake toppers, including zebra, giraffe and leopard prints, and brown and white chocolate accents to resemble tribal items, the theme was captured perfectly in an elegant manner.
You can achieve animal prints with a variety of techniques. One technique is to utilize edible print sheets to attach to your fondant that sometimes can be purchased ready-made, or you can invest in your own edible printer. You can also paint directly onto the fondant with the use of edible pens or a mixture of colored soft gel paste and water or alcohol. Lastly, you can utilize fondant in various colors to be combined with a fondant rolling pin. The entire presentation represents the cultural theme with a chic twist, including the beautiful wooden stands.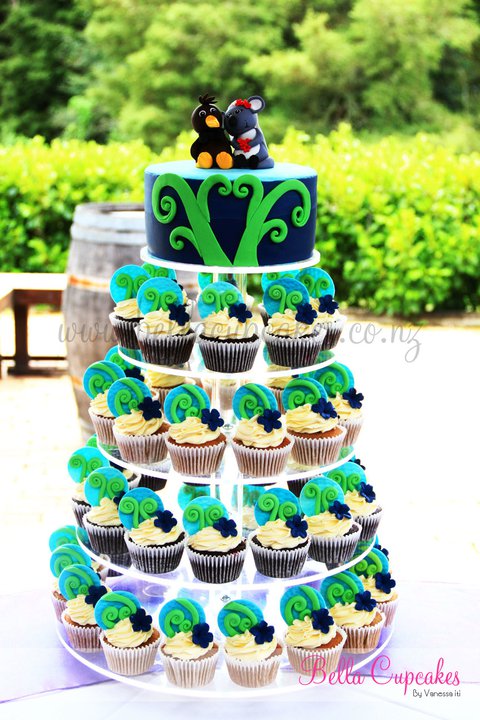 Photo via Bella Cupcakes
Kiwi and Aussie wedding cupcake tower
Bella Cupcakes is known for creating the most stunning cupcake towers. Inspired by a painting provided by the groom, this playful wedding cupcake tower combines the couple's cultural backgrounds of New Zealand (Kiwi) and Australia (Aussie). The tower is topped with a cake holding two little fondant animals (the bride and groom), representative of both traditional animals of each country, while the cupcakes coordinate with the remainder of the wedding colors. By placing the fondant cake toppers in a vertical position on the cupcakes, guests get a better view of the entire gorgeous display.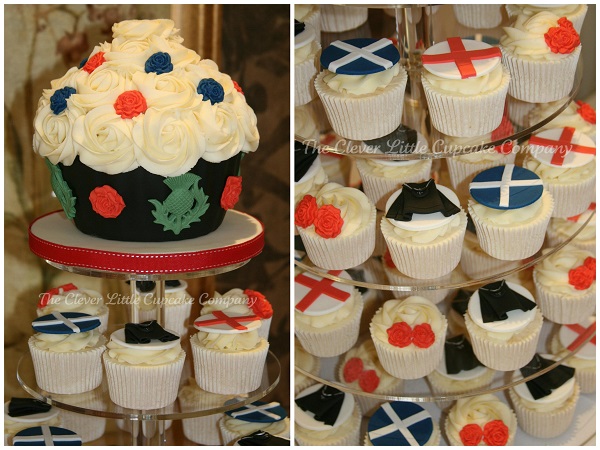 Photo via The Clever Little Cupcake Company
Scottish and English wedding cupcake tower
For a quirky Scottish and English wedding, the Clever Little Cupcake Company did an absolutely adorable job at capturing the two in fondant form! By combining flags of Scotland and England, along with English roses and black kilts with sporrans matching back to the groom's ceremony attire, the fondant cupcake toppers corresponded perfectly with the wedding theme. The tower was topped by a giant cupcake with additional floral accents, completing the display. Personalizing the theme to the couple's culture and personalities are key to capturing the beauty of their union!
Rose Wedding Cupcake via Bluprint member cupcakesbyyuyu
Two-tier rose wedding cupcake
Bluprint member and cake artist cupcakesbyyuyu created this gorgeous and elegant two-tier wedding cupcake with a shabby-chic influence! By stacking a miniature cupcake over a regular-sized one, a small tower was created. With the use of royal icing, fondant/gum paste and buttercream, the cupcakes were simply iced and adorned with stunning roses in a variety of pink shades. A simple lace completed the exquisite display.
Creative Cupcakes by Bluprint member Kelz17
Wedding cupcakes
Bluprint member and cake artist Kelz17 created this dazzling collection of wedding cupcakes, inclusive of the traditional Western culture bride and groom attire with pearl candy accents, along with the couple's initials and a splendid fondant rose holding a diamond ring. Added texture was achieved on the fondant with the use of impression mats pressed on utilizing a rolling pin.
[box type="shadow"]Delight your clients with truly customized cupcakes that are sure to be an amazing addition to any celebration with step-by-step guidance from Sheryl Bito in her class Global Cupcake Design. More than 1000 students have already enjoyed hours of up-close instruction on designing and decorating "personalized" cupcake toppers with amazing clothing, accessories, and hairstyles.[/box]
What have you done to personalize cupcakes for your clients?