Make the most out of the rest of summer and whip up these fun ice cream cone cookies. These cool sweets are bound to be the star of any summer dessert table — and best of all, they won't melt away like real ice cream would!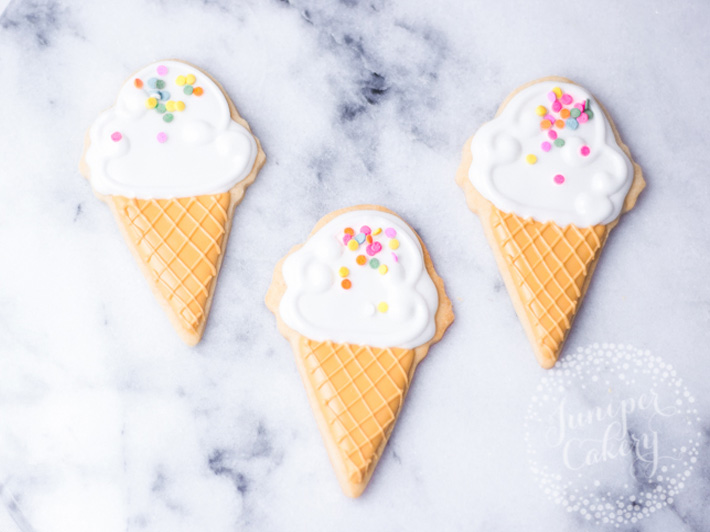 Everyone will scream for your ice cream cone cookies with this easy tutorial!
Materials needed:
Your go-to sugar cookie recipe (try this one!)
Ice cream shaped cookie cutter
White and light brown royal icing in 15-second consistency (learn more about royal icing consistency here)
Sprinkles, mini candies or sanding sugar (optional)
Disposable piping bags
Small round piping tip with an opening of around 4mm
PME Supatube No. 1.5 piping tips
Step 1: Prepare the cookies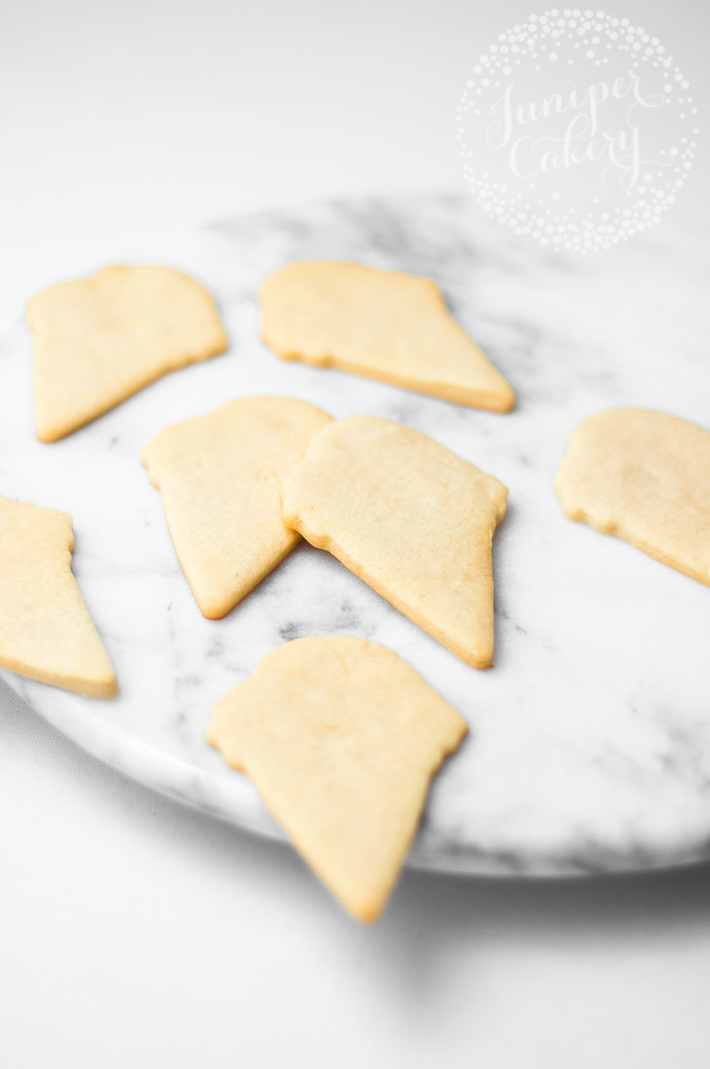 Roll out and cut your ice cream cone cookies from your go-to sugar cookie dough recipe. Chill or prep as needed — most sugar cookie recipes require the cut shapes to then be chilled in the fridge for around 30 minutes, but make sure you check your own recipe.
Bake the cookies per your recipe's instructions. Once baked, leave to cool on a marble pastry slab or wire cooling rack.
Step 2: Fill in the cone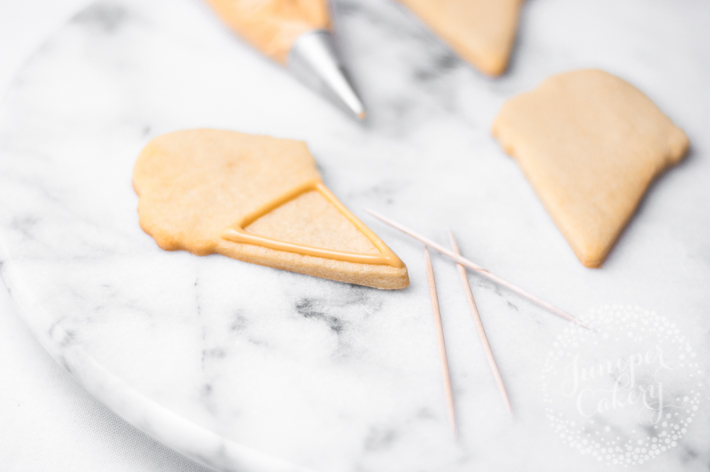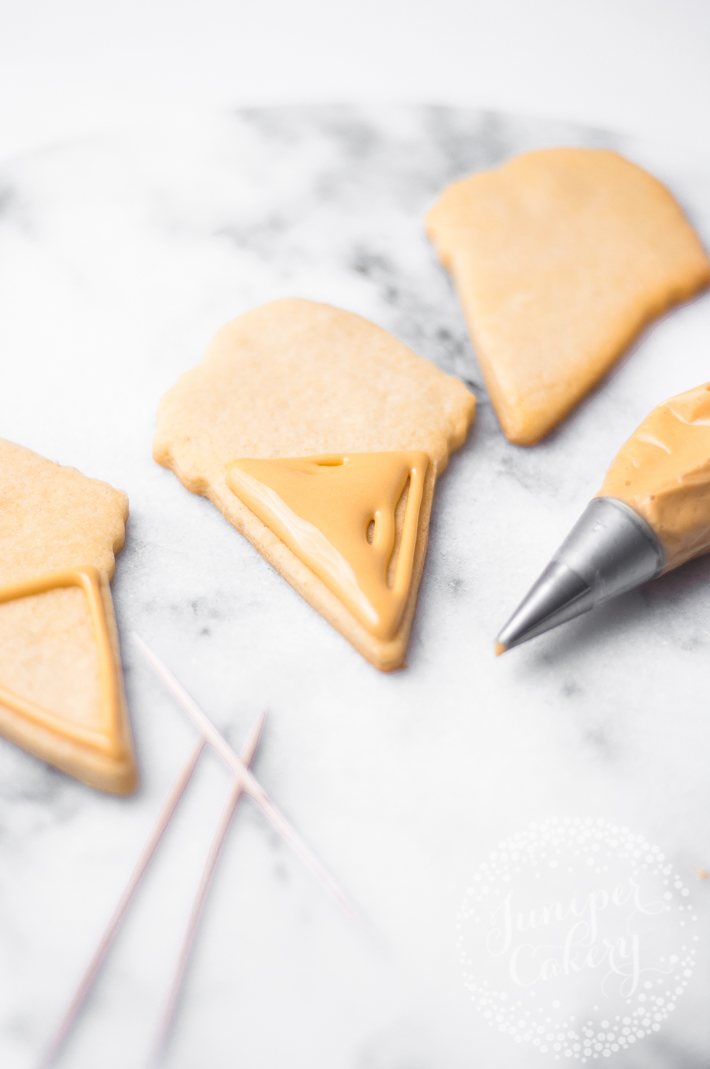 Once the cookies are cool, you can start decorating! Begin with the ice cream cone.
Outline and flood the bottom cone section of your ice cream with the 15-second consistency light brown–tinted royal icing.
Once flooded, carefully tap the cookies on a flat surface to help air bubbles rise up. Once you see the bubbles (you will either see obvious bubbles or darker shadows in your icing), you can pop them with a cocktail stick or toothpick.
Set the cookies aside on flat, level surface to dry.
Step 3: Add the ice cream icing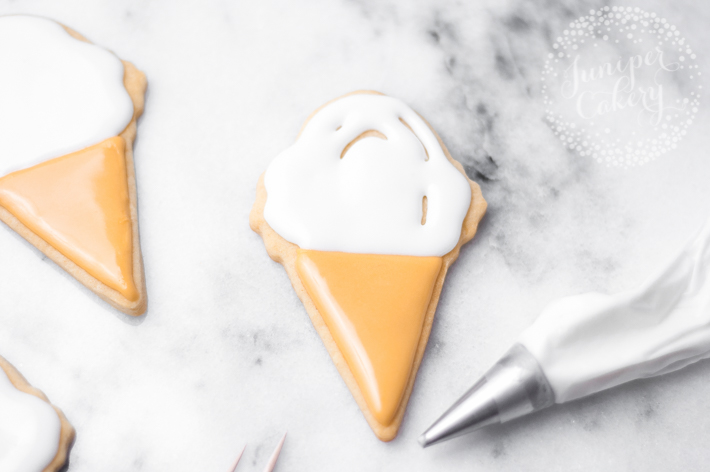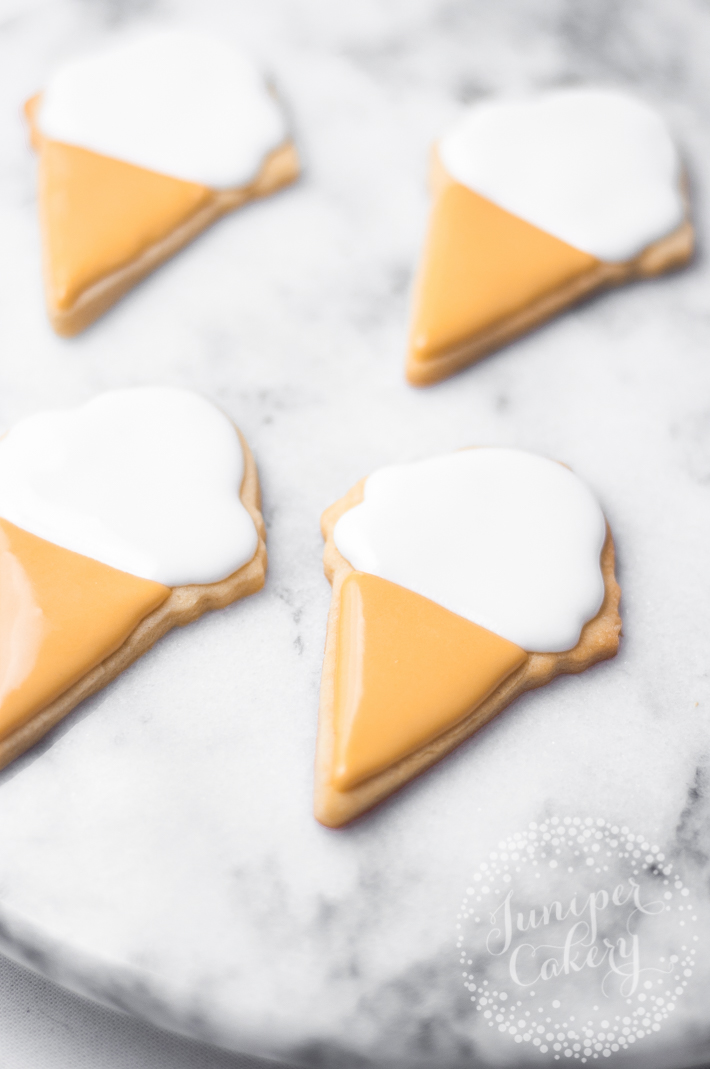 While the cone section of the cookies dries, you can work on the top "ice cream" section. Outline the top part of the cookies with white 15-second consistency royal icing. Then flood the area with the same royal icing. Remember to get rid of those annoying air bubbles, too!
Step 4: Add the cone details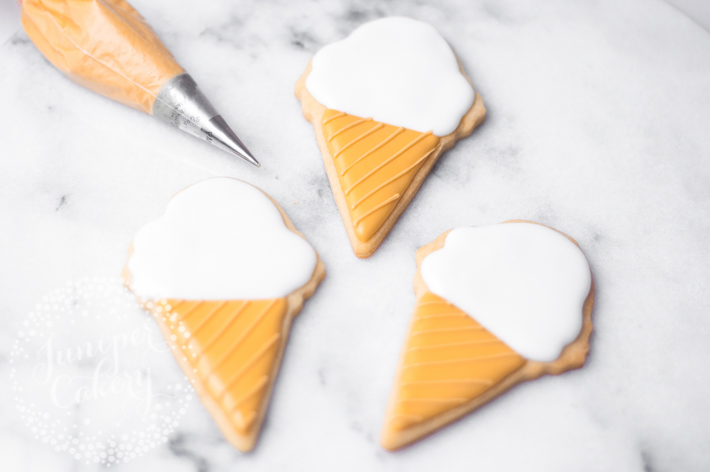 Wait 1 to 4 hours for the icing to completely dry. The wait time depends on the humidity of where you live: more humid and you'll find that the icing may take longer to set.
You can then pipe the thin waffle detail on your cone. Fill a piping bag that's fitted with a tiny round piping tip (we used the PME Supatube 1.5) with piping-consistency light brown royal icing. Then carefully pipe a set of parallel, angled lines slanting one way on your cone.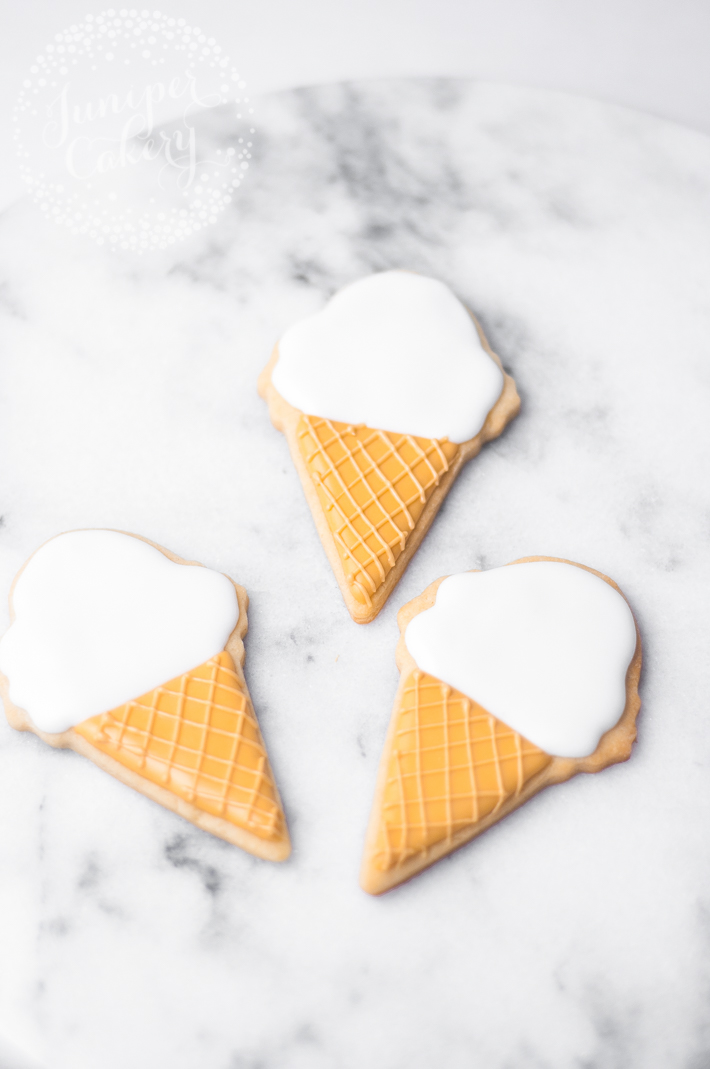 Repeat this piping motion, but with the lines slanting in the opposite direction.
Step 5: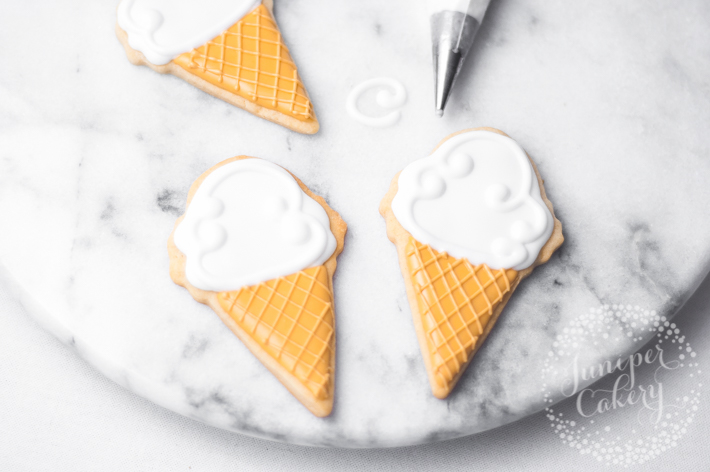 Add a little detail in the form of piped swirls to the ice cream part of your cookie. Use the 15-second consistency white icing and a small (we used a 3 Supatube by PME) piping tip to add in cartoon-like swirls around the edge of the top of the ice cream.
Step 6: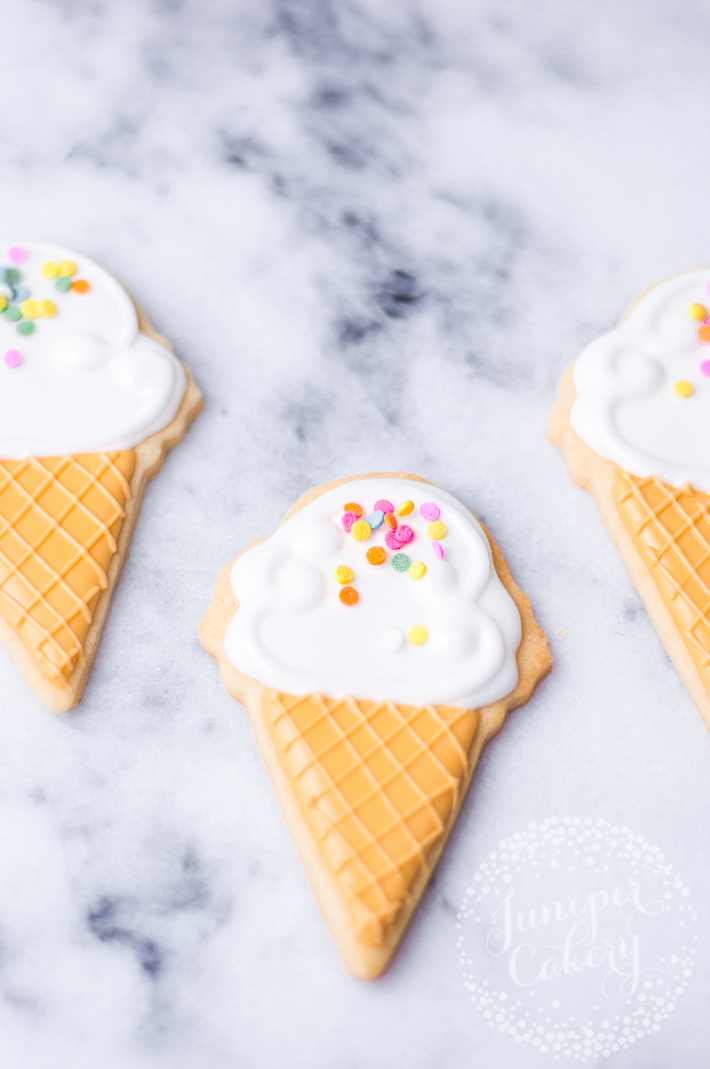 Add in some sprinkles for a touch of color if you like. Sprinkles are an quick, fun and easy way to make these ice cream cone cookies fit in any theme.