Here's a bite-sized treat that won't melt on your dessert table as the weather warms up! These super cute ice cream cake pops won't liquefy like real ice cream, but they may disappear just as fast. Since these ice cream cone cake pops require only seven easy steps, you'll never look at party desserts the same way again.
I scream you scream, we all scream — for ice cream cake pops!
These cute ice cream cake pops are made possible by these awesome Joy Mini Cups kid-size ice cream cones.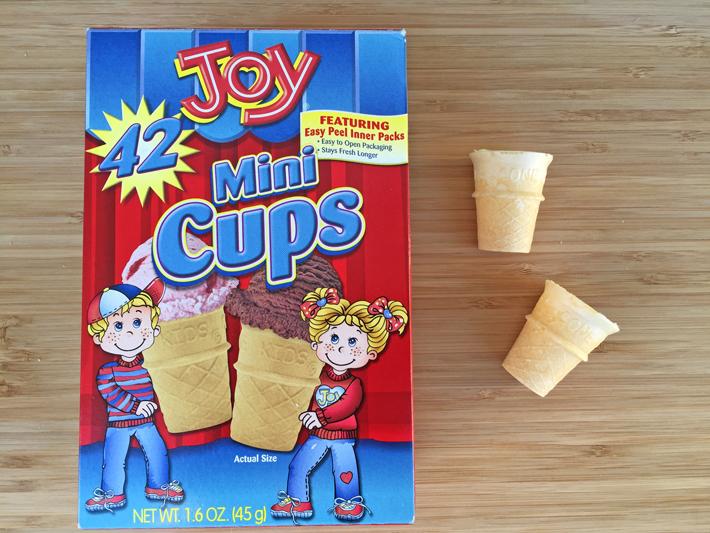 I like these particular cones because they let your cake pops stand on their own. There are classic pointed-bottom mini sugar cones that you can purchase as well — know that you do have choices! Let's get started!
You'll need:
Cake pop dough ready for shaping
Pink candy wafers
White candy wafers for piping the topping
Mini marshmallows
Red Sixlet candies
Sprinkles
Mini ice cream cones
Toothpicks
Paramount crystals
Waxed paper
Step 1:
Line your work surface with waxed paper.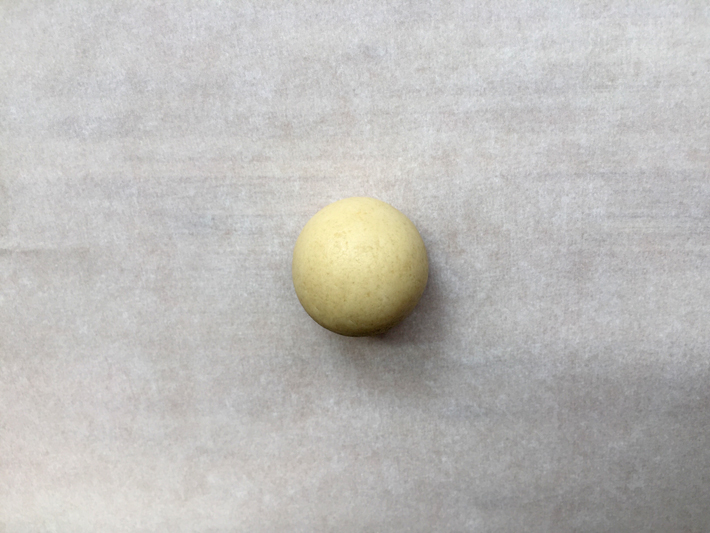 Use a cookie scoop to portion the cake pop dough and roll each portion into a ball. You can learn more about making cake pop dough and rolling it into perfect sphere in this FREE Craftsy mini-class.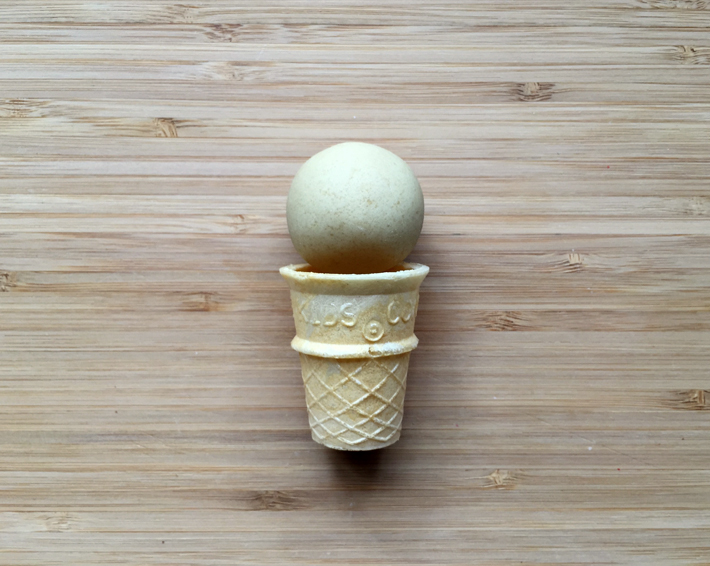 Check to make sure your cake balls will sit on top of the cone, not fall into the cone. Refrigerate all pieces on a waxed paper–lined cookie sheet.
Step 2:
Prepare your candy pieces.
Use your finger to press and flatten mini marshmallows. You'll get a divot in the center and the outer part stays fluffy — this is what we're going for. It'll look like a nice little dollop of whipped cream on top of our ice cream.
Sort out the red Sixlets if you've got a bag of assorted colors. Packages of red-only Sixlets are available at party supply stores and shops that sell candy in bulk bins.
Step 3:
Melt the pink candy wafers and white candy wafers separately in a microwave-safe plastic or silicone bowl or cup. Microwave for 1 minute at 50 percent power and give it a stir. Continue to microwave for 30-second bursts at 50 percent power until melted, making sure to stir between each burst of heating. Thin the coating using paramount crystals.
For more details on melting candy wafers, skim through this dipping tutorial to get more familiar with candy coating. We'll use the white coating a bit later, so keep it in the microwave for now.
Step 4:
Remove cake balls from the fridge and let sit at room temperature for about 5 minutes to take the chill off. Line up your cones; have them ready near your pink candy coating.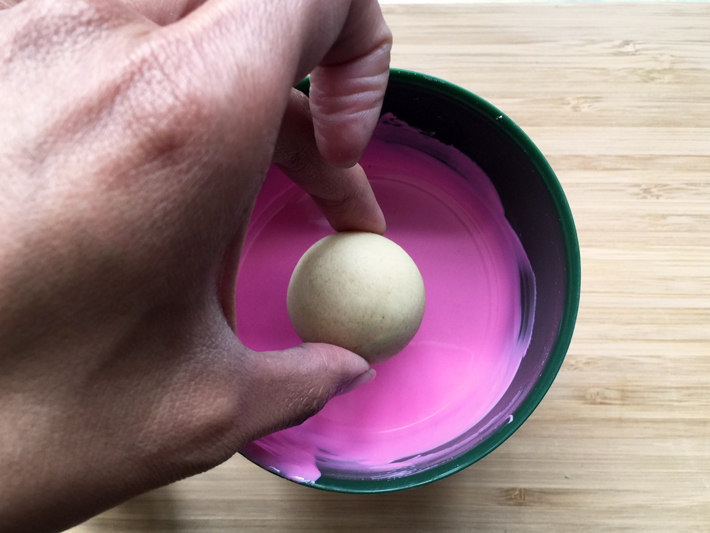 Using your fingers, hold the cake ball and dunk the bottom into the candy coating.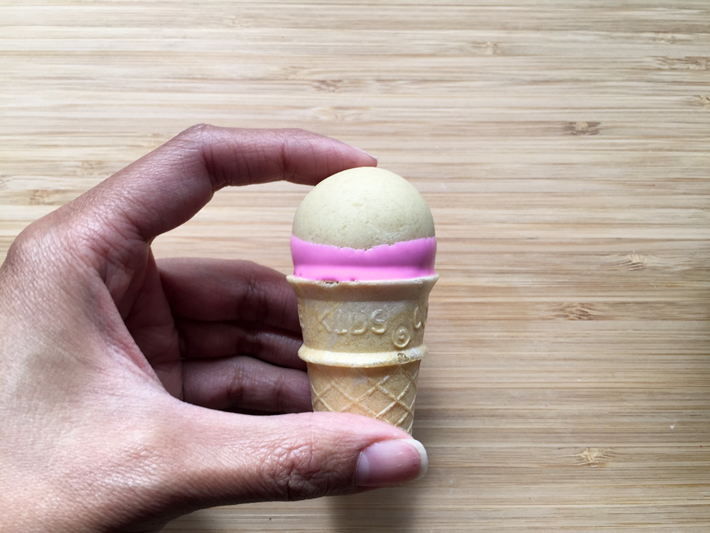 Shake off the excess and place it onto a cone. This seals the bottom of the cake ball and adheres it onto the cone as well. Let dry completely and repeat for all pieces.
Step 5: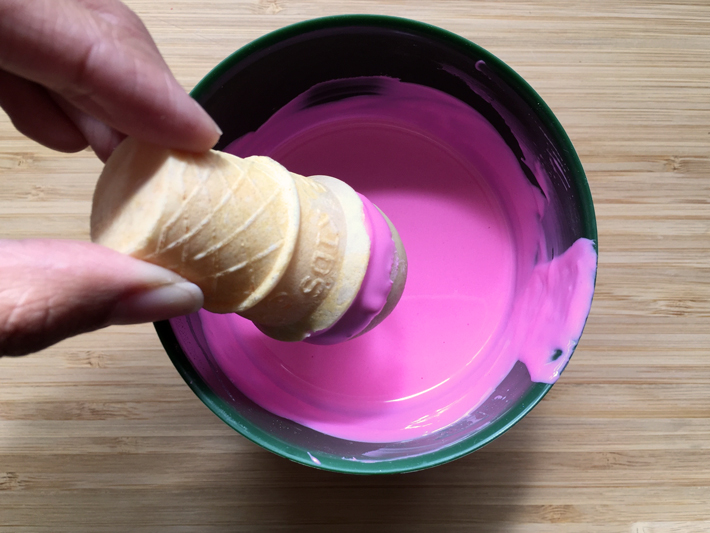 Next, we'll dip the rest of the cake ball by submerging the uncoated area into the pink coating. You can either shake off the excess or let it drip down the side as if the ice cream were really melting! Let dry completely.
Step 6:
Grab the white coating; reheat if needed, but make sure it's not warmer than body temperature. Pour it into a zip-top bag; we'll use this to pipe the topping on the cake pops. Have your marshmallows and sprinkles ready!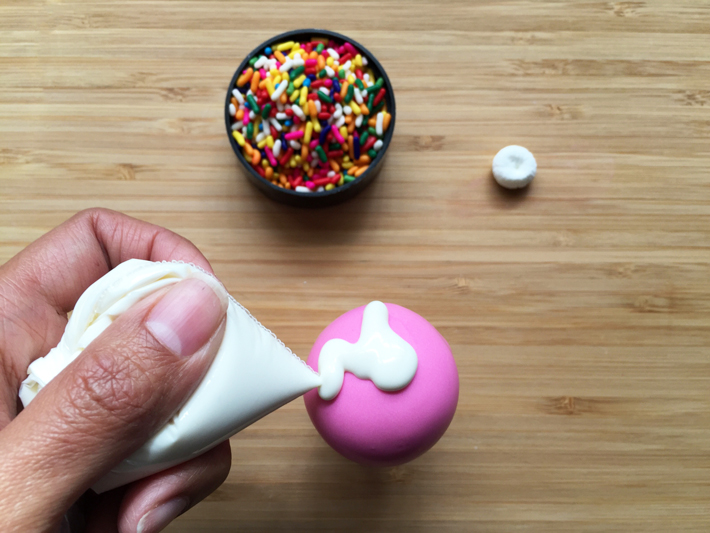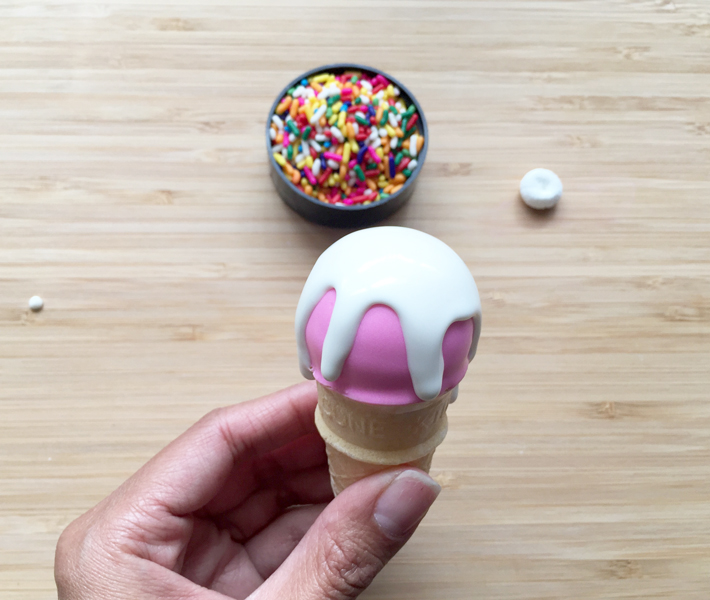 Pipe the white coating over the top with a small movement, like you're drawing a star, and let it drip down naturally.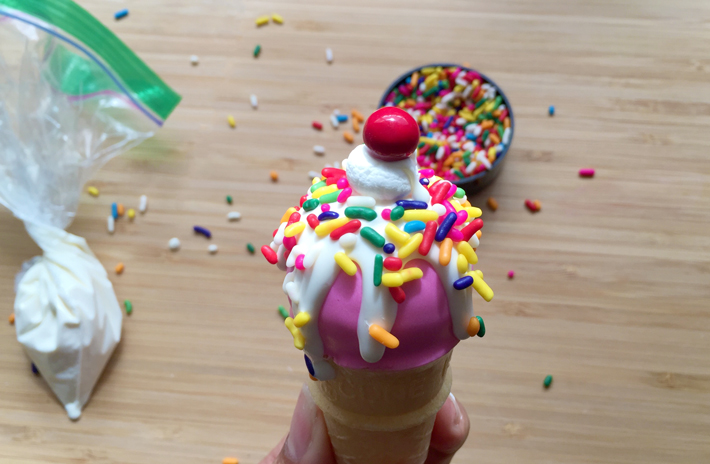 Step 7:
Add a marshmallow and sprinkles on top of the white candy. Pipe a dot of white candy on the marshmallow and place a red Sixlet "cherry" on the top!