You don't have to look too far before you run into goods of all type that are covered in camouflage. Though there are several different hunting seasons throughout the year, this season is particularly special for those that like to hunt. Even if this sport isn't really your thing, camo is as popular as ever and can still be found in abundance, even in quilting. Duck Dynasty, anyone??
Are you looking for a unique handmade gift for the hunter in your life? Or maybe the Duck Dynasty fanatic you know? Get inspired by these hunting-inspired camo and hunting quilt patterns and projects!
Photo via Deb Bohringer
Wildlife mug rugs:
Take an afternoon to sew up a couple of these charming mug rugs. Use reverse appliqué and fusible web to create the bear, moose, elk and deer. These mug rug patterns can be purchased separately or all four combined into one pattern. Full-size pattern pieces and no binding make for quick and enjoyable mini quilts!
Get the Log Cabin 4 in 1 Mug Rugs pattern.
Photo via Tracejay Quilts
Camouflage quilt:
Up first is this camo-inspired quilt. Quilter Tracey Jacobsen used all solids in all shades of green, brown and a variety of coordinating neutrals to create a beautiful quilt for her nephew. The quilt is backed in a soft minky to make it especially cuddly.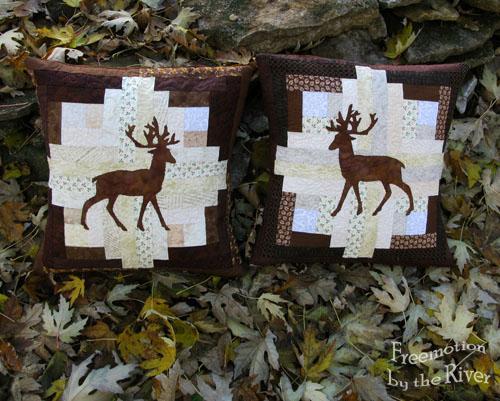 Photo via Connie Campbell
Rustic deer pillows:
Use a variety of techniques to create these Log Cabin Deer pillows. Both appliqué and simple piecing are needed for these beauties. If you are new to appliqué, this is a great pattern to start on. Included with the pattern are step-by-step photos showing you two different ways to appliqué. This multipurpose pattern also includes instructions on how to make a mug rug, too.
Get the Log Cabin Deer pattern.
Photo via Kaye Prince
Zippered deer pouch:
This zipper pouch by Kaye Prince is full of texture, both real and faux. White wood-grain cotton, denim wool suiting, and an iron-on patch in the shape of a deer work together to create the perfect gift for a modern nature lover.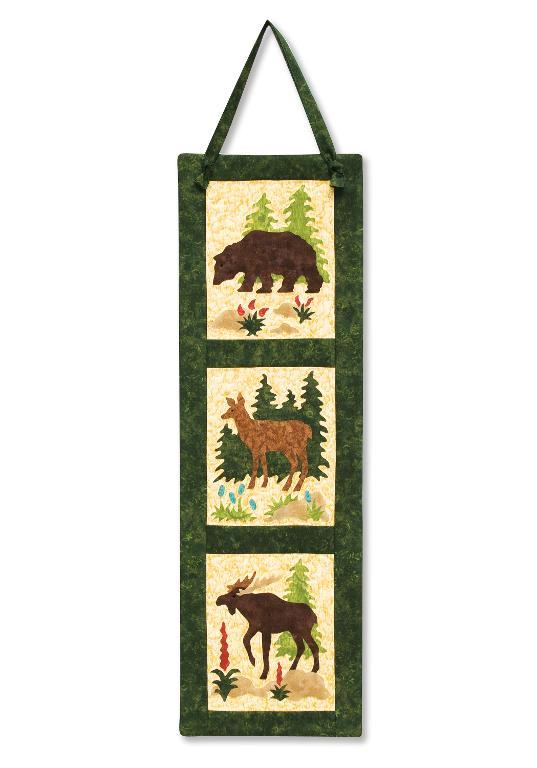 Photo via Jeri Kelly
Wildlife wall hanging:
This Wildlife Trio will bring the great outdoors into any room. This design has a bear, a deer and a moose walking in the trees. The background is made with basic pieced construction and quick appliqué shapes. Quilters of all levels can easily stitch this up.
Get the Wildlife Trio pattern.
Photo via Katie Blakesley
Camo backack:
The Lush fabric line by Erin Michaels is full of gorgeous deer and camouflage prints. Katie of Swim Bike Quilt used a bit to sew up this adorable toy bag for her son, and she used the lined drawstring bag tutorial by Jeni Baker. Want to see more ways to use this fabric? Make sure you check out these two beautiful projects: needle book by Jaime Young and zipper bag by Amanda Jennings.
Photo via Heather Bostic
Bold deer throw pillow:
Bright, graphic prints are just right for a modern deer head pillow. After finding inspiration on Pinterest, Heather Bostic created this eye-catching beauty. She shares a free template on her blog if you'd like to make one of your own!
What would you like to sew for your nature lover this holiday season?