Hummus is a fantastic snack food to have in your kitchen, whether it's a batch of homemade hummus or a container of your favorite store brand. But plain hummus can be a little bit, well, plain! Fortunately, it's easy to try new hummus flavors using ingredients you probably already have in your kitchen.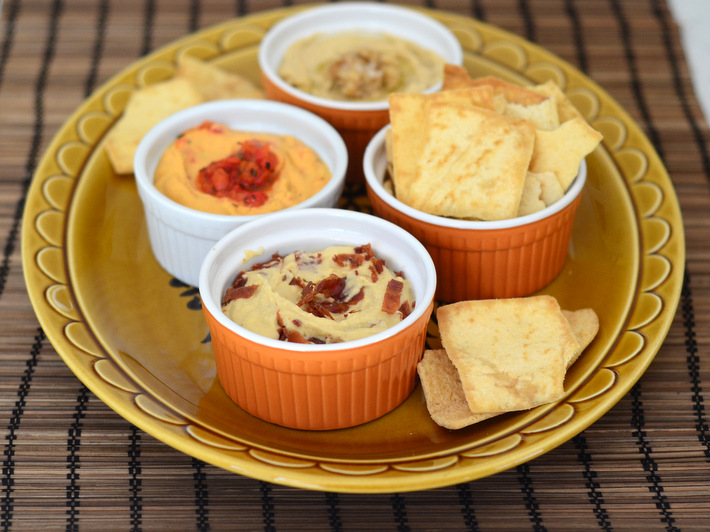 Ready to try new hummus flavors? Try these 10 creative additions to spice up (or sweeten up) plain hummus.
1. Roasted garlic hummus
Roast a whole head of garlic that has been drizzled with a little bit of olive oil. Once the garlic as cooled, add about half of the head to 1 cup of hummus for a rich garlic flavor I coarsely mash my garlic so that there are some chunks in the hummus, and like to save a little bit of garlic to add as a garnish, too.
2. Pesto hummus
Fresh or store-bought pesto can be swirled into hummus to create a flavorful streak, or you can mix it in completely for a more complete pesto flavor. If you're going for the swirl, gently stir a few tablespoons into about a cup of hummus. If you want to turn your hummus completely green, use only about a third of a cup of hummus.
3. Artichoke hummus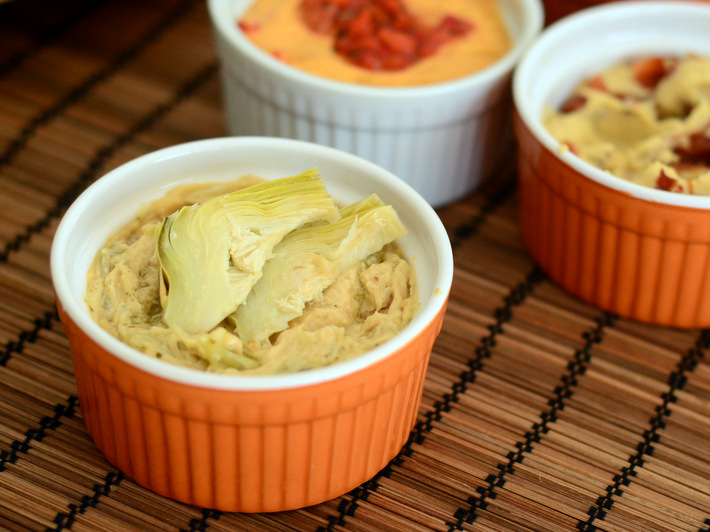 This hummus flavor requires a food processor, as you'll simply blend canned artichoke hearts and lemon juice with a batch of ready-made hummus. You'll want 6-8 ounces of artichoke per cup of hummus for a good artichoke flavor.
4. Sun-dried tomato hummus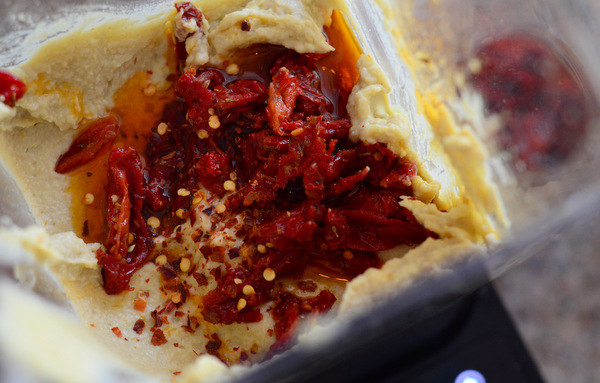 Like the artichoke hummus, this one is best made in the food processor. A few tablespoons of sun-dried tomatoes soaked in olive oil give plain hummus a delicious tomato flavor and a bright red color.
5. Bacon hummus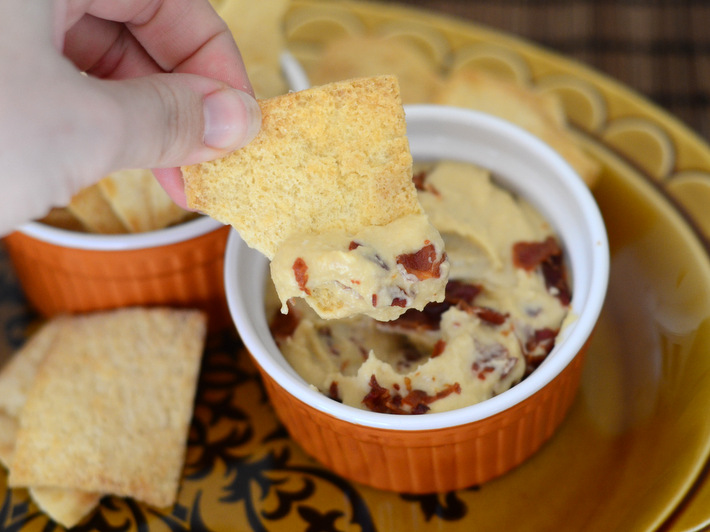 They say that everything is better with bacon and that applies to hummus, as well! You're unlikely to find this variation even in a well-stocked grocery store. To make it, simply stir 3-4 tablesppons crispy, cooked bacon into 1 cup of hummus.
You'll get the best results when the bacon is crispy, but it doesn't need to be warm, so feel free to save a few pieces from breakfast for this snack food. If you do cook it right before, stir in a bit of the bacon fat for even more savory flavor. 
6. Chipotle hummus
Perfect for those who like spicier snacks, this hummus flavor combines smoky canned chipotle chilis with a basic hummus recipe. You can use a food processor for an ultra-smooth consistency, or simply chop the chilis with a sharp kitchen knife. Add 2 tablespoons adobo sauce and 1-2 chipotle peppers to 1 cup of hummus.
7. Beet hummus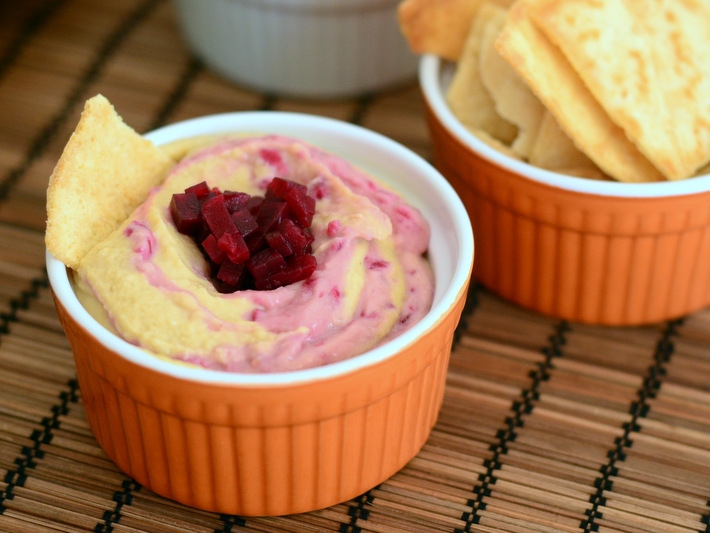 Beets add a sweet, earthy flavor to hummus — but they add even more color. I like this one primarily for its looks, though it is very tasty, too. Cooked or canned beets will both work, but they should be well-pureed for best results. I like to add 2 tablespoons pureed beets to 1/2 cup hummus, then swirl that with another 1/2 cup plain hummus before serving. 
8. Olive hummus
Four tablespoons of black olive tapenade add a Mediterranean flavor to 1 cup of plain hummus. The tapenade is a better choice of mix-in than whole olives because it is pre-chopped and seasoned, so it is extremely easy to work with. If you want to work with whole olives, however, give them a good chop in the food processor before incorporating them. 
9. Roasted red pepper hummus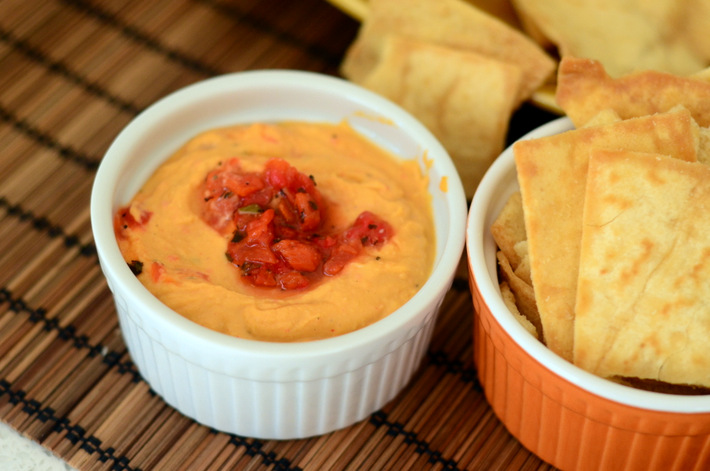 Like the sun-dried tomato hummus, this variation is best made in a food processor, where you can completely puree your roasted peppers. You can use freshly roasted peppers for a brighter flavor, but jarred red peppers that have been packed in oil are delicious, too. You'll want about 1/3 cup of chopped, roasted red peppers per 1 cup of hummus. Save some chopped peppers for garnish!
10. Caramelized onion hummus garnish
Caramelize 1 cup of onions down until they are sweet and tender, then add them to 1 cup of hummus, along with a pinch of salt. Caramelized onions add an amazing sweetness to plain hummus and can be incorporated in two ways: either stirred in directly (best if your onions were on the smaller side to begin with) or pureed in the food processor. Both are equally delicious, so there is no bad choice here!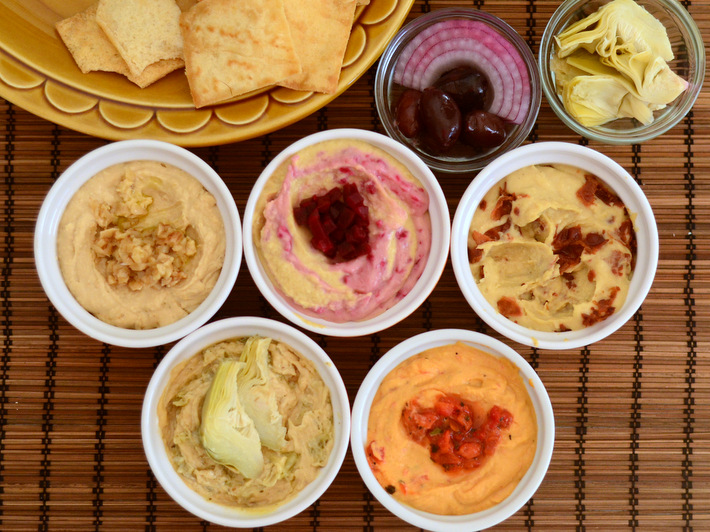 Stock up on pita chips, crackers and veggies to pair with all of these delicious hummus variations!
Serve up a culinary tour of the Mediterranean!
Add favorite tapas, meze & antipasti to your bag of party tricks and entertain with the bold flavors and delightful ease of the Mediterranean! Enroll Now »