Ready to enjoy a slice of cake leg with extra frosting? They're alive!
Actually the point of these cakes that look like humans, is that they're not alive, other than being alive with imagination. I've been blown away lately by the cake artistry that's being demonstrated around the world and these cakes are no exception. I really do think it's been fueled by things such as the opportunity for anyone to enjoy wonderful educational classes like those offered by Bluprint, and all the sharing, Pinterest pinning, and camaraderie the cake community is able to achieve through the Internet. So without further ado, from babies to brides, here's a collection of astounding cakes with the "human touch"!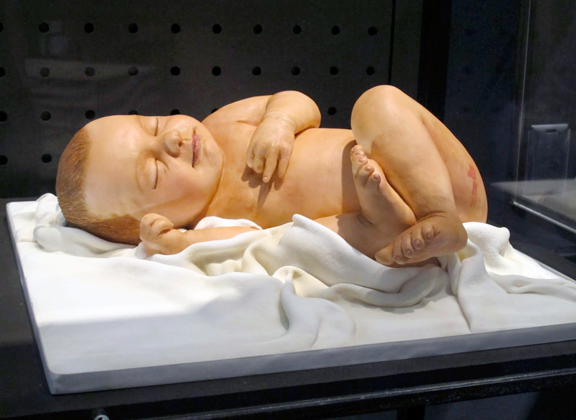 Photo via Michelle Sugar Art
Human Baby Cake: Just having a little snooze, mom. It's hard to believe that this adorable sleeping baby is actually a sculpted made-from-sugar cake! Check out the cake decorator's inspiring video of her talk at the V&A Museum in London, including the incredible start-to-finish overview of how this baby cake was constructed. Would you be able to cut into this chubby little monkey?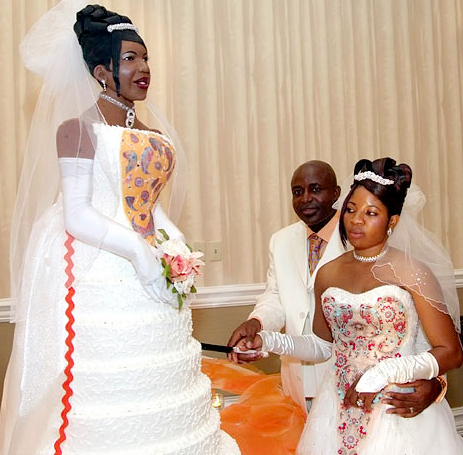 Photo via Absolutely Edible Cakes
Here Comes The Bride… Cake: This five foot tall cake made in the likeness of the bride was bride Chidi's dream cake! The majority of this structure is butterscotch cake; though the torso, head and arms are made of polymer clay. The paisley painted bodice is a lovely touch. And just look at all of those royal icing piped cake tiers creating the dress!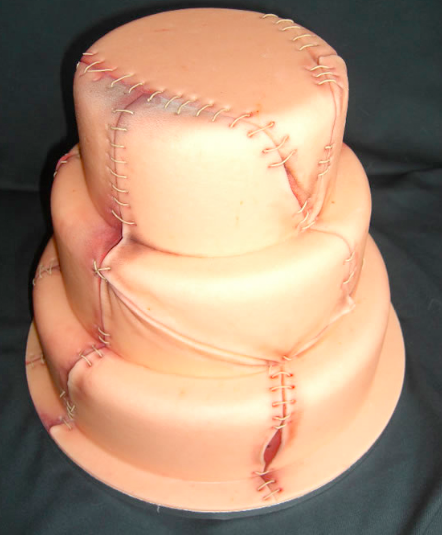 Photo via Gillian Bell
Skin and Stitches Cake: Fondant tiers of flesh-colored cake, anyone? I'm not sure if I could stomach a slice out of this cake, but if you closed your eyes you could imagine white fondant and buttercream, right? This would be amazing for a macabre wedding or a zombie-themed party.

Photo via Lil Wayne HQ
L'il Wayne Cake: The black licorice for dreadlocks and a head on a plate concept is rather genius – wouldn't an apple in his mouth have been a great touch? No, this cake was not made for the fine country of Ireland; it was made as a brilliant birthday present for a famous celebrity couple's daughter. I'll let you guess who. I hope she liked black licorice…I'll have one of his diamond candy teeth, please!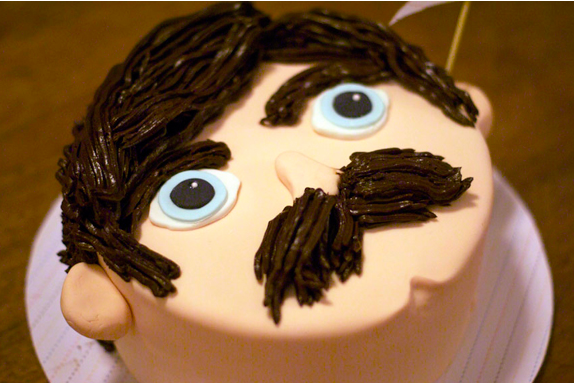 Photo via Coco Cake Cupcakes
Ron Swanson Fondant Cake with Buttercream Mustache: This Ron Swanson character cake is a more simplified and cartoon-like version of the "head on a plate" cake face concept; a two tiered chocolate cake covered in "flesh" colored fondant, with eyes, nose and ears made up of fondant pieces. The fun is taken up a notch by the "hairy" chocolate buttercream moustache, thick eyebrows and hair. This cake would work well for a Father's day celebration cake or for the man in your life's birthday!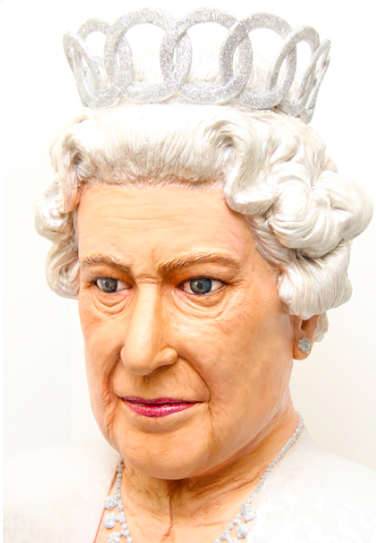 Photo via Michelle Sugar Art
Queen Elizabeth Silver Jubilee Super Realistic Sculpted Cake: Yet another amazing piece of sculpted "human" cake art by Michelle of Michelle Sugar Art! Created for the Queen's Diamond Jubilee, this cake is made up of all sorts of edible parts, including sugar paste covered with glitter for the crown, sculpted fruit cake covered with marzipan for the human face, fondant and airbrushed food coloring for the hair and features. Learn more about how this incredible cake was created here!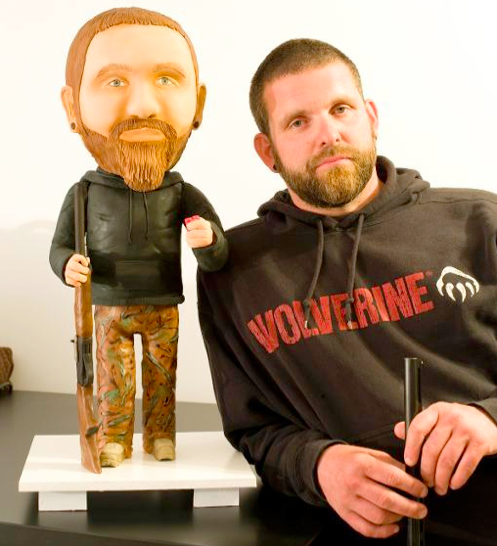 Photo via Bluprint member Sheryl B
Hunter the Bobblehead Cake: This fabulous bobblehead cake was made by Bluprint member Sheryl in the likeness of her son-in-law! I think she nailed it, don't you? I love the texture for his beard, the black ear spacers and his camouflage pants, too. It's the attention to detail that really make a cake stand out! Want to have a go at making your own bobblehead cake? Check out the online Bluprint class Advanced Cake Sculpting with Mike McCarey.
There you have it! Do you think you would be able to take a knife and slice into one of these human-inspired cakes? Would it make a difference if you knew your favorite cake filling was inside (chocolate cake with peanut butter frosting and chocolate ganache, anyone?)?