I thought I was going to faint the first time I saw a knitter use scissors to cut their knitted fabric, otherwise known as steeks in knitting. Why in the world would you want to cut a beautiful knitted project that you worked so hard on? Why would you even think about taking scissors to a perfectly lovely already-knitted sweater? Turns out there are many advantages to steeks in knitting.
Having a major freak-out just thinking about cutting your knitting? Find out what steeks in knitting are — plus, what they can do to help make your knitting easier!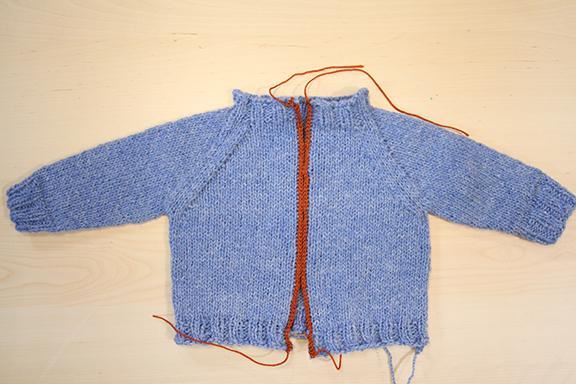 Photo via Carol Feller
What is steeking?
Steeking in knitting simply means cutting your knitting. Yes, I said cutting. With scissors.
Knitting steeks doesn't just involve snipping away at your knitting for fun. There's a strategy involved, and you have to prepare for steeking. There are a few different ways you can do this, including crochet and hand-sewn stitching, but most involve prep work of stabilizing the stitches — preventing them from unraveling as soon as you snip them.
I know what you're thinking. Why in the world would I ever cut my knitting?! There are plenty of reasons to put those scissors to your knits.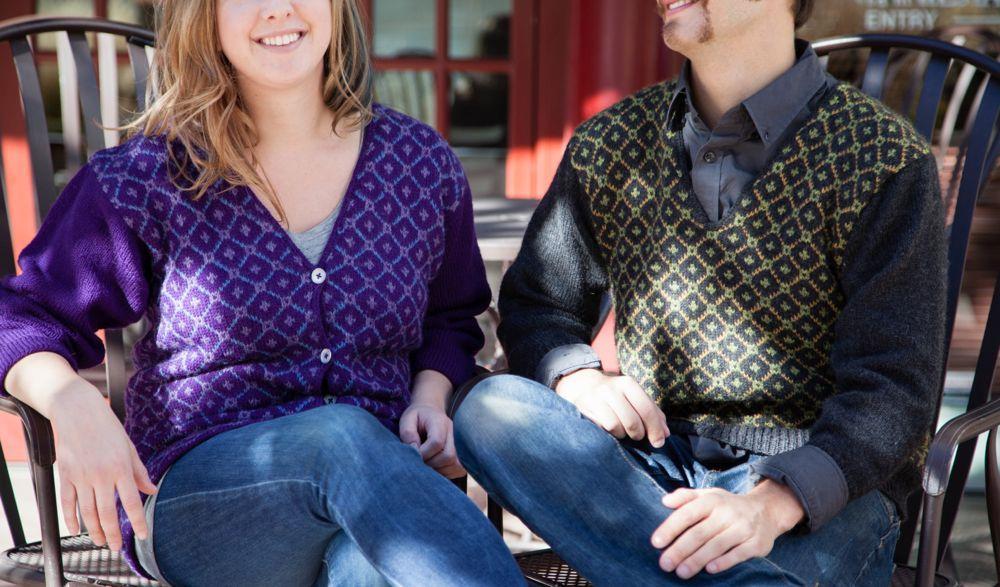 Cardigan and pullover from Simple Sweaters: Stranded & Steeked class with Amy Detjen
How to use steeking in your knitting
To make sweater knitting easier
Steeking a sweater means that you can knit the entire sweater in the round, rather than back and forth in rows. This can be especially handy if you're knitting colorwork. Take a look at the sweaters from Bluprint's Simple Sweaters: Stranded & Steeked class with Amy Detjen in the photo above. Imagine what a pain it would be to knit in colorwork across a row, purling back on the wrong side rows. Instead, knitting steeks lets you knit in the round on the right side for the entire project. When you're finished, you'll cut holes in that in-the-round tube to make arm holes and any other openings you might need.
You can even use steeking to create necklines in knitting. You know how complicated stranded colorwork can be when there's shaping involved. You're following the chart while also trying to keep up with increase and decrease rows. Steeking makes that process easier by allowing you to knit in the round, then go back and snip that V-neck with scissors.
If steeking seriously freaks you out, enroll in Amy's Simple Sweaters: Stranded and Steeked class and watch Amy steek a sweater. It's not as difficult — or as scary — as it sounds and once you watch Amy do it, you'll have the courage to try it on  your own.
To upcycle an old sweater
Have an old sweater that makes you say, "yuck" when you look at it? Steeking can help you give that sweater a little makeover by turning it into a cardigan.
To make cardigan knitting easier
This is traditionally what most knitters think of when they hear the word "steeking." Instead of knitting a cardigan in several sections — left front, right front, etc. — you can knit it in the round, then steek it as part of the finishing.
Even though knitting steeks does take some extra time, it's still easier than knitting back and forth when you're knitting stranded colorwork. In fact, steeking is most often used when knitting Fair Isle.
Have you ever cut your knitting on purpose? Were you nervous?