Wondering how to use gold leaf? There are actually many ways to use this metallic cake decorating medium to create edible masterpieces.
Here's a collection of four inspiring ways to use gold leaf on your cakes and desserts, from flashy accents to an eye-popping all over covering.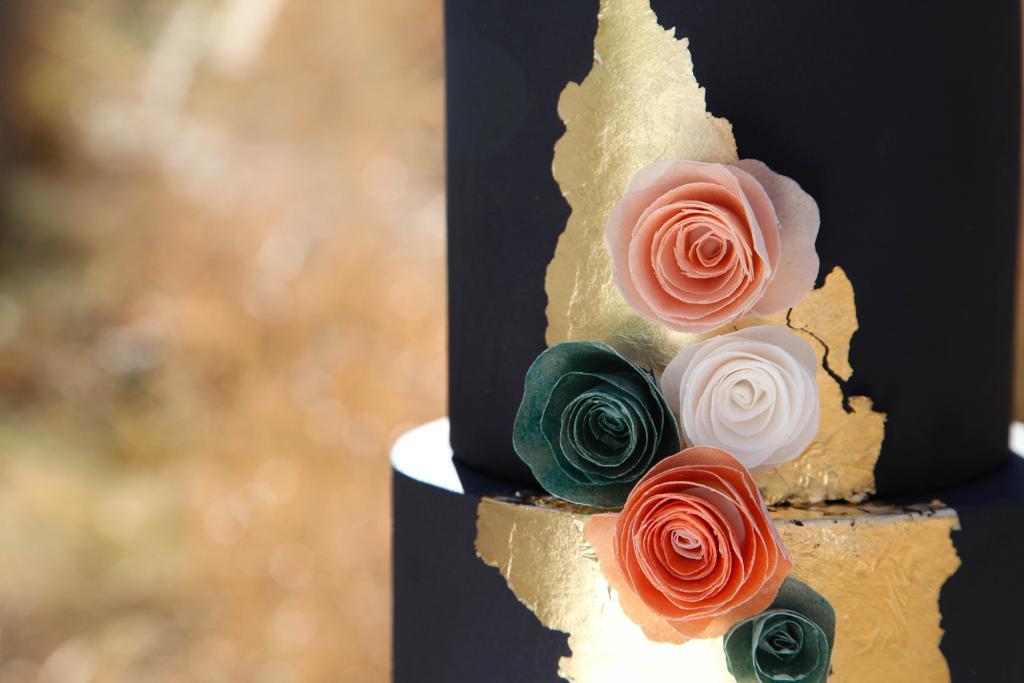 Photo via Bluprint instructor Stevi Auble
If you're interested in learning more about wafer paper techniques for sophisticated cake design and decoration, be sure to check out Bluprint's newest Cake Decorating class, Delicate Wafer Paper Cakes.
What to expect when you buy gold leaf.
When you buy gold leaf, it will come in extremely delicate, rice-paper-thin sheets that are divided with a parchment-like paper. It can be cut out into shapes, molded around paper or fondant, or gently torn to form irregular shards.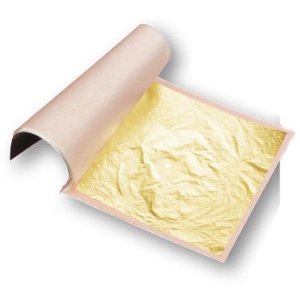 Once the package is open, consider one of these four methods of using gold leaf. Each project provides dazzling inspiration on some of the best ways to employ edible gold leaf in your cake decorating and dessert presentation.
1. Avant-garde designs with gold leaf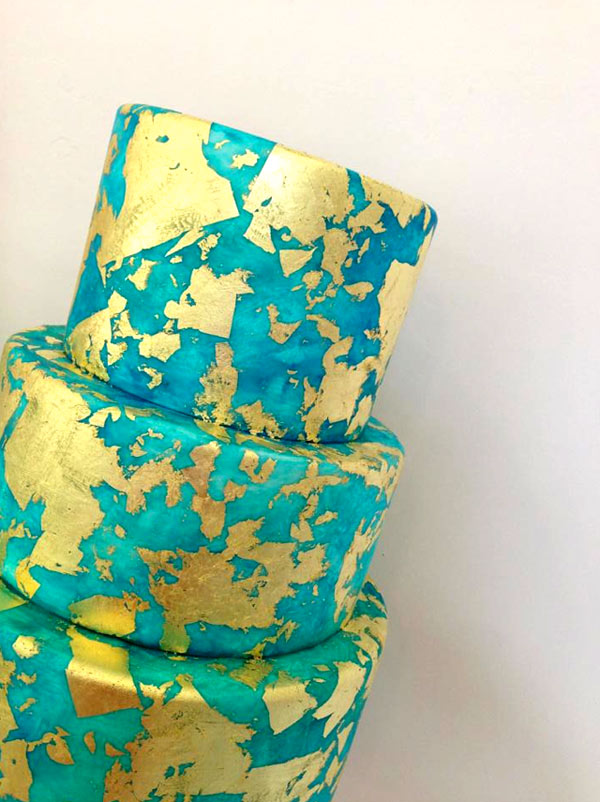 Photo via Sweet and Saucy Shop
This cake looks like a cross between a view of Earth from space and a Jackson Pollock painting — in a good way. Tiers of fondant covered cake are hand-painted in a deep aqua, then covered with irregular yet artfully arranged shards of gold leaf. Like an avant-garde painting, you can't keep your eyes off this cake.
Rolled Roses Cake via Bluprint instructor Stevi Auble
A cake covered with black fondant might sound a bit somber, but not this one! An asymmetrical shard of gold leaf in the center acts as an avant-garde yet sophisticated highlight, and wafer paper flowers add yet more color and whimsy.
2. Precise gold leaf shapes equal gilded perfection
Cutting gold leaf, image via Bluprint member Stevi Auble
Cutting gold leaf in a pattern is an advanced cake decorating technique. When adhered to a thin paper, it is sturdy enough to be cut using punches, and then can be gently placed atop a fondant-topped cake. Stevi Auble teaches this technique in her brand new Bluprint class Delicate Papercraft Cakes.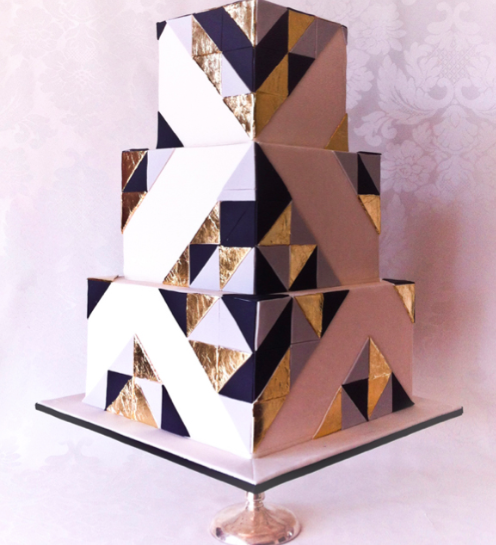 Photo via Yummy Cupcakes and Cakes
This cake would be right at home at a Great Gatsby-themed wedding or affair. Using gold leaf triangles as part of a geometric design adds a bit of flash to the design, which otherwise uses fairly neutral colors. This square cake serves as proof of how beautifully gold leaf can figure into deco-themed designs, such as those taught in Bluprint course Cake Design Made Simple: Art Deco.
3: Blingy accents or golden garnish with gold leaf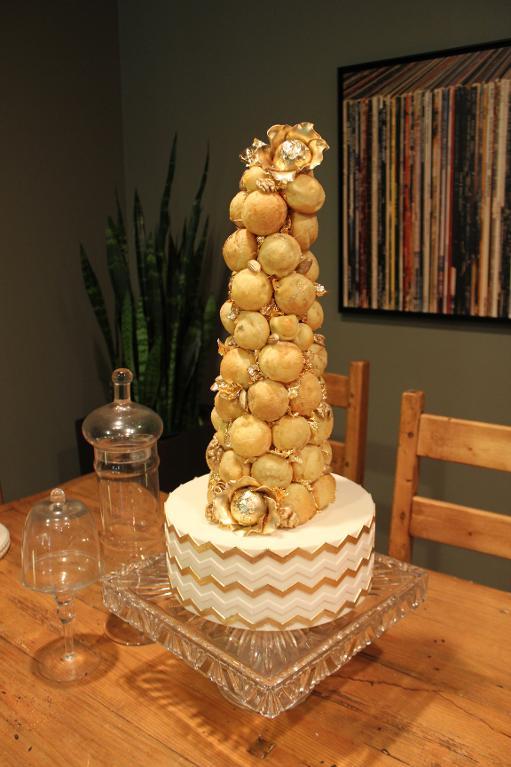 Croquembouche Cake via Bluprint instructor Joshua John Russell
The classic French wedding cake, croquembouche, gets a festive upgrade with artfully placed sprigs of gold leaf scattered evenly throughout the assemblage of choux pastries. But the pièce de résistance is the gold leaf topper, which features a flower with a choux pastry as its center.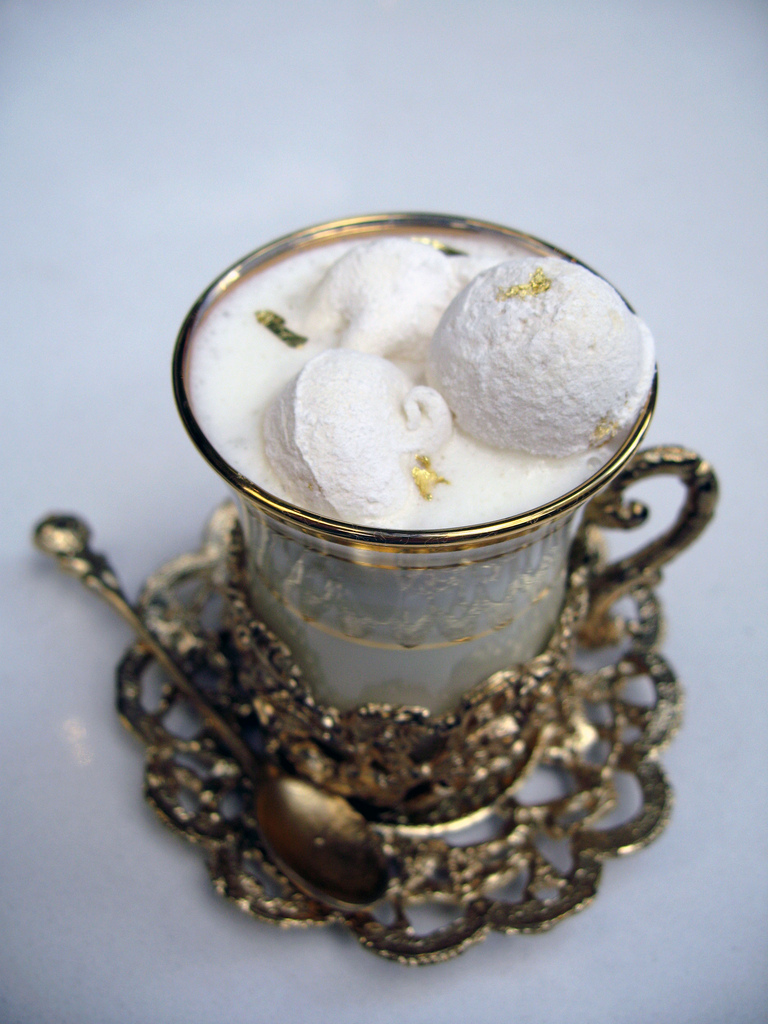 Photo licensed via Creative Commons by Flickr member Woodlouse
Cake isn't the only sweet to benefit from a gold leaf garnish. This white chocolate cocoa, made with cardamom, lemon zest and marshmallows, certainly warrants a gilded garnish. It's sold at the San Francisco Museum of Modern Art, where it is inspired by a Jeff Koons sculpture. Using gold leaf in such a way is simple: just sprinkle a few flecks on top of a beverage or any dessert that can be served in a parfait glass. Lovely!
Photo via CakeSpy
Opera cake, a classic French pastry, is often garnished with a small piece of gold leaf. A little goes a long way — just a touch is enough to make this dessert extra-fancy.
4. The Midas touch: all-over gold leaf coating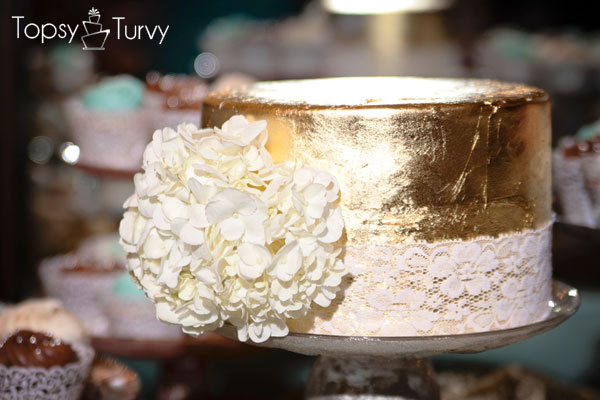 Photo via Im Topsy Turvy
Go for the gold by covering an entire cake in gold leaf. Placing the gold leaf on top of your cake and smoothing it is a simple yet absolutely stunning cake decorating technique. It's a dazzling treatment appropriate for special occasions such as weddings, and would work well for a 50th wedding anniversary cake, which is known as the "golden" anniversary. The cake shown above features a sweet pairing of lace with the metallic cake.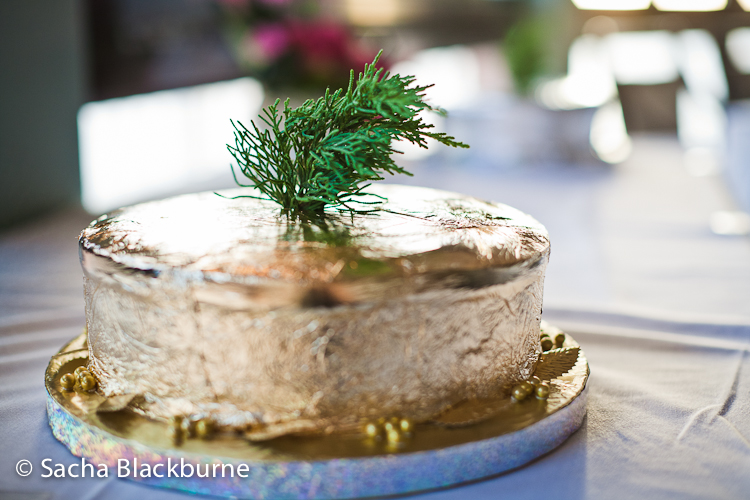 A gold leaf coated cake is a traditional wedding cake in Bermuda. The traditional sapling adornment adds a color contrast as well as a sweet symbol of a couple's growing love.
What's your favorite use of gold leaf?