If you live in a place that only allows you to garden for three or four months out of the year, you should be looking into building a cold frame. These handy devices give you gardening superpowers, allowing you to keep growing as if you lived in a warmer climate.
Many schools have adopted the use of the cold frame so that students can learn horticulture even in the late spring when school is coming to a close and the middle of autumn when it starts back up again.
A cold frame allows the season to extend a month earlier in spring and a month later in fall. They also make it easy to start seeds, harden off seedlings, and direct sow seeds much earlier than you can in the garden. Cold frames are also a lot less work than the garden as they have very few weeds or pests to manage. All around, they're a great gardening tool and their simplicity and low cost can't be beat!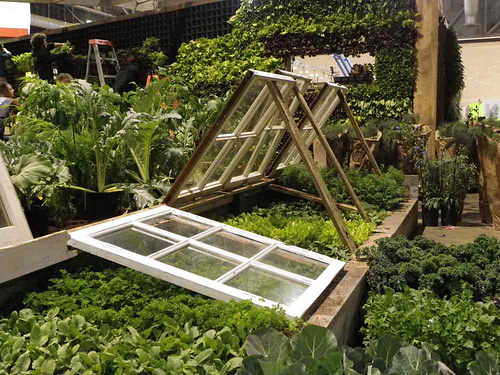 Photo licensed via Creative Commons by Flickr user dyogi
The basics of cold frame construction
The two keys to cold frame success are insulation and solar energy. The combination of the two provide a perfect micro-climate to help plants thrive, even when it's nippy and snowy outside.
A cold frame in its essence is four walls and a transparent lid to top it off. The walls of the cold frame can sit right on top of the soil, or be buried in the soil. Burying, even just partially, makes for better insulation and longer lasting crops.
The walls of the cold frame can be made out of wood, plastic, concrete or bricks. Old windows or glass doors work wonderfully for the lid, and can be attached with a hinge to make it easier to prop open for ventilation or watering. An automatic vent is optional, but it's a great addition to a cold frame if you'd rather not take the time manually vent the frame on warm days.
The frame should be built at an angle to allow for maximum light in the winter and easy rain runoff. The back should be 18-24 inches tall and the front should be 8-12 inches tall.
Place your cold frame somewhere that it will get full winter sun. It should face south to allow for the most daylight to reach the plants. Cold frames can be built with scrap lumber or old cinder blocks and salvaged windows. Constructing them out of recycled materials is cost-effective and great for the environment, win-win!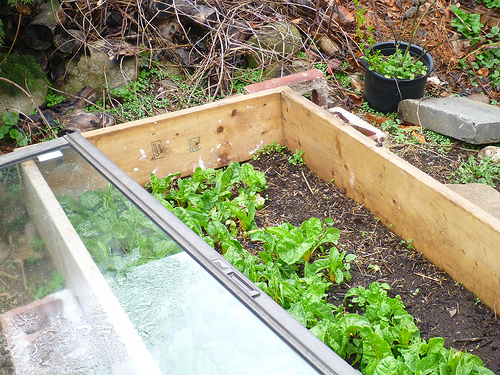 Photo licensed via creative commons from Flickr user Postivetransitions
How to use a cold frame
The plants that will be most successful in a cold frame are, surprise surprise, cold-tolerant crops. These are crops that can survive if the temperature suddenly drops down to freezing. They wouldn't survive out in the garden through freezes and snow, but they thrive in an insulated cold frame.
The best plant choices for cold frames:
Lettuce
Leeks
Spinach
Mustard
Kale
Carrots
Radish
Arugula
Escarole
Cold frame gardening tips
Slow growing crops should be sown in late July, and quick crops like lettuce can be planted up through September. The crops can be harvested throughout the fall and into the winter, depending on the temperature in your region.
In the spring, while the ground is still frozen, the cold frame can help with seed starting, hardening off and growing potted plants. Using the cold frame can cut down on the use of grow lights and free-up room indoors during the garden-crazy spring.
Heat can build up quickly in a cold frame and kill plants. On warmer days, prop the lid open to allow for some air circulation. On the other end, if you have sensitive plants inside and a chilly night ahead, insulate the cold frame by stacking old blankets on top.
Cold frames are the perfect solution for gardeners who just aren't ready to give up their hobby when the cold weather hits. There's no better way to enjoy a year round vegetable garden through the winter!
[box type="shadow"]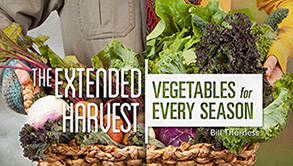 Learn the techniques you need for year-round vegetable gardening, including how to choose the right plants for your climate, protect them from cold weather and more in the online class The Extended Harvest: Vegetables for Every Season, taught by Master Gardener Bill Thorness.

Enroll Now >>

[/box]
What makes online Bluprint classes great?
Learn for life! With lifetime access to your classes, you can watch lessons at your preferred pace and easily revisit your favorite concepts with just a click.
Kick up your feet! Enjoy classes anytime from the convenience of your home or even on-the-go with our mobile apps.
Get personalized guidance! Ask your instructor questions to receive all the answers and feedback you need to succeed.
Love it! There's no risk in trying with our 100% money back guarantee.