If you've haven't had success with vegetable gardens, don't give up your green thumb dreams just yet. An herb garden for cooking and crafting is within your reach. Whether you have a large yard, or just a windowsill or patio, you can can grow an herb garden.
Topiary herbs via Ramon Gonzalez
Before you begin, take a few moments and read our tips for DIY garden design plans. Next, decide if you want an herb garden for cooking or crafting. Don't have space for a garden beds or a large garden layout? Many popular herbs can be grown as potted plants that will thrive on your kitchen window, patio or deck.
Where to place your herb garden
Many of the herbs that are familiar to us in North America are native to the Mediterranean region. They require a bright location, fast-draining soil, and protection from extreme fluctuations in temperature. Generally speaking, your herb garden will require a minimum of 6 hours of direct light. Some herbs will tolerate shady conditions, but the most flavorful and fragrant of the bunch need strong light. If you're growing a kitchen herb garden, choose a location near your kitchen where you can easily run out and take cuttings and harvest herbs while preparing your meals.
Decorative herbs good for crafting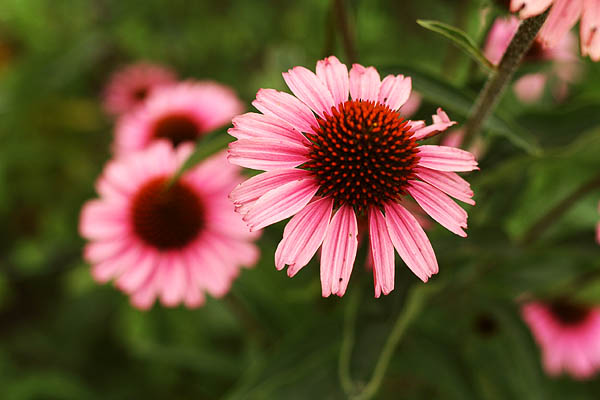 Echinacea flowers via Ramon Gonzalez
While herbs are edible, there's no gardening rule stating you have to eat them. Many herbs are great for crafting and make beautiful decorative plants in the garden and in cut flower arrangements.
The following herbs are great choices if you want to beautify your landscape or assemble homegrown herbal bouquets:
comfrey
yarrow
bee balm
echinacea
bay laurel
dill
thyme
rosemary
hollyhock
liatris
hyssop
lavender
sage
lemon balm
roses
chives
Kitchen garden herbs
On the other hand, an herb garden is a great companion for any kitchen and an indispensable resource for any budding chef.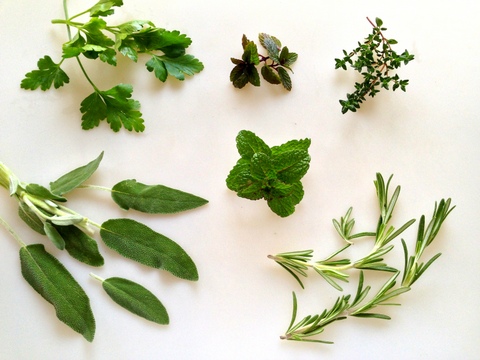 Photo via Craftsy blogger Teresa O' Connor
Culinary herbs no kitchen pantry should be without:
rosemary
hyssop
sage
lemon balm
lavender
bay laurel
dill
thyme
fennel
violets
calendula
chives and garden chives
basil
mint
parsley
cilantro
oregano
nasturtium
marjoram
Use these herbs to flavor dishes and decorate salads, soups, sandwiches and even your floral cakes.
Herbs for a container garden
Plants that grow larger obviously need larger containers, but some like rosemary, bay laurel, lavender, sage and thyme, make great potted plants that can be grown as topiary (as pictured above) and overwintered indoors. Keep mint under control by planting it in containers where it can't spread throughout your garden.
Herbs that would do well in a container garden:
sage
lavender
thyme
rosemary
mint
bay laurel
basil
cilantro
oregano
chives
parsley
lemon balm
tarragon
lemon verbena
How you start your herb garden depends on your space and what your needs are. An herb garden is easier to grow than a vegetable garden, and can fit any space requirements with a little planning. Perennial and herbaceous herbs are better bought as starts from the garden center rather than growing them from seed. Grow herbs that you'll actually use to flavor meals and decorate dishes, such as making bouquet garni seasoning or using classic Italian herbs, and use in your crafts. If you're short on time to dedicate to cultivating a large herb garden, choose the herbs that you spend the most money on at the grocery store and focus on them.
You might also enjoy our post on 5 herbs every garden should have and using fresh herbs in cooking.
What's your favorite herb to grow in your garden?