Believe it or not, overalls are making a comeback. They've recently been seen on the runways of designers Phillip Lim, Rebecca Minkoff and BCBG, and spotted on fashionistas, including actress Diane Kruger and supermodel Alessandra Ambrosio. You might want to add a pair to your fall sewing list.
Here's some inspiration for sewing overalls: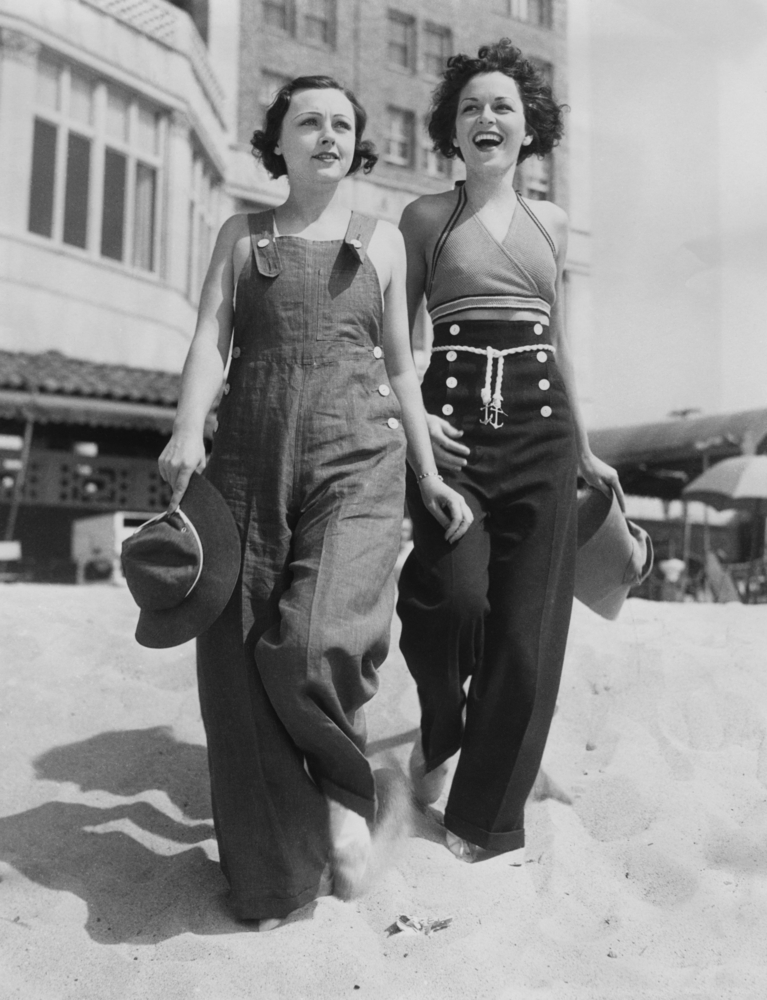 History
Much like its one-piece relative the jumpsuit, overalls came from humble beginnings before enjoying a moment on the runway. Overalls first appeared in the late 1800s as workwear, a variation on the coveralls that evolved into the modern jumpsuit. They became trendy in the 1970s and again in the 1990s. The 90's iteration is memorable for the added touch of only fastening one of the straps, leaving the other to dangle freely and half of the bib to flop over your chest. Overalls were an acceptable fashion statement at my high school in the early part of the 2000s; I liked to pair mine with a ribbed tank top underneath (an outfit that falls somewhere in the middle of the "I can't believe I wore that!" scale).
Patterns
Kwik Sew 2331 is an unisex overalls pattern that also includes the option to make shorts. Blogger Violet LeBeaux shared an adorable Lolita-inspired tutorial on her blog.
Vintage patterns are always an option, too. Some patterns to look out for can be found here. Wearing History also has a 1940s overall pattern available for downloading and printing at home.
Fabric
Denim is the obvious fabric choice for a pair of overalls. But why limit yourself? Another heavy-weight woven fabric will work just as well. Corduroy always screams "back to school" for me and a fine wale corduroy would be perfect for a pair fall overalls. And if you do play it safe with denim, consider a colored denim for a bit of fun.
Hardware
Overalls typically have hardware similar to those found on jeans. In my experience, the hardware can mean the difference between a garment looking custom-made versus homemade. In other words, choose your hardware carefully!
At a minimum, you'll want buckles for the straps. You can find these in different sizes, and they are typically available in gold or nickel. To mimic the look of a good pair of jeans, you'll need rivets to match the buckles. These are usually placed in areas likely to show a lot of wear, like on the corners of pockets. Depending on the design of your overalls, you might also want metal buttons and/or zippers to use as closures on pockets.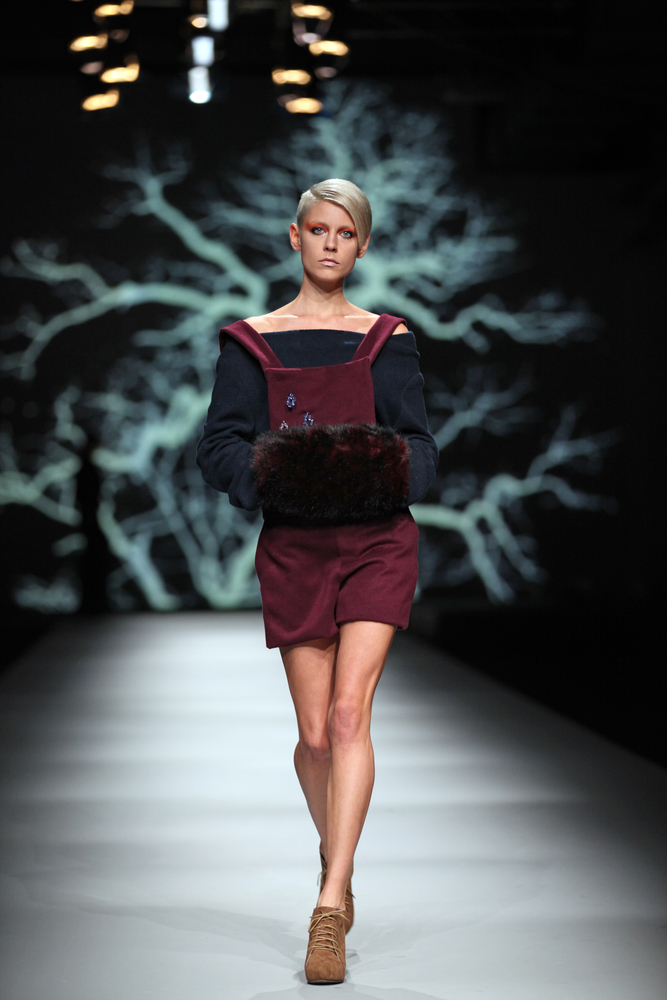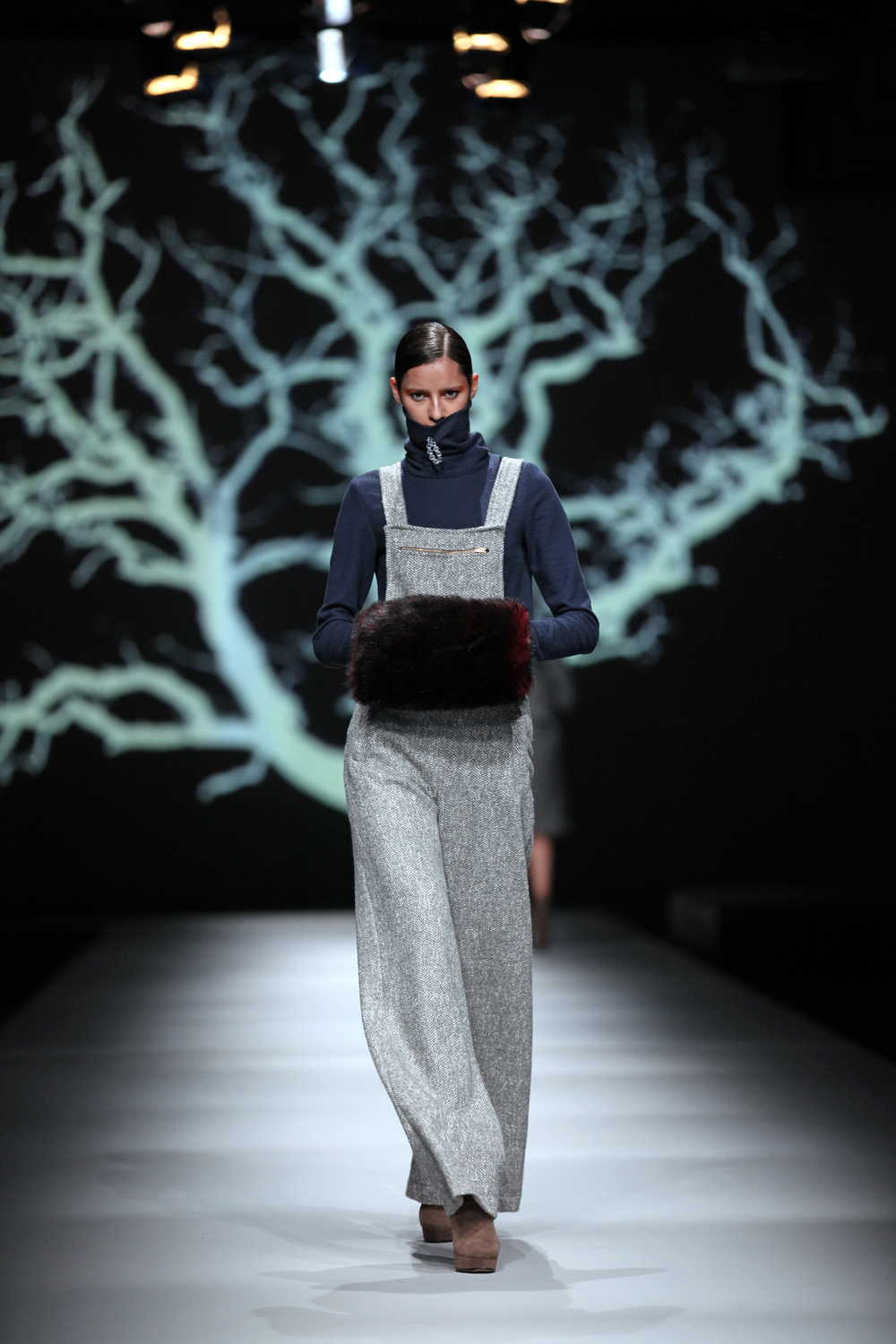 From the Sonja Lamut fashion show in Croatia; Photo via Gordana Sermek / Shutterstock.com
Variations
Get creative with the concept of overalls, like Croatian fashion designer Sonja Lamut did in her October 2012 fashion show, by experiment with lengths and fabric choices.
Mix it up by shortening the pants into capris or shorts for warmer months (try them in a lighter weight denim). Or, swap the pants entirely for a skirt to make skirtalls. You could even upcycle a pair of overalls your child has outgrown (or worn out the knees of) by attaching a new, non-denin skirt to the bottom. Bluprint member Tandunn upcycled a pair of overalls into a clever tote.
In her class Project Upcycle, Betz White presents plenty of thrifting techniques to reimagine those old overalls.
Inspiration on Bluprint
Bluprint member Laura SubLime sewed an amazing underbust corset with overall detailing. Although her project doesn't include the pants half of a pair of overalls, her variation on the straps and her choice of fabric could easily be adapted for a pair of overalls.
Bluprint member janegirl3 shared a pair of overalls with a contrasting lining that peeks through on the cuffs and straps. This would be a fun way to add a little color to your overalls, or add another layer if you are needing extra-warm overalls (a plaid flannel would be perfect).
Ready to sew your own overalls?
Here are the basic steps:
Step 1: After cutting out all of your pattern pieces, sew the inside leg seams from hem to crotch on each leg.
Step 2: Next, turn one leg right-side out and slip it inside the other leg, matching up the crotch and side seams. Sew along the crotch. Turn the pants right side out.
Step 3: Hem the pants legs to the desired length.
Step 4: Finish the bib pieces by turning under the raw edges of the top and sides and topstitching.
Step 5: Sew the bib and brace pieces to the front and back of the pants by sewing right sides together.
Step 6: Attach hardware to the bib and brace pieces so you'll be able to fasten the overalls.
If you have a hankering for working with denim, check out Jean-ius! Reverse Engineer Your Favorite Fit.
Will you embrace the trend and wear overalls this fall?