Knowing how to sew interfacing on a neckline is one of the marks of an excellent sewer. Think of interfacing and stabilizers as the "bones" of your garments; they provide structure and support for the fashion fabric "skin" to shine. Whether you choose fusible or sew-in interfacing, choose wisely and your garment will hold its shape and wear well over time.
How to choose interfacing
The purpose of interfacing is to add body or stability to your garment. Often the first thing to decide is whether you want to use a fusible or non-fusible (i.e., sew-in) interfacing.
Sometimes your fashion fabric will dictate that you use a sew-in interfacing: velvet, some sheers, beaded or metallic fabrics and waterproof fabrics are examples of textiles that require a sew-in interfacing. Sometimes the garment fabric or style might be particularly suited to sew-in interfacing.
If you want to make a classic, hand-tailored wool jacket, you would probably select hair canvas for interfacing. Silk wedding dresses might be interfaced or underlined with silk organza, cotton batiste, flannel or twill to provide necessary support and structure. If you decide on a fusible interfacing, follow the manufacturer's directions to ensure a proper bond to your fabric.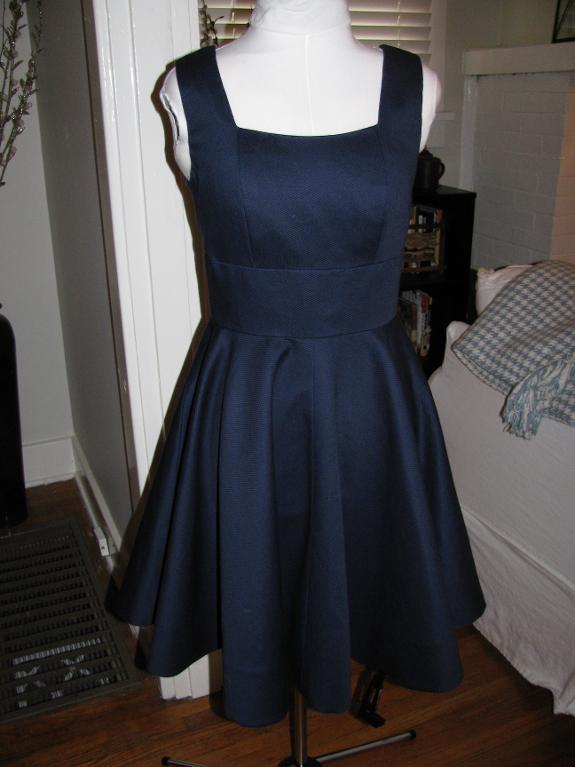 Silk organza provides structure and support to this beautiful couture dress by Craftsy member Raincloud
4 tips for choosing the right interfacing for your garment:
1. Type
Remember to keep "like with like." You do not want to dramatically change the feel, or hand, of your fashion fabric by adding an interfacing that is too stiff. If your fabric is stretchy, choose a stretchy interfacing.
2. Weight
Remember to keep "like with like." Hair canvas is significantly heavier than sheer silk, and would be inappropriate for this fabric, but would be perfect for a wool jacket.

3. Color
Remember to keep "like with like." Whenever possible, use dark interfacing with dark colors and light interfacing with light colors. This is especially important under buttonholes.

4. Care
Remember to keep "like with like." Using an interfacing that must be dry-cleaned with a fabric/garment that you intend to launder will result in heartache after the first washing.

Hair canvas, silk organza, lightweight cotton, and cotton batiste interfacings
How to sample sew-in interfacing options
1. Cut several 6×6 inch squares of your fashion fabric.
2. Cut 4×4 inch squares of each interfacing you want to sample.
3. Working flat on a table top, baste the sew-in interfacings to the wrong side of your fashion fabric using long running stitches.
4. Fold the interfaced sample in half, and check to see if the "hand feel" of the interfaced fabric is similar to the hand-feel of the fashion fabric alone.
5. Roll the interfaced sample to make sure it will roll smoothly without creasing.
6. Check the right side of the fashion fabric to see if the fabric face has been altered in any way.
7. Select the interfacing that best suits the fabric, the laundering choice and the intended garment.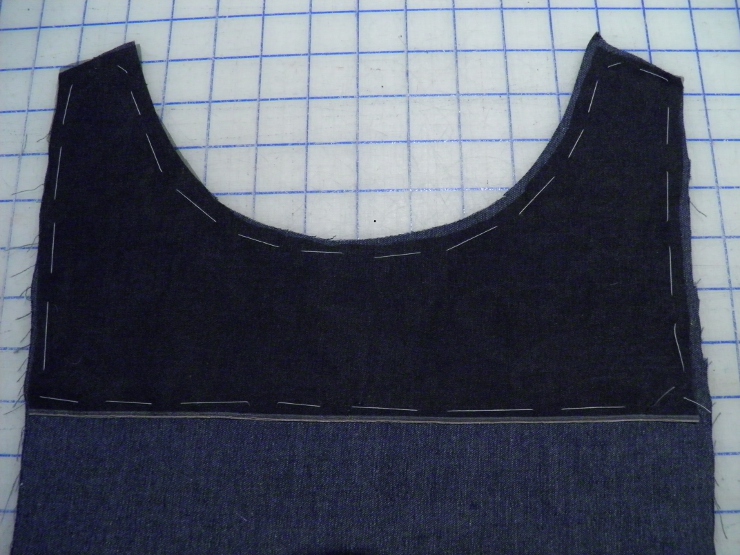 Black silk organza interfacing hand-basted to dark wool bodice front and neckline
How to apply sew-in interfacing to a round neckline
Stabilizing a neckline can be a tricky business. Depending on the neckline shape and the grainline used when cutting out the fabric, the majority of a neckline is often on the bias, which means s-t-r-e-t-c-h-y. Be very careful that you do not pull the garment out of shape when you are sewing interfacing to your garment.
1. Cut out the interfacing using the pattern pieces provided in your pattern.
2. Working on a flat table top, place the interfacing piece on wrong side of the corresponding fabric (i.e. the front neckline interfacing against the wrong side of the dress front or the front facing).
3. Using a single thread and long running stitches, baste the interfacing to the garment in the seam allowance.
4. Stitch the garment as instructed, removing basting stitches once the interfacing is secured by seaming.
Learn to draft flattering necklines, finishing flourishes and more in the Craftsy class Patternmaking + Design: Creative Necklines. You'll master gorgeous necklines like V-neck, sweetheart and funnel, all while developing the skills necessary to make your own designer dresses.
Do you have a favorite interfacing you like to use?