With temperatures starting to cool down, especially at night, we find ourselves reaching for cover-ups constantly this time of year. A bolero covers just enough of the shoulders and arms without ruining the look of a sleeveless or strapless outfit and is a great option. Or, one can go for a full-on jacket for optimal warmth.
An even easier and more flattering alternative is the shrug, which generally covers less of the body than a vest would, but is more tailored than a shawl. Like a bolero, a shrug typically just covers the arms and shoulders. They are soft and slouchy while boleros are much more structured and fitted to the body.
In this post, we'll show you how to sew a shrug in three simple steps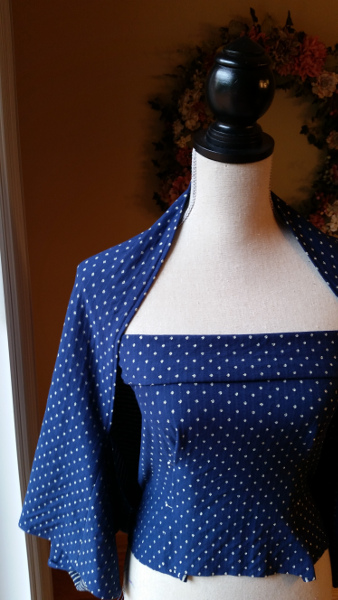 How to sew a shrug
Notes on this project:
This style works best when made from any soft material with a good amount of drape, but it can be made out of any light to medium weight fabric as well. It's a great option for a light and dressy cover-up over an evening dress, but can work as a fun, casual daytime jacket.
This one is done in a jersey style knit with lots of drape and "slouch." It looks great over jeans for a wonderful casual look.
No pattern is needed to make this, just a rectangular length of fabric and some matching thread. This one used a piece of material that was 48" long cut on the crosswise grain, by 30" wide, or just a smidge less than 7/8 of a yard. Because I chose to serge the raw edges, four spools of thread were needed.
The look of this basic shrug can be easily varied. Simply adjust the width and length based on your personal size or by how much you want the sleeves to hang, how much cover you want in the back or the size of the opening you slip your arms into. Do this and you can have a shrug that fits every occasion!
Step 1:
Using a length of fabric to your specifications or the dimensions of the one pictured – 48" by 30" — finish the raw edges of both the short and long sides. The easiest and fastest method is to overcast them with a serger using either three or four threads. This produces a simple, yet effective finis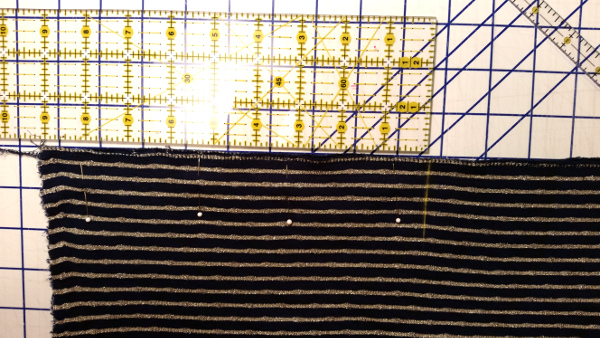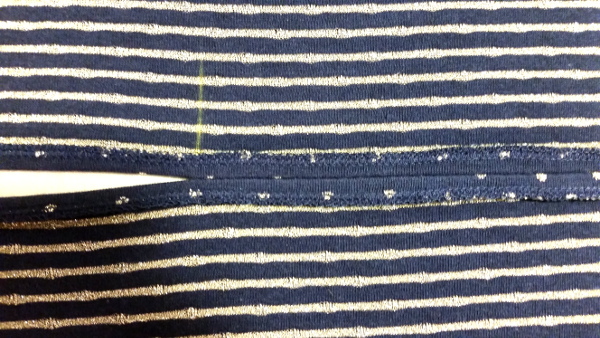 Step 2:
Pin the long edges together, with right sides facing each other. Make a mark 9" from each short end. Now stitch a seam from the short end to the 9" mark using a 1/4 – 3/8" seam allowance. Press each seam open. A 30" opening in the center should remain. Since a knit was used, a walking foot helped produce a nice, straight, flat seam.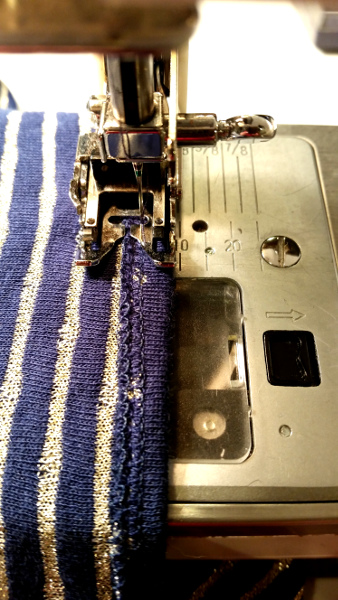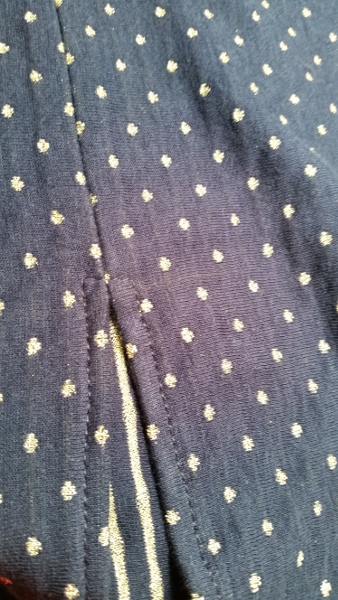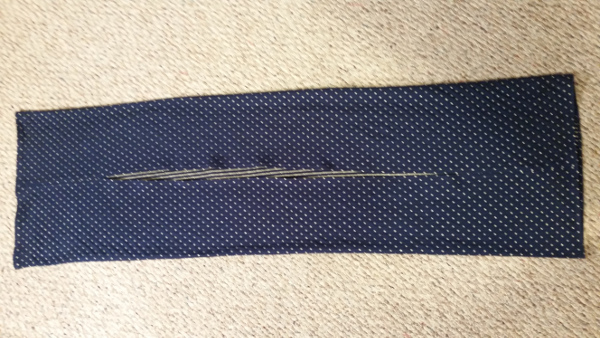 Step 3:
Fold down the un-sewn edges of the center opening the same width as the seam allowances used in Step 2. Press in place. Also fold down the sleeve opening edges the same amount and press these in place as well. Now topstitch the top and bottom edges of the center opening and the sleeve openings ¼" from the edge to finish the shrug.