Did you know that something as simple as a pillow can instantly dress up a couch, chair, bed or even an adorable corner-nook on floor? It's true! And, lucky for you, sewing pillows is both fun and easy with this step-by-step sewing tutorial. Plus, once you find out how to sew a pillow you can whip up new ones in no time to give your home a seasonal facelift.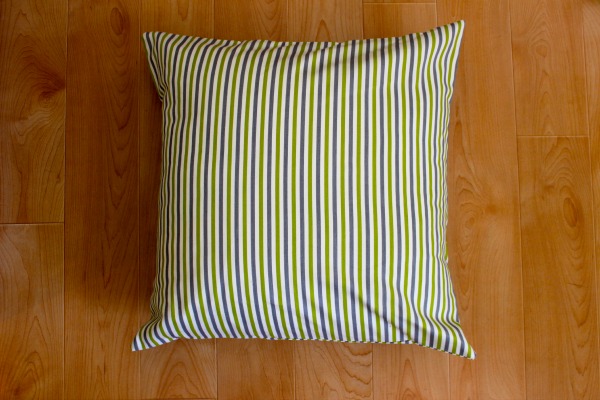 Today, I'll guide you through sewing an envelope pillow case. I find this style of pillow case to be super simple and easy to customize, so I'm sure you're going to love it! To get started all you need is some fabulous fabric and a pillow form in your favorite size.
Here's how to sew your pillow:
1. Prep your fabric.
If your fabric is machine washable, you'll definitely want to wash and dry it before beginning to work out any possible shrinkage issues. Be aware that many home decor fabrics are dry clean only, so be sure to check the care instructions when purchasing your fabric. If your fabric is not machine washable, you might want to consider treating the fabric with Scotch-Gard before you begin sewing to help protect against stains. I made this pillow for the rocking chair in my son's nursery, so protecting it from the inevitable spit up was a priority!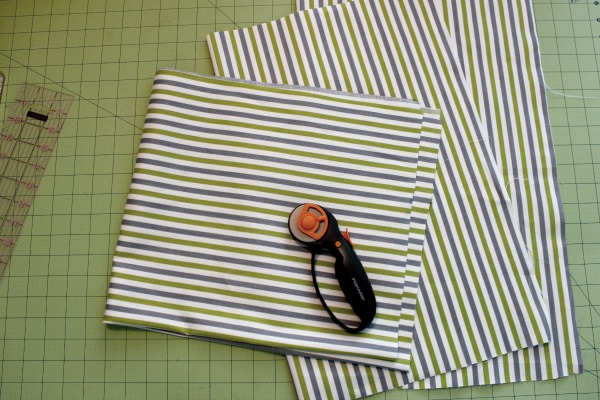 2. Cut your fabric.
The measurements for your fabric will depend on the size of the pillow form you are using. For the front of the pillow cut a piece equal to the size of your pillow, plus an inch on each side. My pillow form was 24", so I cut a 25" square. For the back of the pillow, you'll want two pieces of fabric that will overlap. My usual method is to subtract 6" from the length measurement to allow plenty of overlap. You can play around with this measurement if you need to, just don't forget to take into account seam allowances and hemming the raw edge where the pillow opens. My measurements for the two back pieces were 25" by 19".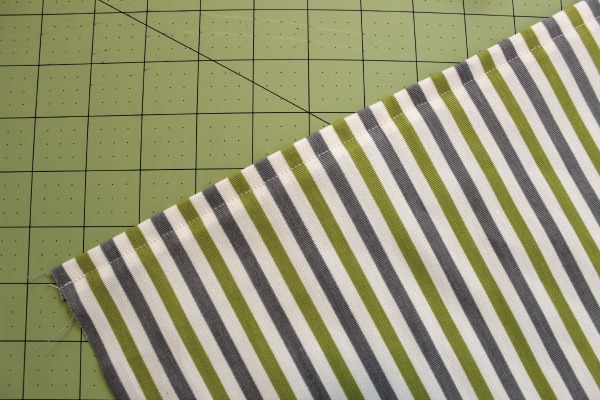 3. Press and sew!
On each of the pieces for the pillow back, turn up ½" on one of the long sides. Press. Turn up ½" and press again. Sew, using a ⅜" seam allowance.
4. Assemble the pillow.
To assemble the pillow, lay the front of your pillow right side up. With right sides together, match the edges of the pillow backs to the front. The backs should overlap by about 10". Pin in place, making sure that the hemmed edges of the back pieces face the middle of the pillow.
5. Sew all the way around the pillow.
Next, sew all the way around the pillow using a ½" seam allowance. If your fabric is particularly thick, you might need to clip the corners before turning the pillow to give it a crisper edge.
6. Turn the pillow right side out and press.
Insert your pillow form, and your pillow is done! Now that you know the basics of how to sew a pillow, you can get creative and mix it up a bit.
[box type="shadow"]
Here are a few ways to add personalized, creative style to your pillow:
Add piping to the edges. Learn how to make your own piping and how to sew piping into a pillow.
Add button closures to the back of your pillow. Be sure to make your back pieces overlap less if you decide to go this route.
Add pretty embellishments to your pillow-front. Check out Sewing Texture with Vanessa Christenson to learn how to make beautiful twisted rosettes, ruffles and faux pleats!
[/box]
Which rooms in your home do you want to accessorize with pillows?