When it comes to running your own business (be it small or large) efficiency, ease and being rather enterprising can really help run and manage your day to day tasks. And, with the world becoming even more technologically advanced in terms of personal use it makes sense to adapt and find new ways to run your business.
From tablets, to smartphones, to apps and everything in between, embrace the power of technology to help take your cake decorating business to the next level!
Check out these expert tips for using your iPad or Tablet to make your cake decorating business run smoother than rolled fondant!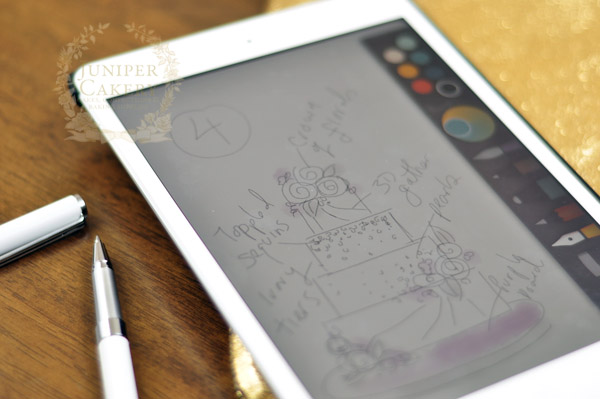 Draw them in!
Clients are going to love how fast you can take their ideas and transform them into a quick sketch sent via email or Facebook in a matter of minutes! If you have a tablet search around for a fantastic drawing or sketching app that works for you and invest in a good stylus (one with a fine point like an actual pen is perfect – the more rounded, chubby tipped stylus pens can be clunky and inaccurate for sketch work).
Another great thing about working and creating your design ideas this way is that you not only don't use up paper, but it cuts out having to photograph or scan your drawings to then edit or re-size them down before you even have to think of attaching them to an email! That means you have more time to create other designs or get started baking and decorating.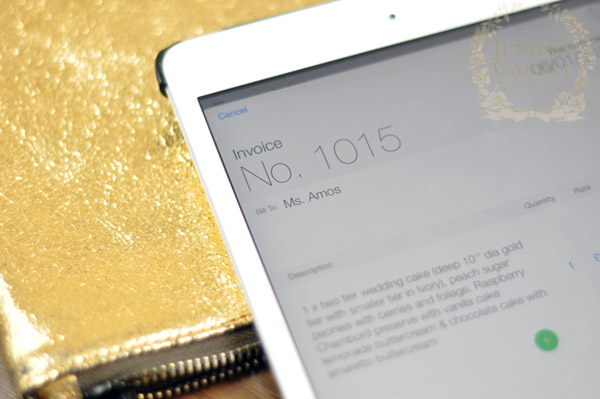 Find your invoice!
Ordering a cake from us is pretty darn quick and easy. A customer e-mails or calls with their ideas, desired flavors, date, guest amount and budget. We reply and generate a quote with payment details and a quick sketch (on our iPads, of course) if their ideas are particularly complicated.
If they'd like to go ahead the client then pays the deposit or full amount and agrees on a pick-up date and time. Finally, we email them their invoice with pick-up details and our terms and conditions. It works quickly and efficiently for both parties. The customer can then cross an important task off their list and relax or carry on with their busy day and we can be super prepared!
Search your app e-store for invoice apps and you'll find a fair few to choose from. We'd recommend one that lets you upload your own logo, attaches the invoice as a PDF file in an email, lets you account for deposits/partially paid orders/fully paid and keeps a track of dates when a client should have completed their full payment by!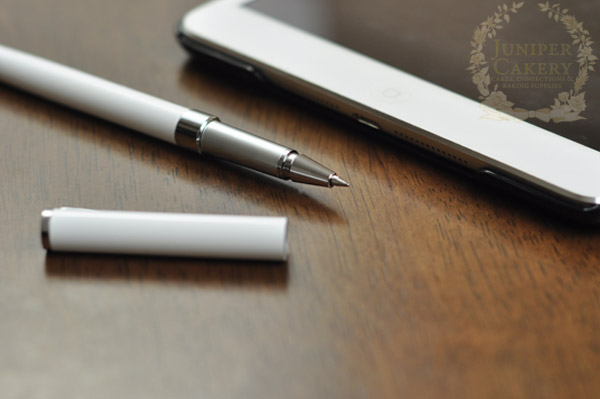 The price is right!
Cake pricing apps can be incredibly helpful – especially for anyone embarking on their cake decorating business for the first time. It can be hard talking abut money and even knowing your worth so having an unbiased app calculate your materials, ingredients, time and labor can help you get a little perspective on just how much you do!
After some time you'll become an absolute pro at pricing and selling your work, but there are times (and there are cakes) that can baffle you so a pricing app will always come in handy!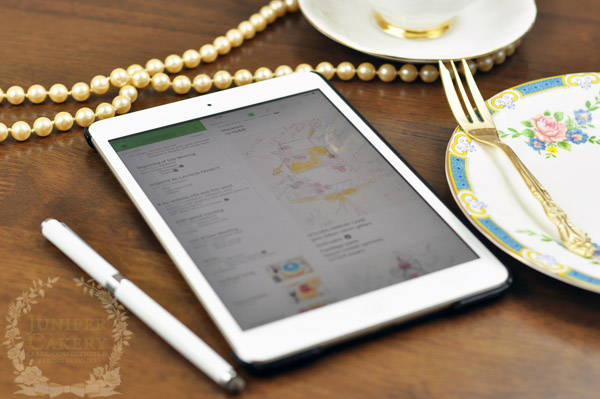 Task force!
Organization is key to running a successful business! It makes sense to utilize your technology to help you keep focused and composed. Finding and using a great organizer app will help you keep a track of to-do lists, finances, ideas, contacts and any dates to remember!
We use ours to keep screenshots of quick sketches in when we're busy designing new collections. It helps for us to see each sketch daily when we log in and also seeing every design together helps us refine any details we were unsure about.
There are some fantastic organization apps out there that even let you share task lists or any meeting notes with your business partner or other members of staff just so that everyone else is in the loop. Look around and test a few before opting to purchase the full version!
Build a cake business you'll love forever!
Learn how to perfect your pricing strategy, build a strong financial foundation and so much more, in business guru Michelle Green's online Bluprint class.Enroll Now »