Roasted garlic is one of my favorite ways to eat garlic. Roasting caramelizes the natural sugars in the garlic, leaving you with cloves that have a rich garlic flavor, yet are sweet and creamy, rather than being as pungent as raw garlic. 
Fortunately for garlic-lovers, roasted garlic is as easy to make as it is addictive.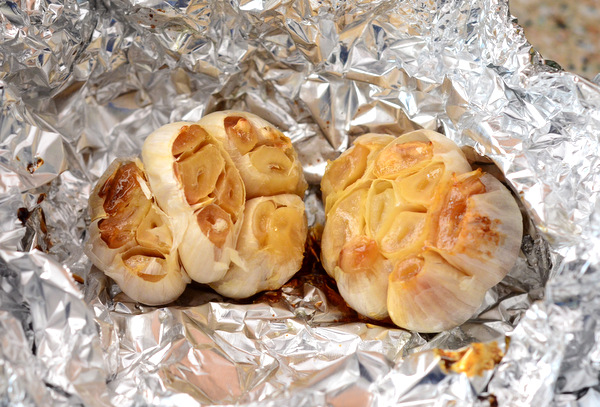 Photos by Nicole Weston of Baking Bites
To roast garlic, you only need a few things: fresh heads of garlic, olive oil, aluminum foil and an oven. You can roast as many heads of garlic as you like, or just do them one at a time.
The garlic keeps well for a few days after roasting, so I generally make at least two at a time. The roasting process is not fast, but very little prep work is needed to get started and you'll be able to do other things while you wait for your garlic to roast.
Step 1:
Preheat oven to 400 F. Remove outer skin from your garlic heads. This outer layer just gets in the way when you work with the garlic after cooking.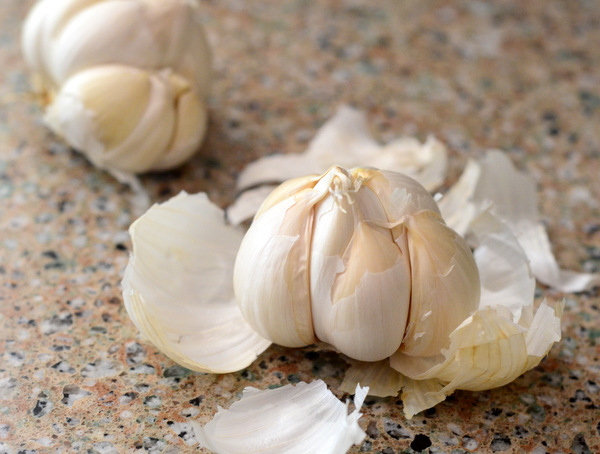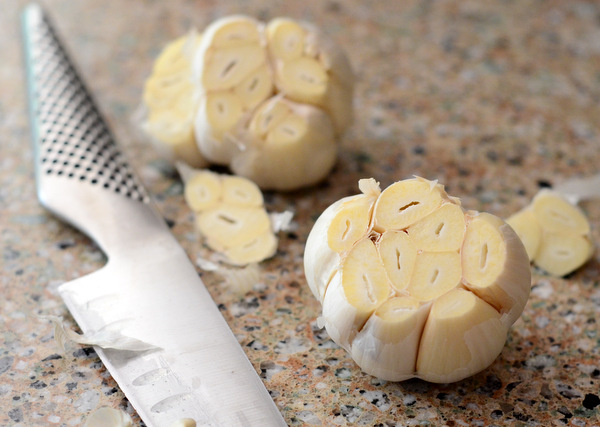 Step 2:
Cut off the top 1/2-inch of the garlic heads to reveal the cloves inside.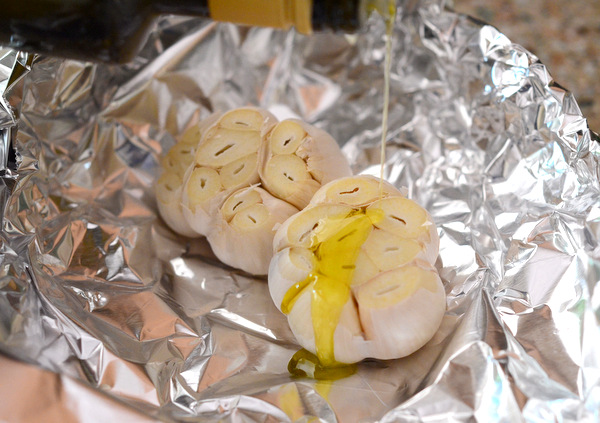 Step 3:
Place a large piece of aluminum foil on your countertop and place the cut heads of garlic in the center. Drizzle each head of garlic with about a tablespoon of olive oil, then wrap the heads up in aluminum foil.
Step 4:
Place foil packet into the oven and roast for 50-60 minutes. Larger cloves of garlic may take longer. The garlic should be a golden color when it is ready. Allow to cool before using.
Tip: You can roast garlic at a lower temperature for a longer time, if you want to throw a few heads of garlic into the oven the next time you are making a big roast!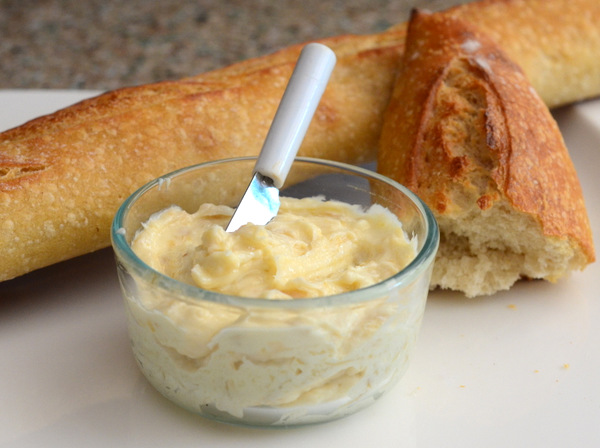 The roasted garlic can be added to pasta sauces, dips, mashed potatoes and all kinds of other dishes. My favorite use for roasted garlic is Roasted Garlic Butter. Butter provides a great vehicle for the garlic, allowing you to easily spread it onto grilled ears of corn, or warm slices of sourdough. The butter can be used right away or stored in the fridge, covered, for a few days after preparation.
Roasted Garlic Butter
Makes 1/2 cup
Ingredients
1-2 heads roasted garlic
1/2 cup unsalted butter, room temperature
1/4-1/2 tsp salt
Step 1:
Squeeze the roasted garlic cloves out of the heads and into a small bowl. Add in butter and mash ingredients together with a fork until only small chunks of garlic remain. Stir in salt, to taste.