You know that spot on the label that has all those cryptic symbols? This information might look confusing, but it's necessary information — especially if you spill coffee on that awesome pillow sleeve you just knitted.
Let's take a look at a yarn label for Red Heart Bamboo Wool as an example: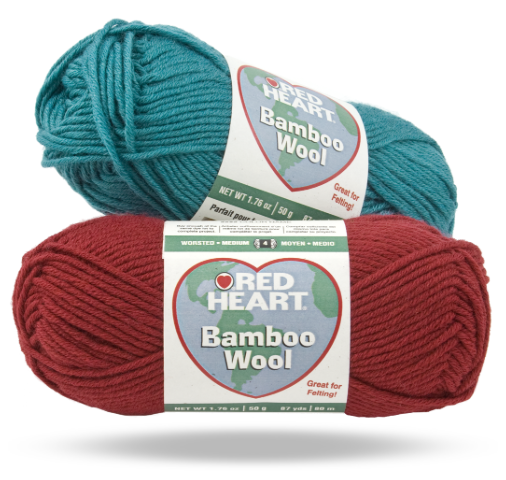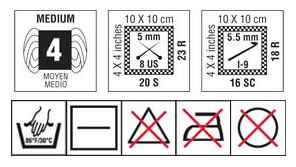 1. Weight
Most yarns go by the Craft Yarn Council of America's standard weight system. This system uses numbers to tell you what weight the yarn is. This yarn, for instance, is a medium-weight 4. The numbers begin at 0 (fingering weight) and go all the way up to 6 (bulky). This is especially helpful information if you're substituting yarn.
2. Knitting Gauge
The gauge on your label can be really useful if you're going to draft your own pattern or substitute a yarn. Check out that little gauge square on the label. It tells us that using size 8 needles should give us 20 stitches and 23 rows in a 4 x 4-inch square.
If you're substituting yarn, compare that gauge to the gauge in your pattern. Does it come close? Do you think you could go up or down a needle size to match the pattern gauge?
This information is also handy if you are drafting your own pattern. I wanted to use this Bamboo Ewe to make a scarf, so I check out the gauge to see what size needles I should try to get the perfect stitch — a stitch that isn't too tight or too open.
3. Crocheting Gauge
Crocheters, rejoice! Yarn labels didn't forget about you. The same gauge information that knitters get is also on the label for crocheters.
4. Washing Instructions
If you've ever accidentally felted a sweater by washing it in hot water, you'll know why washing instructions are so important for a yarn label. This yarn can be hand-washed in water that's 86 degrees Fahrenheit. Sometimes you want to felt something on purpose, though; in that case, just ignore the washing instructions.
5. Drying Instructions
Just like with washing, you don't want to dry your finished project only to find that it felted or became really fuzzy. This symbol can be a little less obvious than the washing instruction symbols. Here, the symbol — a square with a line in the middle — is telling us to let the item dry flat. If ever in doubt, Lion Brand Yarn has a nice list of yarn laundering instruction symbols you can refer to.
6. Bleaching
This care instruction seems obvious to me. The triangle represents bleaching, and the big X through it is telling us to keep bleach far, far away from this yarn.
7. Ironing Instructions
The symbol on this yarn is a little iron with a red X through it. Clearly, that means that an iron should never touch this yarn! There are other iron symbols too, with dots to indicate whether you can iron the yarn on low, medium, or high temperature. (Yarn laundering instruction symbol guides can be helpful in decoding ironing instructions, as well.)
8. Dry Clean Instructions
I've never dry cleaned any of my knitted garments, but who knows when I might need to? The dry cleaning symbols on yarn labels are just as cryptic as the drying instructions. In this case, the circle with the slash through it tells us not to dry clean this yarn. I'd advise referring to Lion Brand's yarn care symbols for deciphering other dry clean symbols because there are a lot of them!
Are you using the yarn label to choose a yarn and create your own pattern? Edie Eckman's How to Say It: Pattern Writing for Knitters class is perfect for learning how to write a pattern, include helpful charts, and edit your patterns for accuracy.
Do you find yarn labels useful? What do you use them for?